Manila Water Service Interruption: 5 Ways To Reduce Water Use (And Lower Your Bill)
5 min read
Last weekend, many residents of Metro Manila and adjacent areas were affected by the "suprises" interruption of water services.
Manila Water has apologized for this but has also said that customers should expect reduced pressure or rotational water-no water service in some places this summer. This is due to Manila Water's efforts to ensure that no area will experience round-the-clock interruption despite fears of decreasing water levels at the reservoirs that provide Metro Manila with water.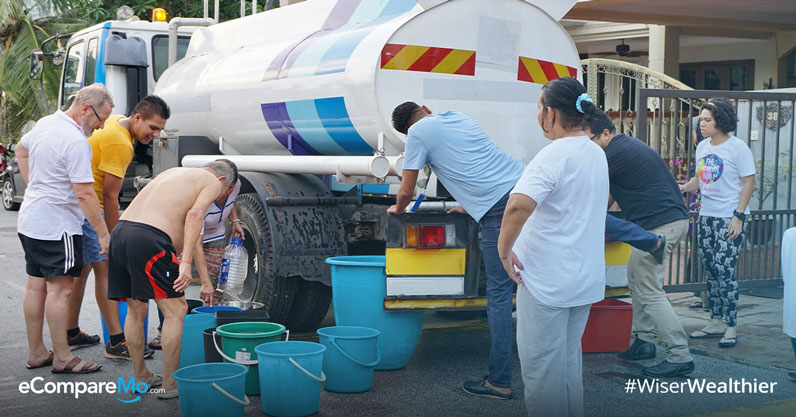 Currently, the La Mesa Dam's reservoir level has reached a critical 69 meters above sea level, the lowest it has been in 12 years.
The company's corporate communications head Jeric Sevilla told ABS-CBN News that scheduled flow of water can last for up to three months because of El Niño.
If our consumption is left unchecked, it's only a matter of time before the situation becomes similar to the Mad Max universe. And since we don't want to become post-apocalyptic denizens, it's about time we did our part and prevent a full-blown crisis from erupting.
Tip No. 1: Wash your car less often
How much water does your car need to become squeaky clean? According to the International Carwash Association, a single customer's consumption can range between 87 liters for small vehicles and 162 liters for full-size SUVs.
This amount can be doubled or tripled if a car owner who has no professional training does this at home.
Scale it up to Metro Manila's 2.7-million strong vehicles and you're looking at 234.9 million liters at the low end and 437.4 million liters tops. If people will go full DIY, then volume balloons to 702 million and 1.31 billion liters, respectively.
Detailing services for your vehicle are important to keep the paint job looking fresh. However, it doesn't mean that you have to get your car all hosed up whenever you see signs of dirt and dust.
If you want to make sure that people will get more water than vehicles, then you might want to lessen your trips to the car wash. It takes some stoneheartedness to think that it's okay to have a clean car while there are people who are having difficulties getting access to a basic human need.
(Read: The Most Essential Summer Car Care Tips You'll Ever Need)
Tip No. 2: Use waterless car-cleaning products
It's good to wash your vehicle less often if it's oriented towards a noble goal. However, is there a compromise between having a squeaky clean exterior and responsibility? Fortunately, Manskee Nascimento of Visor has an answer: waterless car wash.
Wait, what?
To the uninitiated, this method uses pre-mixed formulas that will allow you to merely wipe off the dirt from your car surface. Though you might need a small amount of water to soften the caked dirt for easier cleaning.
Not only can you avoid using a lot of water by cleaning your car this way, you are also helping the environment because it is biodegradable.
If you're ready to make the switch to waterless, here are the things you need:
Waterless car wash formula
At least two microfiber towels
To use the waterless car cleaning formula, just spritz on the area you want to clean, wipe from one direction to another, and work your way through your entire vehicle.
A 500 ml bottle can last up to 15 uses. Just imagine the amount of money and water you can save!
Currently, these are some of the waterless solutions on the market:
Washboi Quick Detailer Waterless Car Wash
Meguiar's Ultimate Waterless Wash & Wax
Spray n' Go Waterless Car Wash and Wax Quick Detailer
Ultima Waterless Car Wash Plus Concentrate
Chemical Guys EcoSmart-RU Waterless Wash & Wax
If you need help, you can search for cleaning tutorials on YouTube or you can contact your product seller for tips to make your detailing more efficient.
Tip No. 3: Don't forget to wax!
After conducting a waterless car cleaning to your car, it's time to whip out the wax tub and polish your car yourself.
Beyond giving your car a mirror sheen and UV protection, one often overlooked benefit of waxing your car is this: dirt protection.
Indirectly, waxing helps you save more trips to the car wash. By applying a nice coat of wax to the exterior, your car will be better able to resist moisture and dirt, helping it stay cleaner for a longer time. This can make your trips to the car wash less frequent and inadvertently, you are helping everyone save water.
If you don't know how to do it, we've prepared a shorthand guide on how to wax your car:
Make sure your car is thoroughly clean before the process
Find a cooler place such as a covered garage, preferably out of direct sunlight
Apply the wax gently using circular motions
If you have an orbital buffer, use it to better apply the coating
Let the formula sit for a while, depending on the package instructions
Wipe off excess wax using microfiber towel
(Read: 16 Tips To Keep Utility Bills Low And Still Beat The Heat This Summer)
Tip No. 4: Install a cistern displacement device in your toilet tank
A single flick of a flush consumes six liters of water on average. Although some tips tell you to not flush after a number one, it may be a bit iffy for people who are pretty particular with their toilet habits.
If you can't let go of the flushing, here's a better water saving tip you can follow: put a displacement device inside your toilet tank.
How does it work? By adding an item with high volume in your tank, you can reduce the amount of water it accumulates and eventually, need less water for every flush. Fortunately, stuffing your toilet tank with something can be easy.
Here are the steps to take to make your DIY cistern displacement device:
Find a big plastic bottle with high volume, ideally between one and two liters
Once cleaned and thoroughly dried, fill it up with gravel and then fill the remaining space with sand
Turn off your toilet's water supply valve and flush it once to empty it
Place the DIY displacement device in the tank, then turn it on again
You can add more bottles if you think the water consumption is still excessive
Tip No. 5: Make your house water efficient
Cutting back your water consumption is more than just decreasing your use.
If you want to make your household more effective in saving water, you need to deal with the way your house uses water. It's time you changed some pieces of equipment in your house to become more water efficient. Here's how:
Install aerator on faucets
Change shower heads to low-flow units
Fix leaking pipes
Recycle water used on food for other uses
Use portable dishwashers
Soak dishes in water first before washing
Sources: Carwash.org, Visor.ph, Carmudi