The 'Bear' Market: Should Falling Stock Market Prices Cause You To Panic?
4 min read
It's official: We've finally entered bear market territory.
After Typhoon Ompong struck the northern part of the Philippines, it seems like the economy also took a beating. However, the storm that weathers the economy may have yet to come.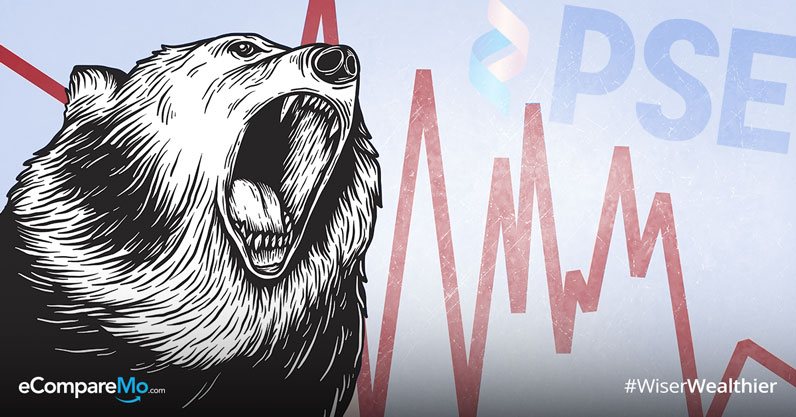 The Philippine Stock Exchange index (PSEi) slid by 65.11 points, placing the market index 7,250 below level at 7,221.23 points. This nervous outlook toward the Philippine economy has been amplified by the all-time high August inflation that peaked at 6.4 percent.
When reading articles about the stock market and the economy in general, you may have read the terms "bearish" and "bullish" around. What does it mean when we say we've entered bear territory?
(Read: A Complete Stock Market Investing Guide For OFWs)
Animal farm
In trading and economic lingo, a "bullish" market means that a certain financial market prices are on the rise, or at least expected to do so. Like the said animal charging, it shows continuous growth and confidence from both the people and investors.
As general rule, any market is considered bullish if it shows a 20 percent upswing in a short period of time.
In contrast, people use the term "bearish" to describe a market that slumped by 20 percent. No one can really point out where the term came from, but it has been in use for more than a century now.
When an economy starts to enter the bear market level, investor confidence is down and outlook is pessimistic at best. Usually tagging along with a negative performance of key economic indicators are soaring unemployment, off-the-charts inflation rate, and poor currency performance.
But is the Philippine market really going downhill? Let's look at the numbers.
'This is a bear country'
When the stock market opened this year, it was off to a good start. On January 26, people were shocked as the PSEi shattered the 9,000-level ceiling with 9,041.20 points. It showed a 0.19 percent uptick the next day.
Unfortunately, it didn't take long before it tumbled.
From the record-breaking index of 9,000 points, it started its slow slump despite the market's resistance to a negative change. From January 26 until September 20, the rate of change finally reached -20.72 percent, officially putting the PSEi in bear territory. From a correction period following 9,000-mark breach, it's just one red day after another.
Was last Wednesday's performance the worst for this year? Not really, since the lowest point for the local stock market went as low as 6,986.88 points by the tailend of June. From June 11's 7,771.30 points, it went on a freefall for eight days until it dipped below the 7,000 line.
If you count the days from January 26 index's peak performance to last Thursday, you'll have 160 trading days between the two. During the said timeframe, the PSEi experienced 69 days of upswing while it suffered from 91 days being in the red.
This isn't the first time the PSEi took a 20 percent blow either. By the end of October 2015, the stock market rested a little above the 7,300 level. However, the price slump four months after reached 20.40 percent as January 2016's prices went down to 6,084 points. Fortunately, the market bounced back after a few months and by July 2016, the index peaked at 8,102 points.
People may argue that a bear market happens to almost all countries. But just how do we fare against our neighbors during the same time period? Let's see how the rest of our neighbors in the Southeast Asian region have been doing between January and September:
Kuala Lumpur Stock Exchange
Highest: 1,896.03 points
Lowest: 1,657.78 points
Average: 1,807.49 points
Movement: 0.38 percent
Hanoi Stock Exchange
Highest: 138.70 points
Lowest: 94.33 points
Average: 118.45 points
Movement: -1.54 percent
Indonesia Stock Exchange
Highest: 6,693.47 points
Lowest: 5,557 points
Average: 6,142.68 points
Movement: -6.68 percent
Stock Exchange of Thailand
Highest: 1,852.51 points
Lowest: 1,584.68 points
Average: 1,743.91 points
Movement: -0.09 percent
Strait Times Index
Highest: 3,641.65 points
Lowest: 3,102.73 points
Average: 3,404.34 points
Movement: -6.46 percent
(Read: 5 People Share How They Bought Their First Home)
Silver lining
When a financial market enters bear territory, you don't have to sound all alarms and liquidate your investment portfolio immediately. A dipping stock market may cause people to be more vigilant than ever, but this isn't the point where you abandon ship already.
If you're an average Juan de la Cruz, plummeting stock prices can be an indicator of trying times ahead. This means that inflation will keep on rising, the local currency will grow weaker, and prices of goods will become more expensive. The best way for everyone to combat this is by having an emergency fund.
Meanwhile, those who have stocks in their investment portfolio may be affected more than your average citizen. Although you may see your stocks fall down, a 20 percent decrease in value should not yet cause you to ring the panic bells. If you're considering to dump them all because they might further lose value, don't. Play the long game and wait for the market to pick up.
And if you don't have investment in the market, this is where it gets interesting. Ever heard of the mantra "buy low, sell high" from investment coaches? This is the perfect opportunity to find a listed company that will grow your money.
If you look at the PSE's data, almost all sectors have been on the decline for a while now. Even blue-chip companies like Ayala Corporation and GT Capital have lost some value since January. A savvy investor will see this decline as the perfect opportunity to broaden his portfolio.
Although losses in the stock market reached 20 percent already, there is no proof that we're about to head toward the deeper end—which is a recession. Until the market picks itself up, the only thing we can do is be cautiously optimistic.
Sources:  Philippine Stock Exchange, Trading Economics, Philippine Daily Inquirer, The Street, The Balance