Jeff Bezos Could Be The World's First Trillionaire; Amazon Now A Trillion-Dollar Company
5 min read
Amazon has now joined Apple as a formal member of the so-called "four comma club."
On Tuesday (September 4), Amazon's market value briefly reached $1 trillion after its shares saw a meteoric rise to $2,050.50. The value didn't sustain it share price as the day closed with $2,039.51, putting its value a little below $1 trillion.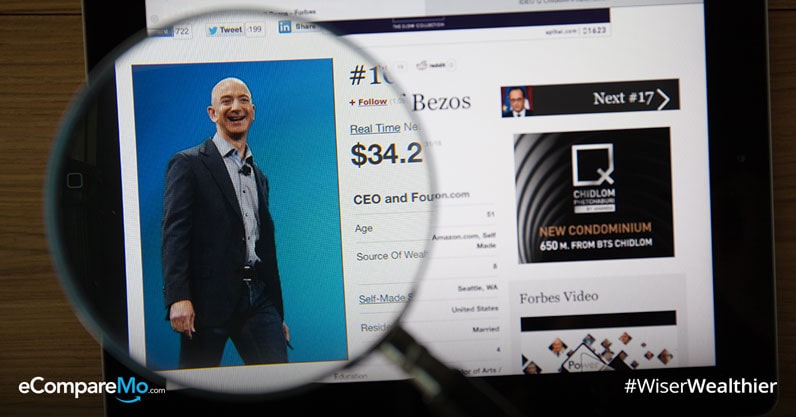 So what does it make of Jeff Bezos? As the Amazon co-founder and the biggest shareholder in the company with 78.88 million shares as of August 2018, his fortune jumped by $1.8 billion during that historic moment.
If you need extra context to comprehend how much $1.8 billion is, look at it this way: Bezos can fund the Department of Environment and Natural Resources (DENR)—which has a current budget of P24.9 billion—over four times. Or enough to pay for Presidential Communications Operations Office assistant secretary Esther Margaux "Mocha" Uson for almost 80,000 years, based on her current monthly salary of P106,454!
We can learn a few things from Amazon's meteoric yet brief rise to a trillion-dollar company. This time, we'll focus on how it markets itself and how it affected the company's public perception.
(Read: Get To Know Forbes' New Richest Billionaires In The Philippines And In The World)
The hype train
In the United States, Amazon is crushing its competition by having the lion's share of online retail sales. Last July, TechCrunch reported that the company's e-commerce division receives one-half of all the online shopping done by the Americans. Their $258-billion online retail industry makes up for five percent of the total retail sales in the country.
If you want to see how the competition fares, just look at the companies trailing Amazon: eBay accounts to 6.6 percent of online retail services while Apple is on third place at 3.9 percent. With Amazon dominating the field, everything else that follows is irrelevant.
While the Seattle-based titan has its hands on almost anything digital, its actual product is the hype it creates about itself and its products. Everything else, profits included, just follows.
According to an article by the New York Times, even its core products from the very beginning were rooted on excitement. All its ventures, whether they catapulted the company to what it is now or got silently shelved due to cold reception, revolve around adding a little flair to something that's otherwise boring.
"Long before Amazon went to Hollywood and began making movies, it was the star of its own show, generating vast amounts of attention just for being Amazon. No other company had ever managed to turn its lack of profit into such effective drama, or the question of what its next move would be," said the New York Times article.
Connected services
And it's not just the current services that thrive because Amazon knows how to market interest. Apart from innovations like the Kindle, Echo, and the Amazon Go, the tech giant is also looking forward to such services like machine learning, home automation, drone delivery service, and space exploration.
Since it has diversified its portfolio, Amazon has multiplied its profits due to its connected services. For instance, if you purchase a Kindle, the most convenient way to stock up on e-books is through the Kindle Store, where you can find millions of titles that are curated based on your website behavior. Meanwhile, owning an Echo means you can buy goods through Amazon using only your voice.
If you're hosting your website on Amazon Web Service, you can advertise your products and services through its native advertising platform seamlessly. It's one upsell after another without you even realizing it—and you don't mind because they're good at what they do.
And if things aren't meta enough, even when the company momentarily hit the trillion-dollar market cap during intraday training has been reported intensively, despite the closing share price of Amazon not enough to keep on the four-comma figure. The extensive interested in the company is largely due to the hype surrounding it.
(Read: 5 Best Pieces Of Advice From Billionaires In 2017)
What about the Philippines?
If you're wondering why you should care for Amazon, we're here to convince you to do so.
Does Amazon deliver to the Philippines? The answer is yes. In fact, you can even order products there and get it in as fast as three days through priority shipping. If you look at the rates, they are pretty consistent elsewhere.
The only problem is that unlike in the US, Amazon customers in the Philippines do not have the free shipping option. You also have to pay import deposit fees for the items priced above $200, or P10,000.
If the item is pretty hard to find here and the price is below P10,000, then you shouldn't worry about paying import fees. Just worry about the amount of the product and the shipping rates. Local tech website Unbox.ph said they even send your package here via DHL and not through local post office, which means you no longer have to fear government workers with sticky fingers.
Another reason you should pay attention to Amazon here is the Amazon Prime Video, the company's streaming platform for movies, shows, and original content. Since 2016, Amazon started offering its Netflix killer all over the world, but its reception here was lukewarm at best.
A few days ago, Globe partnered with Amazon to include the streaming service to its postpaid and home broadband subscribers. Before, potential subscribers to the service would need a credit card just to pay for their Amazon Prime Video access, which creates a great barrier to those who just want to binge watch The Grand Tour or The Man in the High Castle. Now, Globe subscribers can include the payment to their monthly bill.
To make things more exciting, Globe will offer a six-month free trial of Amazon Prime Video to some of its postpaid and home broadband customers. Apart from the access to Amazon Prime, Globe postpaid subscribers will also get Twitch Prime subscription for free. After the trial period, Prime Video subscription starts at P150 per month.
This doesn't mention yet the availability of products like Kindle and Echo in the Philippines, with the latter allowing you to connect to your apps like Spotify, Google Calendar, and smart devices if you've automated your home already. Since the presence of Amazon is increasing in the Philippines, maybe it's time we make the company notice the potential of the market as ready for the new player.
Sources
https://www.dbm.gov.phhttps://cdn-vz-info.ecomparemo.com/wordpress-media/Our%20Budget/2018/2018%20QUICK%20GLANCE%201172018.pdf
https://www.rappler.com/nation/169439-how-much-mocha-uson-salary-pcoo-assistant-secretary
https://techcrunch.com/2018/07/13/amazons-share-of-the-us-e-commerce-market-is-now-49-or-5-of-all-retail-spend/
https://www.nytimes.com/2018/09/04/technology/amazon-stock-price-1-trillion-value.html
https://www.forbes.com/billionaires/#3cd47fa4251c
https://www.usatoday.com/story/tech/science/2018/09/04/amazons-1-trillion-market-cap-kind-attention-may-not-want/1192759002/
https://www.investopedia.com/articles/insights/052816/top-4-amazon-shareholders-amzn.asp
http://newsroom.globe.com.ph/press-release/consumer/2018-08/get-amazon-prime-video-twitch-prime-with-postpaid.html
https://www.unbox.ph/play/amazon-no-longer-collects-import-fees-for-items-under-200/