The 25 Best Beaches In The World For Your 2017 Travel Goals
2 min read
Travel site TripAdvisor recently listed the Top 25 Beast Beaches in the World, with the famed White Beach in Boracay landing the 24th spot.
The list was gathered from millions of user reviews across the world. TripAdvisor is known for providing mostly all too honest reviews from their users, and are "dedicated to keeping a pulse on the travel industry and traveler preferences," according to their Survey Insights page.
These user surveys are the main sources of their annual rankings, from accommodations to Travelers' Choice awards.
Take your travel plans further by knowing early on if these world-renowned beaches are Visa-free or not. Know that most of these places are worth a visit at any time of the year. Happy travels!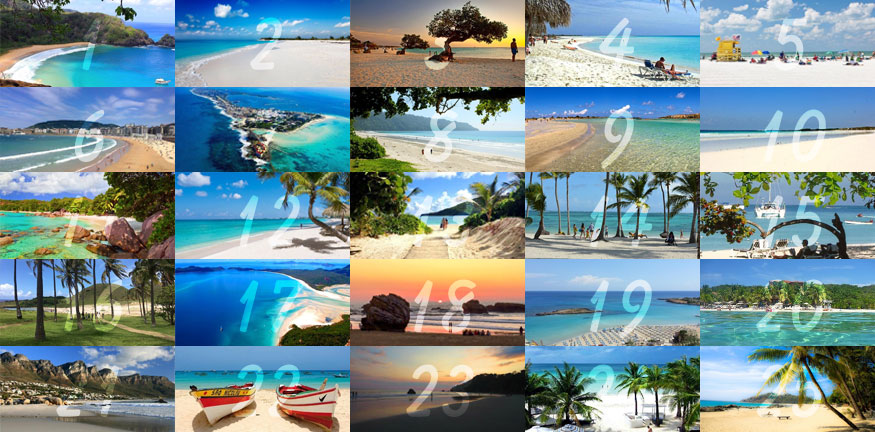 1. Baia do Sancho
Fernando de Noronha, Brazil
• No Visa for 90 days
• Travel year-round
2. Grace Bay
Providenciales, Turks and Caicos
• No Visa for 21 days
• Travel year-round
3. Eagle Beach Palm
Eagle Beach, Aruba
• Visa required
• Travel year-round
4. Playa Paraiso
Cayo Largo, Cuba
• Visa required
• Travel year-round
5. Siesta Beach
Siesta Key, Florida, USA
• Visa required
• Travel year-round
6. La Concha Beach
San Sebastian, Donostia, Spain
• Visa required
• Best time to travel: June to September
7. Playa Norte
Isla Mujeres, Mexico
• Visa required
• Travel year-round
8. Radhanagar Beach
Havelock Island, Andaman and Nicobar Islands, India
• e-Tourist Visa required for 30 days to India, and Protected Area Permit (PAP) or Restricted Area Permit (RAP) required to visit Andaman and Nicobar Islands
• Best time to travel: November to April
9. Elafonissi Beach
Elafonissi, Greece
• Visa required
• Best time to travel: May to October
10. Galapagos Beach at Tortuga Bay
Puerto Ayora, Ecuador
• No Visa for 90 days
• Travel year-round
11. Anse Lazio
Praslin Island, Seychelles
• No Visa, free Visitor's Permit on Arrival for 90 days (granted that you show documents for sufficient funds, along with travel itinerary and hotel bookings
• Travel year-round
12. Seven Mile Beach
Seven Mile Beach, Grand Cayman, Cayman Islands
• Visa required
• Travel year-round
13. Flamenco Beach
Culebra, Puerto Rico
• Visa required, issued by the United States
• Travel year-round
14. Bavaro Beach
Punta Cana, Dominican Republic
• Visa required
• Travel year-round
15. Seven Mile Beach
Negril, Jamaica
• Visa required
• Travel year-round
16. Anakena Beach
Easter Island, Chile
• Visa required
• Travel year-round
17. Whitehaven Beach
Whitsunday Islands, Australia
• Visa required, online application – Online Visitor e600 visa (for Australia)
• Travel year-round
18. La Cote des Basques
Biarritz, France
• Visa required
• Travel year-round
19. Fig Tree Bay
Protaras, Cyprus
• Visa required
• Best time to travel: May to October
20. West Bay Beach
West Bay, Honduras
• Visa required
• Best time to travel: February to August
21. Camp's Bay Beach
Camps Bay, South Africa
• Visa required
• Best time to travel: November to April
22. Praia de Santa
Maria Santa Maria, Cape Verde
• No Visa for 21 days
• Travel year-round
23. Playa Manuel Antonio
Manuel Antonio National Park, Costa Rica
• No Visa for 30 days, Visitor's Permit issued upon arrival. Can extend up to 90 days.
• Best time to travel: November to May
24. White Beach Boracay
Aklan Province, Philippines
• No Visa
• Best time to travel: December to May
25. Ngapali Beach
Ngapali, Myanmar
• No Visa for 14 days, apply eVisa if staying for 28 days
• Best time to travel: November to March