The 2017 Starbucks Planner Is More Expensive Than Ever; Here's Why You Should Get It
2 min read
For many Filipinos, it has been part of tradition to swig cups of coffee in exchange for stickers. All this, to get their hands on the Limited-Edition Starbucks Christmas Planner.
Many of you probably know the drill. Present your Starbucks Christmas Traditions card, stamped with all the 18 stickers required to get the much-coveted planner—one drink equals one sticker.
You need to guzzle nine Holiday Beverages, among them: Toffee Nut Latte, Peppermint Mocha, and Santa Hat Dark Mocha (which can be served either hot, iced or Frapuccino blended). The other nine drinks can be any of your classic favorite Starbucks Core Handcrafted Beverages on the menu.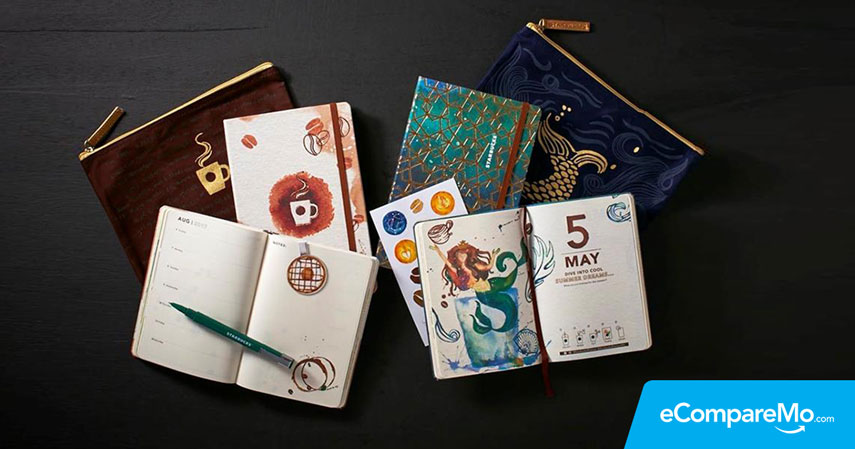 Is your wallet Starbucks ready?
The 2017 Starbucks planner is a real beauty to behold, especially if you're the type of person who wants everything to go according to plan. But how much cash do you need to burn—or in this case, grind—to make the planner yours?
Christmas Special Beverages: P175 to P195 each
Total cost for nine stickers: P1,575 to P1,755

Starbucks Standard Beverages: P95 to P185 each
Total cost for nine stickers: P855 to P1,665

Average cost of completing the stickers: P2,430 to P3,420
Customers with P7,000 worth of single-receipt purchase, meanwhile, can easily bring home a planner.
If you're a regular Starbucks coffee drinker, getting the planner should be rather easy. But for hardcore penny-pinchers who are used to getting their caffeine dose from 3-in-1 packets, it can be quite a struggle.
Read: Beat The System: Fast-Food Hacks For The Kuripot Foodie
And here's why you should get it
For those of you who haven't dropped by a Starbucks coffee shop to check out the goodie, here is a sneak peek for you.
The hardbound planner comes in two designs to choose from: coffee stains and blue siren.
The siren comes in a deep blue zip cloth pouch designed with a golden mermaid tail. The hardbound cover has ocean color blue-green gradient colors with embossed geometric figures as embellishment.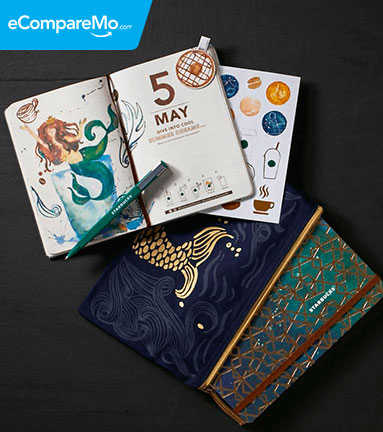 The coffee design comes in a brown zip cloth pouch with an artsy impression of Starbucks mug. The hardbound cover comes in an off-white color with a coffee mug imprint in the center and coffee bean graphics.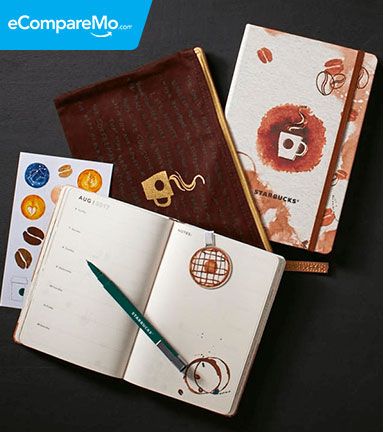 Both designs come with an erasable pen, watercolor designed pages, Macchiato magnetic bookmark, artsy stickers, and promo coupons. You may also choose between the regular and mini sizes.
Read: What's The Cheapest Way To Get The iPhone 7 In The Philippines?
For their part, Starbucks will donate to their partner non-government organizations like Teach for the Philippines, who has been their partner since 2014, and Philippine Educational Theater Association (Peta), who has been their partner since 2015.
Having a hard time deciding? You have until January 8, 2017 to complete all stickers. Redemption of Starbucks planners is until March 9, 2017.