Streaming Platforms In The Philippines: Comparing Plans And Prices
8 min read
So many streaming apps, so little time.
In the Philippines, the world of streaming platforms has so far been dominated by Netflix. However, new players have entered the fray guns blazing, trying to take away the streaming giant's lion's share.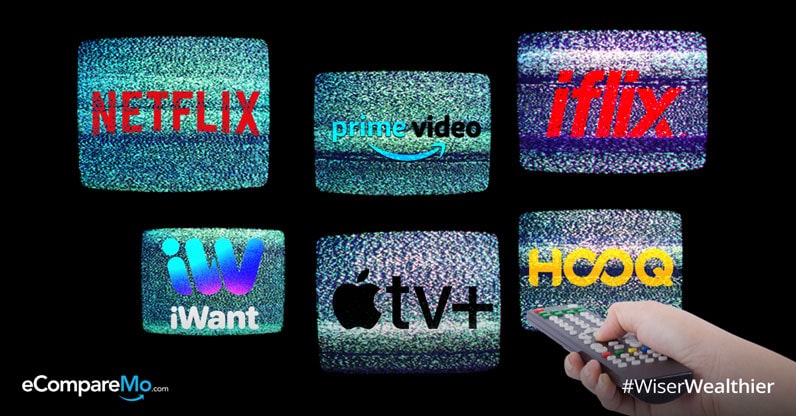 Most recently, two notable streaming programs have begun trying to make people switch to their side.
Tech giant Apple just recently unveiled its own entertainment platform, the Apple TV+, complete with its exclusive line of original content. Meanwhile, Disney wants to make sure you give them all your money — if you want to enjoy your Disney and Marvel favorites — with Disney+.
Since these newer apps are now available in the Philippines, this is the perfect time to weigh if your current subscriptions are still worth it. We've looked into all the available platforms in the country, their best content, and if you have the ability to split the cost with other people. After all, sharing is caring, right?
1. Netflix
| Basic | Standard | Premium |
| --- | --- | --- |
| P370 per month | One user at a time | Streams up to 480p resolution |
| P460 per month | Two users at a time (P230 per user) | Streams up to 720p resolution |
| P550 per month | Four users at a time (P137.50 per user) | Streams up to 4K resolution |
When the streaming giant first came to the Philippines in 2016, people finally had a way to consume their content without resorting to piracy. With dozens of items added to its inventory every week, not to mention its low price point, a Netflix subscription seemed totally worth it.
So, in this age of the streaming wars, will a Netflix subscription still be worth it? Probably.
For starters, the company has been investing heavily in a lot of original content such as shows, movies, and comedy specials. Some of the highly anticipated titles Netflix is about to drop include Bojack Horseman's final season, Money Heist, The Irishman, Stranger Things, and a whole lot more.
Unfortunately, some of your favorite shows might disappear from the platform forever.
Fan favorites like Friends will be leaving their service in favor of becoming exclusive content for their competition. Meanwhile, all Disney titles are in peril as the entertainment giant wants to beef up its recently launched service, Disney+.
Our verdict: Although Netflix's catalog will be severely debilitated with the rise of its competitors, you still might want to hold on to your account as the entertainment company has proven it can produce exclusive content worth your time and money.
(Read: 5 Vital Life Lessons From Netflix's 'Fyre' Documentary)
2. Prime Video
Prime Video
P150 per month
One user at a time
Streams up to 4K resolution
Note: exclusive for Globe Postpaid subscribers
If you're a Globe postpaid subscriber, chances are you've already received a free six-month trial run to check Prime Video, the streaming service of Amazon. And if you've tried it, you know that it's a great place to get your binge-watching fix.
Like Netflix, Amazon has built a wide range of original movies and shows for its platform. Titles like The Boys, The Man in the High Castle, Modern Love, and The Marvelous Mrs. Maisel have proven to be hit among viewers and critics alike.
In addition, it has some top-rated shows that are not available on Netflix. Classics like Seinfeld and The Office are readily available for its users.
Not enough content? If you have extra money to spare, you can supercharge your Prime Video subscription through the Prime Video Channels add-on.
You can add channels like HBO, Showtime, and CBS to your catalog—at a cost, of course. In addition, you can buy shows and movies a la carte, which comes in handy if you're itching to watch new episodes of your favorite shows as soon as possible.
Our verdict: For serious movie and TV buffs, Prime Video's rich catalog of both included content and addons is perfect for those who want more options than just exclusive content. However, the Globe-only barrier might not make it accessible to your average user.
3. iWant
| Free | Premium |
| --- | --- |
| Free | P120 per month |
| One user at a time | One user at a time |
| Streams up to 720p resolution | Streams up to 720p resolution |
For your solid Kapamilya fanbase, the ABS-CBN's iWant streaming app is definitely worth it. You can access episode reruns, movies, and news programs without the need to tune in to your TV.
Aside from their for-TV content, iWant also has a plethora of original shows and movies you can check if you've already run out of shows to check.
So, where does iWant excel at? First, it's the wide range of local movies to choose from. Although Netflix is already starting to pick up Filipino movies, local titles are just a small fraction of their library. This is the corner of the market iWant aims to corner.
Aside from more movies and TV shows, premium users can watch digitally restored classics such as T-Bird at Ako, Himala, Oro Plata Mata, and other legendary movies.
News programs and documentaries are also abundant in iWant's premium catalog. Apart from the free TV news programs, ANC shows like Dateline, Market Edge, and Executive Class are accessible through your iWant Premium account.
Our verdict: From news programs to local TV shows to movies, iWant has an extensive Filipino content for everyone. However, the website's clunky interface might be one of the biggest turnoffs for those who want a slick user experience.
4. HOOQ
| Monthly Plan | Annual Plan |
| --- | --- |
| P149 per month | P894 per year |
| Five users at a time (P29.80 per user) | Five users at a time (P178.80 per user) |
| Streams up to 720p resolution | Streams up to 720 resolution |
"Created by Asians for Asians" is HOOQ's tagline, with the goal to showcase regional talent from many Southeast Asian cities.
According to the company, it has around 10,000 titles readily available to its users. Even before Netflix got Friends for the regional market, HOOQ has already made it available for its subscribers.
Beyond the obvious list of international movies and TV shows, HOOQ has put a premium on featuring more content from South Asia and Southeast Asia.
In addition, the company has bankrolled exclusive content under the HOOQ Original banner. As of checking, there is no Filipino content made by HOOQ yet for the local market.
What makes HOOQ subscription an attractive proposition? For starters, its low price point per account can accommodate up to five users, making it one of the cheapest options out there. But if you want more savings, get the annual plan at only P894 per month. If a monthly plan will set back a group of five by up to P29.80 per month, an annual plan can drive down the cost to P14.90 per month per person!
Our verdict: If you're looking for something between a cheaper Netflix alternative and a good way to finally cut the cable, HOOQ is definitely for you. It's more robust than your average cable TV subscription, yet not as costly.
5. iflix
| For Globe Users | For Smart Users |
| --- | --- |
| P129 per month | P99 per month |
| Five users at a time | Five users at a time |
| Streams up to 1080p | Streams up to 1080p |
It's hard to talk about iflix without discussing its competitor: HOOQ.
Like the Singapore-based platform, iflix is also homegrown in the region and tries to cater more to this market through more Asian content.
With 3.2 million users as of 2019, it's highly likely that the platform is here to stay.
This year, iflix is starting to bank on more shows from the Philippines. Last July, the company struck a deal with Viva Communications to co-produce films that will make the entertainment's ventures available to a wider audience beyond the Philippines. This will only mean that the Filipino catalog of the platform will continue to grow.
If you're a Smart subscriber, there's no reason to prevent yourself from getting an iflix subscription. For only P99 per month, you can stream full HD movies and shows—and your subscription fee automatically billed to your account. Globe subscribers must pay P30 more for a monthly subscription.
Our verdict: Getting iflix as an add-on to your postpaid mobile plan is something that won't hurt. One compelling reason to actively subscribe to iflix is they have episodes of Mr. Robot as soon as they air.
6. Apple TV+
Apple TV+
P249 per month
Six users at a time (P41.50 per user)
Streams up to 4K resolution
Despite the hype surrounding its brand, Apple's very own video service is off to a fresh start. First, its list of original content got a lukewarm reception from critics. Not even the Jason Momoa-led See can prevent critics from shooting down Apple. However, the tech company might have an ace or two up its sleeve.
For starters, an Apple TV+ subscription is definitely much cheaper than even Netflix's bottom-tier plan. With a P121 difference between the two, price-wise Apple wins this one. In addition, the platform promises a faster update of its catalog with newer movies, making piracy much less appealing to your general consumer. Finally, it offers a one-year free Apple TV+ subscription for people who bought any Apple gadget after September 10, 2019.
Before you make the switch, one thing you must keep in mind is that Apple TV+ doesn't have an Android app; you can only download the app through devices running the latest versions of iOS, iPadOS, and macOS. The service also has limited support to smart TVs, with only a handful of models currently supported.
Our verdict: Apple TV+ is a service that's perfect for you if you're already part of the Apple ecosystem through one of their devices. Otherwise, you should just stick to Netflix or Amazon Prime Video.