Reap Rewards & Much More With The UnionBank Gold Visa Card
3 min read
UnionBank Gold Visa Card lets you ease your financial worries wherever your feet may bring you. You don't even have to bring cash with you, it's helpful and convenient especially in a cashless society. Ensure fun and secure out-of-town trips with a reliable credit card, and earn rewards along the way!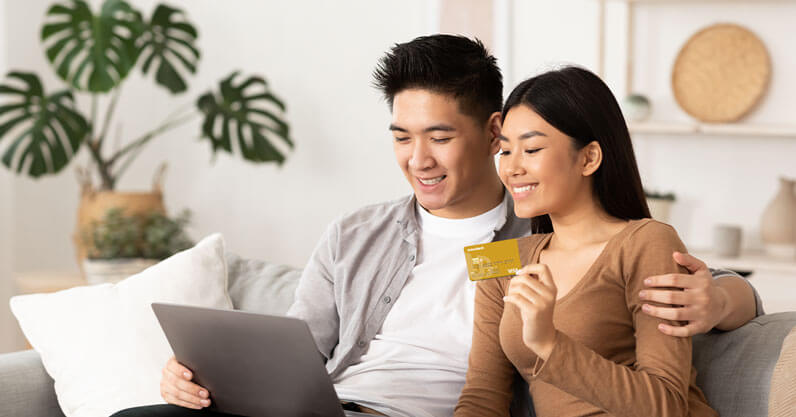 By using UnionBank Gold Visa Card on your travel escapades, you'll get access to premium travel perks and deals with UnionBank partner establishments as well as local air miles.
Get unlimited access to airport lounges and experience VIP-like treatment for free. Fill up your tank and indulge in a gourmet selection of soup, pasta, sandwiches, and biscuits; and an assortment of hot and cold beverages, wines, and liquors. All these while also earning points that never expire. Now the question is, how do you earn points? Easy as 1, 2, 3!
One, use your UnionBank Gold Visa Card on all your purchases, from airfare to day-to-day expenses.
Two, earn 1 point in every PHP 35 worth spent.
Three, view, browse, and redeem your rewards at UnionBank Online. Points earned are automatically posted on your account so redeeming won't be much of a hassle. Simply download the UnionBank Online App for easier and faster transactions.
Fantastic rewards await you with the UnionBank Gold Visa credit card!
A bevy of rewards is at your disposal once you're ready to redeem your points. Here's how you can redeem your rewards.
From your UnionBank Online App, click on Account Details and view Available Reward Points. Browse the Rewards Catalogue and select whichever reward you prefer, but make sure that it is within your current reward balance. Below are just a few of the exciting deals waiting for you:
Travel Rewards
Philippine Airlines' Mabuhay Miles – transfer points to PAL's Mabuhay Miles Frequent Flyer Program for free plane tickets.
Petron Value Card – use points to load Petron Gas for your car.
Shopping Gift Certificates
SM Gift Certificates
Rustan's Gift Certificates
Leisure & Entertainment
Choose your SM Movie Passes – from Regular, Director's Club to IMAX Theaters
Cash Rebates/Annual Fees
Use points to pay for your primary and supplementary Card's Annual Fees.
Get Cash Credits for a minimum of P100 from your points.
How to apply for a UnionBank Gold Visa Card
Getting your own UnionBank Gold Visa Credit Card has never been this easy! To jumpstart your amazing journey, go to the UnionBank Credit Card Application page and fill out the form. Click the link. Once submitted, proceed with the next steps. But first, make sure that you are qualified to get the credit card you want. For reference, here are the minimum qualifications and requirements to apply:
You must be 18-70 years old to apply.
Submit the aforementioned application form.
A copy of one (1) valid government ID with photo and signature.
Latest 3 months copy of the Bank Statement of Account (SOA) from a bank.
A copy of your source of income. You can present any of the following:
Income Tax Return (ITR) or Certificate of Compensation Payment and Tax Withheld or similar documents
Certificate of Employment or Employment Contract
Latest 3-months payslip
BIR Form 2316 or a similar document
Proof of pension
*For foreign applicants, an additional requirement of Alien Certification of Registration (ACR) or its equivalent document needs to be presented.
Once completed, you can proceed with your UnionBank Credit Card application process and, should there be no issues, get approved in no time!
A friendly reminder though, before looking into getting a credit card, you've got to set your priorities in check. Remember that a credit card only allows you to borrow money and does not give it away for free; so, always keep in mind your payback plan. Use it wisely and you're good to go.
No worries! UnionBank offers 0% interest installment payment plans for you and a free life insurance coverage up to PHP 400,000 so you're practically getting more than what you pay for. Travel in style and earn amazing rewards by applying for a UnionBank Gold Visa Card now.