How To Open A Philstocks Account: A Step-By-Step Guide
6 min read
Philstocks is a free online stock trading platform where the Philippine stock market is opened to investors. It's an easy and convenient way for Filipinos to invest their hard-earned cash.
Philstocks Financial Incorporated was established in 2001, and is approved by the Security and Exchange Commission (SEC) and other government agencies in the Philippines.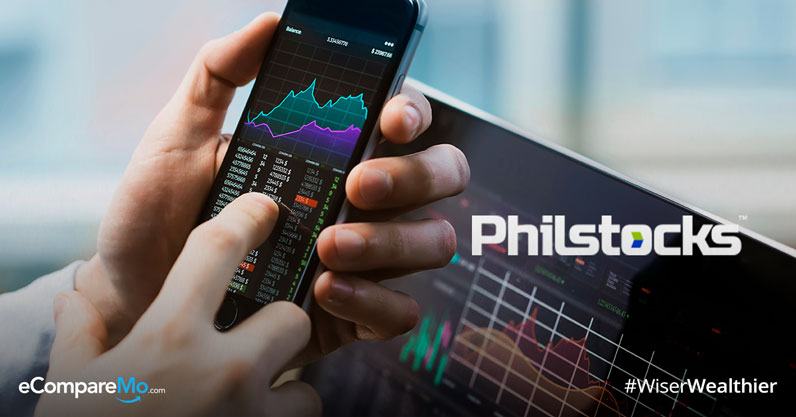 They provide their clients with top-quality trading experience through state-of-the-art technology. Philstocks allows traders, investors, and other licensed clients to conduct trades reliably and hassle-free.
Before you open an account, make sure that you have done your research. You should at least have a background of the Philippine stock market and how it works.
There are risks to trading of course, but financial experts believe that when you invest in the stock market and continue to learn about it, it will bring you great rewards.
Philstocks vs. COL
Another online trading platform we've talked about here at eCompareMo is COL Financial. Find out more about COL here.
Want to know the difference between the two trading platforms? We'll break it down for you:
| Philstocks | COL Financial |
| --- | --- |
| Fast and reliable | Has a lot of hang-time |
| Withdrawing money is easy | Paperwork is required every withdrawal |
| Provides Broker-assisted trainings | Beginner friendly (provides information on what to invest in) |
| Automatically sends your statement of account emails every month | Takes a while to send statement of account emails |
(Read: A Four-Step Guide To Investing And Trading In The Stock Market)
Products and services
Philstocks Mobile. Perfect for traders who are always on the go. This app offers world-class, feature-packed, and state-of-the-art online trading app. This can be downloaded on Google Play and Apple Store
Online Trading Platform. You can do it all on one screen. It uses the Robust Online Trading Technology
Broker-Assisted Trading. Has personalized trading experience and portfolio management
Stock Certificate Lodgment. Stock Certificate Liquidation. It offers FREE conversion to your online trading account
Research. Daily Notes, Trading Guide and Morning Brew
Philstocks Learning Series. Stock Market 101 and Advanced Seminars
Visit their page if you want to know more about the products and services they offer: https://www.philstocks.ph/
(Read: A Complete Stock Market Investing Guide For OFWs)
Tips for buying stocks on Philstocks
When you are investing in stocks, here are a few things to remember:
Do a ton of research! Make sure that the company you will entrust with your hard-earned cash is winning on stocks and industry. Research about stocks, trading, economics,and especially politics.
Know your limits. What are your goals and what do you wish to accomplish?
Investing strategies are a must. Do not just shell out money without thinking or researching it first.
How to open a Philstocks account
First, make sure you have the following requirements:
Two Primary IDs: Passport, SSS, GSIS, UMID, TIN ID, Driver's License
For foreigners who are permanently residing in the Philippines: Foreign Passport or Foreign Driver's License and your Alien Certificate of Registration (ACR)
If you only have one Primary ID, you may submit secondary IDs instead. Acceptable secondary IDs are: Postal ID, Senior citizen card, NBI Clearance, Credit card, ATM card, Company ID (current employer), and, for Students: Student ID (current school year), NSO-certified Birth Certificate.
Step 1: Register
Register online at https://registration.philstocks.ph/. You will be sent signature cards and the Customer Account Information Form (CAIF) in your email
Once you have received it, download and print the signature cards and the Customer Account Information Form (CAIF)
Fill in the information needed in the signature cards and the Customer Account Information Form (CAIF)
Submit the signature cards and the Customer Account Information Form (CAIF) together with two Primary IDs. In case you only have one primary ID, you may submit one primary ID and two secondary IDs instead
If you prefer over-the-counter registrations, you may visit their head office
Step 2: Submit requirements
Bring all of the requirements (signature cards, Customer Account Information Form (CAIF), valid IDs) to their head office or any other branch.
Head Office Address: G/F, East Tower, Phil. Stock Exchange Centre, Pasig City
Binondo Branch: 4th Flr. Unit 448 Wellington Bldg. 624 Quintin Paredes St. Plaza San Lorenzo Ruiz Binondo Manila
Ortigas Office Address: Ground Floor, Unit EC-05B, East Tower Philippine Stock Exchange Center (PSE), Exchange Road, Ortigas Center, Pasig City, Philippines 1604.
Office Schedule: Monday – Friday (8:00 AM to 5:00 PM) Contact Number: 542-3919 / +63 (02) 588-1900 Email: info@philstocks.com
Step 3: Deposit your initial investment
You must deposit an initial investment for of P5,000 through one of the following methods:
Bancnet/Megalink thru Weepay Online Payment
BPI/BDO over-the-counter deposit
BPI Bills Payment
BPI/BDO Mobile App
Via over-the-counter payment to any Philstocks Financial, Inc. branches
Via wire transfer or remittance
If you are still unsure of opening an account, Philstocks offers a free trial account! It will allow you to experience real-time trading online for seven days.
How to fund your Philstocks account
There are six options to funding your account:
Over-the-counter: You may visit their office to pay in either cash or cheque.

Cash Payments: Your payment will be credited to your account in an hour
Cheque Payments: Your payment will be credited depending on your check's clearing period. This would usually take 1-3 days to process.

UnionBank: You have to enroll your Philstocks Account Number (PAN) on your mobile app or on their website under the online banking bills payment facility.
BDO and BPI: You can pay either cash or cheque. You may do this over-the-counter or through your mobile app or their website

BDO: https://www.bdo.com.ph/personal
BPI: https://www.bpi.com.ph/

Weepay: Payments can be done through a BancNet ATM. Note that there is a fee of P25
Coins.ph: Can be done via Philstocks Mobile App
Metrobank: This can be done through any ATM.
In processing you Add Fund Request, you must first upload your proof of transaction:
Log in to your Philstocks account
Click "Request"
Select "Add funds"
You will be asked to enter the complete details of your payment
Upload a screenshot or a photo of the proof of payment
Click "Proceed"
*For the Add Fund Requests that were made after 4:00 PM, they will be processed the next working day. And if you are issuing a cheque to add fund, address it to Philstocks Financial Inc.
(Read: 6 Great Investments Millennials Should Make Now)
How to withdraw from your Philstocks account
Before you can withdraw, you must first request a withdrawal of funds using your online trading account. (Login – Select "Requests" – Click "Cash out")
*Cash out requests follow a strict 12:00 NN cut-off rule. For the requests that are made after 12:00 NN, they will be processed the next business day.
1. Local banks
You can ask them to deposit the money in your local bank as a check. (Banks: AUB, BPI, BDO, Eastwest Bank, Security Bank, UCPB, Unionbank, and CHIB)
If the bank you chose is not in the given banks above, you have to wait at least 3-6 banking days.
2. Foreign banks
There is a $10 fee and it will take approximately three to five banking days before your check will be available
3. Pick-up
You can pick up the cheque personally or through an authorized person in their Ortigas or Binondo office. It will take two to four days to process upon the request