Old Faces, New Names Make It To Forbes Philippines' 50 Richest List 2017
4 min read
The Philippines has recently been lauded as a strong-performing economy. Despite the volatility of neighboring markets over the years, the country was able to maintain its steady growth. For the upcoming period, the World Bank predicted that the Philippines will maintain its economic growth of 6.9 percent for the next year, mainly thanks to growth in export and private consumption.
While everyone is bound to benefit from our booming economy, the biggest gainers are the country's business tycoons. This year, renowned business magazine Forbes released its annual list of the richest Filipinos. From familiar names and consistent chart-toppers to new up-and-comers, the list is full of names that impact consumers across the board – from shopping to utilities and even to housing.
Massive gains
According to the financial magazine, the country's richest saw huge gains with the intense drive of the Duterte administration to push massive infrastructure programs, which will see the construction of highways, bridges, train lines, and more until the term ends in 2022.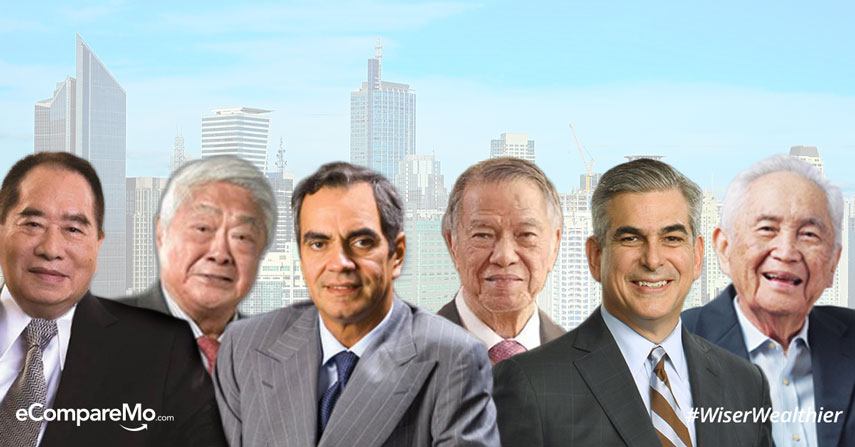 For a decade now, SM Investments head honcho Henry Sy has reigned supreme as the richest man in the Philippines. In 2008, Sy snagged the top spot as the wealthiest Filipino at $3.1 billion—and his net worth has now climbed to $18 billion, from $13.7 billion in 2016. In addition, the 92-year-old mall tycoon also ranks 94th in Forbes' international list of billionaires.
The second richest person in the country is JG Summit's John Gokongwei Jr, who netted a total of $5.5 billion under his name. While the Universal Robina Corporation founder saw a drop in his net worth from 2016's $6.8 billion, Gokongwei's Cebu Pacific, Robinsons Mall, and Robinsons Land still secured him the second spot on the list.
(Read: Filipino Billionaires and Their First Jobs)
Coming in at third, port magnate and Solaire Resort owner Enrique Razon Jr. climbed five places up from eighth last year. From $3.5 billion in 2016, Razon's wealth shot up to its current value of $4.3 billion, largely thanks to the turnaround of Solaire from last year's losses.
According to the Forbes report, "even of the ten biggest dollar gainers have sizeable interests in construction and property development." Among the gainers who benefited from this are David Consunji of DMC Holdings, Edgar Saavedra and Michael Cosiquien of Megawide Construction, and Ramon Ang of San Miguel Corporation, whose Eagle Cement IPO last May helped his net worth nearly double.
The Forbes list of Philippines' 50 richest welcomes new blood in the form of Eusebio Tanco. Aside from his ownership of STI, he also has a stake at Asia Terminals and Philippine First Insurance, among others. Tanco's current net worth is at $150 million.
From last year's top 10, Lucio Tan of LT Group may have maintained his position at fourth place, but his net worth decreased from $4.6 billion last year to this year's $4.2 billion. Other chart toppers who also took a hit were George Ty, Tony Tan Caktiong, Jaime Zobel de Ayala, and Andrew Tan. Meanwhile, Edgar Sia of DoubleDragon Properties wasn't able to sustain his meteoric rise as his net worth devalued from $1.2 billion in 2016 to $820 million today.
Here is the complete list of Philippines' 50 richest 2017 from Forbes:
| | | | |
| --- | --- | --- | --- |
| Rank | Name | Net worth | Origin of wealth |
| #1 | Henry Sy | $18 B | SM Investments Corporation |
| #2 | John Gokongwei, Jr. | $5.5 B | JG Summit |
| #3 | Enrique Razon, Jr. | $4.3 B | International Container Terminal Services |
| #4 | Lucio Tan | $4.2 B | LT Group |
| #5 | Jaime Zobel de Ayala | $3.7 B | Ayala Corp |
| #6 | David Consunji | $3.68 B | DMCI Holdings |
| #7 | George Ty | $3.6 B | Banking |
| #8 | Tony Tan Caktiong | $3.4 B | Jollibee |
| #9 | Andrew Tan | $2.5 B | Alliance Global |
| #10 | Ramon Ang | $2.3 B | San Miguel |
| #11 | Lucio and Susan Co | $1.8 B | Puregold Price Club |
| #12 | Manuel Villar | $1.65 B | Vista Land & Lifescapes |
| #13 | Inigo & Mercedes Zobel | $1.6 B | Ayala Corp |
| #14 | Robert Coyiuto, Jr. | $1.5 B | National Grid Corporation of the Philippines |
| #15 | Mercedes Gotianun | $1.4 B | Filinvest |
| #16 | Roberto Ongpin | $1.15 B | Alphaland |
| #17 | Eduardo Cojuangco | $1.1 B | San Miguel |
| #18 | Dean Lao | $1 B | D&L Industries |
| #19 | Ricardo Po, Sr. | $980 M | Century Pacific Foods |
| #20 | Betty Ang | $880 M | Monde Nissin |
| #21 | Edgar Sia | $820 M | Double Dragon Properties |
| #22 | Oscar Lopez | $760 M | Lopez Holdings |
| #23 | Beatrice Campos | $650 M | United Laboratories |
| #24 | Carlos Chan | $620 M | Oishi |
| #25 | Alfredo Yao | $600 M | Macay Holdings |
| #26 | Frederick Dy | $520 M | Security Bank |
| #27 | Jacinto Ng | $420 M | Republic Biscuit Corp |
| #28 | Jose & Robbie Antonio | $400 M | Century Properties |
| #29 | Michael Cosiquien | $385 M | Megawide Construction |
| #30 | Jorge Araneta | $380 M | Araneta Group |
| #31 | Edgar Saavedra | $375 M | Megawide Construction |
| #32 | Mariano Tan, Jr. | $370 M | United Laboratories |
| #33 | Jon & Mikel Aboitiz | $350 M | Aboitiz Equity Ventures |
| #34 | Manuel Zamora | $280 M | Nickel Asia |
| #35 | Wilfred Steven Uytengsu, Jr. | $240 M | Alaska Milk |
| #36 | Vivian Que Azcona | $230 M | Mercury Drug |
| #37 | Eric Recto | $225 M | Bedfordbury Development |
| #38 | Jose Ma Concepcion | $220 M | Concepcion Industrial |
| #39 | Bienvenido Tantoco, Sr. | $190 M | SSI Group |
| #40 | P.J. Lhuillier | $180 M | Cebuana Lhuillier |
| #41 | Felipe Gozon | $170 M | GMA Network |
| #42 | Menardo Jimenez | $165 M | GMA Network |
| #43 | Walter Brown | $160 M | A Brown Company |
| #44 | Gilberto Duavit | $155 M | GMA Network |
| #45 | Eusebio Tanco | $150 M | STI Holdings |
| #46 | Juliette Romualdez | $145 M | Banco de Oro |
| #47 | Michael Romero | $135 M | GlobalPort 900 |
| #48 | Erramon Aboitiz | $130 M | Aboitiz Equity Ventures |
| #49 | Luis Virata | $125 M | Nickel Asia |
| #50 | Philip Ang | $120 M | Nickel Asia |