No More Luxury Cars? Government Officials Can Start Looking At These Budget Alternatives
5 min read
For almost the same features, these substitutes for the 'classy' vehicles politicians are used to will give taxpayers more peace of mind.
Fresh off his apparent victory over other presidential candidates, Rodrigo Duterte is looking at doing a lifestyle shakeup on all government officials.
According to an announcement by his executive assistant Bong Go, the presumptive president said he wants public servants to stop using luxury cars and encourage them to practice a simple lifestyle.
In the Philippines, luxury vehicles and public officials have been known to go hand in hand.
Years ago, President Benigno Aquino III drew flak after buying a Porsche 911 Turbo, which he sold subsequently. Other public officials, despite their meager salary, also attract scrutiny by driving luxury vehicles—and keeping some more out of their SALNs.
If government officials want to downshift their vehicles to more practical cars—yet still packed with the same features for comfort and security—here are a few suggestions.
Bye: Mercedes-Benz S-Class
Hello: Toyota Camry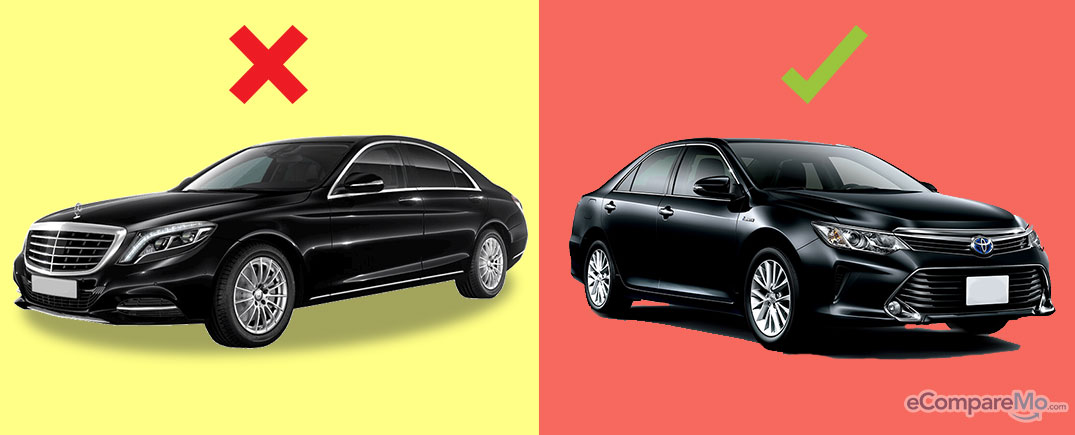 Nothing screams more luxury than Mercedes-Benz's three-pronged logo. The S-Class, which is the German automaker's flagship vehicle, is the lovechild of design, performance, and comfort excellence. Only, it costs a whopping P11.3 million.
If you want the same comfort and smoothness offered by the S-Class without shelling out too much cash, the Toyota Camry is the perfect budget alternative. It also has a spacious cabin, bold exterior, and smooth performance. Not too shabby too.
Bye: Toyota Land Cruiser
Hello: Toyota Fortuner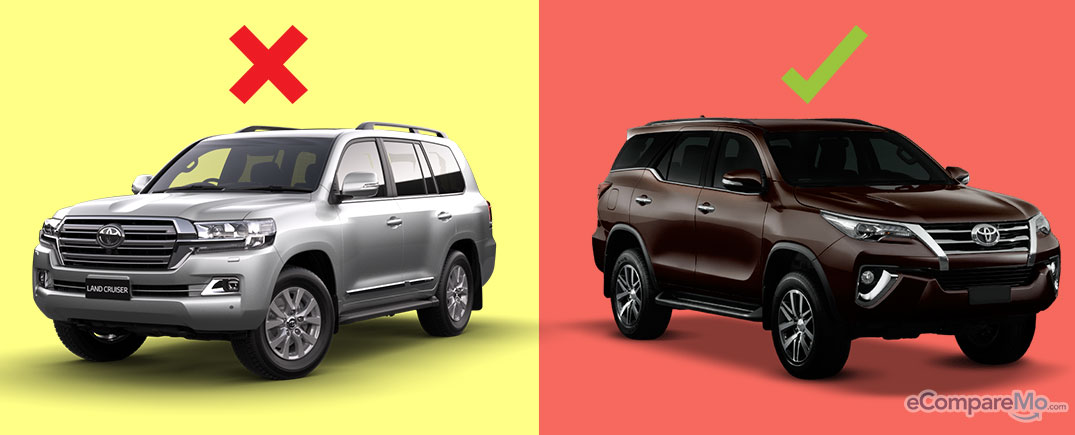 Built for the toughest environments and extreme driving conditions, Toyota's cross-country SUV has no doubt become a staple among politicians due to its size and prominence. While the road behemoth can scare off smaller vehicles into yielding to the Land Cruiser, fuel efficiency and price are the two drawbacks of this car.
Instead, you should opt for its smaller yet also powerful cousin, the Fortuner. With almost the same size yet half the engine size, you can actually buy two top-of-the-line Fortuners at the price of one Land Cruiser!
Bye: Hummer H2
Hello: Mahindra Enforcer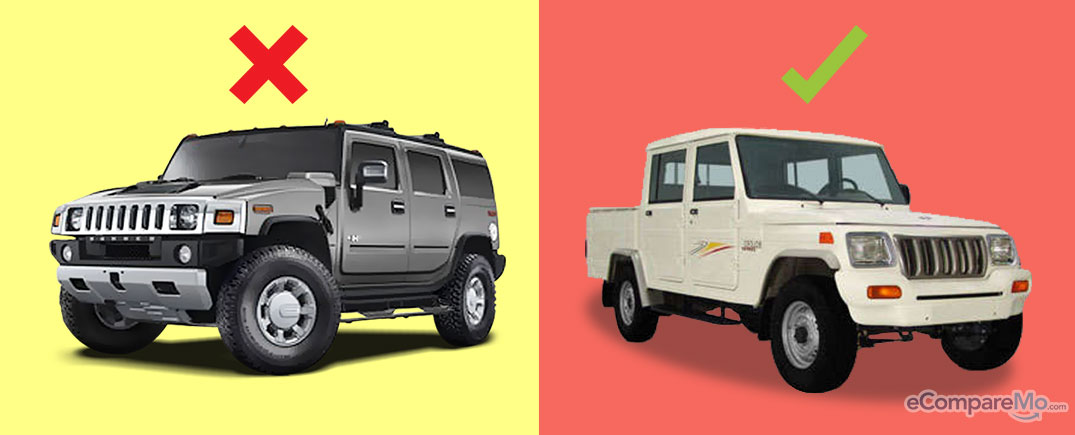 Before you even dismiss the Mahindra Enforcer as a knockoff straight out of some obscure sweatshop, consider these. The Enforcer is more than half the price of brand-new Hummers sold at your dealership. Aside from its affordability, it also boasts of durability and performance with its 2.5L turbo diesel engine. After all, the Philippine National Police wouldn't procure a fleet of Mahindras if they can't withstand extreme conditions, would they? And since this particular model has its own basketball team, why don't we start with their very own coach, Senator Manny Pacquiao?
Bye: Land Rover Range Rover
Hello: Mitsubishi Montero Sport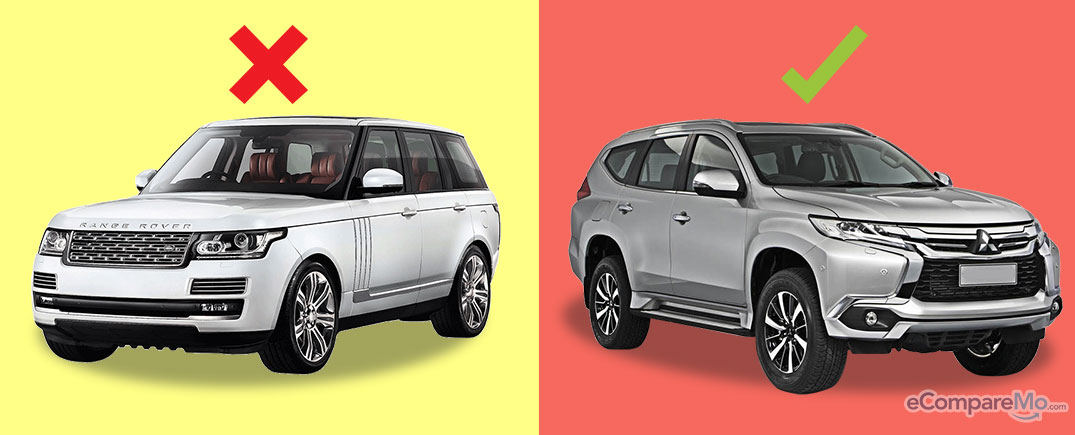 The Range Rover ditched its rough and edgy design in favor of a sleeker and bolder exterior. While its core still remains as a powerful 4×4 vehicle built for tough conditions, it's still a luxury people cannot afford.
But you know what's a better yet cheaper alternative to the iconic Range Rover? The all-new Montero Sport.
Outclassing its predecessor in any way possible, the new Montero Sport offers a sportier look and a more powerful engine, it also comes with six-speed transmission for total control and off-road modes like gravel, mud/snow, sand, and rock. With the GT 4WD A/T variant priced at P2 million, you can buy more than one Montero Sport units with the Range Rover's price. Other suggestions: Ford Everest. Or the Isuzu MU-X–our presumptive president himself is driving one.
Bye: GMC Savana 1500 LT
Hello: Toyota Hi-Ace Super Grandia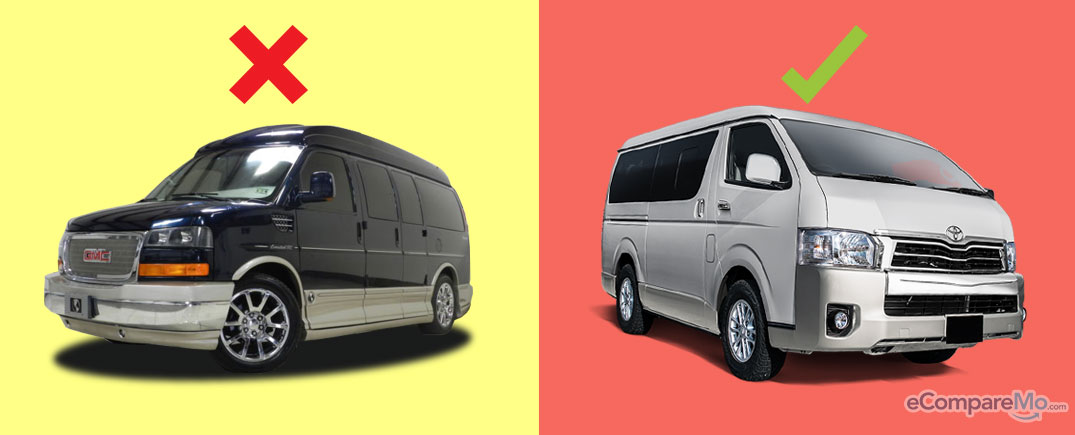 With enough size to haul an entire entourage of bodyguards, assistants, and god knows what else, the GMC Savana is the perfect van for people who need to carry everything they need wherever, whenever. Unfortunately, the GMC Savana is priced at around P4 million, which makes it too much of a vehicle for a politician. Our alternative? Get the same features without shelling the same amount with the Toyota Hi-Ace Super Grandia. With an improved load capacity and a tough 2.5L D4-D turbo diesel engine, the Super Grandia can carry you and your platoon wherever you go—more than half the price of the Savana.
Bye: Porsche Cayenne Turbo
Hello: Hyundai Tucson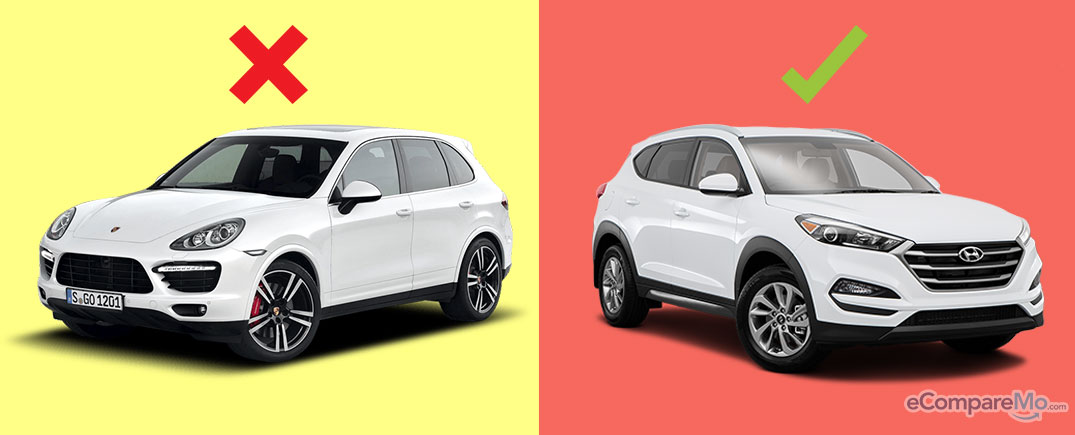 Sporting the illustrious aerodynamic design Porsche has been known for, the Cayenne Turbo is the perfect vehicle for people who want a Porsche yet also gun for bigger space.
But while the Cayenne is a celebration of the German company's decades of design and performance superiority, it's priced at an exorbitant amount of P8.85 million.
Fortunately, the Tucson can offer almost the same features like sleek and fluid design, powerful engine, and a plethora of features, its market value is only P1.538 million for the GLS CRDi variant.
Bye: BMW 5 Series
Hello: Hyundai Sonata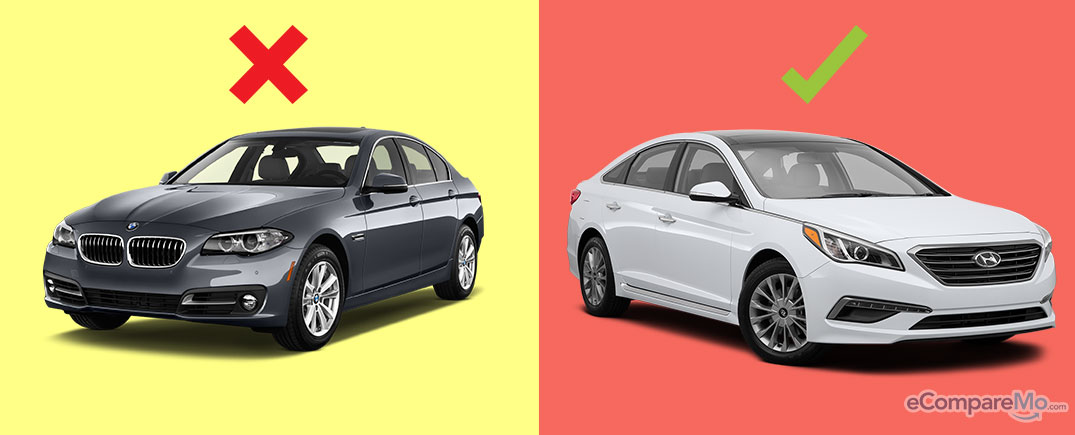 Engineered for executive-class performance and comfort, the BMW 5 Series packs the power of a sports vehicle under the slick and aerodynamic exterior.
With its top-tier price at P7.190 million, the 5 Series positions itself as one of the most expensive luxury sedans in the Philippines. But we dare say the Hyundai Sonata can keep up with German luxury sedan. Aside from the Korean sedan designed to provide comfortable driving experience, its beating heart of 2.4L Theta-II engine will give any congressman the same comfort in the backseat. This, for as low as P1.89 million.
Bye: Jaguar XJ
Hello: Honda Accord
Trying to stay true to its namesake, the Jaguar XJ is one hell of a beast in terms of performance. It also catches the eyes of onlookers with its fluid design.
As the flagship of the renowned British automobile manufacturer, the XJ packs a plethora of treats to users when it comes to engine, safety, and interior at the price of around P7.5 million.
Fortunately, the all-new Honda Accord can give users the same character and strength without paying for a fortune. Staying true to its luxurious cabins and smooth driving experience, the Accord is a steal at P2.14 million.
Bye: Nissan Patrol
Hello: Toyota Innova
With a reinvented design that combines boldness, edge, and luxury yet staying true to its roots, Nissan's iconic 4×4 can withstand the severe road conditions the country has to offer. Powered with features like 3L 4-cyclinder turbo engine, antilock brake system, heavy duty suspensions, and 18-inch tires, the Patrol is a formidable force on the road, but the P3.9 million SRP for the Royale variant can easily make the most diligent of taxpayers cry.
So can the overhauled 2016 Toyota Innova with 2.8L turbo diesel engine stand a chance with the Patrol? Not really, but at P1.14 million for the V variant, it can do the job of transporting officials comfortably for so much less. Davao officials use Toyota Avanzas for their official business, so what's your excuse? –Dino Mari Testa