LRT-2 Westbound Extension, Cavitex-C5 Link Toll Hike, Politicians To Take Public Transportation, And Other Motoring Stories
3 min read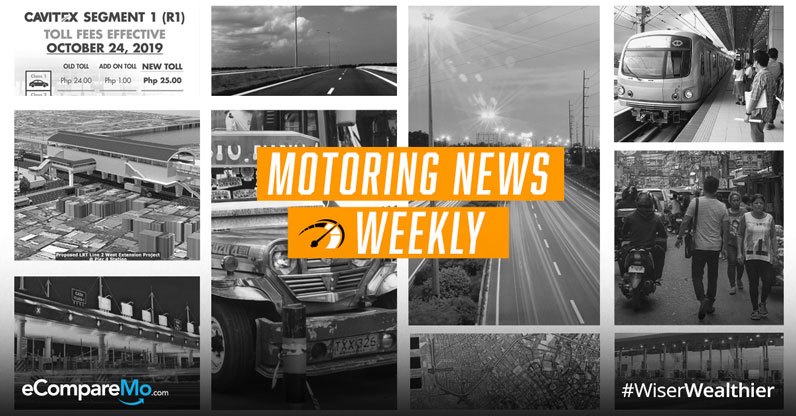 Solon proposes bill mandating public officials to take public transportation
If our politicians will be subjected by the law to our horrendous public transportation, will they be forced to find ways to make our commuting lives better?
That's what Representative Neil Abayon III had in mind when he proposed House Bill No. 6195, more commonly known as "Public Servants Commuting via Public Transport Act."
Under the bill, all public officials up to the local government level must use public transportation to get to work "at least once every calendar month during weekday rush hours using each of the various modes that are operating in the geographical area [they] reside and work in."
However, Iligan City Representative Neil Abayon added a better idea to the bill: making the mandated commute for officials at least once a week.
According to a report by Top Gear Philippines, he wanted the politicians to "be reminded weekly of the suffering the masses endure on a consistent basis."
(Read: "Tunnel" Underneath Edsa, LRT-2 Closure, And Other Motoring And Traffic Stories You Need To Know)
Cavitex toll hike approved by TRB
Starting next Thursday, Cavitex operator Cavite Infrastructure Corporation (CIC) will increase its toll for both users of the expressway as well as the provisional initial toll for the Cavitex-C5 Link Expressway
According to Cavitex president Bobby Bonita, the expressway manager asked the Toll Regulatory Board (TRB) to increase the toll fees billed to its users because it made upgrades to its infrastructure, specifically the first phase of the Cavitex Enhancement Project.
Based on the notice issued by the TRB, these will be the adjusted rates for Cavitex users:
Class 1 – P25.00
Class 2 – P50.00
Class 3 – P75.00
Meanwhile, users who enjoy the Cavitex-C5 Link Expressway will finally be billed with the following based on their vehicle class:
Class 1 – P22.00
Class 2 – P44.00
Class 3 – P66.00
"CIC shall continue to work on the next 5.5km of the Cavitex-C5 Link starting this November. A better and more efficient road network awaits motorists and residents of neighboring cities when the full 7.7km C5 Link Expressway is completed," Bonito said.
LRTA eyes LRT-2 westward extension up to Pier 4
The Light Rail Transit Authority (LRTA) announced the agency's plans to start the extension of the railway from Recto station to a proposed terminal located at Pier 4 of the North Harbor.
According to the LRTA, the P10.1-billion project will be finished by 2023, improving the travel time from the port area to Recto and vice versa to merely five minutes. Meanwhile, end-to-end train rides from the upcoming Masinag station to the port area will take less than an hour.
Currently, the LRT-2 caters to 240,000 passengers everyday—and the expansion of its service coverage to Pier 4 will make the train more accessible to 16,000 more users daily.
According to LRTA Administrator Reynaldo Berroya, the goal of the extension is to dissuade people from adding congestion to the roads by bringing their own vehicles.
"The increase in commuters who will benefit from the extension project translates to the reduction of commuters not using Metro Manila's congested streets. For ease of commuting, LRT-2 as a public mass transport system will be the way to go," Berroya said in a report by GMA News Online.
(Read: Tax Payment App Contest, Update On Bank Secrecy Law, And Other Financial News)
"Rescue in tandem" bill filed by senator
To prevent accidents from stealing people's lives, Senator Bong Revilla wanted all hospitals to have "rescue-in-tandem" motorcycle units that will serve as first responders to "to reduce response time and improve health care in both rural and urban areas in the country."
Under Senate Bill No. 1120, both public and private hospitals will have motorcycle units because ambulances keep getting delayed due to the worsening traffic conditions.
In addition, far-flung communities that are underserved by medical personnel can benefit greatly from these fast responders. Motorcycle-riding medical teams can "offer an easier navigation on the road by weaving through traffic."
"Kada segundo, mahalaga sa pagliligtas ng buhay. Kaya dapat nating maabot yung mga kababayan natin na nasa malalayong lugar na di maabot ng mga eksperto, lalo na yung mga kailangan ng agarang pagtugon sa mga aksidente sa kalsada," Revilla said in a statement.