INFOGRAPHIC: House Vs. Condo Vs. Rental In The Philippines
3 min read
Which one is right for you and your budget?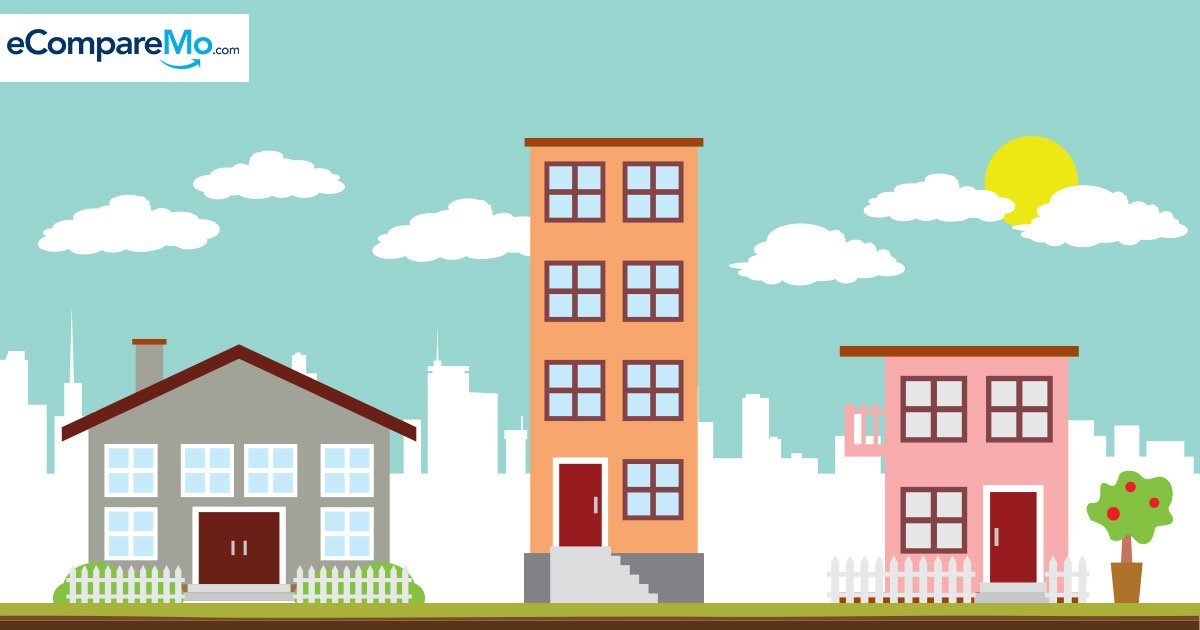 Choosing a place to retire and wake up in every day can be taxing. Besides your lifestyle, you have to take into consideration the location, space, and most especially your budget.
What are your options? A standard bungalow or a two-story townhouse provides a homey feel, normally a great choice for nesters. A condominium provides an urban setting for people with busy, active lifestyles. Rentals such as apartments and bedspaces are a typical option for early achievers and those who are on a budget.
eComparemo breaks down the different types of living spaces so that you can conveniently weigh things out and see which one suits you best.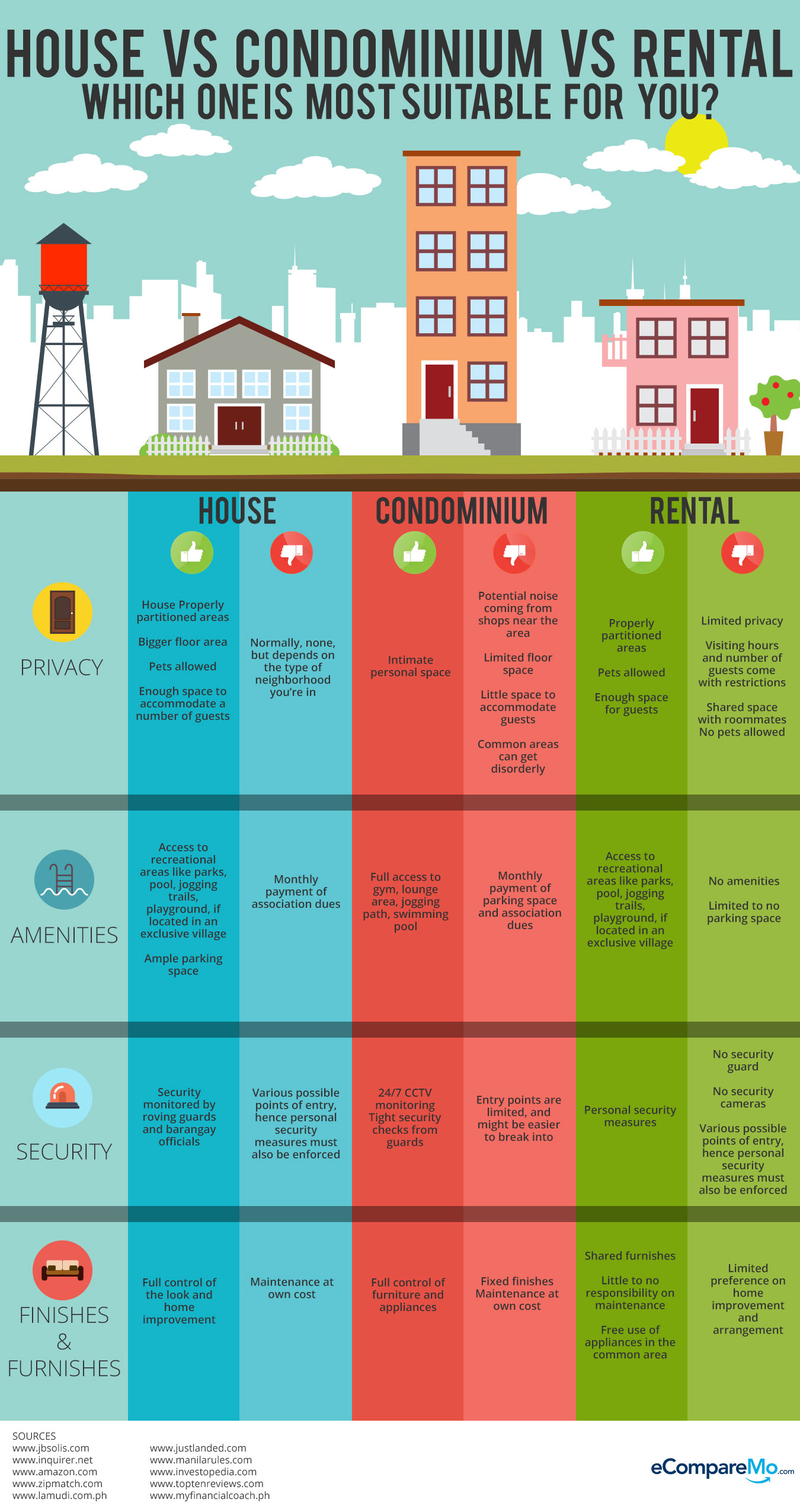 A few things to consider before making the decision
Location. It is ideal to choose a location that is situated near your workplace or school and accessible by public transport. Also, it's better to live near a hospital, church, malls, and marketplaces for your convenience.
Number of persons. Are you alone? Or are you moving in with your family or a friend? Considering the number of people coming on board with you is also a deciding factor of what kind of living space should you get.
Livability. Do you want some peace and quiet? Or do you want to be in a lively neighborhood? Don't forget the to consider the population density of the vicinity. If you have a family, make sure the environment is conducive for the growth and wellbeing of your children.
Citizenship. Are you a citizen or a foreigner? Foreigners cannot acquire land in the Philippines, so they are limited to renting or buying a condominium.
Budget and payment terms. Do you want a three-bedroom space or a dormitory? What's the kind of lifestyle you wish to attain? You should always check what your money can afford and how you can keep up with a given payment term.
Land/floor area
Payment terms
Association dues
Utilities
House

Bungalow (without parking)

Floor area:

35-40 square meters

Lot area:

70-100 sq. m.

Cost: P400,000 to P1.2 million

Bungalow (with parking)

Floor area:

90-130 square meters

Lot area:

150-250 square meters

Cost: P1 million to P1.8 million

95% downpayment, 5% upon turnover

20% downpayment, 80% bank financing

50% downpayment, 50% deferred* up to 60 months or turnover

30% downpayment, 70% deferred up to 60 months or turnover

20% down payment, 80% deferred up to 60 months or turnover

10% down payment, 90% deferred up to 60 months or turnover

10% down payment, 40 over 48 months or turnover, 50% balance or bank financing

P100 to P400

Average per annum:

P1,200 to P4,800

Water bill: P400 to P1,500

Average per annum: P4,800 to P18,000

Electric bill: P2,000 to P5,000

Average per annum: P24,000 to P60,000

Condominium

P50,000 to P100,000 per square meter

Studio: 18 to 30 sq. m.

Average cost: P1.8 million

One-bedroom: 40-60 square meters

Average cost: P3.75 million

2 Bedrooms: 45-70 square meters

Average cost: P4.3 million

Penthouse: 80-150 square meters

Average cost: P8.6 million

95% down payment, 5% upon turnover
20% down payment, 80% bank financing
50% down payment, 50% deferred up to 60 months or upon turnover
30% down payment, 70% deferred up to 60 months or upon turnover
20% down payment, 80% deferred up to 60 months or upon turnover
10% downpayment, 90% deferred up to 60 months or turnover
10% downpayment, 40& over 48 months or upon turnover, 50% balance or bank financing
P50 to P100 per sq. m. (plus taxes)

Water bill: P500 to P2,000

Average per annum: P6,000 to P24,000

Electric bill: P2,000 to P8,000

Average per annum: P24,000 to P96,000

Rental

Studio apartment: P7,000 to P10,000 per month

Dormitory: P3,000 to P5,000 per month

Shared apartment: P4,000 to P7,000 per month

2-months advance, 1-month deposit
N/A
Water bill
P500 to P1,200Average per annum: P6,000 to P14,400Electric bill: P1,000 to P4,000Average per annum: P12,000 to P48,000
*A deferred is a loan that allows borrower to pay at a certain period in the future
Total estimated cost**
| | | | | | |
| --- | --- | --- | --- | --- | --- |
| | Unit Cost | Estimated association dues per annum | Estimated water bill per annum | Estimated electric bill Per annum | Total estimated expenses in 20 years |
| House | P1.5 million | P3,000 | P11,400 | P42,000 | P2,628,000 (House & lot owned) |
| Condominium | P4.3 million | P75 + 12% VAT | P15,000 | P60,000 | P5,896,600 (building share-owned) |
| Apartment rental | P18,750/ month | N/A | P10,000 | P30,000 | P1,175,000 |
**Figures are based on a two-bedroom-unit benchmark
–Diana Lyn Balbalosa