If Game Of Thrones Characters Had Their Own Credit Cards
2 min read
Game of Thrones season 6 has just wrapped up. After three months of epic battles and mind-blowing revelations, winter can't come soon enough for fans of the series; we're all geared up for season 7.
So how about we take a little breather while waiting for next year? For instance, have you ever wondered what it would be like Cersei Lannister, Daenerys Targaryen, Arya Stark, and Jon Snow all had personalized credit cards? What would their top features be? Scroll down and see for yourself.
1. Bank of King's Landing – Gold Card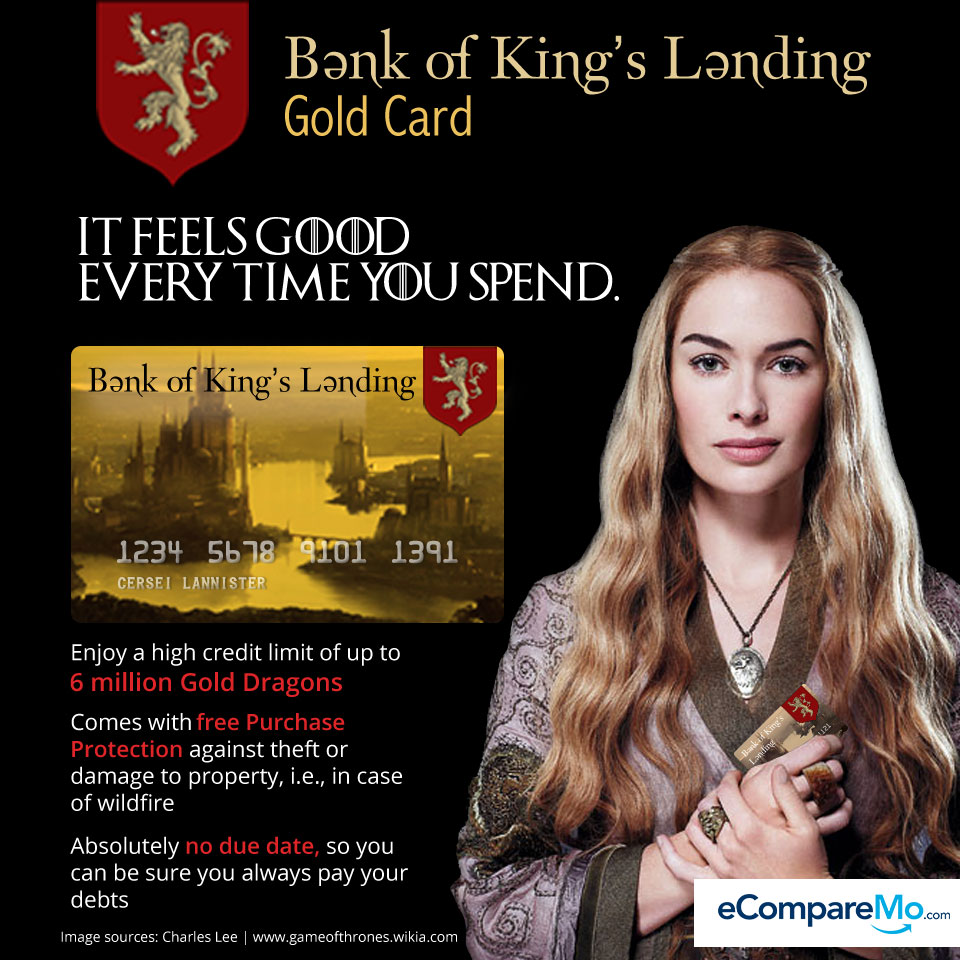 Features:
✔ Enjoy a credit limit of up to 6 million Gold Dragons, the highest in Westeros
✔ Comes with free Purchase Protection against theft or damage to property, i.e, in case of wildfire
✔ Settle your balance anytime without a due date, so you can be sure to always pay your debts
✔ Life insurance for your next of kin
Has a minimum annual income requirement of P4.98 million
2. Iron Bank of Braavos – Classic Card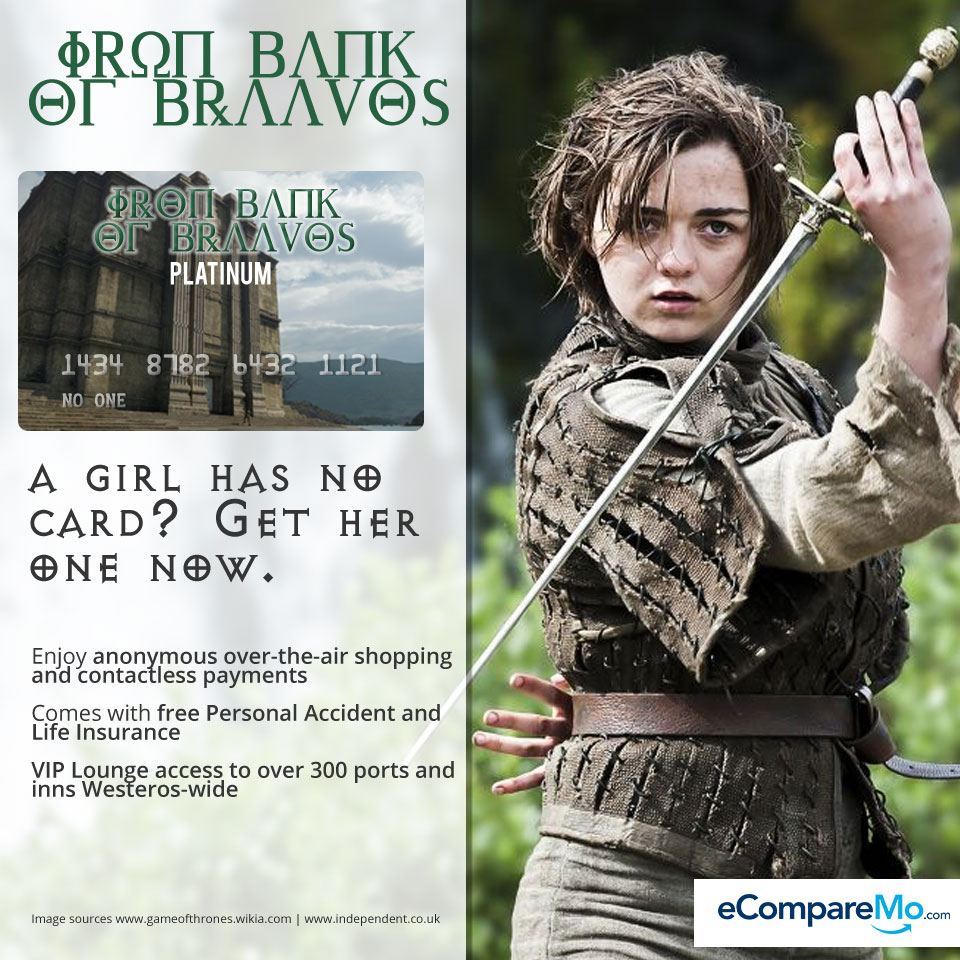 Features:
✔ Anonymous over-the-air shopping and contactless payments, via ravens
✔ Top-notch security to protect your identity
✔ Comes with free Personal Accident and Life Insurance
✔ VIP Lounge access to over 300 ports and inns in Westeros
Lets you enjoy secure online shopping with a one-time password
3. Bank of the True North – Night's Watch Affinity Card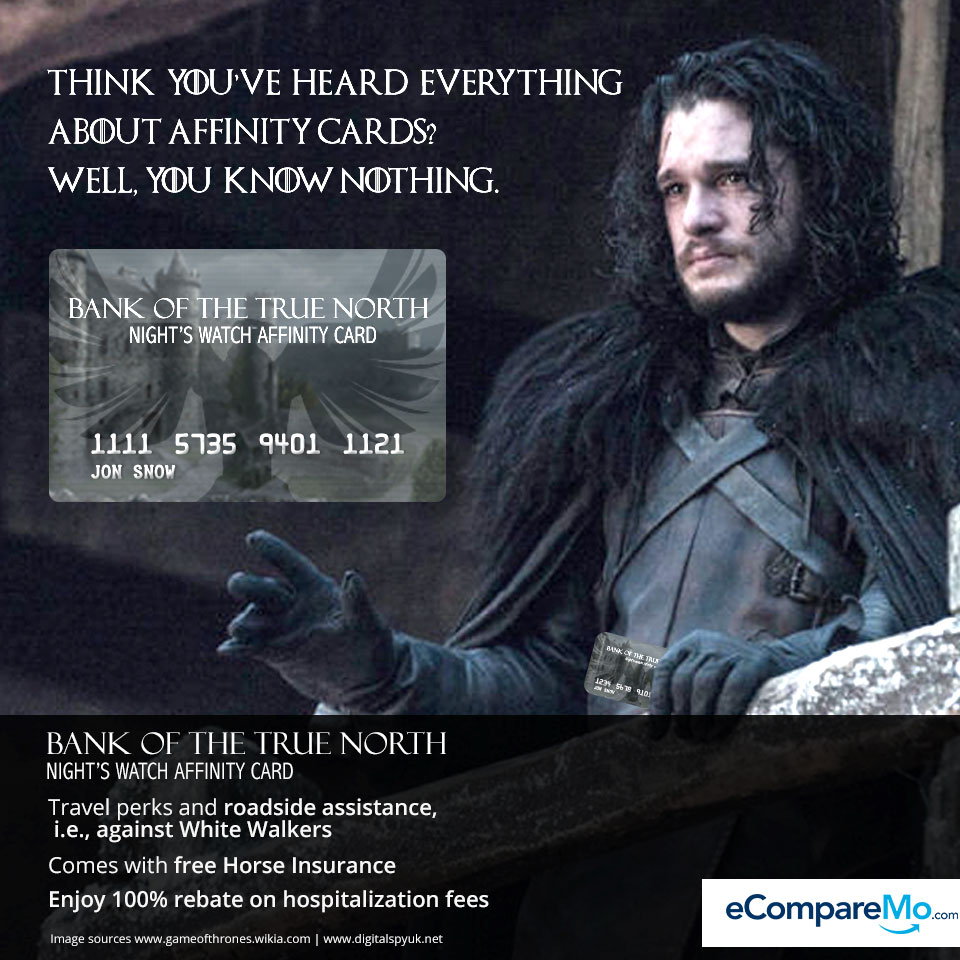 Features:
✔ Travel perks and roadside assistance, i.e., in case of chance encounters with White Walkers
✔ Comes with free Horse Insurance for up to three horses
✔ Enjoy 100% rebate on hospitalization fees, including revivals
✔ Earn rewards points every time you slay enemies and easily upgrade to King's Card
Offers VIP Service at St. Luke's Medical Center and high credit limits
4. Meereen Development Bank – Legacy Card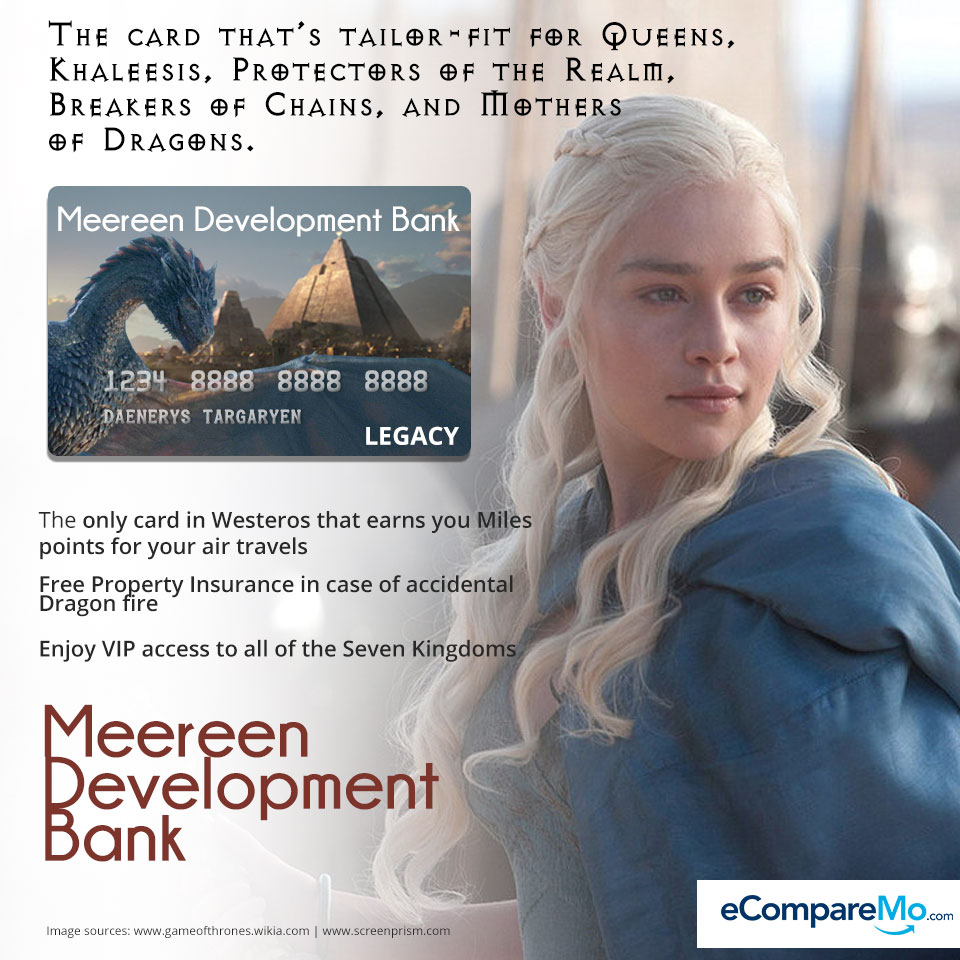 Features:
✔ The only card in Westeros that earns you Miles points for air travel
✔ Comes with free Property Insurance in case of accidental dragon fire
✔ Enjoy VIP access to all of the Seven Kingdoms
✔ Enroll up to 40 million supplementary cards
Lets you earn a SkyMile for every P45 spent, and double miles for every P45 spent on a Delta Airline Ticket
Have something to add to this list? Share them in the comments.