How Your 'PM Is Key' Online Selling Tactic Could Get You In Trouble
5 min read
DTI reminds online sellers to refrain from "PM is key" tactic on their ads.
The agency also warns that selling a product without a proper price tag, label, or marking is punishable under the Consumer Act of the Philippines.
Still, a lot of sellers on Facebook Marketplace and Carousell post fake prices on their ads.
Since the quarantine started, online selling—and e-commerce in general— has become more integral to the lives of Filipino consumers. However, there seems to be one affliction that has been plaguing sellers especially on social media: not disclosing the price of their goods. The tactic is that they will lead you on with a nice copy, only to leave the price out of the details. "PM is key," they would caption the post.
These sellers coerce people into messaging them for prices, with calls to action ranging from classics like "message us for prices" to something as cringeworthy as the above.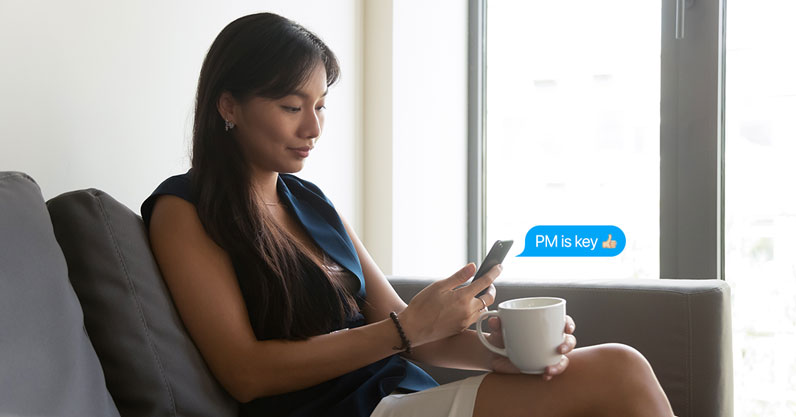 What if we tell you that not only is "PM is key" annoying—it can also get you into serious trouble?
(Read: BIR Wants Online Sellers To Register Businesses By July 31)
e-Commerce on the rise
According to a report published by Maybank, food delivery platforms and online marketplaces have a low penetration in the Philippines—but it's poised to rise dramatically due to the pandemic.
"Asean's e-commerce penetration is relatively low, but will likely rise significantly due to COVID-19. Online sales account for 4 percent in Indonesia and the Philippines, 4.4 percent in Thailand, 4.7 percent in Malaysia and 9 percent in Singapore, based on data from Euromonitor. This is well below the 30-percent rate in South Korea and China, and 13 percent in the US," Maybank said in its report.
Aside from established digital marketplaces like Shopee and Lazada, shoppers turned to Facebook Marketplace where individuals who try to make a living amid the pandemic make their products and services available to anyone. This makes the space even more competitive than ever.
(Read: 10 Profitable Business Ideas In The Philippines Amid The Lockdown)
'PM is key' as a tactic?
Apparently, there's a method to this madness.
Tech blog YugaTech came up with a few reasons why online sellers resort to this tactic. According to them, these are the most prominent reasons why they only disclose their prices through private messages:
Prevents undercutting by competitors
Generates leads and gets market insight
Opens conditions for upselling
Allows remarketing of more recent products
"From the seller's standpoint, it makes sense and, if one day you become an FB seller yourself, we think you'd be employing the same strategy yourself," said Abe Olandes of YugaTech.
To be perfectly honest, that does make sense, especially when you consider how crammed the online marketplaces are and sellers must be creative in getting the attention of their potential market.
Aside from totally withholding the prices of items, they also employ similar tactics that don't reveal the price of their items.
For peer-to-peer marketplaces like Facebook's own selling platform, unscrupulous vendors will mark certain items as free or price them impossibly cheap such as ₱1 or ₱123. Meanwhile, others sellers would use ₱123,456,789. You can even use "contact seller" as an option if you don't want the price to be displayed.
Regardless of the pricing, it all goes back to this: Making potential buyers click their listing only to find out that the only way to get the price of their goods is by messaging them.
No matter how hard we think about it, all roads lead back to one reason why "PM is key" became such a common tactic: Gaming the marketplaces' price sorting mechanism.
Let's say we go to Facebook Marketplace to search for office chairs. Once you've made a query, you can choose how Facebook will sort the options you have using the price, which can be set from zero to any amount.
For this experiment, we set the price between ₱0 and ₱5,000. Out of the first four rows (16 listings in total), only two of them have specified their prices. Others were listed as "₱0" or "₱123" or even "free."
As a consumer, there is nothing more annoying than online vendors prolonging your customer journey. If you're in the market for something, the last thing you want is sellers making you chase them by having to shoot them a message.
In addition, leaving an inquiry unanswered will prompt Facebook to remind you about your messages via Marketplace. Although you can turn them off, it can easily get you infuriated especially when you've made multiple inquiries from these types of sellers.
With the pandemic making our lives more stressful than usual, the last thing we need is someone wasting our time.
DTI's reminder to online sellers
Just in time for the boom of online selling, a regional branch of the Department of Trade and Industry (DTI) reminded people that deliberately withholding the prices of goods is against the law. In a Facebook post by DTI Sultan Kudarat, the agency blasted online sellers who use cheap tactics like "PM is key."
"Hindi cool ang PM sent sa online selling! Gawing smooth ang iyong transaction kaya ilagay na ang presyo ng produktong binebenta mo," the agency said in a Facebook post.
"Tandaan! Nakasaad sa RA 7394 o Consumer Act of the Philippines na unlawful ang pagbebenta ng kahit na anong produkto na walang karampatang price tag, label or marking ng presyo ng produkto."
According to Article 81 of the Consumer Act of the Philippines, "It shall be unlawful to offer any consumer product for retail sale to the public without an appropriate price tag, label or marking publicly displayed to indicate the price of each article."
What happens when a person is found guilty of violating this? The law states that first-time offenders can be slapped with a fine of up to ₱5,000, an imprisonment for a maximum of six months, or both. Meanwhile, succeeding infractions "shall also carry with it the penalty of revocation of business permit and license."
Over the years, asking online vendors for the price of their items has become a joke, with "HM cyst" as becoming a thing to mock this tedious and shady practice. Maybe, there's a kernel of truth in that: Sellers who force engagement from people often cause nothing but pain.