How To Open A Franchise Business In The Philippines
6 min read
Sure, you've heard stories of the advantages and benefits that arise from having your own business and being your own boss. But if you are not sure what sort of business you want to run—or are afraid of starting from scratch—franchising may be perfect for you.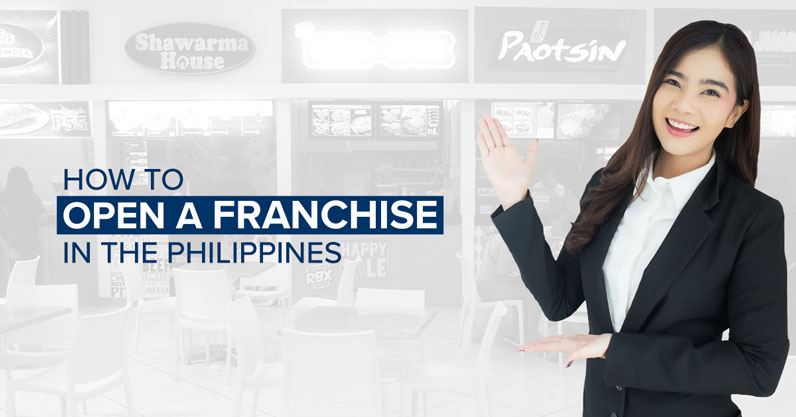 If you're thinking about opening a franchise but are not sure about how to get started, keep reading. Here are the things you should know on how to open a franchise business in the Philippines.
What is franchising?
Franchising means buying the rights to sell or distribute the products and services of an established business. The fees and royalties paid include the use of logos, trademarks, business models, and operating systems.
Basically, there are three kinds of franchising—manufacturing, product distribution, and business format franchising. The differences are elaborated below:
1. Manufacturing franchise
Manufacturing franchise refers to buying the rights to sell the products (of franchisors) and create another product (guidelines apply). One company that illustrates this franchising arrangement: Coca-Cola, being the franchisor, can supply the syrup ingredients to franchisees (soft drink bottlers) who will concoct, bottle, sell the final products.
2. Product distribution franchise
A product franchising arrangement is similar to a supplier-dealer relationship. Franchisees can use the trademarks and sell the products, but it comes with the necessary fees. They are also required to buy a minimum number of products to get franchising rights.
3. Business format franchising
Business format franchising is much more complicated than the previous arrangements because it involves a sharing of methodologies, support, and operating systems. Aside from selling the products/services, it also entails access to business models and a variety of support such as location search, quality control, training of personnel, and marketing efforts.
Advantages of business franchise
Here are the benefits of running a franchise business:
The brand is already established
Building a brand or creating a name in the business industry is one of the hardest parts of getting started for entrepreneurs.
It takes a lot of strategy-making and money to create a buzz for your own business. Getting loyal customers may take months or years. But you remove that piece of the challenge if you manage a business that people already know and trust. A well-known brand can help you earn your investment returns faster.
Operating systems are ready
There's no more trial and error with how the business operates because the franchisees will just follow the systems, procedures, and practices which have been working for the brand since the beginning.
Franchisors give support
If applicable to your agreement, the brand owners can give the franchisees support in starting the business, such as the selection of site, marketing, and crew training. Getting support from them also plants higher chances for vendor negotiations and loan approvals.
Disadvantages of business franchise
On the other hand, here are the disadvantages of franchising a business:
You pay costly fees and/or royalties
Fees come with franchising as they are inherent to buying the rights to the brand and of course the processing. Depending on the value of the business, the summary of fees could soar up from thousands to millions. The bigger the business name, the more expensive the fees you need to pay.
Franchisees have limited control
Buying the rights of the franchised services or products entails the implementation of the franchisor's protocol that includes pricing, quality control, manufacturing guidelines, and restrictions. Any changes you want to impose on the operations may be denied or subjected to review of contracts.
There is a strict upholding of the brand reputation
Because you are tied to a business with a well-known brand, all the impact of each business reflects the whole brand, be it good or bad. True, you may have instant customers but any blunder you do will affect other franchises or vice versa.
How to apply for franchising
To help you set up a reliable business, here are the detailed steps and tips you should follow:
1. Identify what franchise is suitable for you
It's not necessarily about knowing what specific brand you want to invest in, but you should understand how much you are willing to spend and what type of business you want to manage. While planning, you should consider three things.
First is the budget. Business starts with a capital, so you should already know the amount you want for this kind of investment. Aside from that, matching your budget to the brands available helps narrow down your franchising options. If you need more capital for franchising, you may opt to apply for a business loan.
Second is the company's legitimacy and reputation. Don't fall for a scam or high-risk businesses. It's best to verify these brands you are eyeing with government offices such as Department of Trade and Industry (DTI) or the Securities and Exchange Commission (SEC) about their registration or operation licenses. 
Checking the legitimacy of these franchisors will ensure you don't sink your money into a shady deal, also it will ensure that you are operating within the law.
Third is location and market. A well-known brand may not be powerful enough to keep the business going. A business needs an appropriate and strategic location to thrive. It's also recommended to study the market and competition to identify what types of business stay amid the ever-changing industry trends.
2. Reach out to your chosen franchise brands
The next thing to do is connect with the preferred franchises. There are four ways to do it.
First, check the list of franchisors from local franchise associations. These are the Association of Filipino Franchisers, Inc. (AFFI), Filipino International Franchise Association (FIFA), and Philippine Franchise Association (PFA).
Second, contact the franchisors directly. With the internet, it is easy to search for the contact details of franchisors. If the business has no official website, always check them on Facebook pages, Instagram, and other social media networks.
Third, look for potential franchisors via franchising loan providers. Some banks offering business loans have features for finding businesses to franchise in, like BPI (Ka-Negosyo Franchise Finder). Other loan providers are also partner with franchisors.
Fourth, go to franchise expos. These events serve as a one-stop shop for every aspirant of franchising businesses. You get to see all available franchisors in one place, talk with them, and compare the deals. If you can set up a meeting or view the site, it's better. You need to fish for information and make the best decision out of it.Schedule of expos can be viewed at Franchise Asia Philippines on Facebook.
3. Proceed to your franchise application
If you have sorted out what you want and matched it with a specific brand, you're ready to proceed with the application. Make sure to check the franchisor's eligibility, documentary requirements, and processes involved.The franchisor will conduct a study on the franchising agreement, viability, and location—which may take time. Once approved, the next big thing to do is manage the business well.
Requirements for a franchise business application 
Here are the general documents you must submit when you apply for franchising a business:
Franchise application form. Duly accomplished, usually downloaded from the franchisor's website
Letter of intent. A letter that includes your contact information and details of your franchise proposal 
Map of prospect sites. Either a screen grab from Google map/street view or a simple sketch of where the business will be erected
Resume. A clean and concise CV highlighting your experience in entrepreneur if applicable
Two valid IDs. Should be government-issued, photocopy 
Depending on the franchisors, other business documents may be asked. These include:
Agreement with the lessor of the desired business location
Business registration certificates
Proof of billing with the franchisee's name
Recent bank statements
TIN
Overall, franchisees face two challenges in getting a franchise. First is choosing the ideal service or product, be it a low-cost franchise business or an expensive popular brand like 7-Eleven, Dunkin Donuts, Potato Corner, or Jollibee. And second, which is the hardest of all, is how to manage it for you to get back the returns in the shortest but surest time possible.