Art Insurance: How To Keep Your Precious Artworks And Collectibles Secure
6 min read
Over the past few years, the art scene in the Philippines has been growing. With an increasing number of art enthusiasts and talented Filipino artists populating the scene, more and more exhibits, galleries, and museums are being launched each year. It's simply amazing how we Filipinos have grown more interested in collecting art!
When it comes to the acquisition of anything valuable, especially collecting artworks that have been publicly evaluated by auction houses and the like, the passion indeed comes with certain joy, and also certain risks. This is where the convenience of specialized art insurances would come in.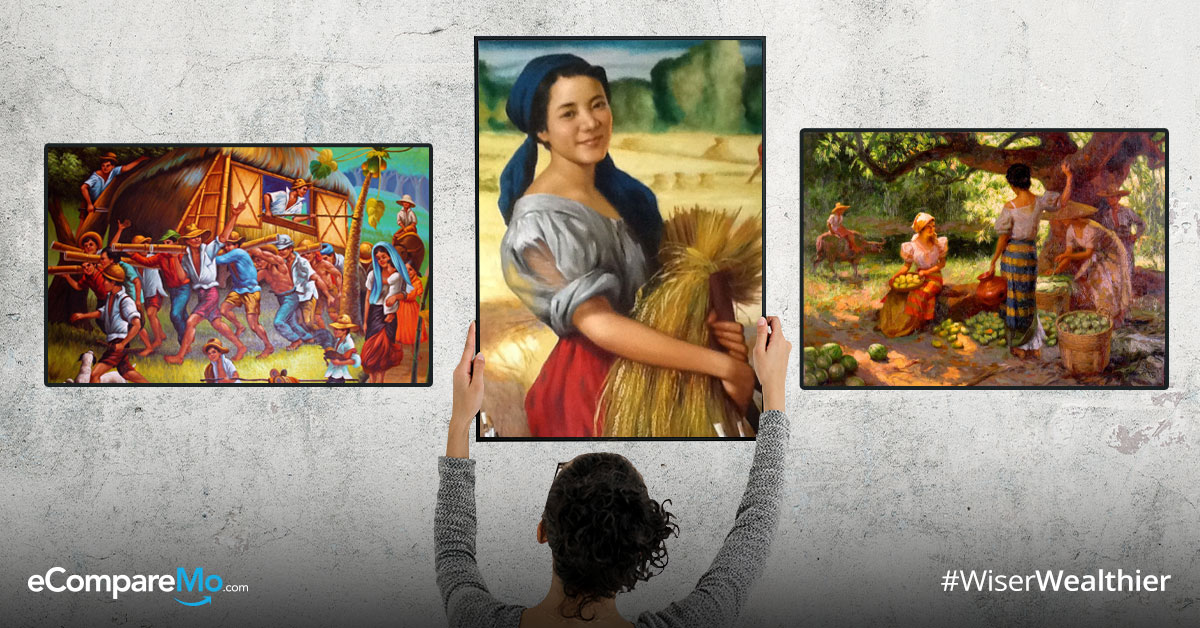 Treat your pieces as you would any piece of valuable property. Artwork in particular is vulnerable to incidents of fire, accidents, theft, and even. It is more critical than ever to protect them from these unfortunate possibilities.
Luckily for those looking to invest in art, there are a number of insurance providers in the country offering programs and policies that cover multi-million-peso artworks.
Learn the "art" of art insurance and find out how you can preserve the value of your well-loved art pieces.
Art insurance for starters
Having your own art collection, whether you display them at home or in the office, is great. It goes without saying that securing them is essential and, unfortunately, is often overlooked.
You may not possess an extensive collection worth millions of pesos, but what you do have is worth protecting from financial damage. Otherwise you many find that restoring a damaged piece or worse, losing it due to an accident, will result in significant financial loss.
(Read: Where To Buy Philippine Paintings: A Guide To Owning Your First Piece Of Art)
Many artists and collectors neglect to get their art collections insured because they believe that their art pieces are already covered by their homeowner or rental policy. However, most of the time, these policies don't cover artworks.
The Insurance Commission of the Philippines (IC) has approved the following standard provision in standard insurance policies regarding artwork: "Unless otherwise expressly stated in this policy, this insurance does not cover any curiosity or work of art for an amount exceeding P200."
That said, if you don't want to lose the value of your paintings and collectibles, here are five tips as to how you can preserve them.
1. Keep the receipts
According to an article from Town and Country, there are two reasons why you should keep the receipts of your art purchases. The first is for insurance purposes. The second is to establish the history of your painting when the time comes that you decide to sell it.
Remember that the value of your artworks will not be set by your insurance company. What you need to do to get the real value of your pieces is to consult an independent professional, one of which is a curator. Curators estimate the value of the artworks. They are content specialists responsible in interpreting an institution's collections or a certain heritage material.
Although there is a possibility that your insurance provider will simply use the purchase price or the selling price of the artist to value your painting, a consultation from somebody expert on the field will not hurt you.
2. Create an inventory
An inventory won't only help you keep track of your possessions, it will also ensure that the insurance policy that you have will provide you with just the right amount of coverage for all your pieces.
Also, don't forget to check and add on to your list from time to time especially if you are continuously growing your collection over time.
3. Choose a comprehensive policy
Artworks can and should be insured. However, they are valued very differently from the way cars, equipment, real properties, and household goods are valued.
Choose an insurance policy that offers a comprehensive coverage that considers the possible risks your artwork might face. This includes increase in values, damages during installation, disputes in title or ownerships, and other complicated art claims scenarios. Your plan should also include a specialist services in art.
As a tip, properties are insured based on their actual cost or the cost of its replacement. This explains why you should increase the insurance coverage of your properties, or in this case your artworks every few years.
4. Know your coverage
Is your home and its contents covered by an insurance policy? If so, be aware of the restrictions of your coverage per item or claim. In the unfortunate event that your favored collection is damaged, lost, or stolen, you may be surprised to discover that they are not be sufficiently covered by your home insurance policy.
Most, if not all standard insurance policies will not cover your artwork up to their actual value and may even deprive you of a huge amount during pay out. Before this happens, it is of best decision to contact your insurance agent, broker, or company to find out more about your existing coverage
(Read: Three Vital Things To Know About Fire Insurance In The Philippines)
5. Be prepared for anything
You can insure your collection with basic coverage for fire and other accidents. However, this coverage will not include those that are caused by explosion, earthquake, flood, typhoon, or other natural disasters.
Choose a policy with an extended coverage or what is commonly known as "all risks of accident." This will cover your artworks against almost all hazards, even those not included under the basic coverage.
How much would a premium cost?
Art premiums would certainly cost much less than the insurance of your cars. The rate could vary from 0.15% to 0.5% of the value of the art pieces, depending on many factors such as the location of the item, its security, and the history of the buyer of the insurance.
For example, if you keep a painting in your home which is located in a quiet, high-class, neighborhood, where the surrounding homes are built of quality material and with a good security company in charge of watching the area, your painting is considered "safer" and less "at risk" so an insurance company will be willing to charge a cheaper premium.
Philippine insurance companies who offer art insurance
Malayan Insurance: Fine Arts Insurance
Malayan Insurance offers an insurance program specially designed to compensate policy holders in case of loss or damage to their precious works of art.
What items can be covered?
Malayan's Fine Arts Insurance policy can cover a broad range of artworks such as:
Paintings
Sculptures
Antiques
Collectibles
Coverage:
Their fine arts insurance policy provides protection against all kinds of accidental physical loss or damage including:
"WALL TO WALL" coverage while:

On-premises (either at home or in the office)
On loan to third parties or on exhibition
In transit (worldwide coverage)

Typical losses covered:

Fire, howsoever caused
Water damage
Theft and vandalism
Extremes of temperature or humidity
Natural Perils, i.e. Typhoon, Flood, Earthquake,

Valuation based on Agreed Value, i.e. no depreciation
Cost of restoration and depreciation in valuation following a partial loss or damage
Short term or annual coverage
Who can avail of the policy?
They tailor insurance programs for both individual and corporate entities such as:
Private Collections
University Collections
Art Galleries
Art Dealers
Museums
Auction Houses
Exhibitions
AXA Fine Art Insurance
AXA XL insurance offers a policy for fine art and collectibles, with coverage that extends to both private and commercial assets.
Their Fine Art Insurance Policy provides a specialist fine art insurance for galleries, museums and a range of businesses in the art world, as well as individual collectors. They also provide an insurance for a wide range of collectibles and valuables, from antiques and jewelry to coins and stamps.
What items can be covered? From all risks of physical loss or damage:
Collections of fine and decorative arts – private or corporate
Museums
Art galleries and antique dealers
Exhibitions
Musical instruments
Coin and stamp collections
Personal jewelry collections
Wine
Vintage and classic cars
Collectibles
Who can avail of the policy?
Typical clients include, but are not limited to, the following:
Private and corporate collectors of fine art and decorative arts
Museums
Art galleries and antique dealers
Exhibition organizers
Musical instrument owners
Coin and stamp collectors
Wine collectors
Vintage and classic car collectors
In a nutshell, it is undeniable that in recent years, the Philippine art scene has flourished to greater heights. The availability of comprehensive art insurance means that you can rest easy knowing your beloved pieces are duly protected.