How The Proposed P750 National Minimum Wage May Affect Businesses And Laborers
5 min read
The minimum wage has always been a tricky area to navigate. In the Philippines, left-wing groups have always advocated for a universal base pay that would allow Filipinos to live humanely. However, it's an issue, with a lot of potential ramifications policymakers have to consider.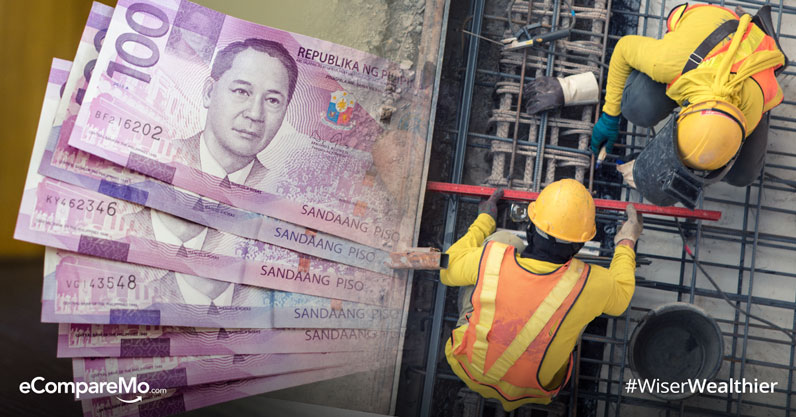 Recently, the government declared there is another adjustment to the basic pay underway.
Department of Labor and Employment (DOLE) Secretary Silvestre Bello III says the government will announce the adjustment of the basic pay "within the month."
The decision came after President Rodrigo Duterte ordered the agency to see if the wages of the Filipinos still can keep up with the increasing price of consumer products.
"Within the month, kasi very clear ang instruction ng Presidente [because the President's instructions are very clear]. It will vary but it's also possible na mag-flat rate sila," Bello said.
He added that the government would consider an across-the-board flat rate if it wouldn't create a negative impact on the economy.
Aside from addressing the needs of the laborers to earn a fair wage, Bello said that they will also consider the capacity of the employers to pay for the said amount.
The impossible dream?
With Bello saying an across-the-board basic income is in consideration, left-wing policymakers are clamoring for a standard rate of P750 for all Filipinos.
A few days ago (May 28), the members of the Makabayan party-list bloc filed House Bill No. 7787 to address the impact of the Tax Reform for Acceleration and Inclusion (TRAIN) Act on provinces which receive significantly lower minimum wage compared to others.
In addition to the action of the left-wing lawmakers, another group is rallying for a slightly higher amount. The coalition Associated Labor Unions-Trade Union Congress of the Philippines is looking for a nationwide P800 basic pay to help Filipinos combat the erosion of their purchasing power with the TRAIN law's increased taxes as well as the rising prices of petroleum worldwide.
While progressive groups are fighting for a higher wage for everyone, some entities are in opposition to a sharp increase in basic pay. SunStar Cebu reported that business groups vehemently oppose the increase of wages to P750 because it would curtail the growth of the small and medium enterprises, especially in places outside of Metro Manila.
According to Regional Tripartite Wages and Productivity Board (RTWPB) member Philip Tan, the economy would not be able to handle the proposed rate by the Makabayan bloc. In addition, the cost of living differences in several parts of the country would not make the proposal feasible.
"They must be talking to the moon. The rights of labor are equally given to management. If we lose money, time to say goodbye. No hard feelings," said Tan.
"I don't think the minimum wage should be increased but I do believe there should be productivity bonuses for workers that excel. If we further increase the cost of doing business in the Philippines, we will once again revert to being a third-class investment destination," he added.
Factors at play
The National Wage Productivity Council (NWPC), an attached agency to the DOLE, oversees formulating wage adjustments, among other things.
Under Republic Act No. 6727, which gave birth to the said agency, the NWPC would determine the minimum wage through a lot of factors. According to the Official Gazette, the main driving factors in determining the minimum wage are the following:
1. Needs of workers and their families
Demand for living wage
Wage adjustment vis-à-vis Consumer Price Index (CPI)
Cost of living and changes therein
Needs of workers and their families
Improvements in standards of living
2. Capacity to pay
Fair return on capital invested and capacity to pay for employers
Productivity
3. Comparable wages and incomes
4. Requirements of economic and social development
Need to induce industries to invest in the countryside
Effects on employment generation and family income
Equitable distribution of income and wealth along the imperatives of economic social development
Every year, the regional boards that comprise the entire NWPC would determine if the minimum wage is due for an increase.
Juan vs. Pedro: Comparing minimum wages across regions
Currently, the minimum wage in different parts of the Philippines are as follows:
| | |
| --- | --- |
| Region | Minimum wage rate (in Philippine pesos) |
|  NCR |  475.00 – 512.00 |
|  CAR |  270.00 – 300.00 |
|  Region I |  243.00 – 280.00 |
|  Region II |  300.00 – 340.00 |
|  Region III |  264.00 – 380.00 |
|  Region IVA |  303.00 – 400.00 |
|  Region IVB |  247.00 – 290.00 |
|  Region V |  280.00 – 290.00 |
|  Region VI |  271.50 – 323.50 |
|  Region VII |  288.00 – 366.00 |
|  Region VIII |  245.00 – 285.00 |
|  Region IX |  267.00 – 296.00 |
|  Region X |  304.00 – 338.00 |
|  Region XI |  325.00 – 340.00 |
|  Region XII |  290.00 – 311.00 |
|  Region XIII |  290.00 |
|  ARMM |  255.00 – 265.00 |
To give you a clearer picture, let's compare how much an employee in Metro Manila and one in the Autonomous Region in Muslim Mindanao are earning with their regions respective minimum wages.
On average, there are 22 working days in a month, which will give them the following monthly salaries:
Juan from Metro Manila: P11,264 (P135,168 annually)
Pedro from ARMM: P5,830 (P69,960 annually)
Now that we have their potential monthly income, we'll start deducting their salaries with contributions for SSS, Pag-IBIG, and PhilHealth.
Since they're both earning below P250,000 annually, they're exempted from paying any income tax, which means their only deductions will be government-mandated contributions.
After taking out payments for these deductions, their monthly take-home pay will be the following:
Juan from Metro Manila : P10,591.32
Deductions:
SSS: P417.80
Pag-IBIG: P100
PhilHealth: P154.88
Pedro from ARMM : P5,374.50
Deductions:
SSS: P218
Pag-IBIG: P100
PhilHealth: P137.50
Nominally, Juan from Metro Manila has almost twice as much purchasing power than Pedro from ARMM, with the minimum wage rates from both regions having a huge disparity.
However, since Metro Manila has a higher cost of living than ARMM, their wages just have as much purchasing power in their respective regions. The prices of goods, real estate, transportation fare, and others in Metro Manila are much higher, which means he requires more to survive.
In the end, the intention of the Makabayan bloc to standardize basic pay nationwide is a noble intention. This will empower the workers especially in far-flung areas where they don't get as much as those who work in highly urbanized centers.
However, there should be delicate balance between giving people with the means to live with decency and making sure that business won't suffer from the forcible changes brought by higher pay. After all, we're all in the same boat.
Sources:
http://newsinfo.inquirer.net/995165/bill-proposes-p750-basic-pay
http://www.nwpc.dole.gov.ph
http://www.officialgazette.gov.ph/1989/06/09/republic-act-no-6727
http://newsinfo.inquirer.net/679897/in-the-know-cost-of-living-among-filipinos
http://news.abs-cbn.com/business/05/29/18/minimum-wage-adjustment-may-be-announced-this-month-bello
http://www.sunstar.com.ph/article/1745552/Cebu/Business/House-Bill-7787-destructive-to-small-businesses