Holiday Shopping Guide 2018: Adjusted Mall Operating Hours During The Christmas Season
2 min read
As December 25 nears, more and more Christmas lights fill Metro Manila, mainly the stretch of Edsa. These, in the form of red taillights that line up the capital's busiest thoroughfare.
Malls are partly to blame, officials say. So, to ease the heavy traffic, at least during this shopping season, the Metro Manila Development Authority (MMDA), as well as local mall owners, have reached an agreement over adjusting mall operating hours during the 2018 holidays.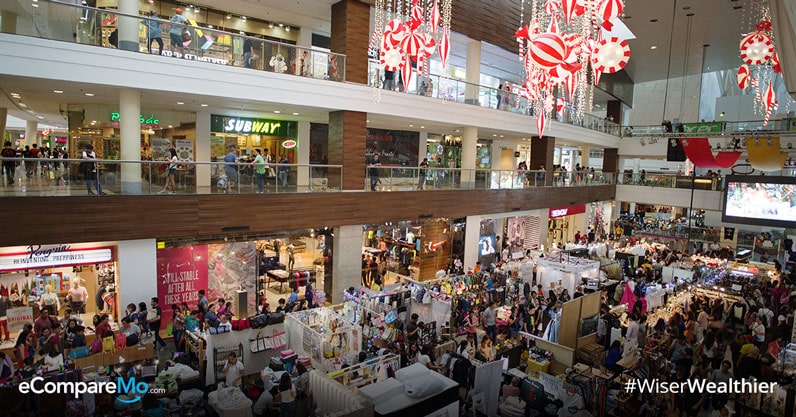 The agreement
Per MMDA spokesperson Celine Pialago, a meeting as to what stipulations should be put in place was attended by both the MMDA and local mall operators.
Both parties agreed that starting November 5, 2018, and lasting until January 14, 2019 , store hours would start 11 a.m. on weekdays.
This holiday opening time is one hour later than normal weekday mall operating hours. The holiday opening time will apply to all Ayala Malls, Robinsons Malls and SM Supermalls situated along the whole Commonwealth Avenue, C-5 Libis, Edsa and Marcos Highway stretch .
(Read: A Bargain Hunter's Guide To 2018 Christmas Bazaars)
Closing times will depend on each of the mall operator's decision, but the MMDA is suggesting that as much as possible they carry out longer door hours.
On the other hand, deliveries of non-perishable goods should only be from 11 p.m. to 5 a.m.
The agency also included in its advisory other anti-traffic measures. These include the distribution of supplementary security personnel assigned to expedite traffic of vehicles in and out of the parking areas. And of course, the removal of obstructions at the loading and unloading areas on the entire area of the mall.
In addition, no promos and sales will be operated during the weekdays. Good news for motorists, bad news for hardcore shoppers.
Roadworks put on hold
The meeting attended by the MMDA and the local mall operators last October 8 also included representatives from the Department of Public Works and Highways (DPWH), Globe, Maynilad, Meralco, Manila Waters and PLDT.
Government agencies and various private companies have also come to an agreement that roadworks during the holiday period should also be put on hold in order to ease the traffic situation in the areas affected by the shopping rush .
(Read:  Official List Of 2019 Philippine Holidays Now Out)
That said, no road works such as road diggings and repairs will take place except during emergencies and those that are for the flagship of the government.
The public works included in the scheduled moratorium are the installation, improvement and repair of all water pipes, telephone or telegraph cables and wires, communication and power lines, sewers and drainage systems that are in the passageways, right-of-way and sidewalks.
Sources: Rappler, Top Gear Philippines