Here's What Really Happens When Your Debt Is Turned Over To A Collection Agency
6 min read
It's more complicated than you think.
Dennis (real name withheld at interviewee's request), a 27-year-old marketing officer who works in Makati, has been getting mail from a law office every month. For almost a year now, representatives of a law firm headquartered in Muntinlupa have been hounding him because of his credit card debt.
"It was around P66,000, more or less. That included the interest from the credit card I maxed out around a year ago. After a few months of the bank calling me to pay up, they stopped calling. Then suddenly, I got calls from someone from a certain collection agency," he said.
Asked if he got malicious or threatening calls from the collection agent, he said that none of those incidents happened to him yet, even if he refuses to pay his debt. So far, the only thing he has received was a notice of legal action if he still insists on not paying what he owes.
"I may not care about it since I'm not going to jail anyway, but I know that someday it will catch up with me," he said. "But until then, I'll just keep on running away."
No jail time for you, but…
While it is highly inadvisable for a person with debts of any kind to ignore them instead of settling them, no person can be imprisoned because of money owed to the banks. If debt collectors threaten you with imprisonment when you fail to pay what you owe them, they are definitely bluffing.
According to the 1987 Philippine Constitution, our Bill of Rights explicitly says that "no person shall be imprisoned for debt or non-payment of a poll tax."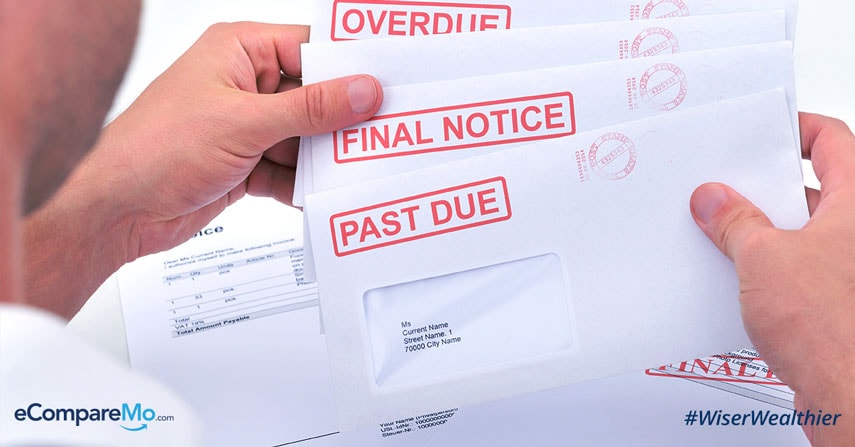 Meanwhile, the Philippines e-Legal Forum, a legal blog run by Jeromay Laurente Pamaos Law Offices states that "no one could be compelled to pay a debt under pain of criminal sanctions. No one could also substitute the payment of debt through imprisonment or other criminal penalties."
However, not all debtors can get out of their obligations scot-free. In cases like estafa, where there is deliberate intent to swindle people, the people involved are criminally liable and can be jailed when found guilty.
In addition, Republic Act 8484 or the Access Devices Regulation Act of 1998, states that anyone who obtains "money or anything of value through the use of an access device, with intent to defraud or with intent to gain and fleeing thereafter" is criminally liable and can be met with a fine and imprisonment.
Aside from the threat of imprisonment, other things misconceptions spread by collection agencies are the following:
Your debt has incurred a negative effect on your credit score.
Paying your debt will not erase your debt.
A certificate of full payment may not amend your negative credit score, but help you get back on your feet and become qualified for banking services again.
Under the debt collection hood
Most of the time, collection agents are seen as evil incarnate, as they resort to dubious tactics like intimidation, harassment, and threats to make people cough up payment. Tales of them roughhousing clients for collection aren't new, as horror stories can be found on the internet for both local and foreign cases.
In one of the more famous Filipino messaging boards online, members have shared some war stories about dealing with agents. While most stories share the same pattern, one of them revealed a behind-the scenes peek at what really goes down in a collection agency.
According to the anonymous user, these agents "are trained to be rude" and will use whatever means necessary to make clients pay.
"They have levels of collection. I really don't remember these levels, but I remember the highest level, which is the Hardcore Division. This Hardcore Division handles accounts of people who haven't paid their dues for 120 days. These are the real rude ones. The lowest level people (those who have dues not more than 30 days) are not rude people. As the level goes higher, the ruder these Credit and Collections people become," according to the anonymous tipster.
However, there's more to it than agents calling you at all hours of the day. Before you even hear debt collectors knocking on your door, your delinquent account has already been through a lot.
The Bangko Sentral ng Pilipinas defines delinquency as "non-payment of or payment of any amount less than the minimum amount due or minimum amount required within two cycle dates," which is usually around 60 days. During this period, your account will be blocked and you will no longer be able to use your credit card.
Aside from the basic amount you accrued in your account, penalties such as interests and late payment fees will also be included on your total bill. After 180 days, whatever you owe the card issuer is already considered a loss.
When your account has been tagged as delinquent and you ignored the notices sent by the banks to settle your debts, your name will be included in a "negative file" shared by different banks. When you try to apply for financial products like credit cards and loans from other financial institutions, your name will be on the blacklist, and you will automatically be rejected for having a history of defaulting.
As banks try to minimize their losses, the collection agencies as third-party organizations buy delinquent accounts for a fraction of your total debt. The responsibility of collecting payments is now in their hands, and they'll employ any means necessary to get their money back.
So where can people turn when they feel their rights as consumers are being violated by collection agencies?
Bangko Sentral to the rescue
Fortunately, the Bangko Sentral ng Pilipinas (BSP) made it perfectly clear what practices are considered legal ,and which are abusive and transgressive of people's rights. According to the BSP Consumer Affairs Group, agents are barred from doing the following actions whenever they're doing their collection on behalf of their companies:
The use or threat of violence or other criminal means to harm the physical person, reputation, or property of any person;
The use of obscenities, insults, or profane language which amount to a criminal act or offense under applicable laws;
Disclosure of the names of credit cardholders who allegedly refuse to pay debts;
Threat to take any action that cannot legally be taken;
Communicating or threat to communicate to any person credit information which is known to be false, including failure to communicate that a debt is being disputed;
Any false representation or deceptive means to collect or attempt to collect any debt or to obtain information concerning a cardholder; and
Making contact at unreasonable/inconvenient times or hours which shall be defined as contact before 6:00 A.M. or after 10:00 P.M., unless the account is past due for more than sixty (60) days or the cardholder has given express permission or said times are the only reasonable or convenient opportunities for contact.
If you encounter or experience any of the aforementioned instances at the hands of a credit card debt collection agency, then you can contact the BSP's Financial Consumer Protection Department:
Financial Consumer Protection Department
Central Supervisory Support Subsector
Supervision and Examination Sector
Bangko Sentral ng Pilipinas
5th floor Multi-Storey Building
BSP Complex, Ermita, 1800 Manila
Telephone numbers:
Trunkline: (632) 524-7011, extension nos. 2584
Direct line: (632) 523-3631
Email address: consumeraffairs@bsp.gov.ph