Halloween 2018: 5 Adult Halloween Parties That Are Not For The Faint Of Heart
5 min read
Who said Halloween parties are only for kids?
For adults, Halloween is the time of the year to wear silly outfits and enjoy their favorite drinks or try some new themed "scary" cocktails.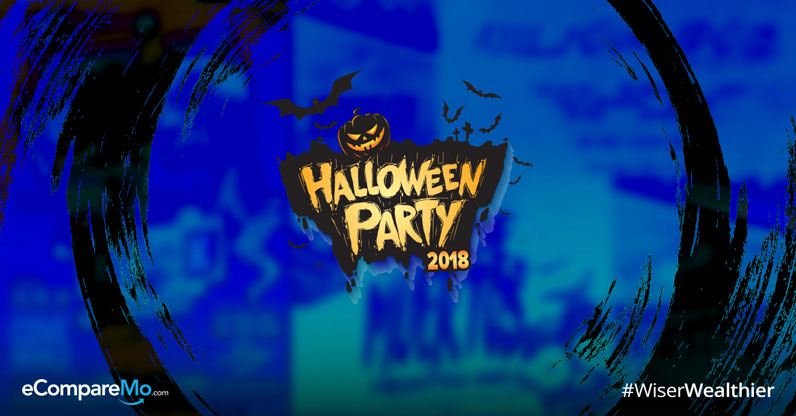 To corner people who are looking for an excuse to wear a sexy version of their favorite characters, business establishments throw Halloween parties that are so generic, you can write them on a doctor's prescription. Cobwebs, plastic Jack-o-lanterns, and other spooky accoutrements—expect most spook fests to be almost identical.
If, however, you want to experience something totally different this Halloween, we've searched for some unique events this witching season.
Don't let your good costume go to waste and avoid those lame "scary" shenanigans and experience the best Halloween parties in town with this handy guide.
1. Playback Presents Back in Time: Throwback Halloween Special
October 28
Cove Manila, Okada Manila, Atlantic Avenue, Parañaque City
If you're feeling a little bit nostalgic for the 90's (even if you were just a toddler back then), then head to Okada and listen to the hits people used to play in Walkmans and Discmans.
Apart from an excuse to dress up as if you're a part of the Saved by the Bell cast, you will also witness the performance of the 90's icon INOJ, whose hits like "Let Me Love You Down" and her cover of "Time After Time" became mainstays in mixtapes and radio plays.
Tickets for this year's Playback Music Festival cost P500 for the sunset pass and P1,000 for the VIP pass. The latter gives buyers a shirt, anytime access to the event, and passes to the VIP dance floor. Don't forget to come in your best throwback attire because the best-dressed person will get P20,000 in cash.
2. Dia de Muertos: Forgotten Souls
October 26
Ayala Museum, Makati Avenue corner De La Rosa Street, Makati City
Pretty sure, you've seen the hit Disney film Coco, where it gave viewers a glimpse of the Mexican event called Dia de Muertos. If you want a more serious take on this festive Mexican day of remembering the departed in living color, the Ayala Museum and Sipat Lawin Ensemble teamed up to give you a night you can never forget.
The night of remembrance begins a little earlier in the day with the Dia de Munchies! A Mexican Food Fiesta held at the museums Plaza.  Entrance is free, though you'll have to pay to enjoy some great munchies from 11 AM to 12 MN.
Then, starting at 7 PM to the witching hour of 12 MN, you can get an unlimited tour of the museum's permanent and temporary exhibits during nighttime. However, the biggest attraction of Dia de Muertos: Forgotten Souls is an interactive tour where you have to help "restless souls to peace through rituals, superstitions, and ceremonial challenges."
After the tour, guests can join the loteria (think of bingo but with pictures instead of numbers) where participants can learn more about the connection between Mexican and Filipino cultures. Finally, getting a pass for the midnight museum will get freebies and discounts from the Mexican food festival right outside the museum where people can take a bite on their favorite Mexican dishes.
(Read: 7 Creative Ways To Throw A Halloween Party On A Small Budget)
3. Night of Mystery: Homecoming
October 27
Onboard Game + Gastro Pub, 2nd floor, Circuit Lane, Circuit City, Carmona, Makati
Be a part of a living mystery story where you talk to other guests, gather clues, and solve the case this Halloween. If you're a big fan of novels written by Agatha Christie, Edgar Allan Poe, and Raymond Chandler, then you would definitely want to be cast in your own mystery novel for a night.
Night of Mystery: Homecoming sets up participants as the attendees in a high school homecoming reunion. Everything was going smoothly until a crime suddenly happens—and one of the guests is the culprit. It's up to the other attendees with unique motives and personalities to find out who the suspect is.
In addition to the chance to become a participant in the mystery roleplaying game, players will also get to enjoy a cocktail buffet spread, a souvenir for joining the event, and the chance to get the special prize for solving the crime. Best dressed and best in character players will also get special prizes.
The door charge to Night of Mystery: Homecoming is P600.
4. HOHOLo-CULT
October 27
Somewhere in Escolta, Manila
Does the undisclosed location get your full and undivided attention? Good. Just keep on reading.
HOHOLocal is a bi-monthly event for artists who want to hang out with like-minded people. For this Halloween, they turned their "hohol" into a cult. How does one become part of the cult, anyway?
To register to the HOHOLo-CULT, register using their Google Docs form and pay the door charge of P200. Once you've settled your ticket, you'll get the location for the "initiation rite" to the cult. While you're there, you must present "any original work" that is about letting go or forgetting. Whether it's a song, poem, visual artwork, it doesn't matter. You have to sacrifice something for the cult.
Keep in mind that walk-in will not be possible because only those who have the address to the secret location will know about it. Let the FOMO sink in.
(Read: Top Credit Card Promos For October 2018)
5. KILL YOUR IDOLS: TxF Halloween Party 2018
October 27
Today x Future, 7-T General Malvar Street, Araneta Center, Cubao, Quezon City
If you've been to any Today x Future party, chances are you know the drill already. That is, if you even remember about it after downing a bottle of tequila on the sidewalks of Cubao. Lovingly called TxF by regulars, it's time you create your own crazy and fun memories there. And what time would be more perfect to do this than Halloween?
On October 27, come as your favorite deceased icon at Today x Future and become part of one of the spookiest Halloween dive bar party. Manning the turntables for the entire night are Mami and Papi, the Other Daddy, Kim FG, Karlov x Kikimachine, the Vanstocks, the Grrs, and Bullshit Anselmo. Entrance to Today x Future's KILL YOUR IDOLS is P150 per skull which comes with a free drink. The best dressed dead idols will get a special prize.
Can you survive the night?