Adulting 101: A Seven-Day Crash Course On Moving In To A New House
8 min read
Moving in has always been portrayed as a dream-like scenario: People in their best clothes, full of zeal and all smiles as they enter their new home.
However, the reality is far from that. Moving into your new home requires a lot of carrying, moving around, and fixing your things to turn your new domain into your very own.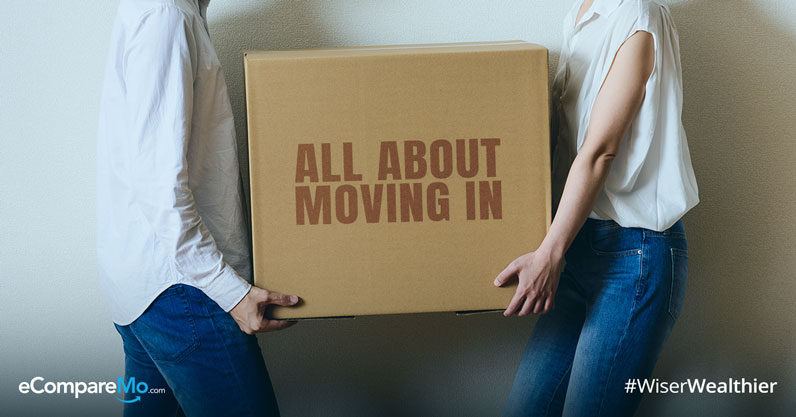 It is important to know the steps you need to take leading up to your first day at your new home. To help you plan well, here's a seven-day timetable that will serve as your guide to moving in.
Seven days before: Organize your moving-in boxes
Getting organized early on has its advantages since it means you will have more time to focus on the logistics and other things. For starters, packing early will allow you to filter out the clutter that you should leave behind rather than take with you when you move in.
In addition, you can identify how you'll haul your items when you go, allowing you to pick the appropriate size of the transportation you will need to bring your items to your new home.
The best way to get your boxes is to buy packaging materials from independent groceries and general merchandise shops. These shops can sell you their boxes of instant noodles, cigarettes, and other goods that require a huge container for a small fee. In comparison, a 15-cubic-inch box costs P95 at National Bookstore.
When it's time to box them, sort your items by putting together the ones that belong in the same part of the house. This means kitchen tools should go with items that will end up in your kitchen.
This way, you can unbox them one by one and complete segments of your house much quicker. The fine print of unboxing and fixing your stuff is for another discussion.
Finally, you need to put together a "week one box" that has everything you need for the first few days at your new home. This unique package will have all the basic needs such as toiletries, shower curtain, kitchenware, cleaning materials, and other necessary things you will need right away.
(Read:  A Young Filipino's Complete Guide To Moving Out)
Six days before: Secure your transportation
Now that you've finally sorted your boxes, you know the volume of items you'll bring with you—which means you can properly choose the right vehicle for the job . After all, you want the most efficient way of hauling your boxes without spending too much on your transportation costs.
The best way to move your things without spending too much is to ask your friends with vehicles to help you transport items. This way, you don't have to spend on hiring a van or a truck. Just pay for the gas money and probably a thank-you lunch or dinner and you're done.
If you cannot either find a friend who will help you haul your boxes, or their vehicles aren't big enough for the task, the most viable option is to rent a vehicle. Again, the type of vehicle will largely depend on the volume of your things. The ideal vehicles for the job are pickups, vans, flatbed trucks, or closed van trucks.
Five days before: Review your lease and finalize your payments
Like what we discussed before, the lease serves as the covenant between you and your future landlord. Once you've signed it, the lease becomes legally binding and all the rules will be in effect . If you've reviewed your lease by this time, good for you. However, it will also be a good time to go over it thoroughly once more by looking at the following elements:
Parties . Basically, this just means you, the lessee and the lessor, or the owner of the property in layman's terms
Occupancy limits . The maximum number of people allowed to live in the property
Lease terms . This defines the amount of time you should render , which is usually either fixed-term lease or month-by-month
Deposit and payment . The portion that states the amount you have to initially pay to the landlord and the monthly rent you have to settle , including the specific days you have to pay your rent
Maintenance and repairs . The proper division of responsibilities between the tenant and the landlord regarding maintenance and repair issues such as facilities that are broken due to misuse or ordinary wear and tear
Pets . If you're considering bringing a house pet in your new property, you should refer to this first because some properties are pretty stringent with their pet clause
Amenities . The clause that will define which areas within the premises are allowed for common use among all tenants and which ones are either exclusive or restricted
Other restrictions.  Excessive noise, number of visitors, and other activities that aren't allowed in your living space and common areas are stated under this
When everything in the lease is satisfying, you can finally submit your signed lease agreement along with the initial payments you need to pay. Under the most common payment terms in the Philippines, the most common down payment amount is equivalent to three months' worth of rent, divided into the following:
Two-month deposit
One-month advance rent
If the landlord demands an advance payment more than this, he is liable under Republic Act No. 9161 or the Rental Reform Act of 2002. Lessors found guilty of overcharging initial payments can be fined by up to P15,000 or imprisoned for up to six months.
Four days before: Have a cleaning day before you move
A decent property owner will hand over the keys to a properly cleaned home. However, it still is infinitely better to do your own cleaning instead of relying on third parties to do it perfectly.
To make sure you'll be living in a sanitized home, you should prepare the following cleaning tools :
Mop
Broom and dustpan
Rags or cleaning chamois
Laundry detergent
Brush
Liquid drain cleaner
Plunger
Steel wool
Extra mop heads
Since everyone has their own cleaning rituals and preferred agents to make their homes squeaky clean, we'll just share one strategy instead: the inside out method . Start your home cleaning from the toilet, such as adding drain cleaner to your shower drain and toilet, scrubbing your toilet's floor and walls to remove grime and dirt, and others. From the toilet, you can move towards the rest of your space until you reach the door.
Don't forget to ask your landlord if you can have your cleanup day in advance to moving in day. In addition, you can also soak some parts such as the toilet and sink in unclogging agents for days for thorough cleaning.
(Read:  Adulting 101: A Fresh Grad's Guide To Employee Requirements And IDs)
Three days before: Go through your moving in boxes again
We know it sounds counterproductive, opening the boxes you packed and going through them again a few days after. However, creating a gap between the two will give yourself some time to get rid of the "moving in high" and see things more rationally.
Now that you're more discerning with your haul, go over your boxes once again and see which items have no place in your new home. Do you really need five extra pillows or ten glasses if you're living alone? If you think you're bringing in excessive amounts of items, then you're probably right.
Once you've gone through your boxes, you can either leave what you don't need behind in your old home, give them away to charity, or sell them. The idea of moving in should be tied to a new life, which means letting go of old things you no longer need. Put them all neatly in a "letting go box" and deal with them later when you're finally settled in your new living space.
Two days before: Beef up your privacy and security
Privacy is one of the main reasons why people move out of their family's homes. However, it doesn't mean that you have to completely cut off yourself from others.
For privacy and security purposes, you should create a checklist that includes the following items:
Give your family a photocopy of the lease agreement, along with your landlord's contact details that will come in handy in case of emergency. Remind them to only contact your landlord if there is a dire emergency.
Create a sketch of your address and leave it to your family .
Change the door knobs and locks to your home and leave one copy to your landlord and another copy to your family members or friends.
If your lease allows you to do so, install security measures like deadbolts, chain locks, barrel bolt locks—or a combination of them all.
Apart from your trusted friends and family, do not announce to people about your plans to move out or your new address. If other people need to contact you, they should only reach you through your social media accounts or phone number—or redirect them to your family members so they can relay the messages to you.
(Read: 6 Great Investments Millennials Should Make Now)
One day before: Update your contact information and billing statements
By this time, you're definitely set to move out. To make sure you're not missing any of your bills such as credit card statements and others, you should contact your issuing bank regarding your imminent change of address.
Since you'll be paying for your own utilities, you can start enrolling your bills in your auto-debit account if you have one.  Get the account number of your unit's utilities from your landlord, add them to your bank account's auto-debit system, and set a schedule of recurring payments.
By enrolling in an auto-debit system, you won't be missing bill payments and won't suffer inconveniences such as service disconnection. In addition, a timely payment bumps up your chances of getting services like a credit card or loan.
Moving in can be a difficult transition, but it doesn't mean that you have to go crazy over the preparations. Even if you have one week to just prepare your stuff, you can still pull it off if you have an actionable checklist.
Sources: Lawphil.net, The Spruce, Moving.com