Best Glamping Spots Near Manila For An Unforgettable Weekend Getaway
6 min read
Glamping destinations near Metro Manila offer a fresh experience as they allow people to enjoy nature while still having all the conveniences of regular lodgings.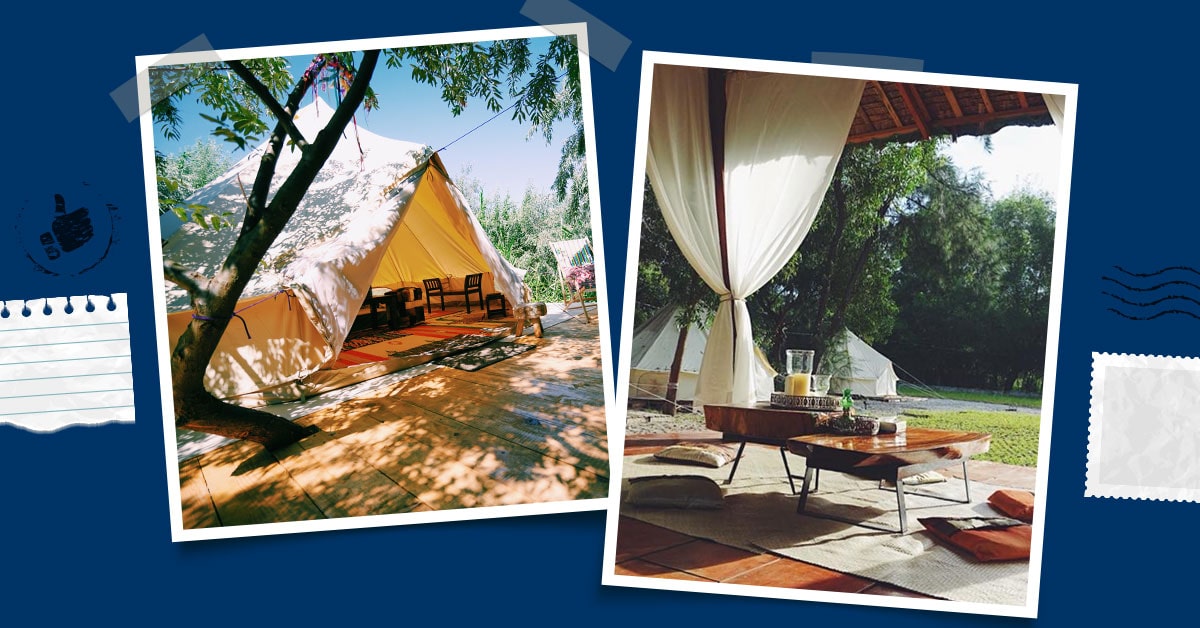 Regular camping is not for anyone. Only a few can endure sleeping on the ground while hearing strange noises inside a pitch-dark tent. Thankfully, resorts and other leisure area provides furnished shelters anyone can enjoy.
Looking for the best glamping spots near Manila? Read on and choose the one that suits your taste.
What is glamping?
Shortened from the word glamorous camping, glamping is mixing innovative luxuries and resort-style services within a serene nature set up.
From tents to sturdy tree houses, anyone seeking a retreat from their daily routines is welcome as glamping accommodations suit even those who don't believe they are the outdoor type.
Below are camping sites near the metro. Note that advance booking is recommended as these cool places get crowded any season!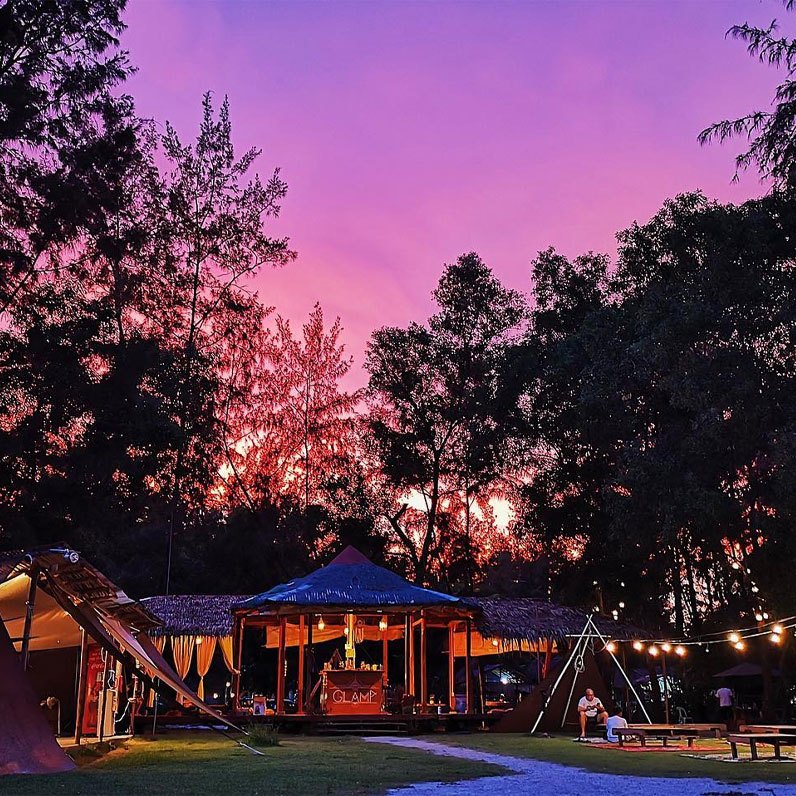 1. The Glamp
Sitio Liwliwa, San Felipe, Zambales
0927-505-9020
P5,000, good for three people.
The Glamp Zambales is popular with groups seeking relaxation as it is located in a serene and scenic area with a wide beach.
Expect a worry-free stay as the rate includes a foot spa with massage, an air-conditioned tent, a memorable bonfire, a refreshing breakfast, and dinner with free parking space.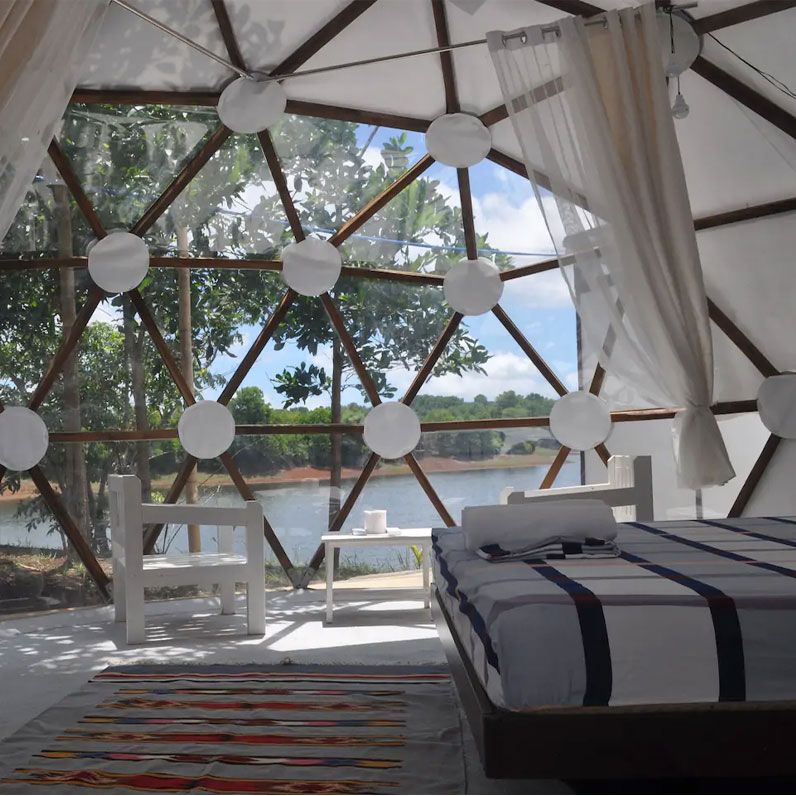 2. Glamping Etcetera Philippines
Lumot Lake, Cavinti, Laguna
0905-276-2160
P2,900, good for two people
Glamping Etcetera is situated in a man-made lagoon connected to Caliraya Lake. They provide finely structured Geodesic dome tents furnished with a comfy bed and a private bathroom with toiletries.
Additionally, enjoy Lumot Lake itself as you can kayak, catch fish and do other fun water activities for free.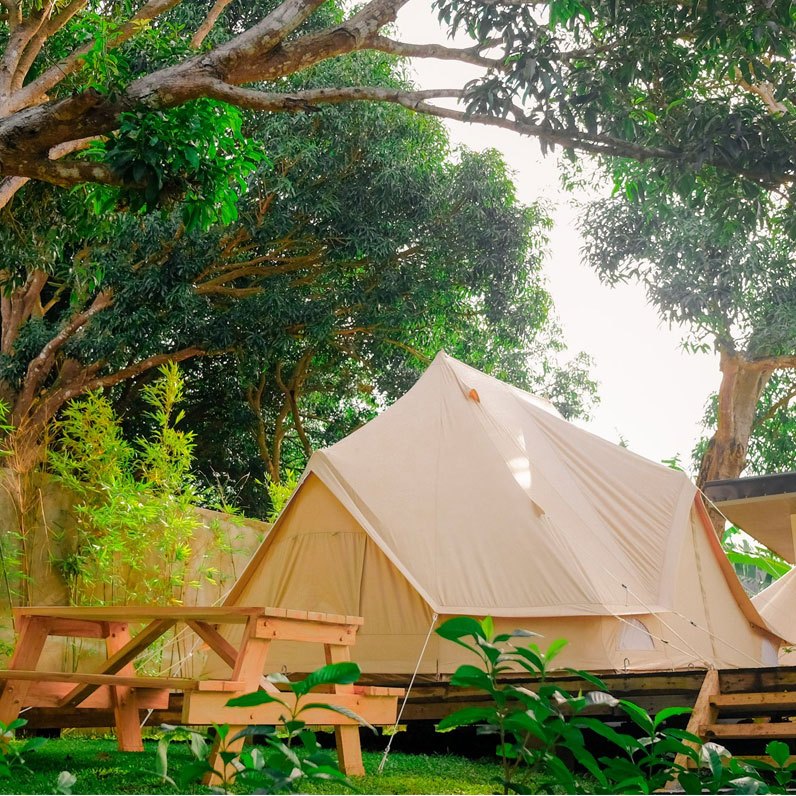 3. Nayomi Sanctuary Resort
JM Katigbak Street, Balete, Batangas
(02) 8871 7558
For Nayomi Sanctuary Resort rates, click here.
Situated on the side of a hill is Nayomi Sanctuary Resort, a spacious resort with modern facilities and great service.
Their tents are Canvass Camp Bell types, known to be durable and roomy that can be secured with a padlock. Each comes with a toilet and bath.
Also, this place is recommended if you have youngsters as they can enjoy the area's kid's play park and manicured gardens.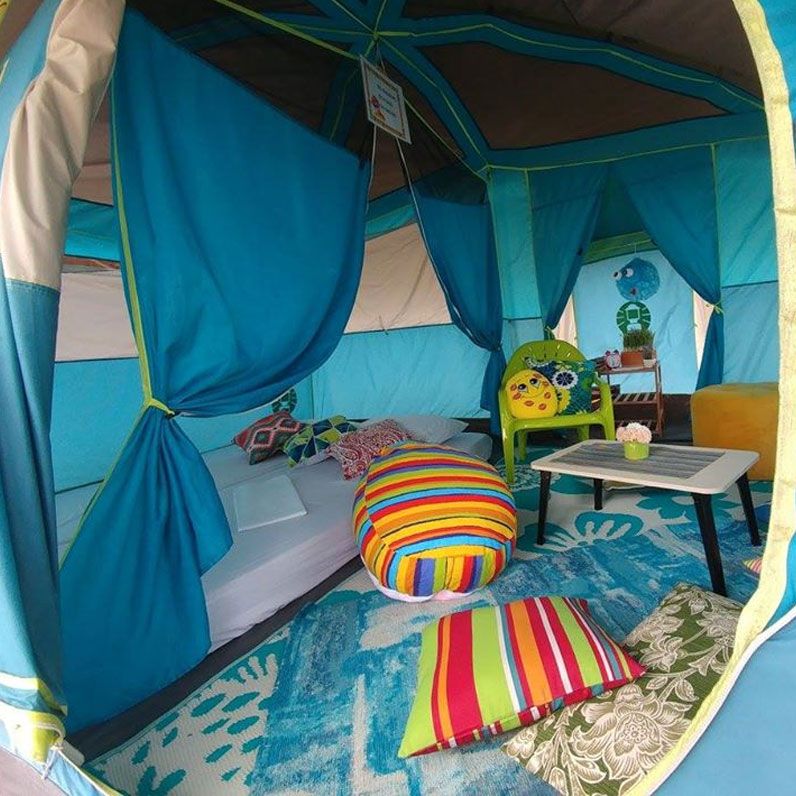 4. Sands and Stars Glamping
Baler-Casiguran Road, Dinadiawan, Dipaculao, Aurora
0917-586-6412
Starts at P1,800, good for four people
From Manila, travel five to six hours by land and you'll reach Sands and Stars, one of the cheapest camping sites in Baler.
Upon reaching this serene place, calm seas, fine sand, and a refreshing breeze will welcome you. Their nipa roofed tents are equipped with an electric fan and basic sleeping necessities.
5. Bloc Camp Site
Bukal-Cansuso Road, Bukal, Cavinti, Laguna
0936-969-9644
P2,500 per night, good for two
Looking for a serene and romantic getaway near Manila? Try out this camp site's GxB, or GlampingXBloc specifically created for lovers who want to experience something new.
Aside from the tent lodging with a queen-size bed and other sleeping essentials, guests have their own private space outfitted with a camping table and hammock beside a quiet lake.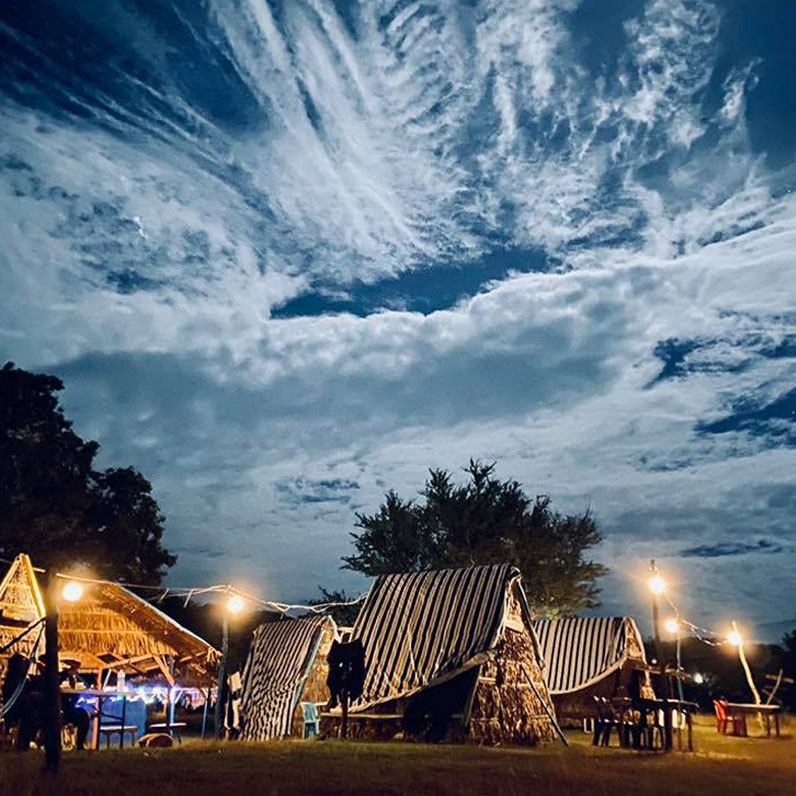 6. Casa Antonio
143 Apacible Street, Calatagan, Batangas
0920-497-5730
For their packages and rates, click here.
Casa Antonio is one of the forerunners of glamping in Batangas. Availing of their leisure services also enables you to help local youth as they employ working students from the province.
Aside from cozy tents, they have electricity powered glamping huts facing a spectacular view of the ocean.
You can try out other relaxing activities like the Kawa bath, kayaking in Casa Antonio's beach, and avail of their signature massage.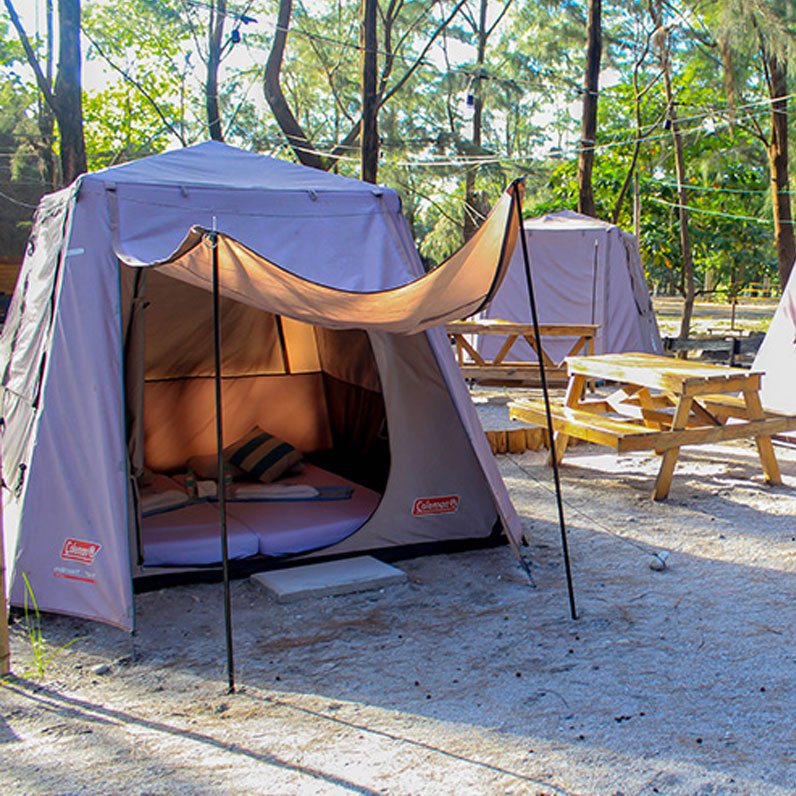 7. Crystal Beach
Purok 1-B, Barangay La Paz, San Narciso, Zambales
(02) 8404-2342, (02) 8404-2456, (02) 8404-2502
To view their promos and rates, click here.
Crystal Beach glamping is one of the most in-demand activities for young professionals due to the sites accessibility in Manila.
The area, which can house 500 lodgers, is surrounded by tall pine trees that add a calming vibe.
At night, you can enjoy live acoustic music and fire dancing performances by the beach.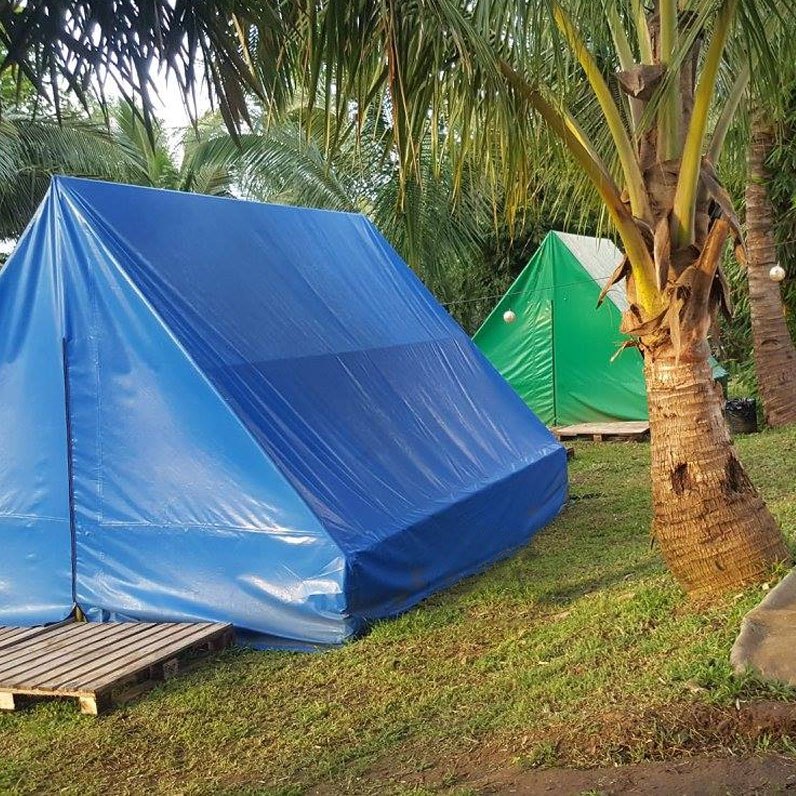 8. Ten Cents to Heaven Leisure Camp
Sitio Mayagay II Cuyambay, Marikina-Infanta Highway, Tanay, Rizal
(02) 8542-2087 
Starts at P1,500, good for two guests
For those wanting a picturesque view of nature, we suggest you check out Ten Cents to Heaven Leisure Camp as it provides a refreshing sight of both Laguna de Bay and the Sierra Madre mountain range.
Apart from experiencing their humble but comfortable tents, they have outdoor activities such as zip-line, wall climbing, and rappelling.
Groups can bond on their basic obstacle courses and indoor games.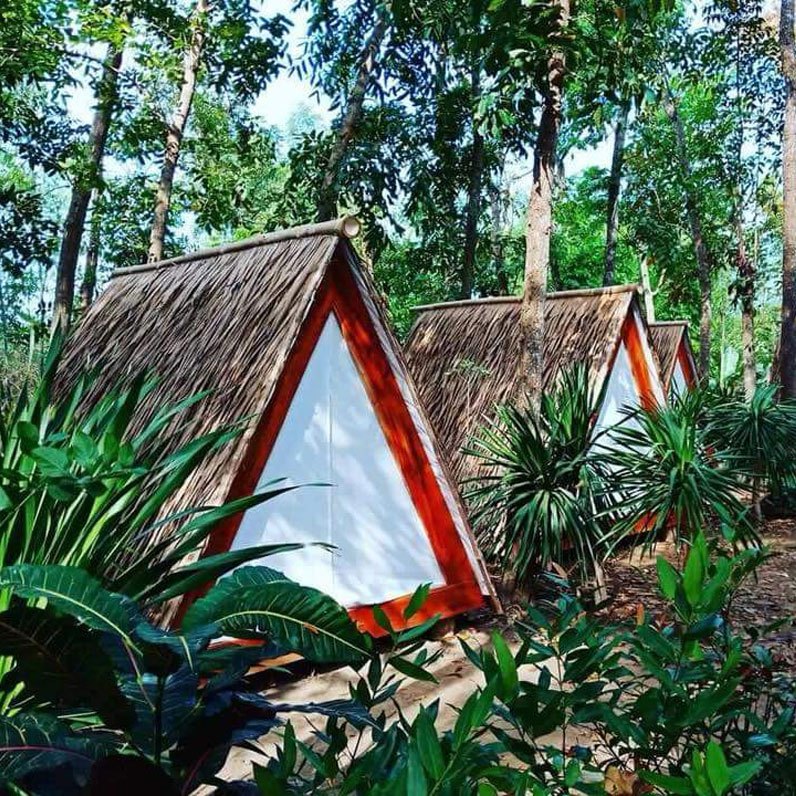 9. Riverfront Garden Resort
Pinagsanhan B, Maragondon, Cavite
0926-556-0429
Starts at P2,000, good for three guests
Riverfront Garden Resort is a quirky and rustic resort full of Instagram-worthy spots. Friends and families can avail of their cabanas and day beds while enjoying the unlimited breeze coming from the Maragondon River.
For an overnight stay, you can either choose from their airconditioned or electric fan wooden tents that come with a bed foam, pillows, towels, and toiletries.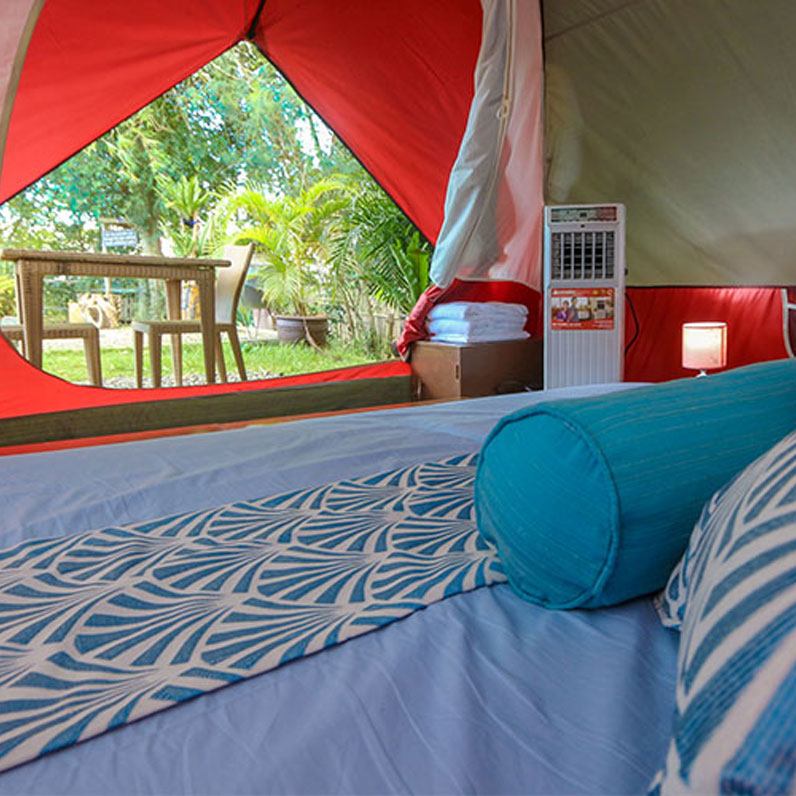 10. San Rafael River Adventure
Barangay Talacsan, San Rafael, Bulacan
(02) 8668-1372
Starts at P3,600, good for two guests
Though known for their gorgeous glass cottages with one-way mirrors giving you a full view of the lush environment outside, San Rafael River Adventure offers regular, barkada tent, and glamping with a twist.
The regular comes with sleeping essentials, a mini electric lamp, and an industrial fan while the barkada tent is furnished with 4 mattresses.
On the other hand, glamping with a twist is a must-try as the tent is fixed on a floating bamboo structure complete with walls and roof.
(Read: Staycation Spots In And Around Manila Your Family And Friends Will Love)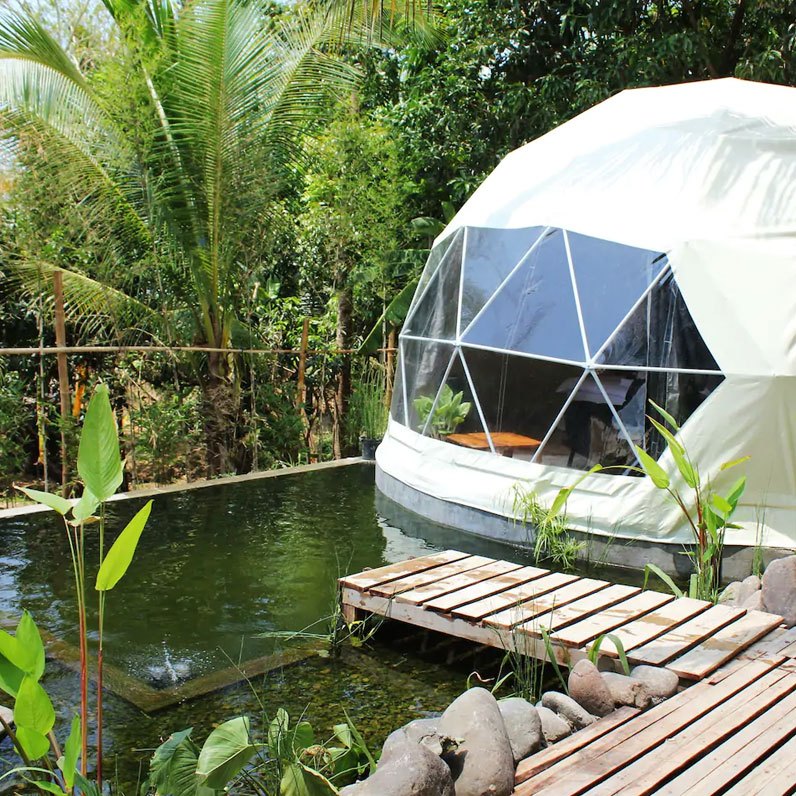 11. Domescape
Nasugbu, Batangas
0925-772-6363
P7,500 per night
Mixing the convenience of city living with nature's rejuvenating ambiance is Domescape Nasugbu, the country's first dome lodging, and leisure site.
Aside from sleeping essentials, each dome is equipped with a coffee machine, a personal refrigerator, and a microwave oven. It can house two to six guests.
Additionally, each dome comes with a lounge area and swimming pool that provides added relaxation.
12. Camptipolo Adventureland
Loreland Farm Resort, Sitio Loreland, Antipolo, Rizal
0917-867-6205
For their rates and packages, click here.
Camptipolo Adventureland is perfect for team building as they offer modules and activities that build their bond, coordination, and interaction.
Aside from glamping, anyone will love their facilities that include mudslides, tight ropes, balancing bridge and the likes.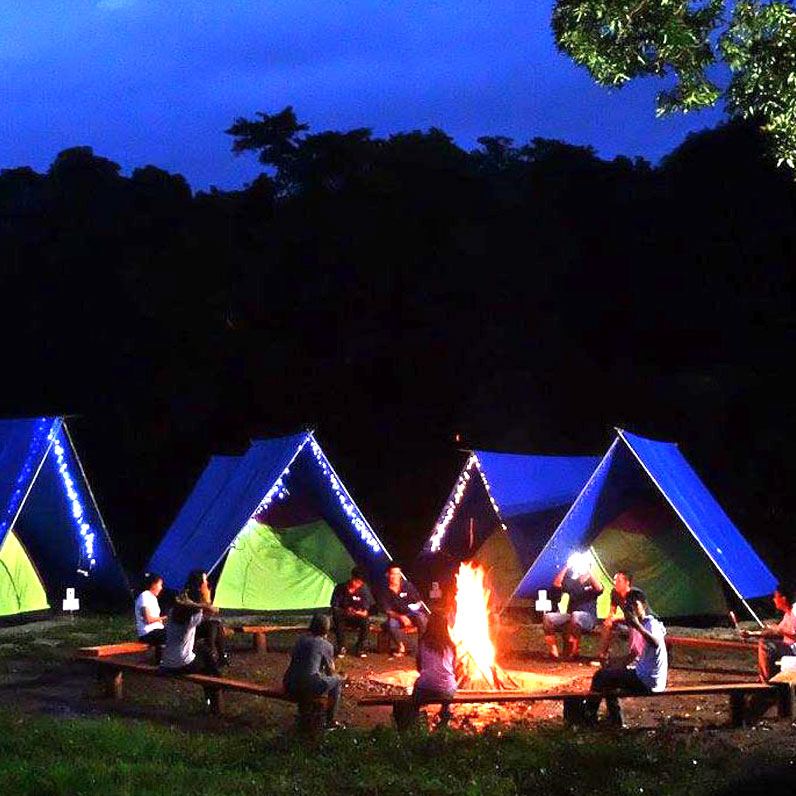 13. Quest Adventure Camp
Pantay Quatro, Sitio Buhangin, Teresa Rizal
(02) 8876-7339, (02) 8679-1423
For rates and packages inquiries, reach them through info@questadventure.ph.
Another highly recommended area for big group glamping is Quest Adventure Camp. It can house up to 250 people that will enjoy the cool mountain breeze in the morning and do star gazing at night.
During the day, you can try out their 13 stations Gemilina rope tower, climb their adventure tower and test your group's coordination at the 15 stations mango rope course.
(Read: Kalanggaman Island 2020: Travel Guide To Your Next Sea Escapade)
Glamping tips
Pick a location where everyone agrees. Make sure the amenities in your chosen venue can be enjoyed by all participants.
Bring along mosquito repellants. Though being in nature is fun, it is home to mosquitoes and other insects that might spoil your stay.
Refrain from using electronic and mobile devices. Stroll outside, appreciate nature, and meditate.
Prepare a first-aid kit. Though the above-mentioned facilities are efficiently manned, bringing a first aid kit enables you to act fast and lessen the injury.
Respect the surroundings. Never pluck any plant that you fancy or disturb any animal that you will encounter.