Frequently Asked Questions: OFW Loans
3 min read
Overseas Filipino workers aren't called modern-day heroes for nothing. They don't only make sacrifices to provide a good life for their families, they also make a significant contribution to the Philippine economy.
OFW remittances hit an all-time high of $10 billion, a 4.7-percent growth from last year. The huge amount being sent back home by OFWs accounts to almost one-tenth of the country's gross domestic product (GDP).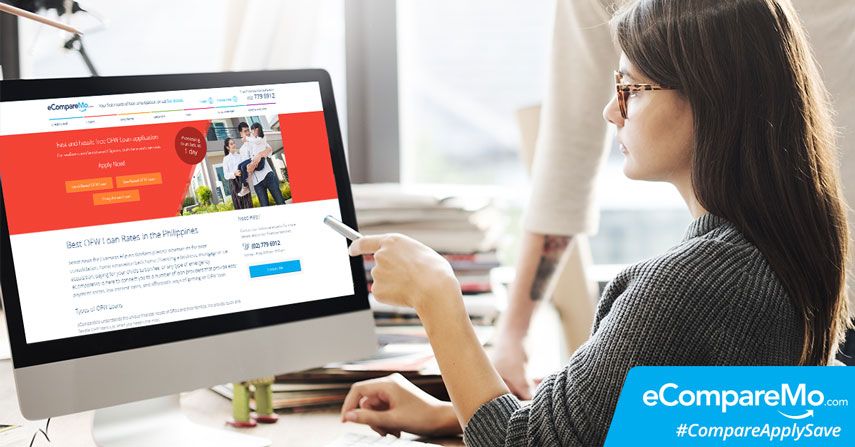 Still, there are times that will require OFWs to borrow money from financial institutions. This is where OFW Loans come in.
Whether to help you make a smooth transition to your overseas job or build your dreams back home, OFW loans will suit your needs.
eCompareMo has compiled vital information on OFW Loan requirements and answers to the most frequently asked questions (FAQs) courtesy of our friends from Global Dominion Financing Incorporated.
Who are the people qualified to apply for an OFW Loan?
Potential candidates for OFW Loans include the following people:
OFWs currently here in the Philippines for a vacation
First-time OFWs
Returning overseas workers (Balik Manggagawa)
Candidate must have at least a monthly salary of P20,000 and up for both skilled and professional workers.
What are the most common requirements for OFW Loans?
The following requirements are frequently asked from applicants for loans for OFWs:
Contract with POEA validation
Philippine passport
Working visa
Overseas employment certificate (OEC)
Ticket/flight details
Latest electricity/water bill
How much is the interest rate?
The interest rate for OFW Loans is 2.49% per month.
How much is the maximum loanable amount?
To get the maximum loanable amount for OFWs, we will compute the total amount based on the applicant's salary. Usually, OFW Loan candidates can borrow somewhere between 100 and 200 percent of their basic salary and guaranteed allowances of up of P250,000, whichever comes first.
What are the payment terms possible?
Borrowers can pay back their OFW Loans for up to 12 months.
I'm scheduled to leave the country and start my job soon. Can I still apply for an OFW Loan?
Definitely. OFW Loan applicants who are scheduled to leave the country will just have to provide all the requirements and send their application form at least 15 days before the date of departure.
Can I apply for an OFW Loan even if I'm working abroad?
Yes. OFWs who are currently working abroad can apply for an OFW Loan but due to the increased risks, the minimum monthly salary required for applicants currently overseas is at least P35,000.
I need money to process my overseas work application. Am I eligible for an OFW Loan?
Currently, our partners do not offer loans to support the placement fee and other fees related to application abroad. Prequalified clients must present pertinent documents as an OFW. This applies to both new or recurring workers.
I am abroad but can my husband/wife/brother/sister/father/mother/son/daughter apply for an OFW Loan on my behalf?
Yes! Aside from the basic requirements for OFWs, family members applying on behalf of the OFW candidate will also have to submit requirements such as valid IDs, latest proof of billing, birth certificate or marriage contract, and latest remittance slips. Once submitted, the beneficiaries of the OFW Loan will also serve as the co-borrower.
How can I increase the chances of my OFW Loan application get approved?
Applicants who wish to boost their chances of getting approved for an OFW Loan can do the following:
Make sure that all the information they provided is factual and correct.
They should borrow an amount that is within the salary in their contract.
Borrowers with no history of negative findings or money-related court cases both here and abroad are highly likely to be approved.
They must establish the address of the OFW and the beneficiaries/co-borrower through proof of residence.
OFW Loan applicants must provide all pertinent documents needed to establish their capacity to pay.
How fast usually is the processing period of an OFW Loan application?
We want our borrowers/OFWs to spend most of their time with their family before deployment, that's why we are committed to process the loan in as fast as one day!
Borrowers should, however, make sure that they have all the necessary documents required. In addition, they should check their eligibility for an OFW Loan prior to submitting the application for faster processing.