Forbes Richest 2020: Philippines' Manny Villar Loses Wealth, But Maintains Top Spot
3 min read
How are the world's billionaires in the face of the COVID-19 pandemic?
As it turns out—they've taken a hit just like all of us.
Business magazine Forbes just released its annual "The World's Billionaires" list, a collection of figures around the world who are worth at least $1 billion and up. Although a lot of familiar names remain on the list, the magazine reports that fortunes are taking hit because of the 2019 novel coronavirus disease.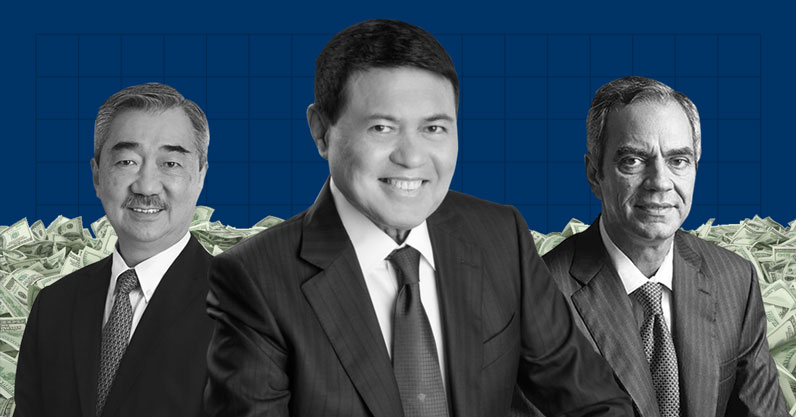 "As of March 18, when we finalized this list, Forbes counted 2,095 billionaires, 58 fewer than a year ago and 226 fewer than just 12 days earlier, when we initially calculated these net worths," Forbes said. "Of the billionaires who remain, 51% are poorer than they were last year."
The magazine furthered that the aggregate of the world billionaires—which is a whopping total of $8 trillion—is down by $700 billion from last year.
To put it in perspective, that's more than P404 trillion, or 101 times the Philippines' national budget for this 2020.
Brave new world
How did our local billionaires fare on the list?
In 2019, the business community was shocked by the loss of two local titans: SM Group founder Henry Sy Sr. and JG Summit Holdings founder John Gokongwei Jr.
Both billionares were consistent chart-toppers, with Sy always landing on the top spot and Gokongwei not far below.
However, their deaths caused a shift on the list of Philippine billionaires. With Sy out of the picture and his wealth divvied up among his children, there is a new No. 1 according to Forbes: real estate tycoon and former senator Manuel Villar.
(Read: Forbes Philippines' 2019 Richest List)
According to the magazine, Villar sits at the 315th spot on the World's Billionaires, although his net worth is down from $6.6 billion last year to $5.6 billion as of writing. Villar is the businessman behind Vista Land developments across the country, Starmall, All Day, Golden Bria, and real estate developments. In 2018, he was one spot behind Henry Sy at the top of the list.
After Villar, port magnate and amusement and gaming operator Enrique Razon follows next, although he's more than 300 spots away from Villar on the list of world billionaires.
His net worth of $3.4 billion can be attributed to multinational port management company International Container Terminal Services, Inc. as well as his ownership of Bloomberry Resorts, operators of Solaire Resort and Casino and Jeju Sun Hotel & Casino in South Korea.
The Sy siblings, which collectively are worth $27.4 billion, are definitely taking care of their father's hard work. Last year, Forbes pegged their net worth from their father at $17.2 billion, which definitely saw an increase almost a year after Sy's passing.
Each second-generation tycoon is in charge of a piece of the SM Group empire. Even with Henry Sr. no longer around, to say that the kids are alright is an understatement.
To complete the list of Forbes' "The World's Billionaires," here are the names of the richest tycoons in the Philippines, all worth $1 billion and above:
Manuel Villar (world ranking: 286) – $5.6 billion
Enrique Razon (world ranking: 565) – $3.4 billion
Hans Sy (world ranking: 1,063) – $2 billion
Herbert Sy (world ranking: 1,063) – $2 billion
Harley Sy (world ranking: 1,135) – $1.9 billion
Henry Sy, Jr. (world ranking: 1,135) – $1.9 billion
Andrew Tan (world ranking: 1,135) – $1.9 billion
Teresita Sy-Coson (world ranking: 1,196) – $1.8 billion
Roberto Ongpin (world ranking: 1,267) – $1.7 billion
Lucio Tan (world ranking: 1,267) – $1.7 billion
Tony Tan Caktiong and family (world ranking: 1,267) – $1.7 billion
Elizabeth Sy (world ranking: 1,335) – $1.6 billion
Ramon Ang (world ranking: 1,513) – $1.4 billion
Roberto Coyiuto, Jr. (world ranking: 1,513) – $1.4 billion
Eduardo Cojuangco (world ranking: 1,990) – $1 billion
(Read: From Broke To Billionaire: 10 Success Stories Of Self-Made Filipino Entrepreneurs)
The world's richest
So who are the ones that conquered the top spot on a global scale? Here are Forbes' top 10 billionaires in the world for 2020 and their net worth:
Jeff Bezos (Amazon) – $113 billion
Bill Gates (Microsoft) – $98 billion
Bernard Arnault and family (LVMH) – $76 billion
Warren Buffet (Berkshire Hathaway) – $67.5 billion
Larry Ellison (Oracle) – $59 billion
Amancio Ortega (Zara) – $55.1 billion
Mark Zuckerberg (Facebook) – $54.7 billion
Jim Walton (Walmart) – $54.6 billion
Alice Walton (Walmart) – $54.4 billion
Rob Walton (Walmart) – $54.1 billion
Sources: Forbes