Lending Your Car To A Frontliner? Here's What You Need To Know
6 min read
The public transportation ban due to the enhanced community quarantine has posed a problem among our frontliners: How do I get from point A to point B?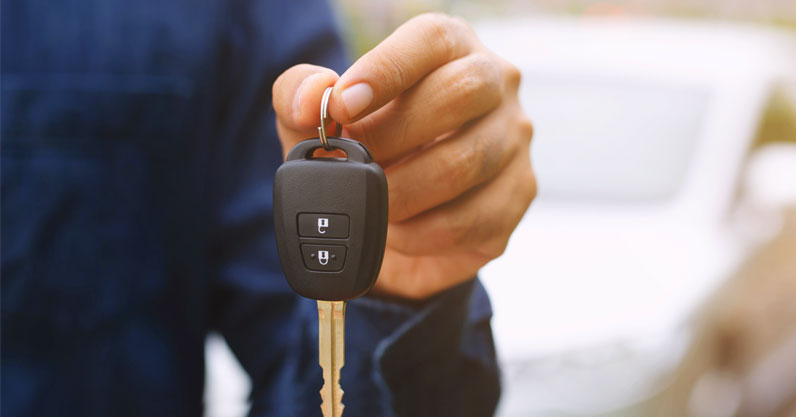 Thankfully, the Department of Transportation (DOTr), as well as transport companies and a number of good samaritan private car owners gave a helping hand and lent out their vehicles.
You must be giving it some thought too. You, the concerned friend of someone who works in the healthcare field, who are just stuck at home with no reason to go out—could put your ride to good use and lend it to a frontliner. It's the right thing to do.
But…to make sure that you and whoever will drive your car won't have a problem with either the authorities or your insurance company, here are some things to keep in mind when you're lending your car to a friend.
The complexities
It may sound like a stupid ceremony but giving someone a consent makes everything legal. If you agree to a person using your car, then all you need to do is just say it.
However, the government has set up checkpoints all around the country to verify if road users are not violating quarantine guidelines. That means you have to follow some rules to avoid hassle.
First, under the Land Transportation and Traffic Code, you should only hand the keys of your vehicle to someone who has, of course, a valid driver's license. After all, only those who have a driver's license can be allowed to operate a vehicle even under these circumstances.
Second, officials at COVID-19 checkpoints might also check about the ownership of the vehicle. Although you're giving consent to drive your car to someone, a verbal one is not enough. You need to put it in writing.
Finally, you should only let a person exempted from the quarantine guidelines borrow your car. If the person caught driving your car isn't a frontliner or any other worker that falls under the exceptions of the quarantine, authorities might impound your vehicle.
Operative word: might. But you don't want to risk it, right?
This is where the letter of authorization comes in.
Letter of authorization
Put simply, a letter of authorization is a document stating that one party allows someone else to act on their behalf. In this case, giving this someone a letter will authorize them to use your car without fear of any repercussions. They can show this document to the checkpoints and they can go their way.
So what should the letter of authorization contain? To be safe, here are some details that you should include:
Your full name
Your address your contact number
Model, make, and color of your vehicle
Vehicle identification number (VIN), also known as chassis number
The name of the person you're authorizing to drive your car
The person's basic details (such as address, contact number, and place of work)
Validity of the letter of authorization (which is only during COVID-19 quarantine period)
Your signature
Additionally, you can attach other documents to support your ownership of the car such as a photocopy of your driver's license, copy of your car's official receipt and certificate of registration (OR/CR), insurance policy, and others.
Make sure that the frontliner borrowing your car has these documents with them at all times. Ideally, it should be inside the glovebox or any other part of the car that's within reach during inspection. (Hey, don't forget to make a copy for yourself too.)
Who's liable?
Now let's talk about liability.
As the legal owner of the vehicle, you will be responsible for any accident or damage or injury to any person or property—and the government can easily pinpoint who will be the one to run after. This means that if the borrower gets involved in an accident with your car, the blame will first be pinned on you since you're the one registered with the system.
This may sound like a scary scenario—but hear us out first. That is just normal procedure for the authorities to figure out who is the one at fault during an accident and who will be the one liable to all the damages and legal responsibilities for all parties. Even during regular days, this is still the norm.
Although you already have proof that the frontliner is the one using your car during quarantine period (through the letter of authorization), it won't hurt to have a borrower's agreement that will free you from all the financial responsibilities arising from the other party's use of car. It can be something as simple as a verbal agreement with a handshake but putting things on paper will make them more concrete.
If he gets a ticket under no-contact apprehension policy, it may be recorded under your name but he will be forced to pay for the violation, as part of your agreement.
The car insurance issue
Is your car still insured if you lend it to a frontliner?
Short answer: yes. However, you might want to stick around for the explanation.
Your car insurance policy has an "authorized driver clause," defining who is only permitted to operate the insured vehicle. Although it will indemnify you from loss or damage, only the following people are classified as authorized driver by your insurer:
The owner of the vehicle (in this case, you)
Any person driving the insured vehicle with the permission of the owner
Usually, people falling under the second category are members of your family, friends who receive express consent from you to drive your car, repair shop personnel, and others who have your green light.
Aside from having your consent, they will only be considered authorized drivers if they have an active driver's license and they're not disqualified from driving a vehicle for whatever reason.
Does this mean that your car is still covered under your current insurance policy? Yes. However, you might want to have an agreement with the borrower that if an accident happens to then while driving your car, they will be the one responsible for expenses: participation fee, as well as legal and documentary fees.
However, you might want to have an agreement with the borrower that if an accident happens to them while driving your car, they will be the one responsible for the expenses mentioned above.
For the frontliners
Now that you know you can borrow a car to make your commute much more convenient, here's a a car borrowing etiquette to make everyone's life a little less complicated:
Return it better than you borrowed it. That includes a car wash after this, properly inflated tires, gassed up, and others.
Keep the owner notified at all times about the condition of the car. Even if it's so minor like a busted headlight, loop them in immediately.
Your drive, your gas. 'Nuff said.
Keep the car clean at all times, both inside and out. You don't want to return it looking like a disaster.
Give it back once the whole ordeal is over. Think like Cinderella and don't push your luck.
Thank the car owner. Without their support (read: their car), you won't be able to do your duties as a frontliner.
If you can't take out your car now, it's best if you can lend it to someone you trust. After all, we need to help one another get through this mess. The best thing car owners can do right now is to let those who need transportation the most get where they are needed the most.