Find Your Perfect Match with UnionBank Credit Cards
6 min read
Whoever you are and whatever you do, there's a UnionBank Credit Card that's perfect for you.
With cashless transactions being encouraged and providing exceptional convenience these days, you've probably surmised that a credit card is something you must have. The question now is: "what credit card should I get?"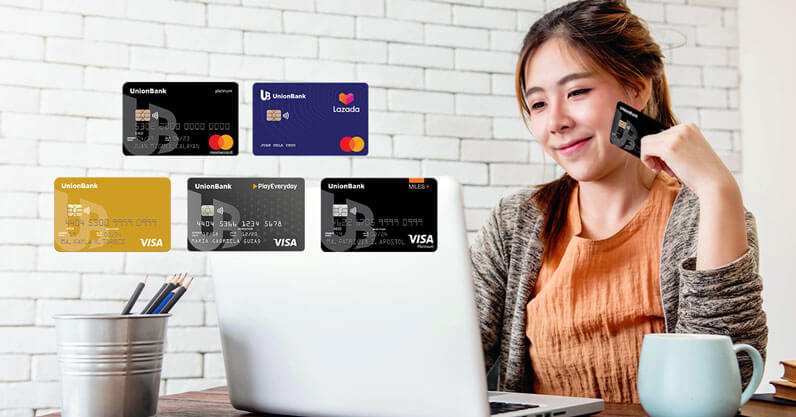 A number of credit cards in the market offer a great deal of perks and benefits, and it's understandable to get overwhelmed at first look. But no worries! If you're hesitant as to which credit card is the best for you, this guide is going to help you find that perfect match.
We've listed some of the most popular UnionBank credit cards, as recommended according to your needs and lifestyle. Read carefully and choose one, or maybe two, that suits you. Afterward, we'll teach you where and how to access the UnionBank credit card application online, so you'll be up and ready once you've made your choice.
Most Popular UnionBank Credit Cards
UnionBank Lazada Credit Card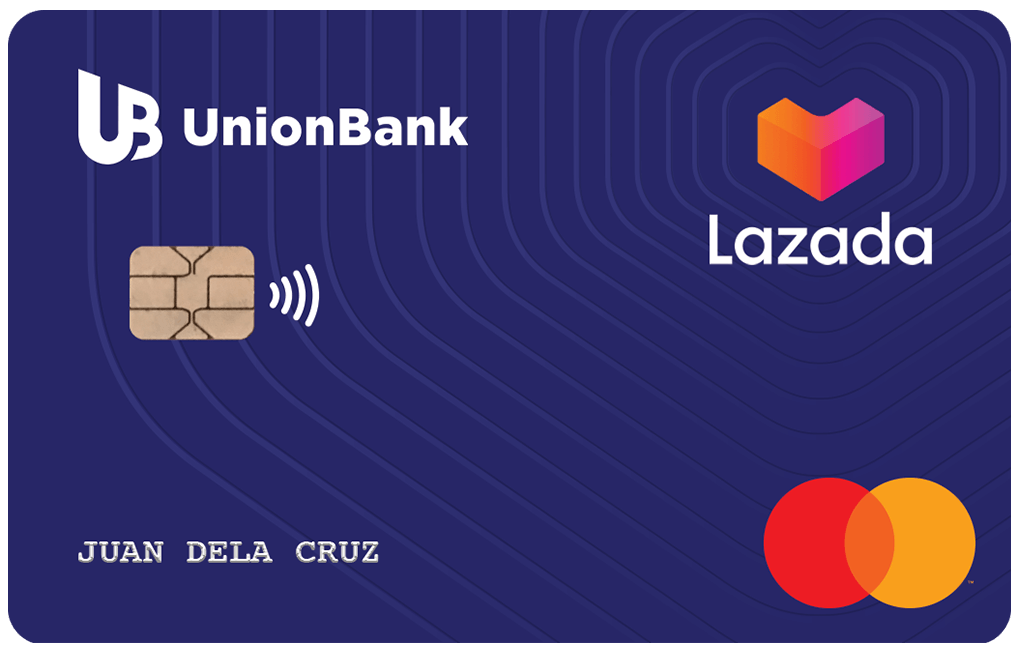 First on the list is the UnionBank Lazada Credit Card. This co-branded credit card from UnionBank and Lazada lets you maximize your online shopping experience at Lazada. Each time you use your UnionBank Lazada credit card in Lazada, you earn up to 6x more Lazada credits that you can use to buy more items. Not only that, but UnionBank Lazada credit cardholders also get to enjoy exclusive rewards and promos all year round.
In addition to getting more Lazada credits, you'll also receive free shipping & sale vouchers, plus special access to Lazada's monthly mega sale events.
So if you're the kind of person who looks forward to Lazada's monthly sale events and does the bulk of your shopping online, then this is the UnionBank credit card recommended for you!
UnionBank PlayEveryday Credit Card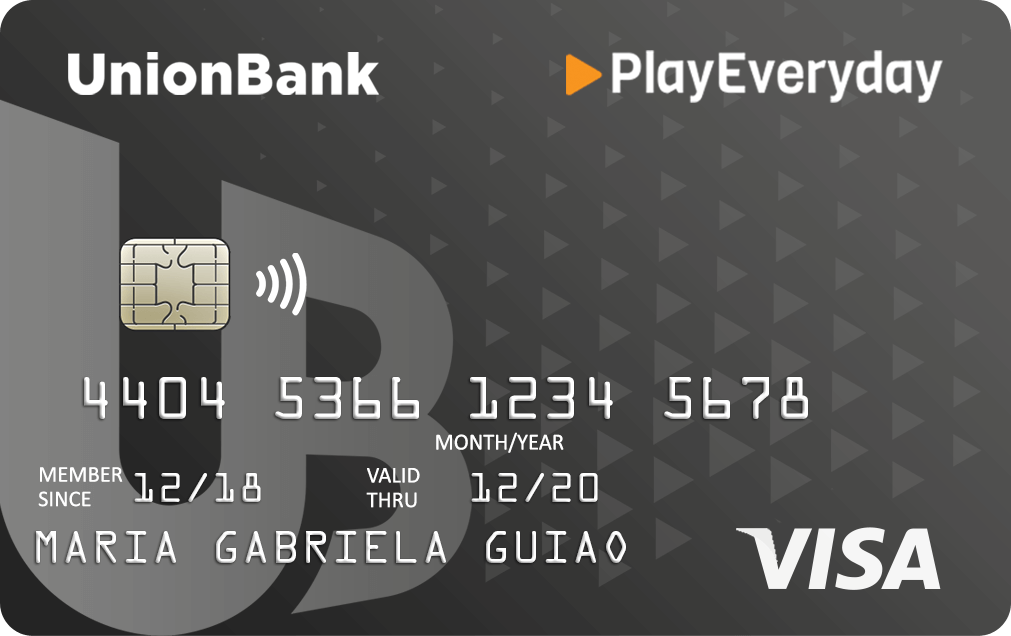 With the UnionBank PlayEveryday credit card, goal-setting and adulting can be made fun with its one-of-a-kind features & experience!
How? When you use your UnionBank PlayEveryday credit card, you're taking part of a unique, gamified experience where you can claim better, bigger rewards as you rise up the ranks.
For example, with the UnionBank PlayEveryday credit card, you can get 1 Play Point per ₱10 spent. Once your Play Points pile up, you can redeem them to make other, everyday purchases from major stores and outlets nationwide (SM, Puregold, Robinsons etc.). Learn more about Play Points here.
But that's not the only way to earn points! To make it more fun, you can unlock specific tasks or missions that give you more rewards. The more Play Points you accumulate, the higher you climb up the leaderboard. Why is the leaderboard important? Because, the more you rank up, the more perks you get to unlock again!
Then to make the experience more personal, you are also encouraged to customize your profile to match your unique personality. Cool, right?
Now if you're new to the game and looking for your first UnionBank credit card, this is a great place to start. Get in the zone and play!
UnionBank Gold Visa Credit Card
The next one on the list is the UnionBank Gold Visa Card. This credit card is right for you if you want to maximize the exceptional rewards program UnionBank has in store for you!
Unlike other credit card rewards programs, the points you accumulate with the UnionBank Gold Visa credit card NEVER expires. (₱35 spent= 1 point) You can redeem these points to get:
FREE plane tickets (PAL Mabuhay Miles Frequent Flyer)
FREE gas (Petron Value Card points)
Shopping gift certificates at SM and Rustan's
SM movie passes
and other amazing perks (waived annual fees and cash rebates).
Not only that, you can enjoy premium travel perks such as access to the NAIA Terminal 1 Club Manila airport lounge.
So if you're looking for a credit card that offers a wide array of rewards, apply for a UnionBank Gold Visa credit card.
UnionBank Miles+ Platinum Visa Credit Card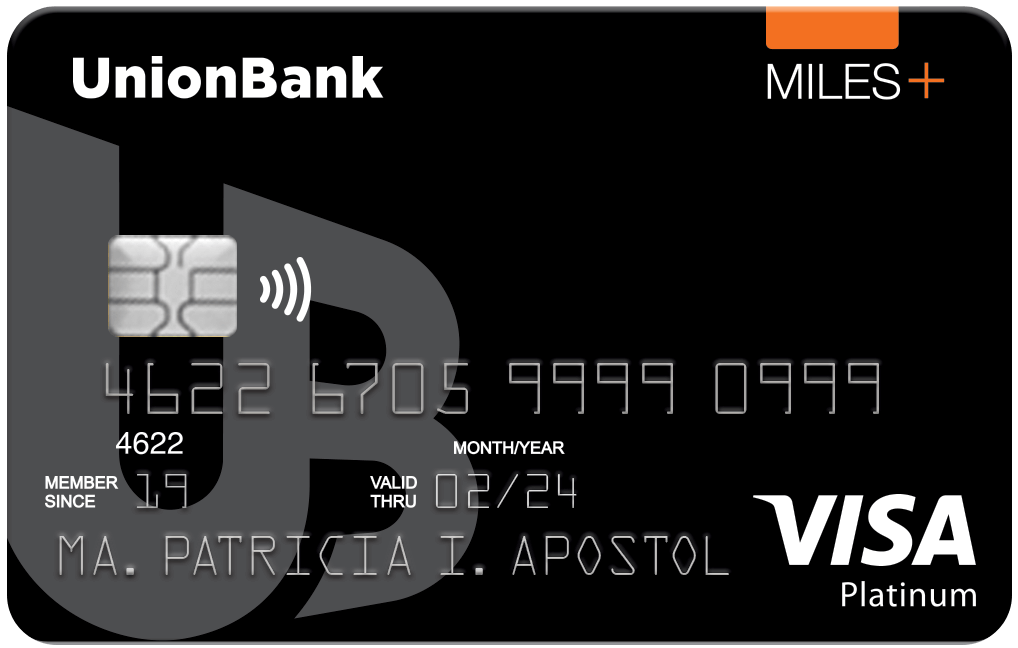 Gain more than just fond memories when you charge all your travel expenses to your UnionBank Miles+ Platinum Visa credit card. When you use your UnionBank Miles+ Platinum Visa credit card on airfare, hotel & lodging, and any overseas expense, you can earn 1.5x points (vs. 1 point for other uses) that is translatable to miles or redeem as much as 1.2% of your spend in cash back. It only takes ₱25 spent to accumulate Plus points.
More perks await you as this credit card also offers a fully-loaded travel package that unlocks access to airport lounges and up to ₱10-M worth of travel insurance coverage.
So if you need a credit card that complements and enables your wanderlust, having the UnionBank Miles+ Platinum Visa credit card is the right choice.
UnionBank Platinum Mastercard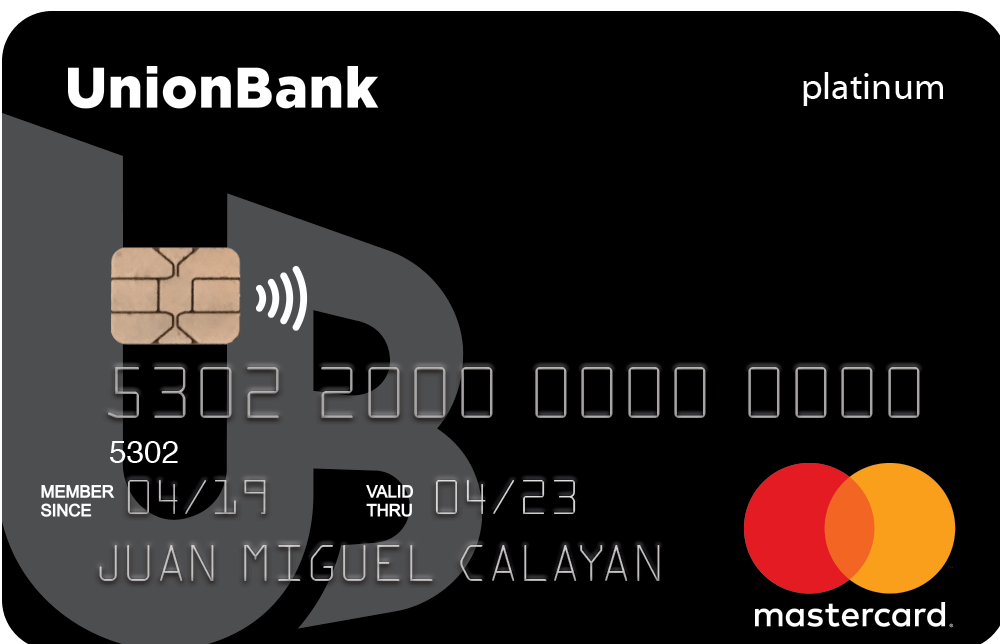 Now we have the UnionBank Platinum Mastercard. This credit card is the ultimate cash back credit card that UnionBank has to offer. Why? Because you can get 1% cashback applied on literally every purchase–anytime, anywhere, and with NO CAP.
And you don't need to keep track of your cashback points because they don't expire. Plus they are automatically captured in the UnionBank app once you've enrolled your UnionBank Platinum Mastercard–redeemable as you please. However, if you do need to calculate your redeemable cashback points, the MasterCard Cashback Calculator makes it easy by helping you compute all your rewards on the spot.
Your UnionBank Platinum Mastercard Experience doesn't stop there as it also offers free access to airport lounges whenever you travel. Just simply present your card, no questions asked.
If cashback is what you're after, then apply for the finest UnionBank has to offer: the UnionBank Platinum Mastercard.
UnionBank Cebu Pacific Visa Credit Cards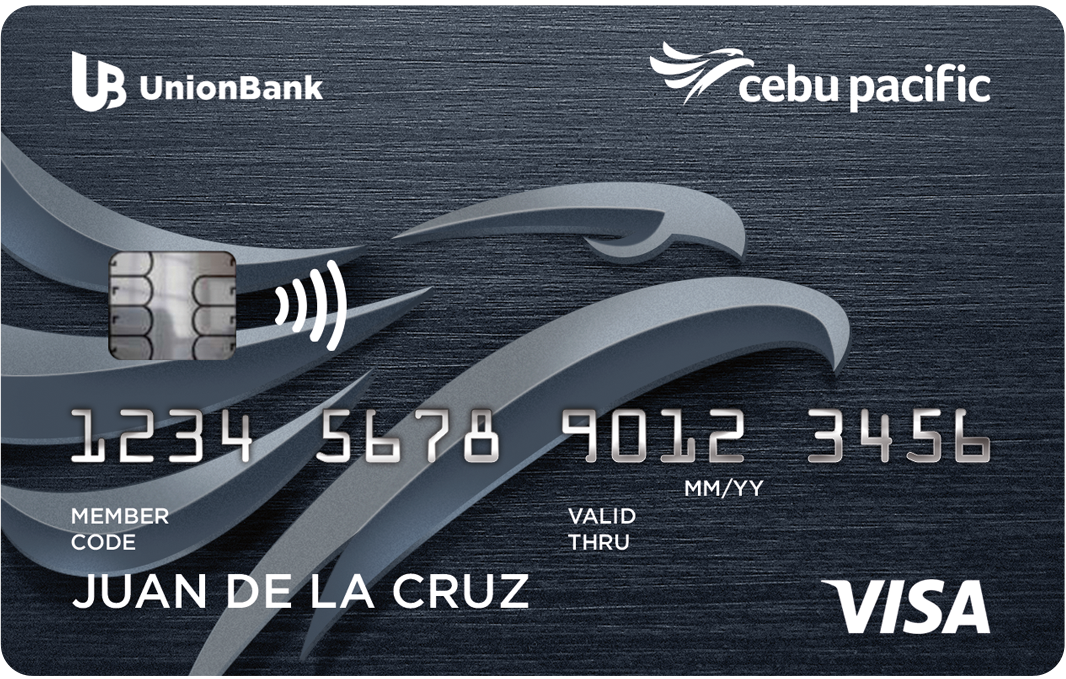 Finally, we have the Getgo-powered UnionBank credit cards, co-branded with Cebu Pacific. With these credit cards, you can choose your rewards from Go Rewards, a points program that goes beyond just travel. How? Because with Go Rewards, you can get shopping certificates, food delivery services, cashback, and more!
Each P200 spent with the UnionBank Cebu Pacific credit cards will automatically give you 1 Go Rewards point–equivalent to P1.00. You can use this to get plane tickets, courtesy of Cebu Pacific, free gas from Caltex, and grocery shopping in Robinsons Supermarket. On top of that, you'll also have exclusive access to Cebu Pacific sale events, free travel insurance worth P10-M, and airport lounge access (Platinum cardholders).
So if you're more than just a traveler, apply for this pleasure-packed credit card and unlock the widest array of rewards with the UnionBank Cebu Pacific credit cards!
UnionBank credit card application: A guide on how to apply
To get you started, make sure that go choose the UnionBank credit card that's right for you and fill in the application:
Once submitted, follow the next steps until completion.
It's also recommended that you prepare the following requirements to make the whole UnionBank credit card application process smoother for you:
You must be 18-70 years old to apply.
A copy of one (1) valid government ID with photo and signature.
A copy of your source of income. You can present any of the following:

Income Tax Return (ITR) or Certificate of Compensation Payment and Tax Withheld or similar documents
Certificate of Employment or Employment Contract
Latest 3-months payslip
BIR Form 2316 or a similar document
Proof of pension (if applicable)

Latest 3 months copy of the Bank Statement of Account (SOA) from another bank.
*For foreign applicants, an additional requirement of Alien Certification of Registration (ACR) or its equivalent document needs to be presented.
So, have you decided which one to get? Hurry and don't let all these amazing advantages slip through your fingers! Apply for a UnionBank credit card now!
For news and other information, visit the UnionBank website or follow their official social media accounts.