Car Promos in the Philippines for September 2021
5 min read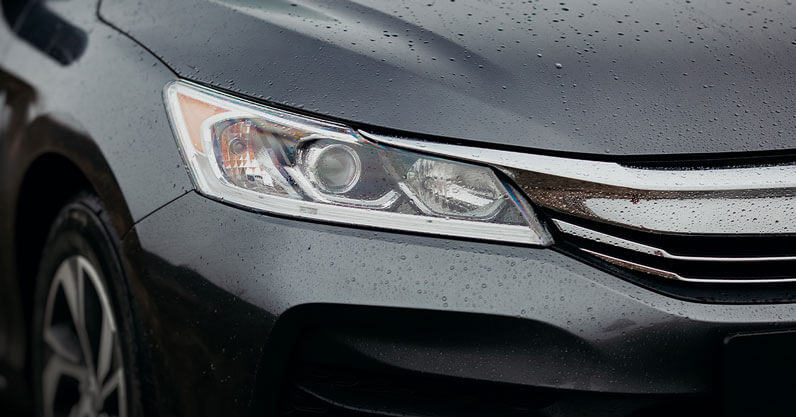 It's the Ber months now! And car brands are cooking up something hot and exciting to end the year with these car promos for September 2021! Check out these amazing deals from all major car makers in the Philippines.
Of course, if you want to get a FREE car insurance quote and save up to 30% on your comprehensive car insurance, look no further than here at eCompareMo! We've made shopping for car insurance better, easier, and safer for you. Get multiple quotes for FREE and apply for the best and cheapest car insurance in the Philippines now!
But before we share these amazing deals, we'd like to share with you something fresh, new, and helpful–especially if you need some extra cash.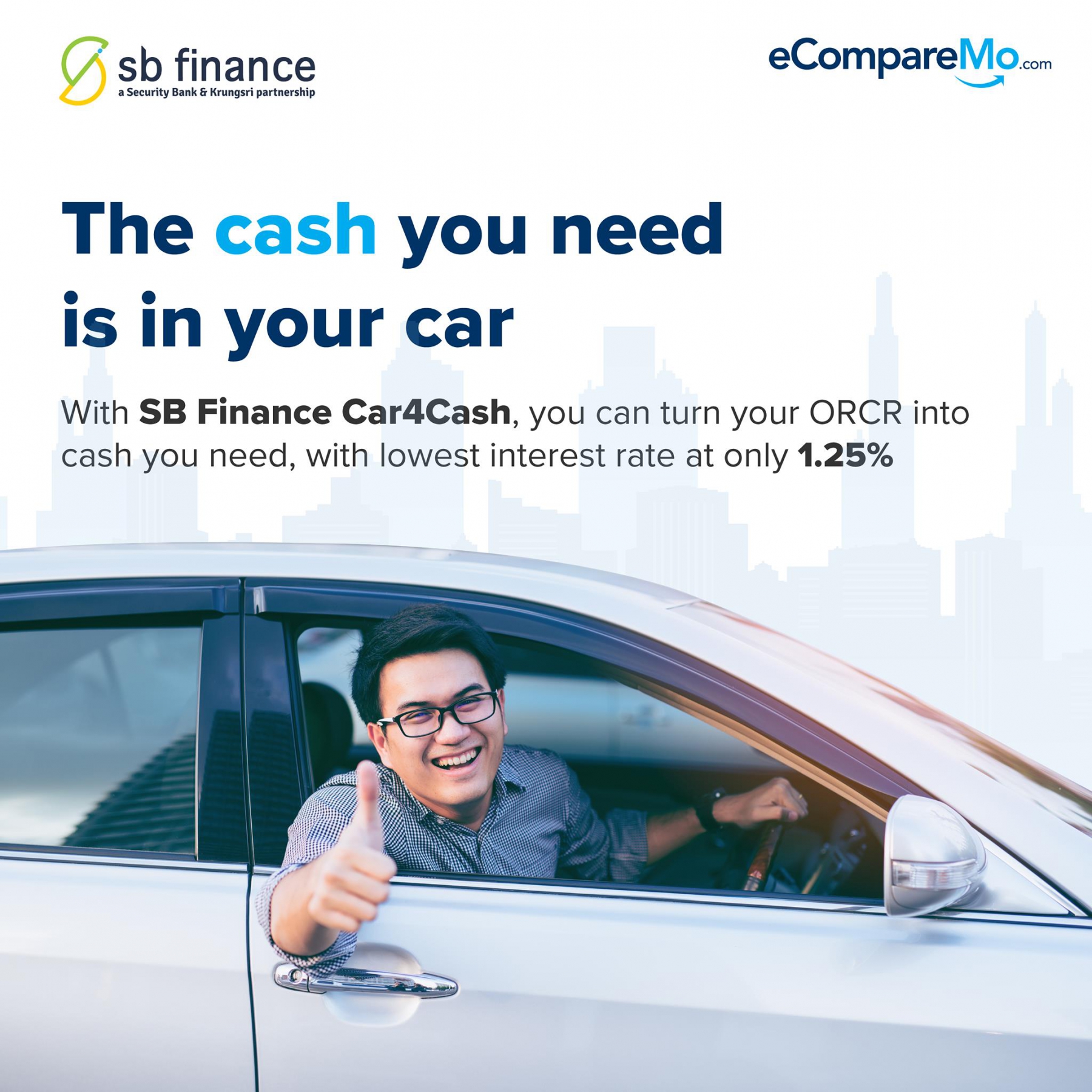 SB Finance Car4Cash is an easy and affordable way to convert your ORCR into cash you need for your immediate needs. With one of the lowest interest rates available at only 1.25%, it's easy on the budget. Interested? Apply here and see that the cash you need is just in your car.
Car promos by brand
BMW
Enjoy exclusive deals from BMW dealerships in the Philippines. Selected units such as the BMW 218i Gran Coupe Sport, the 318i Sport, and BMW 520i Sport gets updated pricing and a 5-year BMW warranty or 200,000 km worth of coverage (whichever comes first).
BMW 218i Gran Coupe Sport – Yours at P2.69-M or 0% interest for 3 years at 30% downpayment with FREE chattel mortgage fee.
Chery
Consider the colorful crossover car that is the Tiggo 5x and catch a cash discount of up to P115,000! This city-slicker will definitely get you from point A to B with fun and flair.
Ford
Your search for that proper utility vehicle with all-American swag ends at Ford dealerships. Find the new Ford EcoSport and Ford Ranger at a better price point.
Ford EcoSport – Get as much as P188,000 cash savings or pay as low as P7,999 per month with FREE first 4 installments.
Ford Ranger – Get as much as P99,000 cash savings or pay as low as P9,999 monthly.
Geely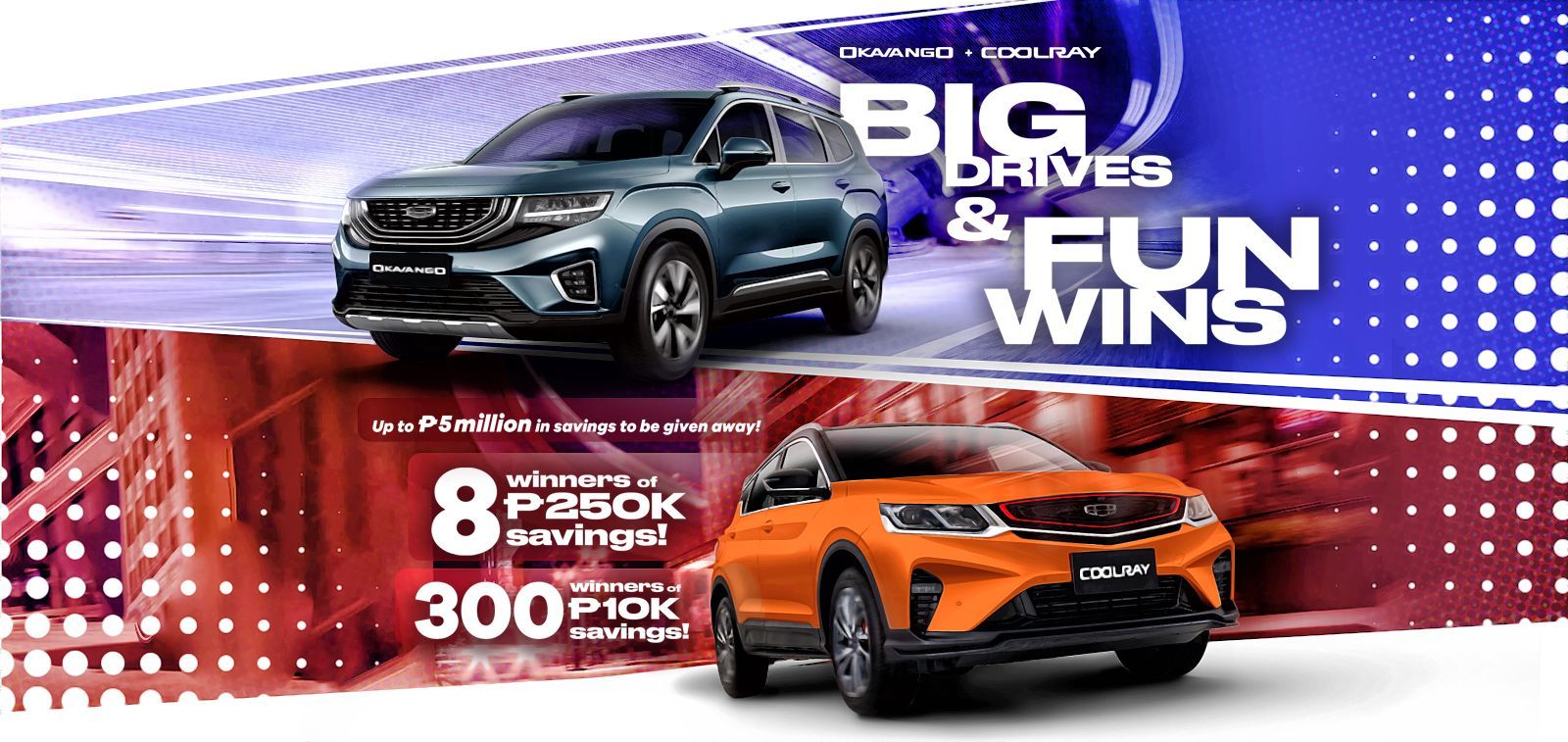 Geely has some Big Drives and Fun Wins on the horizon just for you! With this promo, all who will book and complete a test drive of the Geely Coolray or Okavango from August 4 to September 30, 2021, will have a chance to as much as P250,000 discount vouchers!
8 winners of the P250,000 discount vouchers will be chosen and 300 test drivers will also get a chance at P10,000 savings! All in all, that's P5-M in savings to be given away! So book a test drive now at Geely!
Honda
Honda is here to let you know that they want you to Keep on Driving despite the current situation. With these amazing discounts and low downpayment offers, you simply can't help not to!
Visit any Honda dealership near you and take advantage of these promos: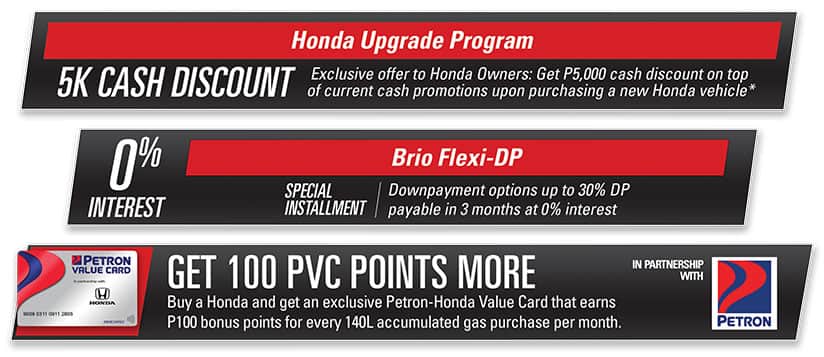 Hyundai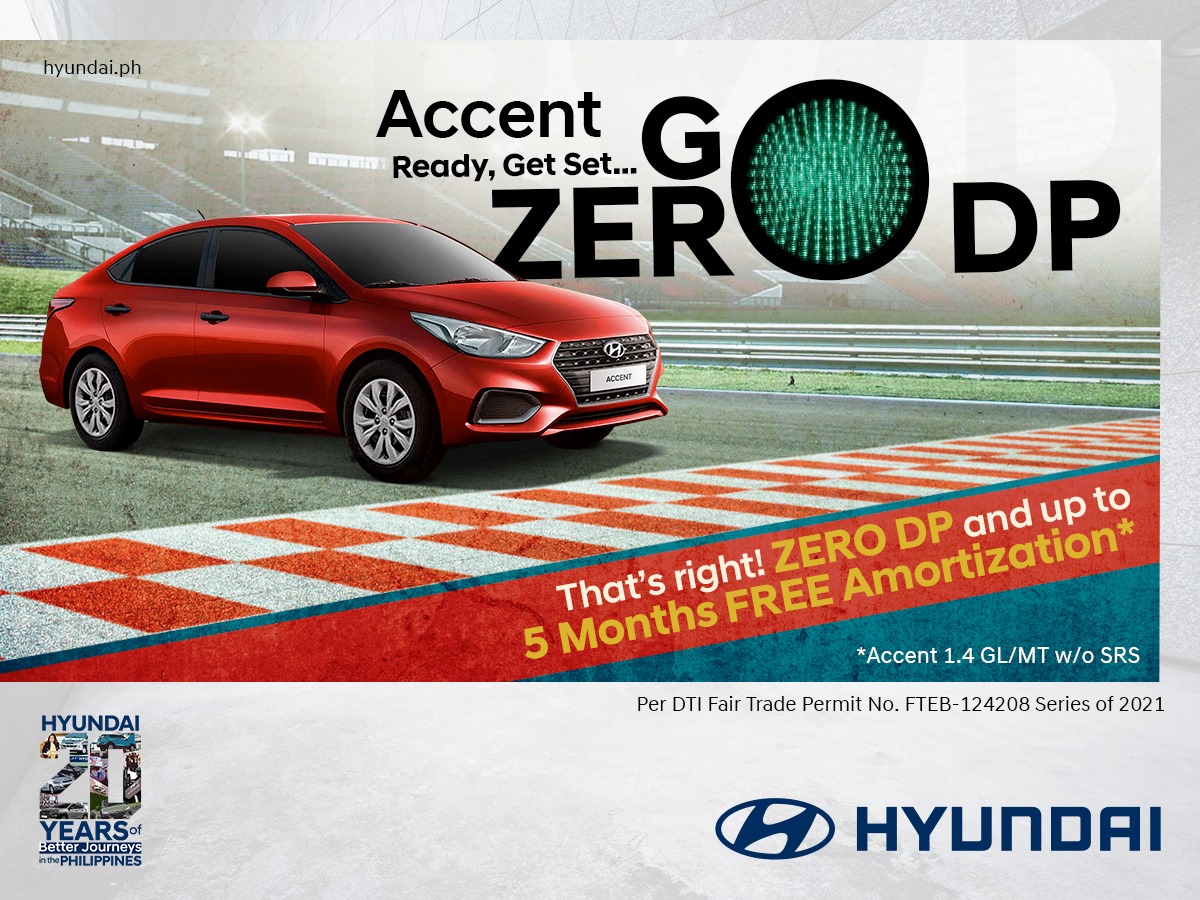 With this exclusive partnership with BPI Auto Loans, you can take home your very own Hyundai Accent at ZERO downpayment. Yes, you read that right: zero downpayment and up to 5 months FREE amortization if you choose the 1.4 GL M/T w/o SRS variant.
Isuzu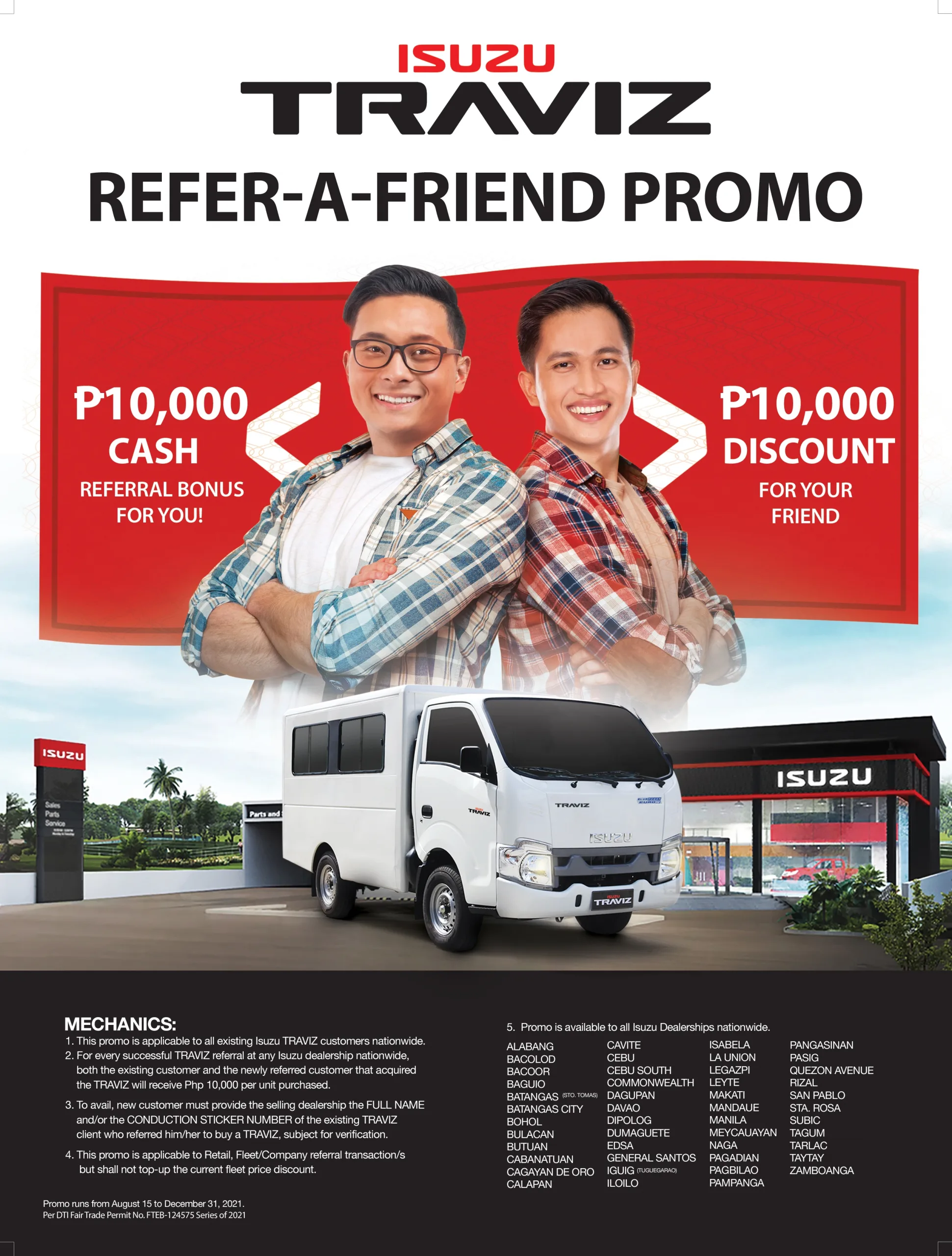 Looking for a reliable utility truck that can take anything your business requirements can throw at it? Then look no further than the Isuzu Traviz! With the Refer-a-Friend promo, the referrer will get P10,000 cash and the referral will get P10,000 cash discount. Anything is better when you have someone to enjoy it with!
Kia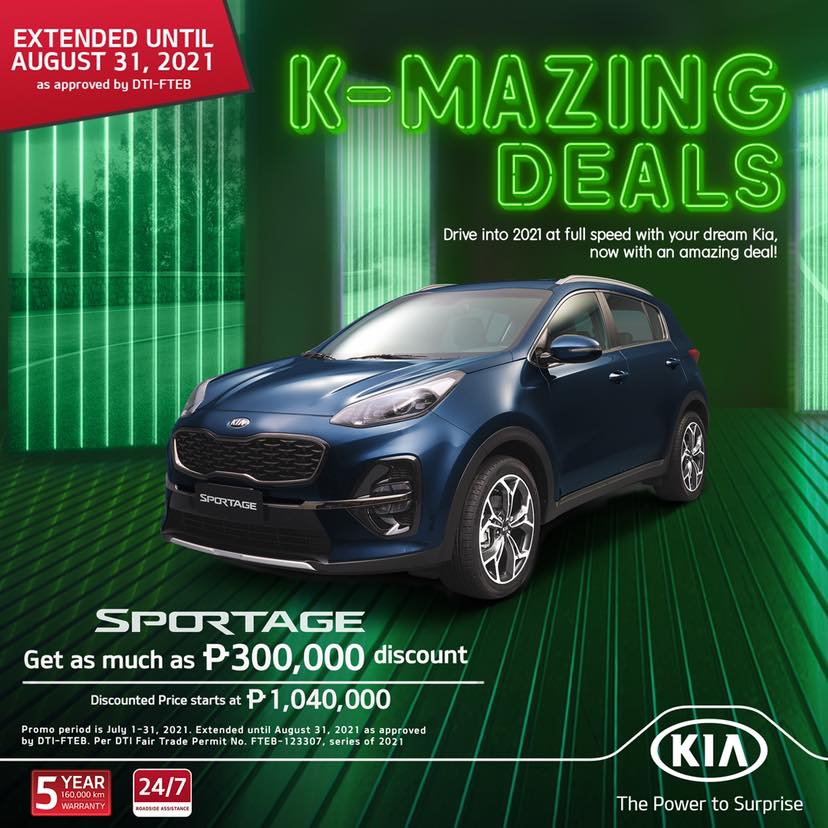 Blaze through any adventure with Kia cars, available to be had with K-mazing Deals your way! Get as much as P430,000 discount on the Sorento, P396,000 discount for the Grand Carnival, and P300,000 discount on the Sportage. Of course, the signature Kia 5-year warranty and 24/7 roadside assistance still included with every purchase!
Maxus
Take charge with the towering T60 pickup truck from Maxus with the Zero to the Max promo. Just maintain a BPI Hold-out deposit equivalent to 20% downpayment for 24 months. Take note that your BPI Hold-out deposit still continues to earn interest! Visit a Maxus dealership near you to avail of this one-of-a-kind deal.
Mazda
Heritage, Passion, Excellence. These are the roots upon which Mazda stands apart from convention. Experience these with every car in their lineup, now at discounted prices. Check out their offers here.
Mitsubishi
A couple of can't-miss deals await you at Mitsubishi. First up, their Save Up, Drive Up promo. Zero downpayment and up to 5 months FREE amortization on selected Mitsubishi models and variants. All you need to do is be approved for a BPI Auto Loan and get a Hold-Out agreement equivalent to 20% of your chosen vehicle's SRP.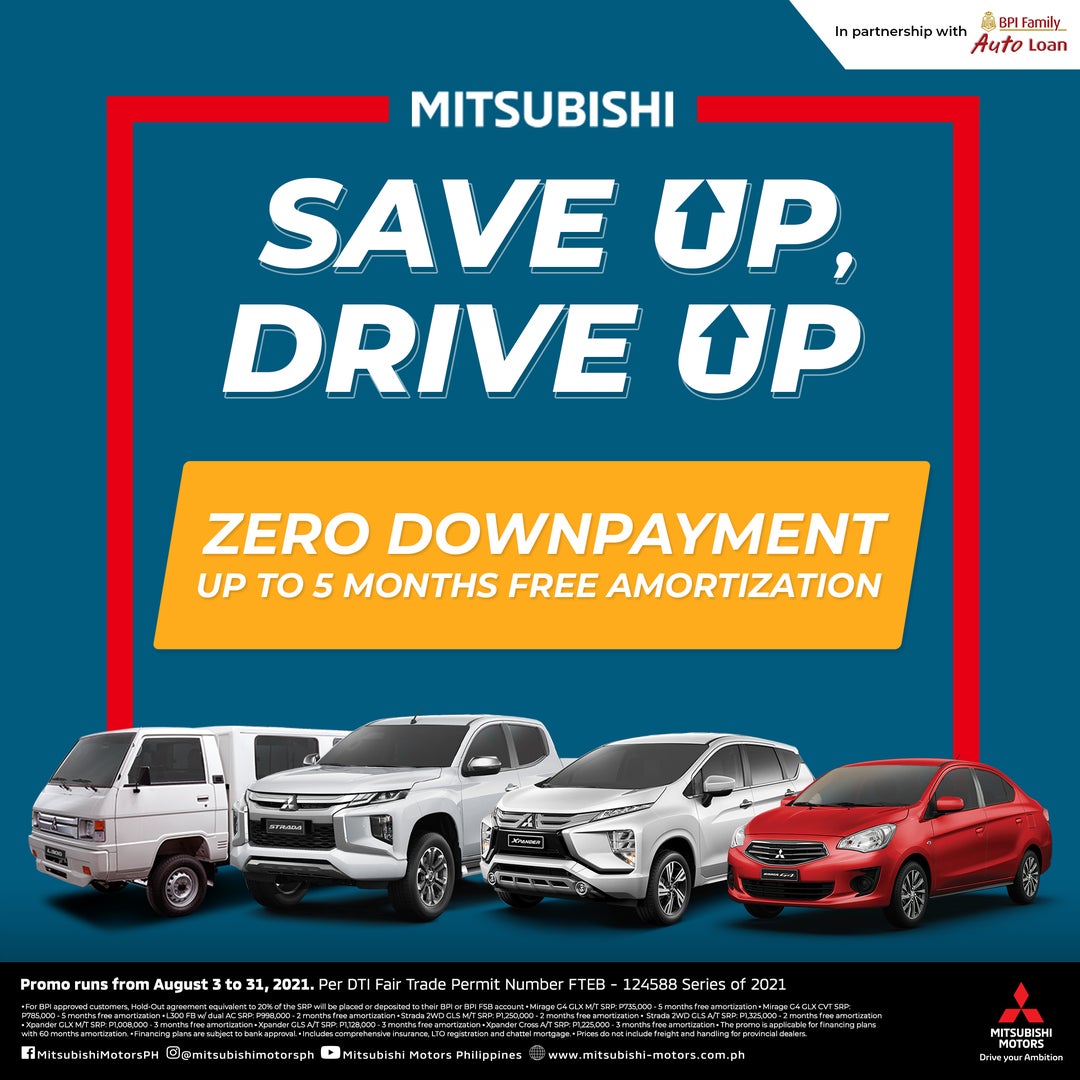 Secondly, the Mitsubishi Downpour Deals with all models getting an all-in low downpayment promo.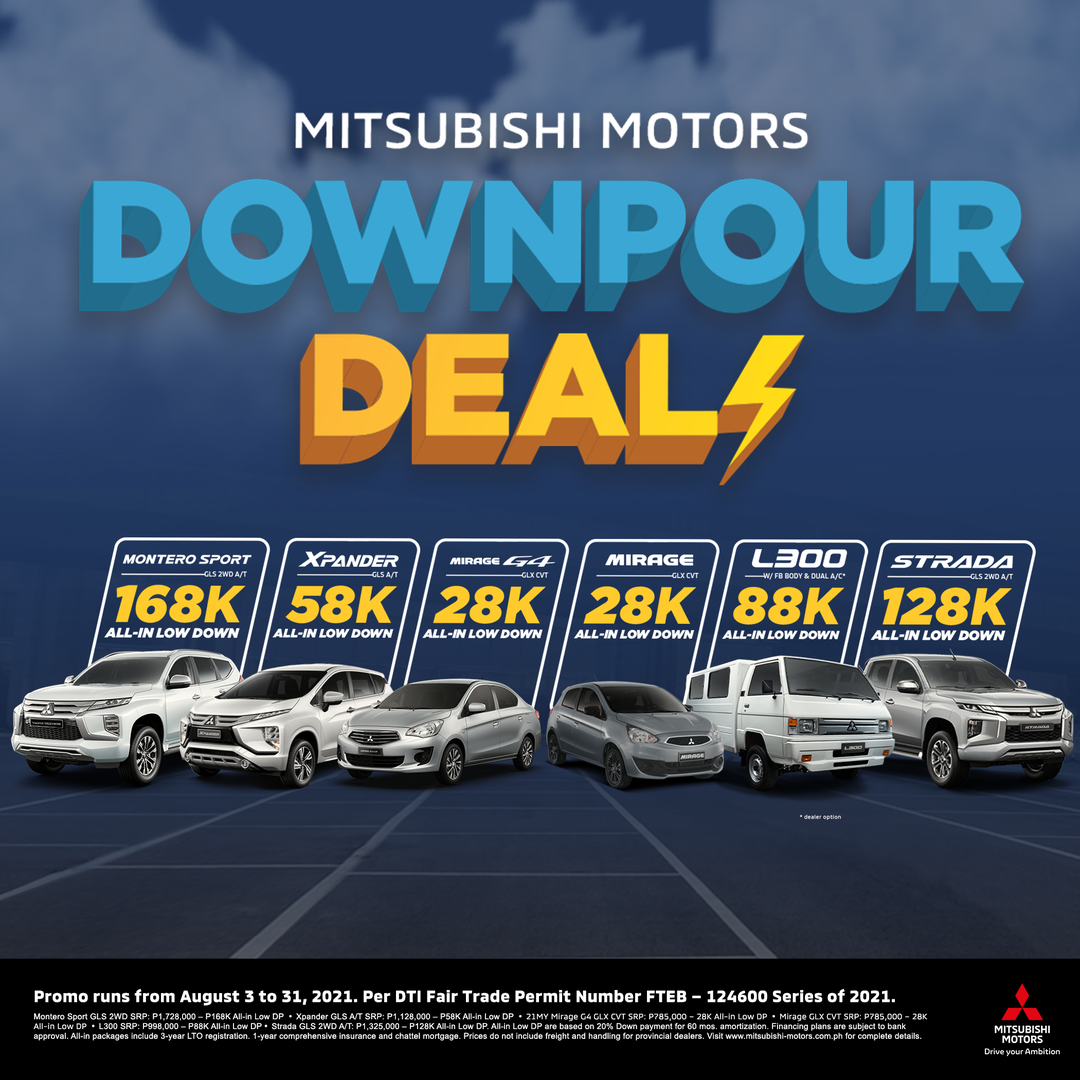 MG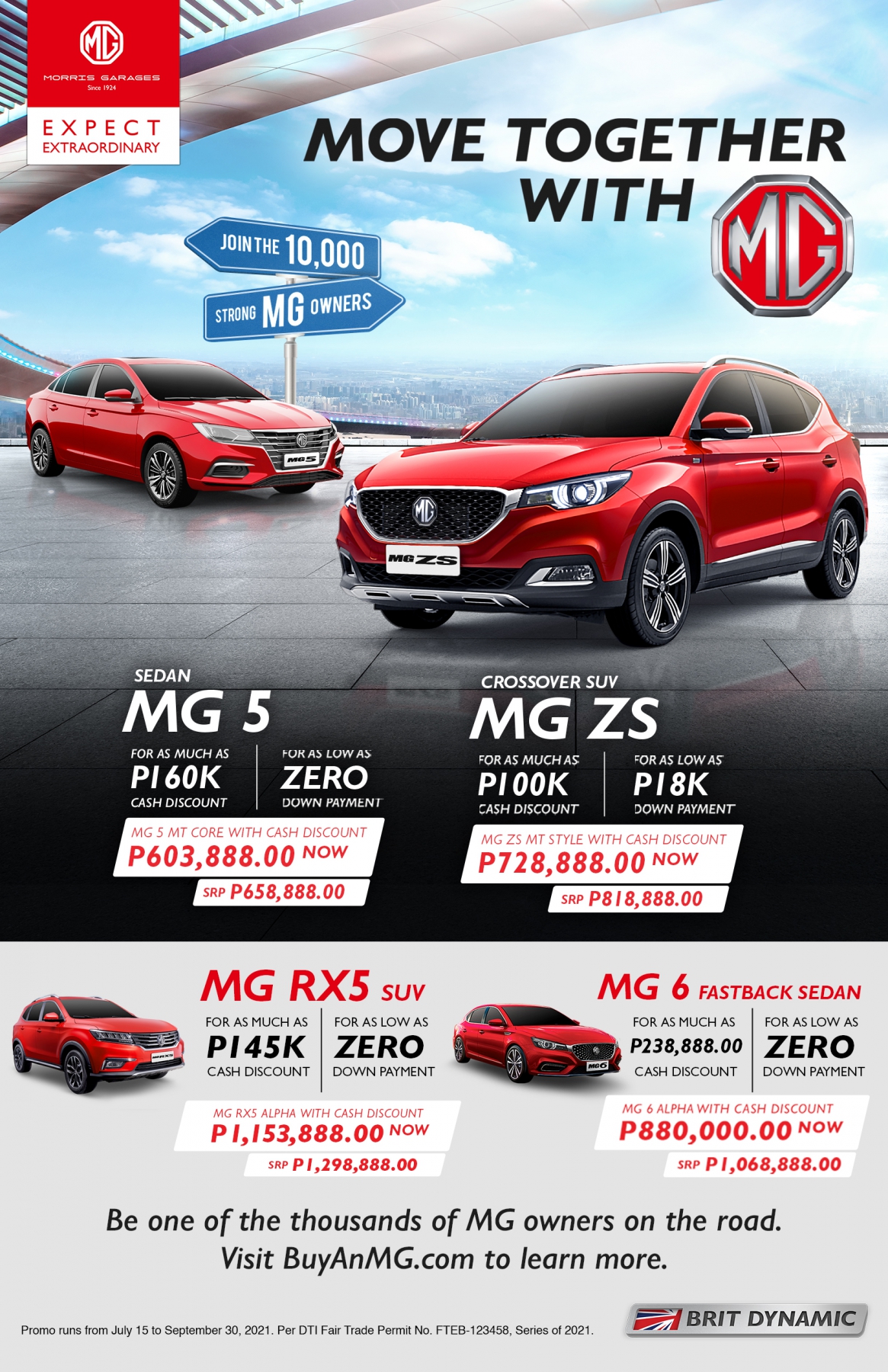 Nissan
Nissan's big promotions are coming in care of partner banks EastWest and BPI to deliver you special deals.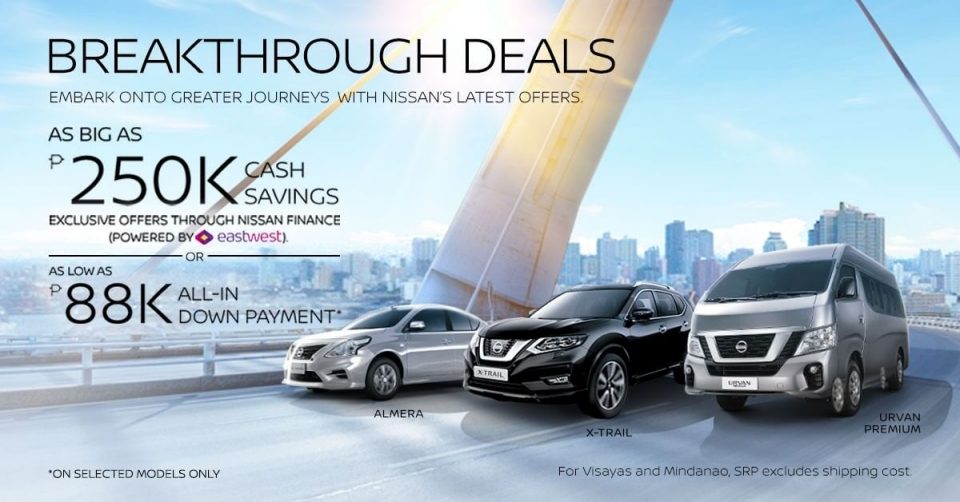 First off, Breakthrough Deals with cash savings as large as P250,000 or low down payment options care of Nissan Finance, powered by EastWest Bank.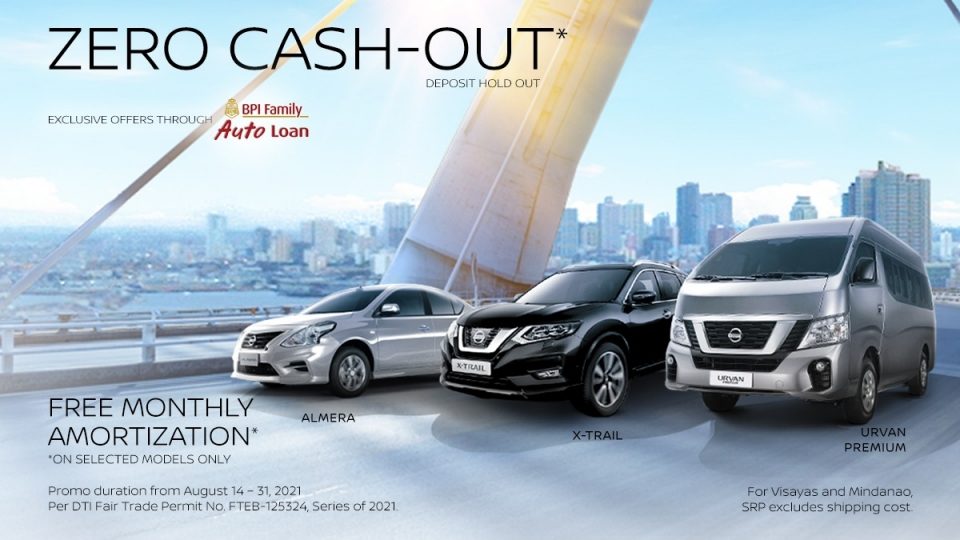 Then BPI with their Zero cash out and FREE monthly amortization on selected models such as the Almera, X-Trail and Urvan Premium. Head to the nearest Nissan dealership to discuss these deals with your friendly representative.
Peugeot

Potential new owners of the 3008 SUV Active can look forward to Brave New Journeys starting today! Peugeot is offering the new 3008 SUV Active Petrol at 0% interest financing with low monthly terms. Just meet the required downpayment of 50% and you can choose to finance up to 0% at 36 months, which translates to P26,250 monthly amortization.
Suzuki
Suzuki Philippines offers you a chance to Ride Your Dream with low downpayment and cash discount offers on the Ertiga, Swift, and Celerio. Learn more about this promo by visiting a Suzuki dealership near you!
Toyota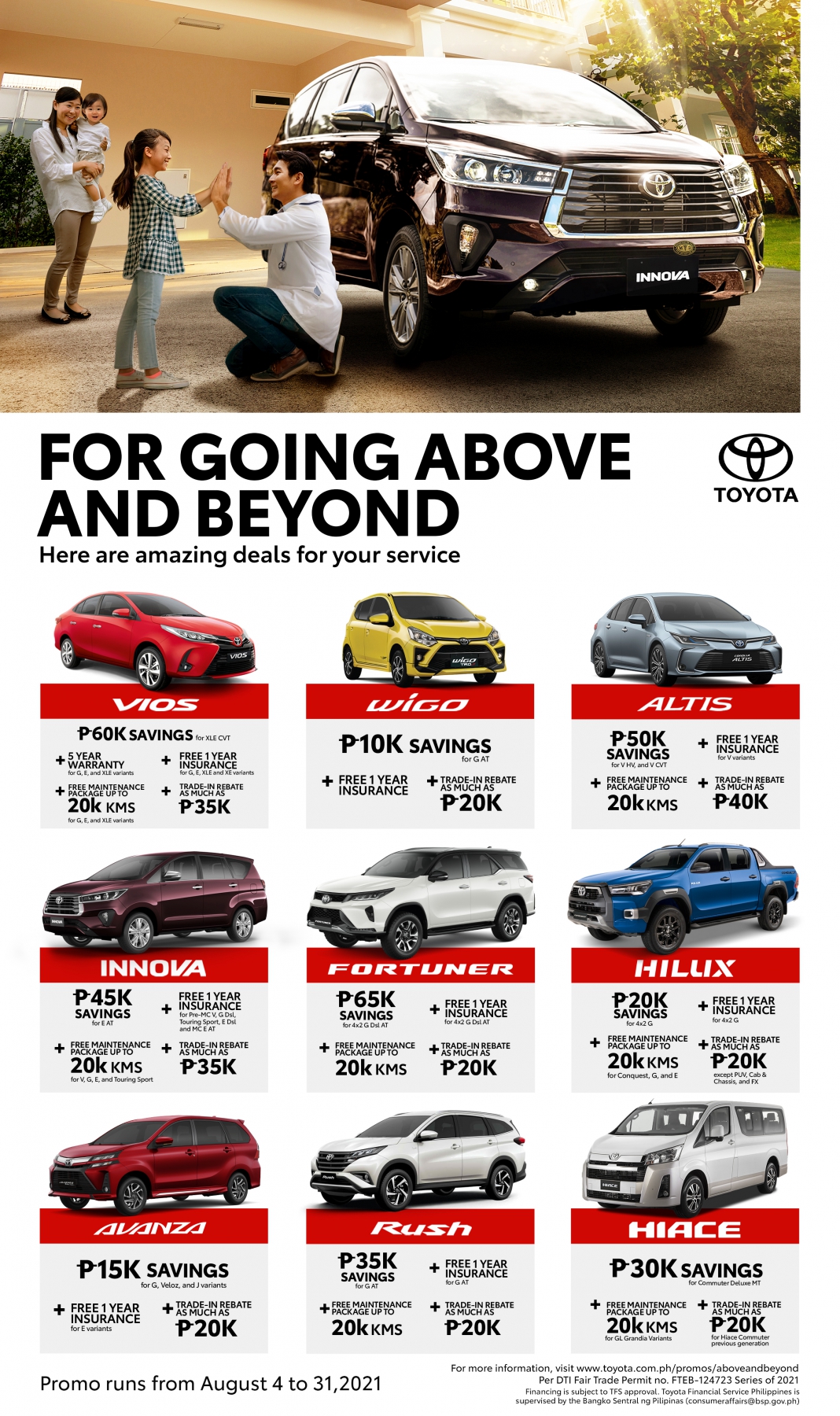 Volkswagen
Zero in on your new Volkswagen car with Zero downpayment offer care of BPI Auto Loans. Once approved for a BPI auto loan, just secure a holdout deposit equivalent to the approved downpayment requirement and let it sit for 24 months to earn interest.