List Of ECQ Checkpoints In Metro Manila
5 min read
Amid the enhanced community quarantine, authorities have set up ECQ checkpoints all over Metro Manila. This way, only essential personnel and Authorized People Outside Residence (APOR) according to the guidelines set by the Inter-Agency Task Force (IATF) can go out of their localities, if not their homes.
Checkpoints manned by different districts of the PNP-National Capital Region Police Office (PNP-NCRPO) exist mainly to control movement of the public and prevent the spread of COVID-19.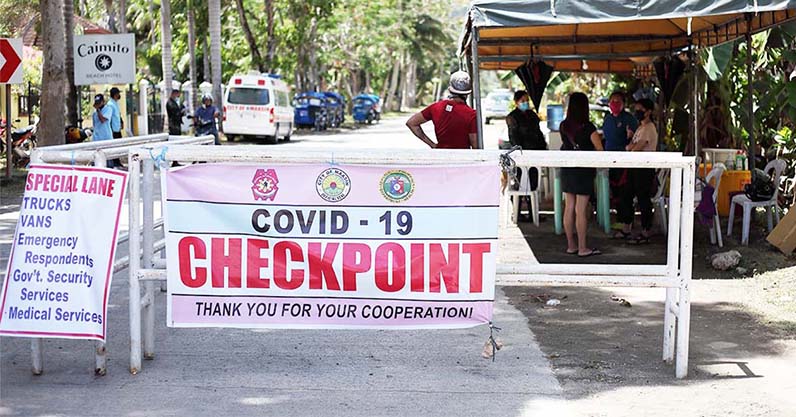 Keep in mind that the purpose of enumerating these ECQ checkpoints in Metro Manila is not for anyone to circumvent them. Instead, use this as a guide to avoid trip delays due to road closures and whatnot. For health and safety concerns, we strongly advise you against going outside and only make trips to pick up essential supplies.
Northern Police District ECQ checkpoints
Below are the quarantine checkpoints in Caloocan, Malabon, and Valenzuela:
Caloocan City
Quirino Highway corner Malaria Road, boundary of Caloocan and Bulacan
Phase 7C Dela Costa Homes, boundary of Caloocan and Musan, Bulacan
Phase 9, boundary of Evergreen Village, Gaya-Gaya, San Jose del Monte, Bulacan
Phase 10 Caloocan-Bulacan Bridge, Bagong Silang, Caloocan City
Bankers Village-Gate 3, boundary of Caloocan and Meycauyan, Bulacan
Sierra Nova Subdivision 1, 2, and 3, boundary of Caloocan and Meycauyan, Bulacan
Gubat Sa Siudad, boundary of Caloocan and Meycauyan, Bulacan
Shelterville, Barangay 171, boundary of Caloocan and Meycauyan, Bulacan
Malabon City
Don Asilio Boulevard, Dampalit
Panghulo Road, Panghulo
Valenzuela City
NLEx entrance, Paso de Blas
McArthur Highway, Malanday, boundary of Valenzuela and Meycauyan, Bulacan
Punturin, boundary of Valenzuela and Meycauyan, Bulacan
NLEs Harbor Link (Mindanao Avenue exit)
Lawang Bato emergency exit to NLEx
Viente Reales Skyline, exit to Meycauyan, Bulacan
Viente Reales Tugatog, exit to Meycauyan, Bulacan
Lingunan Ciudad Grande, exit to Meycauyan, Bulacan
NLEx-Lingunan exit going to Valenzuela
NLEx-Lawang Bato exit
Overpass near Ever Memorial Garden
NLEx-Paso De Blas entrance
Wawang Pulo, boundary of Obando Bulacan
(Read: LTO Suspends Fees And Penalty Collection During The Quarantine)
Southern Police District ECQ checkpoints
Meanwhile, you can find quarantine checkpoints in Muntinlupa, Las Piñas, Parañaque, Muntinlupa, and Pasay in the following areas:
Muntinlupa
Las Piñas
Daang Hari Road
Zapote Road
Pasay
Roxas Boulevard corner MIA Road
Macapagal Boulevard corner Pacific Avenue
Muntinlupa City
Tunasan-San Pedro boundary, Tunasan
Tunasan-Cuyab boundary, Arandia Street, Tunasan
Victoria Homes, Tunasan (in front of Parce Bello)
Biazon Road corner MCX Road, Poblacion
SLEx tollgate exit (westbound), East Service Road, Alabang Viaduct
Sucat-Taguig boundary, Dr. A Bunyi Street, Sucat
Major J. Posadas Avenue corner West Service Road, Sucat
Don Jesus Boulevard corner West Service Road, Cupang (in front of Total Gas Station)
Muntinlupa-Las Piñas boundary, Alabang-Zapote Road, Cupang
Investment Drive corner Commerce Avenue, Ayala Alabang
Parañaque
Roxas Boulevard, Baclaran (near footbridge)
Airport Road, Baclaran (in front of UCPB Baclaran branch)
Bradco Avenue corner Diokno Avenue, Tambo
NAIA Avenue, Sto. Niño (near Pascor Drive)
Pacific Avenue corner Macapagal Boulevard, Don Galo
C5 Road corner Kaingin Road
Quirino Avenue corner Victor Medina, San Dionisio
C5 Road, boundary of Las Piñas and Parañaque
Canaycay Avenue, San Dionisio (in front of Caltex)
Sucat Interchange
Doña Soledad Avenue (near Skyway entrance/exit)
West Service Road corner Marcelo Avenue, Marcelo Green
West Service Road, Merville (in front of Robinsons Supermarket)
PNR-Bicutan Interchange
Las Piñas City
C5 Road Extension, Manuyo Uno
Padre Diego Cer, Avenue Manuyo Uno
Zapote Viaduct, Zapote
Canaycay Avenue, Manuyo Dos
BF Resort Village Talon Dos
Marcos Alvarez Avenue, Talon Singko
Eastern Police District ECQ checkpoints
For Marikina and Pasig quarantine checkpoints, expect uniformed personnel in these areas:
Marikina City
Makabayan Street corner JP Rizal Street, Nangka
Pambili Street corner Marcos Highway, San Roque
Armscor Ave corner Sampaguita Street, Fortune
Delos Santos Avenue, Monterey Hills, Fortune
Lilac Street corner Olive Street, Concepcion Dos
Olive Street Extension footbridge, Concepcion Dos
Sumulong Highway corner Katipunan Access Road, Sto. Niño
Marcos Highway, San  Roque (in front of Buenviaje Building)
San Miguel Realty SubdivisionPhase 3, Fortune
Champaca Street corner Ponteverde Drive, Concepcion Dos
Panorama Street corner Waco Street, Concepcion Dos
Panorama corner Ignatius Street, Concepcion Dos
Katipunan Street corner Tangerine Street, Concepcion Dos
Chestnut Street corner Gospel Street San Roque
East Bank Road, Sta Lucia
Pasig City
Kaginhawaan Street corner Lexi Avenue, Manggahan
Green Park gate, Felix Avenue, Dela Paz
Greenwood Avenue, Pinagbuhatan
R. Thadeus Street, Marietta Romeo Village, Sta Lucia
West Bank Road, Maybunga
A. Sandoval Avenue corner Eusebio Avenue, Pinagbuhatan
Eusebio Avenue corner C6 Road, Pinagbuhatan
Tramo Road, Sta Lucia
(Read: Grocery Shopping Tips During The COVID-19 Pandemic)
Quezon City Police District ECQ checkpoints
Below are the quarantine checkpoints for QC:
Payatas Road, Payatas, boundary of Quezon City and Rodriguez, Rizal
Batasan-San Mateo Road, Batasan Hills, boundary of Quezon City and San Mateo, Rizal
ECQ checkpoint guidelines and tips for motorists
The presence of uniformed personnel at Metro Manila checkpoints can be alarming to normal citizens. However, you can avoid inconveniences and make sure that everything goes smoothly. Simply keep in mind the following enhanced community quarantine checkpoint guidelines and tips.
1. Bring all the necessary documents with you at all times. These may include:
Barangay quarantine pass (for basic travels within the city/town)
ID/authorization pass issued by the Inter-Agency Task Force (IATF) on the Management of Infectious Diseases (for frontliners and essential personnel)
RapidPass QR code
Company ID/certificate of employment
Driver's license
2. If you're feeling ill or showing any COVID-19 symptoms, avoid any kind of travel for now and just stay home. Keep in mind that they do temperature checks and ask routine questions at ECQ checkpoints.
3. Wear personal protective equipment like face masks, face shields, and others.
4. Follow social distancing guidelines even when inside your car or onboard your motorcycle.
5. Be respectful and polite. Answer the questions asked by ECQ checkpoint personnel truthfully and calmly. State your purpose for driving politely.
6. As is the case with standard police checkpoints, you are not required to step out of the vehicle, open your glove box and trunk, have your items inspected, and demand you to submit to a physical or body search.
7. Avoid doing inter-city travels if you're not considered an essential personnel.
8. If personnel at Metro Manila checkpoints deem that your travel purpose is invalid, they will ask you to turn your vehicle around and go back home. Do not escalate the situation. Keep in mind that ordinary citizens can only go out for basic supply runs and emergency purposes.
9. If you think violations have been committed during your encounter with ECQ checkpoint officers, you can call the IATF-Joint Task Force COVID Shield hotlines:
0917-5382495
0998-8490013
8725-3176