DFA Removes Birth Certificate Requirement For Passport Renewals
2 min read
Good news to those seeking to renew their Philippine passports. According to the Department of Foreign Affairs (DFA), birth certificates will no longer be a requirement for passport renewals.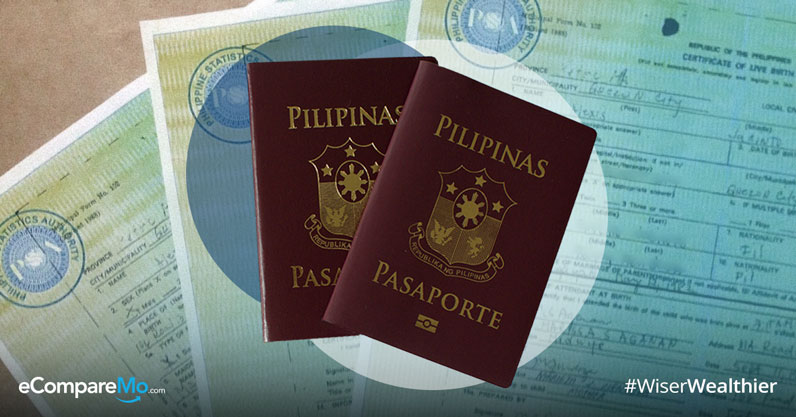 This department order comes on the heels of recent reports of a passport data breach. Amid fears of their private information being leaked, Philippine passport holders were also concerned about reports that the DFA would now require birth certificates for passport renewals.
Old passports will be enough
Foreign Affairs Secretary Teodoro "Teddyboy" Locsin Jr. signed Department Order (DO) 03-2019 on January 15, 2019, removing the need for another identity document: birth certificates, when applying for passport renewal.
The Foreign Secretary said in a tweet that he signed the order removing the birth certificate requirement for passport renewals because presenting old passports will just be enough.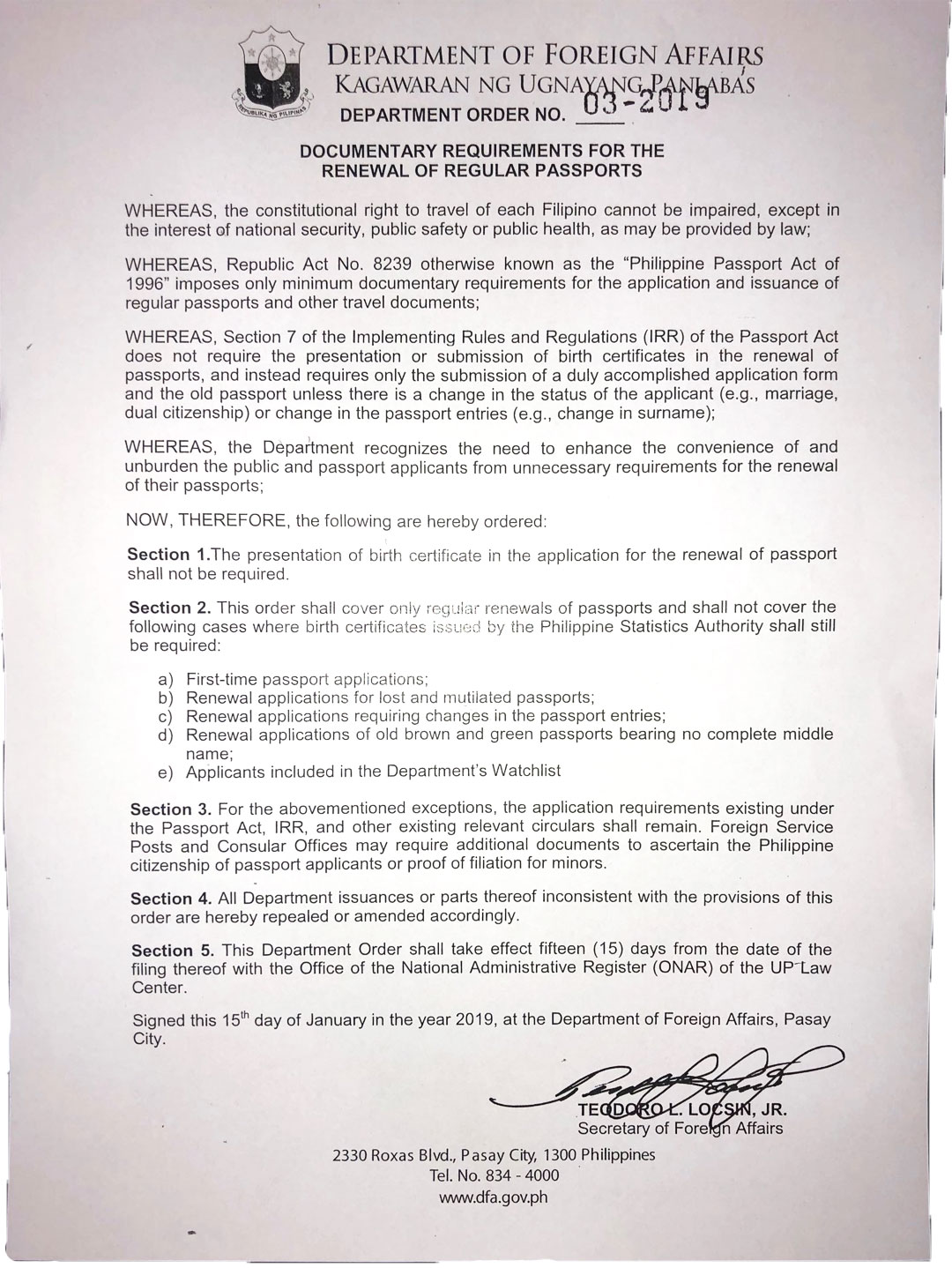 The signing of the DO came days after he previously disclosed that the agency is "rebuilding its files from scratch" because a previous outsourced passport contractor took all of the applicants' data when its contract was terminated. Secretary Locsin made it clear that the files were not taken away but were only "made inaccessible."
The order will take effect 15 days from the filing at the Office of the National Administrative Register (ONAR) of the UP Law Center.
New passport applicants are still required to submit their birth certificates along with the application form.
(Read: Your Philippine Passport Can Now Take You To 66 Countries Without A Visa)
What is Department Order (DO) 03-2019?
DO 03-2019, which Locsin labeled as "emancipation proclamation from bureaucratic crap," basically focuses on the Implementing Rules and Regulations of Republic Act No. 8239 or also known as the "Philippine Passport Act of 1996."
Under Section 1, "The presentation of birth certificate in the application for the renewal of passport shall not be required."
In that case, presentation of PSA-authorized birth certificates would still be required for:
First-time passport applications
Applicants included on the DFA's watchlist
Renewal of applications for lost and mutilated passports
Renewal of Machine Readable-Ready Passports (green) and their Machine Ready Passports (maroon) with no complete middle name
Renewal requiring changes in passport entries
Also, Section 7 of RA 8239 states that "The Passport Act does not require the presentation or submission of birth certificates in the renewal of passports, and instead only requires the submission of a duly accomplished application form and the old passport unless there is a change in status of the applicant."
What documents are required for passport renewal?
That said, these are the core requirements for passport renewal according to the DFA website:
Accomplished application form
Confirmed online appointment
Current ePassport
Photocopy of the ePassport's data page
Personal appearance
Original copies of documents authenticated by the Philippine Statistics Authority to support name change – if applicable
Annotated Birth Certificate
Annotated Marriage Contract
Contract to show annulment/court ordered instruction/divorce
Death Certificate of spouse
In cases of dual citizenship, however, a need for an identification certificate issued by the Philippine Consulate or the Bureau of Immigration is still required as well as government-issued IDs in addition to the core requirements.
Dual Citizens passport application requirements:
Core requirements (as stated above)
Birth or Identification Certificate from the Philippine Consulate or the Bureau of Immigration
Government-issued IDs
Other sources: The Philippine Star, ABS-CBN News Online