Japan Travel Guide: Multiple-Entry Visa Application; Departure And Accommodation Taxes
5 min read
Good news! As of August of last year, it is now easier for Filipinos to get multiple-entry visas to Japan.
So to start you off on your explorations to the Land of the Rising Sun, we've prepared a Japan multiple Visa application guide.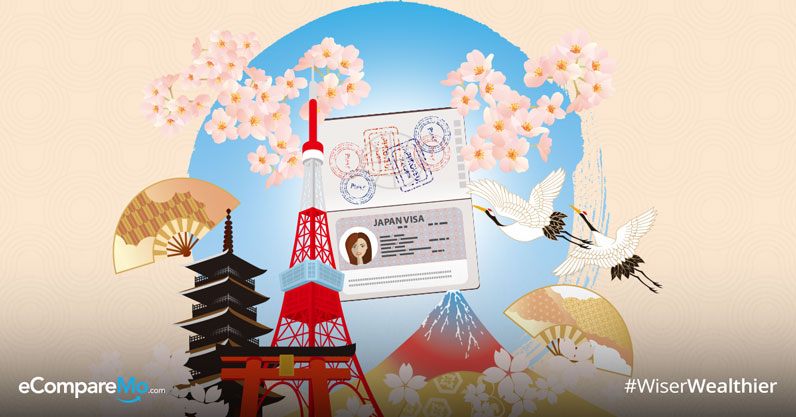 Read through this travel and visa application guide and prepare at least two to three months for Japan tourist visa application requirements.
What Philippine passport holders need to know
This applies to Filipinos residing in the country who are going on a short-term journey to Japan. Those planning to work in Japan will have to comply with the Japanese Embassy's Work Visa requirements.
Take note that you don't have to go to the Japanese Embassy yourself. You just need to find a legitimate travel agency to process the application for you.
Step 1: Determine if you are eligible for a multiple-entry Japanese visa
Filipinos who want to get a multiple-entry Japanese visa need to fall under at least one of the following criteria:
An applicant who has been a temporary visitor of Japan in the last three years, with proof of sufficient funds for his/her Japan travel.
An applicant who has not been to Japan within the last three years but has proof of "highly sufficient financial capacity." This eligibility will then extend to your spouse and/or child/ren.
An applicant who has been a temporary visitor of Japan or of any other Group of Seven (G7) countries in the last three years. Excluding Japan, the other G7 countries are France, Canada, Italy, Germany, the United Kingdom, and the United States.
For a more complete and updated eligible applicants list, always refer to the Request for a Multiple Entry Visa form. This is available on the Japanese Embassy website.
(Read: Steal My Itinerary: Kyoto, Osaka, Gifu, Japan in 8 Days)
Step 2: Compile the necessary required documents for temporary visitors
Japan tourists or "temporary visitors" are those that will be visiting the country without the aid of a family member or friend residing in Japan, and will be staying at either a hotel or a hostel.
Take note that this guide is only for a Japan Tourists Visa. You will need to submit other document requirements if you will be hosted by a friend or family member in Japan.
Valid e-Passport
Completely filled out Request for a Multiple Entry Visa form — you will need to explain the reason why you need a Multiple Entry Visa for Japan.
Completely filled out Visa Application Form available on the Japanese Embassy website, complete with a sample PDF file as your guide.
Visa Photo, with specific requirements taken from the Japanese Embassy website:

Specs: 4.5cm x 4.5cm, with white background
Photo must be taken within 6 months.
Please write the applicant's name and birthdate on the back side of the photo.
Photo must be pasted on the application form."
Clear photocopy of applicant's latest Income Tax Return (Form 2316)
Proof of Sufficient funds—an original copy of your bank certificate
Proof of applicant's travel/s in G7 countries from the last years—bring your old passport showing the stamps and visas for these trips.
PSA Birth Certificate
PSA Marriage Certificate (if married)
Daily itinerary for your upcoming trip to Japan
Refer to the Japanese Embassy's complete Tourism required documents file for the updated list and additional requirements for specific travel purposes not stated here.
Your travel agency should also be able to answer and help you out with any questions you have with the multiple-entry visa application.
Travel tip: Prepare for Japan Departure Tax
One reason that many people all over the world are contemplating a trip to Japan in the next two years is that Tokyo will be hosting the Olympics in 2020.
Japan has been attempting to increase the number of tourists and saw a record 28.69 million people coming to visit in 2017. The government is aiming to increase the figure to 49 million by 2020 and 60 million by 2030.
Given that they're trying to attract tourists, it can seem counterintuitive that, back in April 2018 the Japanese Diet approved a bill that would impose a departure tax on foreign visitors.
According to the legislation, the funds gathered from the departure tax would go to boosting tourism infrastructure, promote travel destinations in rural Japan, and back global tourism campaigns.
Well, as of January 7, 2019, the departure tax is now in place, so you better make sure you add it to your travel budget calculations.
The departure tax is JPY1000 (Japanese Yen) and it applies to all travelers leaving Japan by both plane and ship.  Both non-Japanese and Japanese have to pay this tax.
As of this writing, the Japanese departure tax is equivalent to P483. If your traveling with children under the age of two, they are exempted from this tax.
Also, individuals in transit, who are staying in Japan for less than or within 24 hours are exempted from this tax.
(Read: The Best Cherry Blossoms In Japan And The World's Other Top Sakura Festivals)
Prepare for the Accommodation Tax
If you are traveling to Tokyo, the Osaka Prefecture, or Kyoto, be prepared to be charged an accommodation or lodgings tax. This is an additional charge per person and per night at your place of lodgings.
While Tokyo and the Osaka Prefecture have been imposing an accommodation tax for a few years now, Kyoto's accommodation tax is relatively new. Kyoto only started imposing this last September.
The accommodation tax is charged on top of the room rates and depends on the room rates. In Kyoto, the accommodation tax rates are as follows:
| | |
| --- | --- |
| Room Rate | Lodging Tax |
| Under JPY20,000 | JPY200 |
| JPY20,000 – 50,000 | JPY500 |
| JPY50,000 | JPY1,000 |
In the Osaka Prefecture, they began charging an accommodation tax on all lodgings, including budget hotels and certified private lodging beginning July of 2017.
Here is a table of the accommodation tax rates in Osaka:
| | |
| --- | --- |
| Room Rate | Accommodation Tax |
| Under JP10,000 | Tax-free |
| JPY10,000 – 14,999 | JPY100 |
| JPY15,000 – 19,999 | JPY200 |
| JPY20,000 and above | |
Tokyo began imposing the Tokyo Metropolitan Accommodation Tax back in October 2002. Though, if your thinking of planning a trip for the 2020 Olympics, you will be happy to know they are suspending the tax from July 1 to September 30, 2020.
The regular accommodation tax rates in Tokyo are as follows:
| | |
| --- | --- |
| Room Rate | Accommodation Tax |
| Under JP10,000 | Tax-free |
| JPY10,000 – 14,999 | JPY100 |
| JPY15,000 and above | JPY200 |