COL Financial Online Trading: Everything You Need To Know
10 min read
Investing in stocks may sound complex to the uninitiated, but if you're in for a real thrill, the stock exchange is actually a great way to invest and grow your money in a gamified way.
You have control over your finances, and whatever you learn through monetary gains or loss will only help you do better as a stock investor and/or trader over time.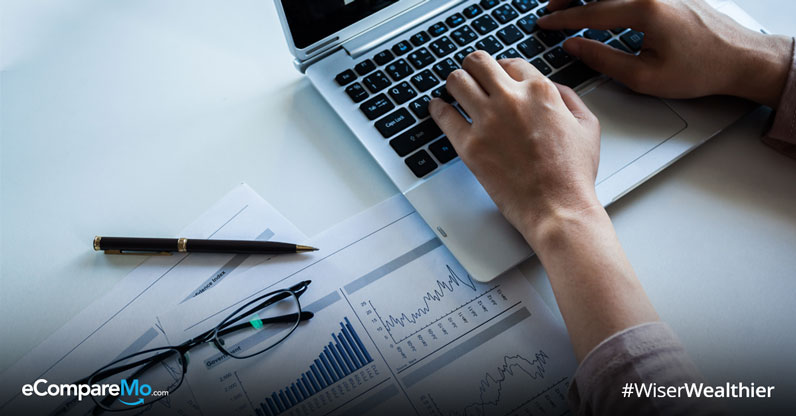 COL Financial, formerly CitisecOnline, is one of the most trusted stockbrokerage and trading platforms in the Philippines.
If you're interested in stock trading and thinking of opening a highly secure personal account with COL, here's a quick guide for you.
Three types of COL Financial accounts
There are three types of COL Financial accounts that you can open if you want to begin trading on the Philippine stockmarket
1.COL Starter
As the name implies, this is an account for those who are just starting to trade stocks.
Before, you'd need a P5,000 minimum investment amount to open a COL Starter account. Now, however, all you need is P1,000 to get started.
Of course, as time goes on, you will have to add more money to be able to trade and get into long-term stock investing.
This type of account lets you have access to "basic research reports, standard market information, and end-of-day charting data." Don't get too overwhelmed. You will learn all this as you go along.
2. COL Plus
More experienced investors can start with this COL account. The minimum investment requirement to open a COL Plus account is P25,000.
This account provides you with "streaming quotes, comprehensive research reports, and live chart data with some customizable features."
3. COL Premium
The minimum investment requirement for this account type is P1 million. This is for the premier and serious investors.
This account provides you with "access to all available features and a personal relationship manager dedicated to assist you."
How to start with COL Financial
Here's how you can easily open an account and start trading using COL Financial.
• Go to the COL Financial website, and click on the "Open an Account" tab right at the top.
• Read and understand the details and charts of the three different accounts. Now that you have an idea, click on the 'Download all forms' link to do just that;
• You will be taken to the forms page. Download, print, and completely fill out the following:
Customer Account Information Form (CAIF). this form asks for your existing Philippine bank account details, for withdrawal purposes1.
Individual Disclosure Form
Online Securities Trading Agreement
According to the COL Financial application page, the Online Securities Trading Agreement (OSTA) should be read and kept by you, the account holder.
Your BIR TIN is also required for the application.
As soon as you've submitted all the forms and opened your account, you need to deposit funds within your account within three (3) months, or your account will be forfeited and you will have to reapply.
(Read: A Four-Step Guide To Investing And Trading In The Stock Market)
Specific requirements for COL Financial application:
Filipino applicants need to submit one (1) clear photocopy of valid government ID with photo and signature.
Resident foreign citizens need to submit one (1) clear photocopy of valid government ID with photo and signature. The Alien Certificate of Registration (ACR) or Work Permit from DOLE is also required.
Non-resident foreign citizens need to submit one (1) clear photocopy of their valid passport.
In-Trust-For (ITF) Accounts need to submit one (1) clear photocopy of valid government ID of the parent, with photo and signature, with the minor applicant's Birth Certificate.
How to submit the COL Financial application documents:
Submit forms to the nearest COL Financial branches
Submit forms to iRemit branches. iRemit branches abroad are provided under the Open an Account COL Financial page.
Submit forms to the nearest COL Financial Business Center. At the end of this article are the COL Financial Business Centers. See which one is nearest you.
Observe these standard letter envelope requirement as posted by COL Financial here.
As soon as your application is received, a sales officer will schedule a video call with you for information verification. You can discuss further steps in the application during the call.
How to open a COL Financial Account
Follow the account opening instructions as listed above. Read more details on how to open an account per applicant status.
Local

Follow the steps posted above. Take note of the required Standard letter envelope to use.

Abroad

OFWs that want to submit COL Financial application can follow the required documents as posted above. Here is the iRemit branch locator abroad for submission of documents and COL Financial account remittances.

Overseas Remittance

Fund your COL Financial account wherever you are in the world through the following ways:

BDO Kabayan Bills Bayad. One to three (1-3) business days of crediting time. This BDO option has less charges, and does not need you to send a receipt to COL Financial. More instructions are provided under the COL Financial 'Open an Account' page.
iRemit (iremitx.com) — use their branch locator to see if it's available in your location.
BDO Overseas Remittance — more instructions are provided under the COL Financial 'Open an Account' page.
For kids
Get your kids started with stock trading is easy. Apply for an In-Trust-For (ITF) account.
Parents or guardians can fill up the application form for them. They will be required to submit the kid's Birth Certificate along with a clear photocopy of a valid government ID for the parent or guardian.
How do I withdraw money from my COL financial account?
COL Financial updated their online withdrawal facility last December 17, 2018.
In as much as you've deposited and traded, you can always opt to withdraw some or all your funds. Always ask the COL Financial officer during your verification call for their updated guidelines. You can ask if there are some costs or fees during withdrawal of funds.
Always know the fine print and get into the details before you start trading and putting in more money. This practice applies not just with stocks, but in any business or financial venture.
Currently, the COL Financial website states that there are no withdrawal fees. Take note of these following processing fees:
In case of failed attempt to deposit a check into a closed, cash-deposit-only (CDO) or invalid bank account, a P25 fee is charged
To cancel issued check for withdrawal cancellation, there is a P25 processing fee
Here's how you can withdraw funds from your COL Financial account:
Log in to your COL Financial Account
Go to the 'Trade' tab
Under that, click the 'Portfolio' tab
Click the 'Withdrawal Request' link
It's like Paypal withdrawal, only with a bit more details needed. After clicking on Withdrawal Request', you will be prompted to enter your withdrawal details:
Amount you want to withdraw
Preferred settlement option—check pick-up in Pasig Business Center, or deposited to you COL enrolled Bank Account?
Fill in other details for your chosen withdrawal settlement
Once everything is answered, click 'Submit'
COL Financial Important notes:
Individual, Joint, or COL Financial accounts will not be required to submit a signed form. The online process of withdrawal request is enough. Only the Joint and/or Corporate accounts, as well as sending a representative will be required to submit signed forms during withdrawal, upon check pick-up.
COL Financial states that you should check your bank account if they accept check deposits, as the withdrawals are processed via check payable under your name as the COL account holder.
(Read: A Complete Stock Market Investing Guide For OFWs)
What is EIP in COL Financial
EIP stands for Easy Investment Program. The EIP is like a starter pack to stock market investing. A starting amount of P1000 allows you to get started.
The COL Financial website is very efficient and helpful in providing a complete and easy-to-understand guide to EIP.
As a beginner stock broker, you would also learn more by attending lectures and seminars, or watching stock trading videos or discussion online.
How do I buy stocks online?
As soon as you have set up an account with COL Financial, you can already start buying stocks.
For the newbies, Stocks are the shares that companies have. This is a huge amount of money pooled by individuals. The amount of money shared in the company makes them a part or major owner of that company.
Buying and trading stocks makes you a part-owner of these companies you chose to invest in.
This investment will start with the 'budget' you have allocated on your COL Financial account. How much money did you deposit? And how much money do you plan to deposit every month?
This will determine the kind of stocks you can buy.
To buy stocks using your COL Financial account, type in the code of the stock or company you want to buy. It will show you the amount of stock per share. Depending on your budget, you can calculate how much shares you can afford to buy for the companies you want.
Click buy when you have decided. Enter the information needed, and confirm.
The process can be overwhelming for beginners, as there's a lot of numbers and terms you need to understand. It is best to ask close friends or read more about stock trading as you go along, to avoid losing a lot of money. You will get better at this with time, practice, and patience.
You can add more funds to your COL Financial account over time. More 'budget', more gains.
How can I sell stocks online using COL Financial?
Seasoned stock traders know that buying and selling stocks is a matter of planning, strategy, calculated risk, or some would even dare say — gut feeling. There are a lot of popular advice and strategies you can learn from online.
On the most basic level, you can sell stocks if you feel like you have no use for the investment anymore. Others apply the popular 'flipping' of stocks, which means selling stocks when they have increased in value.
Making the most of this opportunity and knowing the right time to actually sell stocks takes a lot of skill, but you will get there if you dedicate your time and money in the process.
Claiming procedure in case of stock/account holder's death
COL Financial is a platform to trade and invest long-term. In the event of the account holder's death, the following steps should be taken as soon as possible by the spouse, heir, or close relative of the deceased.
Submit to the nearest COL Financial business center:
Original death certificate
Valid government IDs with photo and signature of surviving heirs/beneficiaries
Proof of filiation such as birth and marriage certificates

If the heir is the parent, they need to present the birth certificate of the deceased
If the heir is a child, they need to present their own birth certificate
If the heir is the spouse, they need to present their marriage certificate
If the heir is a sibling, they need to present both the birth certificate of the deceased and their own birth certificate

COL Financial Quit Claim
Proof of Payment of Estate Tax/BIR Certificate of Tax Exemption (CTE)
The heir will also need to go through a court proceeding to get an order appointing them as the executor/administrator with the authority to close the account proceeds.
Or, if they choose not to go through a court proceeding, they need to get the following documents.
If there is just one heir, they need to procure and present:
An affidavit of self-adjudication
Proof of the filing of the affidavit with the Register of Deed
If there is more than one heir, the following documents need to be procured and presented:
A deed of extra-judicial settlement of estate
Proof of the filing of (1) with the Register of Deeds
Proof of publication (once a week, 3 consecutive weeks in a newspaper of general circulation.
(Read: 6 Great Investments Millennials Should Make Now)
List of COL Financial Business Or Investor Centers
COL Financial Business Center Address

Contact Numbers

Office Hours: Monday to Friday, from 8:30AM to 5:30PM

COL Business Center

2403B East Tower, PSE Centre,

Exchange Road, Ortigas Center,

Pasig City 1605, Philippines

(+632) 651 5888

COL Investor Center – Makati

Ground Floor, Citibank Tower,

Valero corner, Villar Streets,

Makati City 1227, Philippines

(+632) 478 2954

(+632) 478 3316

(+632) 478 3275

COL Investor Center – Davao

2nd Floor Robinsons Cybergate,

J.P. Laurel Ave., Bajada,

Davao City 8000, Philippines

(+6382) 287 8192

(+6382) 287 8193

(+6382) 287 8194

COL Investor Center – Ilocos

Level 2, Unit 242 Robinsons Place Ilocos Expansion Mall, Brgy. 1, San Nicolas, Ilocos Norte

(+6377)677-3445

(+6377)677-3443

(+6377)677-3442