Fresh Grads, Avoid These Common Financial Missteps
8 min read
Are your social media feeds starting to get bombarded with graduation photos and congratulatory greetings? Well, that's because it's that time of the year again where colleges and universities hold their commencement ceremonies.
And, if you're one of those fresh graduates, let me give you a pat on the back, a virtual handshake, and a warm welcome to the adulting life.
After what seemed like forever, you've finally graduated from college. Surely, holding a degree means you're ready to start with the rest of your life.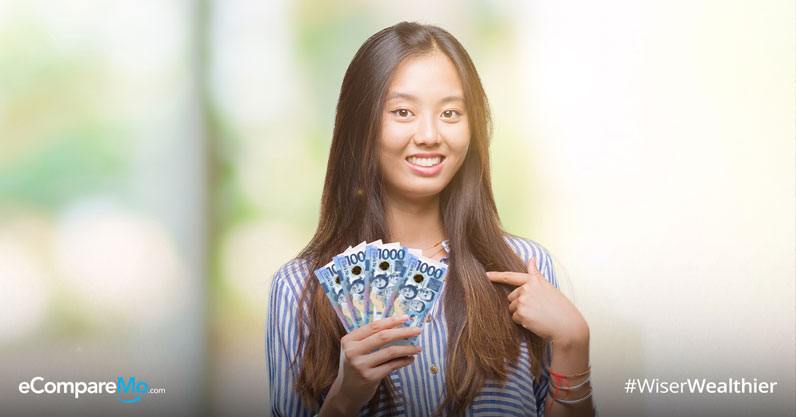 You're excited to conquer the corporate world, make your own money, and putting your earnings towards building a life of your own. However, the flow of your finances won't exactly be as you've always pictured in your head.
Below are common money mistakes Filipino graduates tend to commit and some steps on how they can be avoided.
1. Sudden lifestyle inflation
Once they land a job, many fresh grads think that it is but right to get a new smartphone, their own Netflix subscription, a gym membership, a brand-new car, and maybe a condo unit. While you do deserve to use some of your paycheck on these wants, this mindset could end up with you buried in a huge pile of debt.
First of all, now is the time to start budgeting your earnings. This means you set aside money for your needs first THEN think about your wants. Set a timeline for your life goals and start saving up for big-ticket items—like that car and that condo. Getting that cool smartphone will be easier too once you get into the budgeting habit.
Financial tip no. 1 – Know and keep track of your cashflow
It is important for you to know exactly how much money you are able to take home every month and where that money is going.
When you start your first job, keep in mind that your take-home pay will always be lesser than your negotiated salary. Deductions are made for your voluntary contributions such as your SSS, Pag-IBIG, and PhilHealth.
Always make it a habit to track your personal spending as well as your overhead expenses and know where most of your money goes. By doing this, you can be sure that you are living within your means.
Use what you have learned during your college years with your allowance to plan a budget. Be mindful of your needs and wants so you can adjust your budget allocation and have a comfortable cash flow for both your necessary and unnecessary expenses.
(Read: 5 Financial Mistakes Pinoy Fresh Grads Make)
2. Not saving enough
Upon graduating from college, millennials fall into the trap of having to keep up a demanding lifestyle with an entry-level salary from their first job. It's all fun and games until you realize that your savings are basically nothing.
As per the 2018 Consumer Expectations Survey by the Bangko Sentral ng Pilipinas, Filipinos who save up to 10% of their income decreased for the Q1 of the same year by 1.8%. This is if you would compare the previo us 43.6% of Q4 of 2017 to the 41.8% of the Q1 of 2018.
That said, it just shows how much Filipino adults could experience running out of money for their basic necessities, and may not think about the importance of saving.
Financial tip no. 2 – A little (saving) goes a long way.
Many millennials are intimidated by the task of saving because they treat it like a means to an end, like buying a new bag or saving up for a new trip. If that's the case then, you're doing it wrong. Saving, no matter how small or how big and amount it is, is money for your future.
Saving should be done habitually and with a long-term mindset. Saving P100 a day could go a long way — do it for thirty days straight and you've already saved P3,000. Do it every day for the rest of the year and you would have earned P36,000! Think that's not possible? Check out this story we did on five people who did different money-saving challenges.
3. Payout extravaganza
Few things will be as memorable in your professional life as receiving your first pay. And nothing will be more regrettable than blowing your paycheck just because you believe you deserve a treat for a job well done—each and every time. There's no escaping a paycheck-to-paycheck lifestyle once you get used to it.
Life after college is not all fun and games. After the cheesy graduation speeches, the exciting after-parties and the liberating thoughts of your new-found freedom, your overwhelming financial obligations will bring you back to the real world.
Financial tip no. 3 – Don't go overboard with your lifestyle choices.
Does money mean extravagant parties, expensive gadgets and branded beverages to you? You might want to revise your view. Since these things are highly disposable and depreciate quickly, your money can become easily disposable, too. Don't carelessly upgrade your lifestyle the moment your start earning.
It is important for you to understand what money specifically means to you. Unless you realize what the value of money is to you on the first place, you can never be committed to managing it correctly.
Saving doesn't always mean you have to deprive yourself. Allow yourself once in a while to enjoy the fancy things in life. If you want to travel, try new things, splurge on stuff, and enjoy your youth — go ahead and do what you love but never at the expense of your future self. There's always a way to enjoy today and prepare for tomorrow. Find that balance.
(Read: 6 Great Investments Millennials Should Make Now)
4. Not making more money
Money at hand is not only meant for spending, nor just for saving. It should be made to grow.
Aside from having a savings account, it is also essential to set aside a portion of your money for emergency funds. But don't stop there. Gear yourself up for financial success and try investing your hard-earned money in stocks and mutual funds at an early age. If these things don't work for you, find your calling and try other walks of life.
Try an online business, be it selling t-shirts, mugs, or anything in your liking. As long as it is in the line of your interest, you will surely find making money a part of your lifestyle and surely then, the efforts that you put in here will be rewarded in the long run.
Financial tip no. 4 – Don't be afraid to take a risk.
Too many young adults these days, are way too conservative and cautious. Don't be afraid to take risks and make mistakes. In this process you'll find learning and growth.
Don't be shy to quit a job. Most people have at least a few jobs before they find their perfect career and your perfect job is probably something you haven't figured out just yet.
Same as with starting your own business. No matter if it succeeds or it fails, as long as you are enjoying and you are doing what you love, keep going. Provided that you are learning, growing, and hustling, you can, and you will make it happen.
(Read: Expectation Vs. Reality: Life After College Graduation)
5. Not knowing what you're worth
It's your job to find out your value, not the company's and definitely not your parents'. Do in-depth research on the salary range in the industry and job you're applying for before the interview. Expecting too much or too little won't do your career any good in the long run.
If you are already on the payroll and think you are underpaid, show extra enthusiasm and don't be shy to raise your concern with your supervisor and human resources manager.
If you will have one thing that you will regret not doing for the rest of your life, it is not negotiating job offers that come your way. It's either you say yes too soon, or you folded up and said no too quickly.
When you get your first job offer, don't be too overwhelmed and accept it at once. Ask for some time to review. Use that time to do your homework and research everything in that industry, including the average pay for then position offered to you.
Also, look at all your needs and ask yourself if the salary offered to you will cover your basic needs and provide a littl extra.
On top of that, check on for some benefits and don't be afraid to ask your employer relevant questions for they will surely appreciate it if you show how much you reviewed their offer. It will only mean that you are invested so much in your future and you want to make sure that when you say yes, you will have no regrets in the end.
Financial tip no. 5 – Never stop learning.
You've learned so much in college and you're now ready to apply that knowledge in the real world. Unfortunately, you'll discover that only 20% of that knowledge will be useful when you start working. I know that's frustrating, but this shouldn't discourage you. Instead, be excited about the new things you'll learn.
Just because you are done with school doesn't mean the learning stops. If you want to really make more money, the learning is just beginning. It is better to be both book smart and street smart than just one.
Learn as many of the skills that will be most in-demand in the future as you can. Opportunities are created through connections and selling the skills you have. It's never been easier than how it is today to learn almost anything because everything is served for free online.
Take advantage and learn at least a skill or two each month or whenever you have a free time. You don't need to go back to school to learn the skills required to get many jobs. Focus your time on both learning and doing. When you learn through experience you can learn at least twice as much and twice as fast.
Other Sources: Millennial Money, Rappler, When In Manila, Fitz Villafuerte