Christmas 2018: 6 Metro Manila Hotels With Great Christmas Specials
4 min read
Christmas is right around the corner and events season has officially started. So, whether be it a night out with your friends, an office Christmas party or just a simple celebration with your family, make sure to spend the holidays in a spectacular fashion.
While everyone loves a good homecooked meal, sometimes you want to have a special holiday meal out as well. Check out this list of Christmas-themed buffets and events at some of the metro's best venues.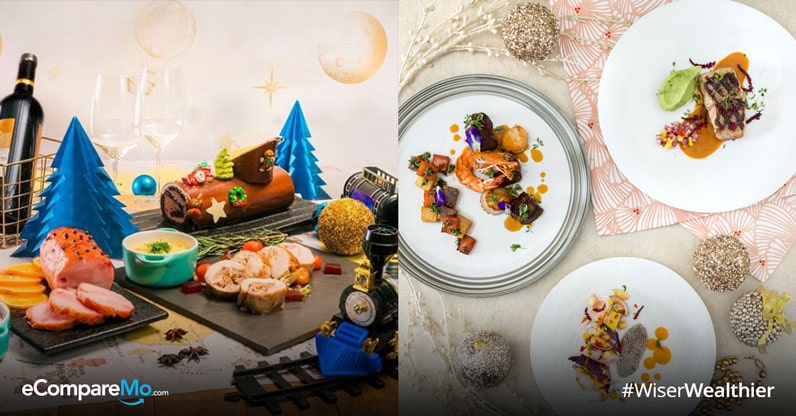 Why stick to a one-night celebration? These six hotels also offer s pecial staycation packages for a truly unforgettable family Christmas.  Happy holidays!
1. The Mariott Hotel
Gather around with your best folks and have a spectacular Christmas day filled with holiday cheers and a great line-up of festivities.
On December 23, 2018, Mariott Café is offering a festive Sunday brunch from 11:30 am – 3:00 pm for only P2,750.
Make your Christmas day more remarkable by savoring a flavorful feast that will surely satisfy your palates. Mariott Hotel's Mariott Café is serving their Noche Buena Buffet from 11:30 pm – 1:00 am for only P1,800.
Savory dishes will surely bring good tidings and cheer at Mariott Café's Christmas Day Lunch at 11:30 am – 2:30 pm for P3,100 and Christmas Day Dinner from 6:30 pm – 10:30 pm also for only P3,100.
Visit Mariott Hotel's official website for more info.
2. Novotel Manila
Make your holidays a lot better with a staycation from Novotel Manila. Room rates start from P7,500 net. This is inclusive of a breakfast buffet for two adults and 2 kids (ages 15 and below) at the Food Exchange Manila.
From December 24 onwards, room rates start at P10,000 net. This is inclusive of a breakfast and dinner for two persons.
Party and celebrate with Novotel Manila and visit their official website for more info.
(Read: Where To Spend Christmas This 2018: Hip Holiday Happenings)
3. The Peninsula Manila
Celebrate the festive season with a traditional Christmas meal with your family and friends. Feast over a bountiful spread of holiday favorites and delectable gourmet dishes, specially prepared and served by The Peninsula Manila's team of talented chefs and culinary experts.
Have some afternoon tea buffet on December 24, 2018, at the Upper Lobby from 2:30 pm – 5:30 pm for only P2,250 (adults) and P1,125 (children under 12 years old).
You can also try their Christmas Eve dinner buffet at The Lobby from 6:30 pm – 10:00 pm for only P4,500 (adults) and P2,250 (children under 12 years old).
On Christmas day, breakfast buffet starts at 6:00 am until 11:00 am for only P1,700 (adults) and P950 (children under 12years old).
Their Christmas merienda buffet will be ready by 2:30pm until 5:30pm at the Upper Lobby for only P2,250 (adults) and P1,125 (children under 12 years old).
A Four-Course Carving Lunch with Dessert Buffet Christmas celebration starts at 11:30 am – 2:00 pm for only P4,200 (adults) and P2,100 (children under 12 years old).
Doors will open at 6:30 pm – 11:00 pm for a Five-Course Set Christmas Dinner Menu for only P5,800 (with free-flowing champagne) and P4,500 (adults).
For more information, you can visit The Peninsula Manila's official website here.
4. Makati Shangri-La
Have a wonderful time this Christmas with a staycation at Makati Shangri-La!
By booking a  superior room (P8,100) or a  deluxe suite (P13,800) over the Christmas season, your family can enjoy a breakfast buffet for two adults and two kids (below 12 years old), dining credits that can be availed in any of the hotel's restaurant, bar and in-room dining worth P1,200, a tipi tent set-up and complimentary kids' mini bar with snacks and drinks, fun activities such as arts and crafts and cookie decorating classes, plus a special 50% discount on the second room booked by the same family.
For those who book a Deluxe Suite, even more, holiday treats await you. You will get to experience a private check-in and check-out in your own suite and an exclusive access to the luxurious Horizon Club Lounge with a premium breakfast buffet, all-day beverages, and evening cocktails with a fantastic view of the Makati City skyline.
Stay period is from December 15-30, 2018. Visit Makati Shangri-La's official website for more info.
(Read: 6 Fine Dining Restaurants In The Philippines That Are Strictly By Reservation)
5. Shangri-La The Fort
Shangri-La The Fort is offering special room rates that will surely lift your festive spirits. Luxurious accommodations start at P11,000 (deluxe room) and flexible booking rates at 13,500 and P15,000 if booking falls on December 24 and 31, 2018 respectively.
Room accommodations are inclusive of a complimentary breakfast buffet for two at High Street Café, free use of Kerry Sports Manila gym and outdoor swimming pools, and access to Adventure zone for two kids.
For more info, you can visit Shangri-La The Fort's official website here.
6. Sofitel Manila
If you want an irresistible array of treats this holiday season, Sofitel Manila is offering a family staycation package for four persons starting at P8,000 inclusive in-room family movies, cash vouchers at Le Boutique and Le Spa, and gift certificates for Vietura Aesthetic Lifestyle.
Sofitel's official restaurant, Spiral, is also serving their holiday specials. Their Christmas Eve Dinner Buffet starts at P3,500, Christmas brunch at P4,950 and an outdoor banquet at the Sunset Bar for only P4,200.
Visit Sofitel's official website here for more info.