Best Towing Services In Metro Manila
3 min read
If your car fails while you're on the road and you've tried everything to boost it back to life yourself, your last recourse is to call for a tow truck to take your car off the road.
For those who have prudently chosen to have their vehicle covered by a comprehensive car insurance plan, a simple phone call to your insurance provider's hotline will quickly bring a tow truck to the rescue at no additional cost. However, what if you HAVEN'T got car insurance? You're going to have to find and call a towing company yourself. But how would you know if the random towing company you called is trustworthy?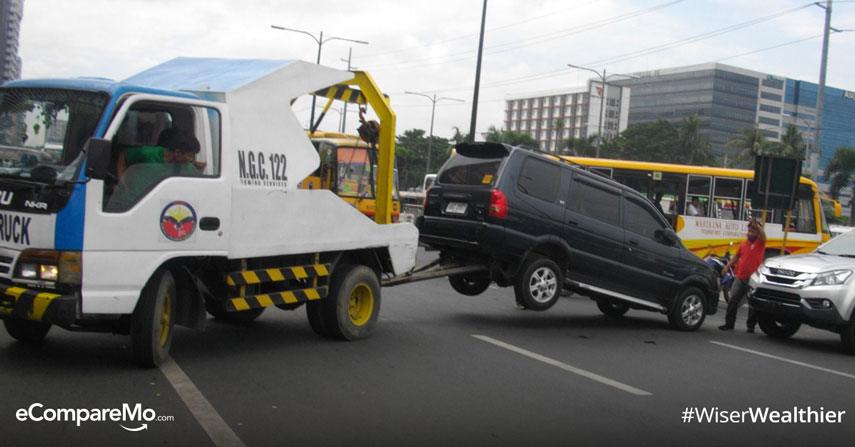 Fortunately, no towing service company can operate without getting a permit from the Metropolitan Manila Development Authority (MMDA). The MMDA is the only body in Metro Manila that can give tow truck firms a green light to operate. If you have car insurance, you can rest assured that your provider will send a tow truck from a reputable, MMDA-accredited towing company. But if you don't have car insurance, well we here at eComparemo are going to help you out. Here is a list of accredited towing companies and their contact information.
Biz Towing Services
Operator: Zenaida Nillasca
Address: 631 Padre Herrera Street, Tondo, Manila
Contact number: 0922-4887402, 0929-6886149
Number of tow trucks: 3 (TT-001, TT-002, TT-003)
JBD Towing Services
Operator: Jomar de Guzman
Address: Longos, Malabon City
Contact number: 0921-4761335
Number of tow trucks: 6 (TT-006, TT-007, TT-008, TT-113, TT-173, TT-175)
Fighter Towing Services
Operator: Rosalia Aguirre
Address: A-1 Shekel Street, North Fairview, Quezon City
Contact number: 0923-3928752
Number of tow trucks: 4 (TT-009, TT-010, TT-011, TT-012)
JAD Towing Services
Operator: Gerry T. Diwa
Address: A-1 Shekel Street, North Fairview, Quezon City
Contact number: 0939-9137614
Number of tow trucks: 2 (TT-013, TT-014)
Jwin Towing Services
Operator: Jo Ann Macaraeg
Address: Rosario, Pasig City
Contact number: 0932-9212070
Number of tow trucks: (TT-040, TT-145)
Jarz Towing Services
Operator: Zoraida Villaflor
Address: 6 Riverside Street, Sun Valley, Pasay City
Contact number: 0915-2391019
Number of tow trucks: 2 (TT-043, TT-180)
Metal Gear Towing Services
Operator: Daryll Diwa
Address: No. 5 Elias Street, Acacia, Malabon City
Contact number: 0943-5617151
Number of tow trucks: 5 (TT-046, TT-047, TT-048, TT-133, TT-161)
Haplos Towing Services
Operator: Josephine Dela Cruz
Address: Tondo, Manila
Contact number: 0922-8986134
Number of tow trucks: 2 (TT-055, TT-056)
Compaq Towing Services
Operator: John T. Angeles
Address: 15 Lanzones Street, Potrero, Malabon
Contact number: 0922-8486873
Number of tow trucks: 5 (TT-050, TT-052, TT-051, TT-141, TT-142)
JC Towing Services
Operator: Jeffrey M. Mendoza
Address: Quezon City
Contact number: 0917-9964317
Number of tow trucks: 3 (TT-057, TT-058, TT-059)
Iron Wing Towing Services
Operator: Noelson Demandante
Address: 712-Agudo Street, Barangka, Mandaluyong
Contact number: 0932-8699995
Number of tow trucks: 8 (TT-096, TT-099, TT-100, TT-110, TT-135, TT-138, TT-140, TT-184)
Arrom Towing Services
Operator: Arnold Blanco
Address: B145 L5 Mindanao Avenue, Lagro, Quezon City
Contact number: 0906-3402252
Number of tow trucks: 4 (TT-108, TT-109, TT-176, TT-177)
Borg Towing Services
Operator: Jerry A. Borja
Address: B. Samatad Taniquel Street, Quezon City
Contact number: 0920-4411812
Number of tow trucks: 3 (TT-061, TT-062, TT-171)
Accent Towing Services
Operator: Raymond Delos Reyes
Address: 558 Deutsche Mark Street, San Mateo, Rizal
Contact number: 0922-8754778
Number of tow trucks: 2 (TT-065, TT-063)
DGD Towing Services
Operator: Bernabe Dalisay
Address: 60 I. Lopez Street, New Zañiga, Mandaluyong City
Contact number: 0933-1152035
Number of tow trucks: TT-070
Lard Towing Services
Operator: Luisa Puche
Address: Rosario, Pasig City
Contact number: 0939-8826549
Number of tow trucks: 6 (TT-083, TT-084, TT-085, TT-086, TT-136, TT-138)
ARD Towing Services
Operator: Ariel Diwa
Address: Parañaque City
Contact number: 0998-9767079
Number of tow trucks: 3 (TT-182, TT-181, TT-183)
Poltin Towing Services
Operator: Ranny Pialogo
Address: Bayan-Bayan, San Pedro, Laguna
Contact number: 0933-2598123
Number of tow trucks: 5 (TT-018, TT-019, TT-188, TT-189, TT-190)
NJP Towing Services
Operator: Melicia Dela Peña
Address: Rosario, Pasig City
Contact number: 0939-4759497
Number of tow trucks: 9 (TT-022, TT-025, TT-026, TT-027, TT-028, TT-030, TT-031, TT-186, TT-023)
JWJ Towing Services
Operator: Jesuitoy Aringoy
Address: Rosario, Pasig City
Contact number: 0999-7973578
Number of tow trucks: 5 (TT-032, TT-037, TT-178, TT-179, TT-035)
Express Towing Services
Operator: Edwin P. Tanael
Address: Rosario, Pasig City
Contact number: 0932-9212060
Number of tow trucks: 1 (TT-039)