Hard-To-Resist Car Promos In The Philippines This July 2020
6 min read
The automotive industry was largely affected by the ongoing pandemic and the consequent measures implemented by both the government and the private sector. Just three months ago, total vehicle sales from all brands plummeted to 99.5%, or a measly 133 units. These car promos should help keep motoring alive and kicking in no time.
Thankfully, once the nation eased lockdown restrictions from enhanced community quarantine (ECQ) to general community quarantine (GCQ), sales began to pick up.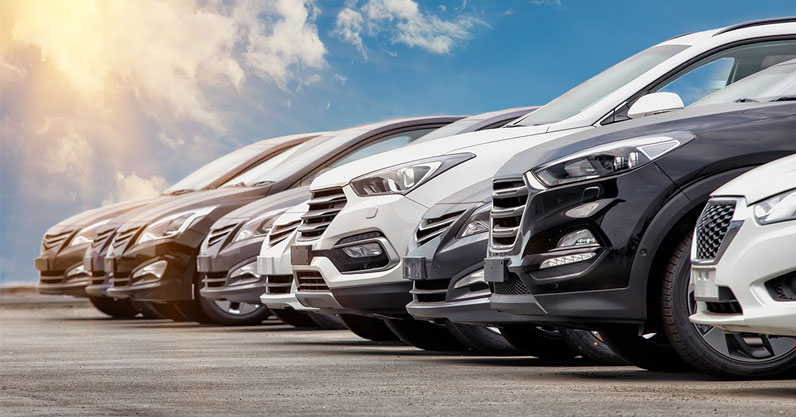 Vehicle sales in May reached 4,788 units, significantly higher than the 133 units sold in April. Then in June, total vehicle sales reported by automotive industry portal, Marklines, went up to 15,578—a 225.4% increase. Seems like we're well on our way on the road to recovery.
And this is because of surprisingly peculiar car promos hashed out by some notable brands like "Buy 1, Take 1s," car promo for frontliners, massive cash discounts, and 0% interest rates.
There's never been a better time to shop for a new car, if you're looking for one. That's why we've listed all the outstanding car promos in the Philippines available for this month of July. Check them out.
Car promos by brand
1. Audi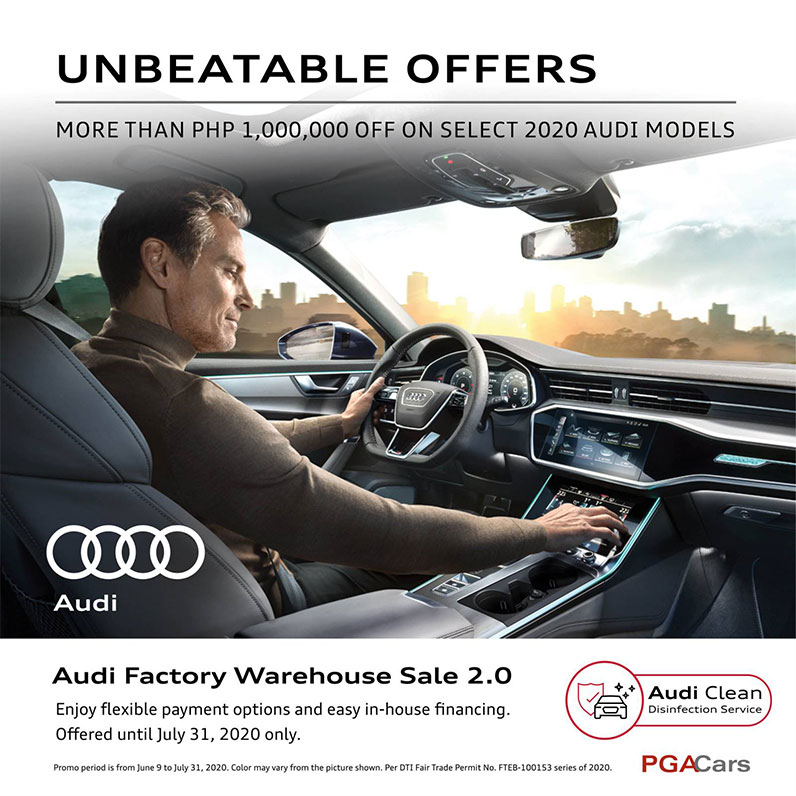 Experience unbeatable offers in the Audi Factory Warehouse Sale 2.0. More than ₱1,000,000 discount on select 2020 Audi models. This promo runs until July 31, 2020.
2. BAIC
Known for their commercial trucks and vehicles, BAIC is offering low down payment and cash discounts for their commercial vehicles and SUVs across all dealerships in NCR. Learn more about their specific promos by visiting their Facebook page (@baicphilippines).
3. BMW
Big mid-year deals await those who want to enjoy German driving precision. Enjoy unheard-of discounts for select models with this month's BMW promo.
BMW 530d LS (₱7,090,000 down to ₱4,990,000)
BMW 630d Gran Turismo (₱8,790,000 down to ₱5,490,000)
BMW 740Li Pure Excellence (₱10,490,000 down to ₱6,990,000)
4. Chevrolet
American car brand Chevrolet is offering all-in low down payments for their full vehicle lineup, most notably for their SUVs: the Chevrolet Trailblazer and Chevrolet Trax. The deal is available nationwide and includes a free two-year PMS. Inquire at a Chevrolet dealership near you.
5. Ford
Cash discounts, low all-in down payments, and cash discounts abound this month in Ford dealerships thi month. But among the most notable car promos in the Philippines available right now are their zero downpayment promo for the Ford Expedition and Ford Transit Minibus, and a free four-month amortization promo for the Ford EcoSport EcoBoost.
6. GAC
One of the first brands to get in on the "buy one, take one" promo is GAC. If you're in the market for a minivan, perhaps you should consider what they're offering.
Available only thru cash payment, the GAC GM8 2.0 turbo seven-seater minivan is up for sale at ₱ 2.98-M, and it comes with a free sedan—their GAC GA4 1.5 AT. Better hurry up because the promo is only good until July 26. Don't forget to bring another driver when you pick up your GAC minivan.
7. Geely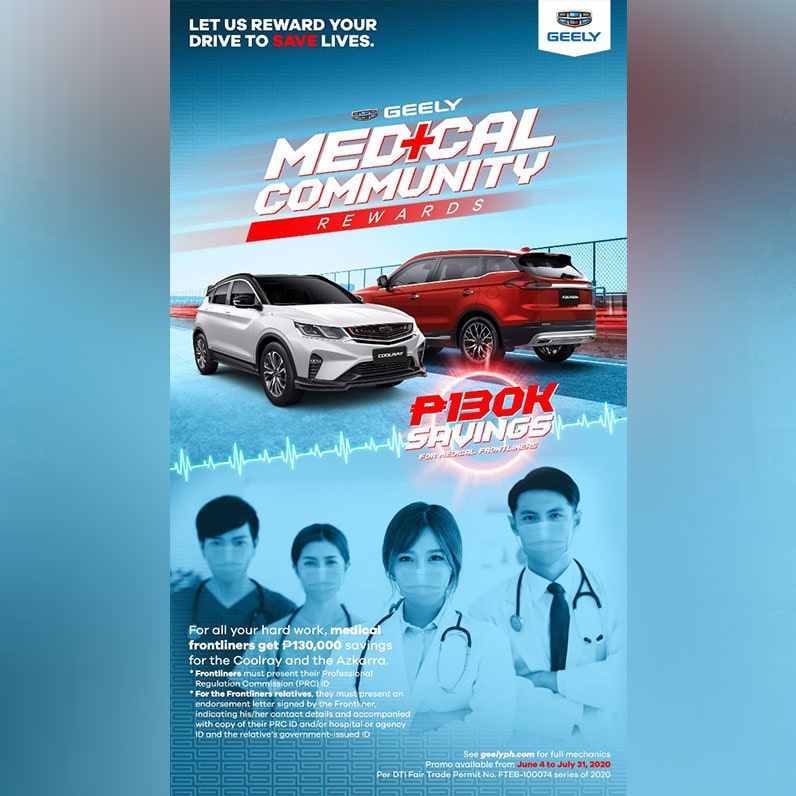 The phenomenal Geely Coolray can be had with their all-in low down payment promo across all trims. They're also offering up to ₱130,000 cash discount to all medical frontliners. Contact Geely via their official Facebook page (@GeelyPhilippines).
8. Haima
The Central Luzon-based Chinese car manufacturer, Haima, is having a Mega Sale right now–with low all-in down payments and cash discounts for their Haima V70 MPV and Haima S7. Freebies like free one-month amortization and free pme-year preventive maintenance service are still included in their package.
9. Honda
Great deals are up for grabs this month with Honda's Great Deals, Bright Tomorrow car promo. Get as much as ₱500,000 cash discount on select models and variants. Plus there's a free Blaupunkt air purifier with every purchase of specific Honda vehicles.
10. Hyundai
One of the most talked-about car promos in the Philippines right now, Hyundai is the first "big brand" to offer a "buy one, take one" deal in a long time. Buy the Hyundai Santa Fe 2.2 CRDi GLS and you'll get to pick another car to take home: a Hyundai Reina or a Hyundai Accent. Truly hard to miss and harder to resist.
Read: Top Car Insurance Companies In The Philippines: 2020 Update
11. Isuzu
Have your pick on the Isuzu dealership floor. All vehicles in their lineup can be had with huge cash discounts and low all-in down payments. But perhaps their most mouth watering promo yet is their zero down payment offer for the top-of-the-line Isuzu D-Max 3.0 LS-A 4×4 AT.
12. Kia
If you're on the lookout for a Sorento or Sportage, you're in good luck. They now offer a ₱430,000 and ₱300,000 cash discount respectively. Other models are also offered with cash discounts.
13. Maxus
A relative newcomer to the Philippine automotive scene, this auto manufacturer from Shanghai has a limited but formidable vehicle lineup. Cash discounts are offered for their Maxus T60 pick up, Maxus V80 van, and Maxus G10 minivan this month.
14. Mazda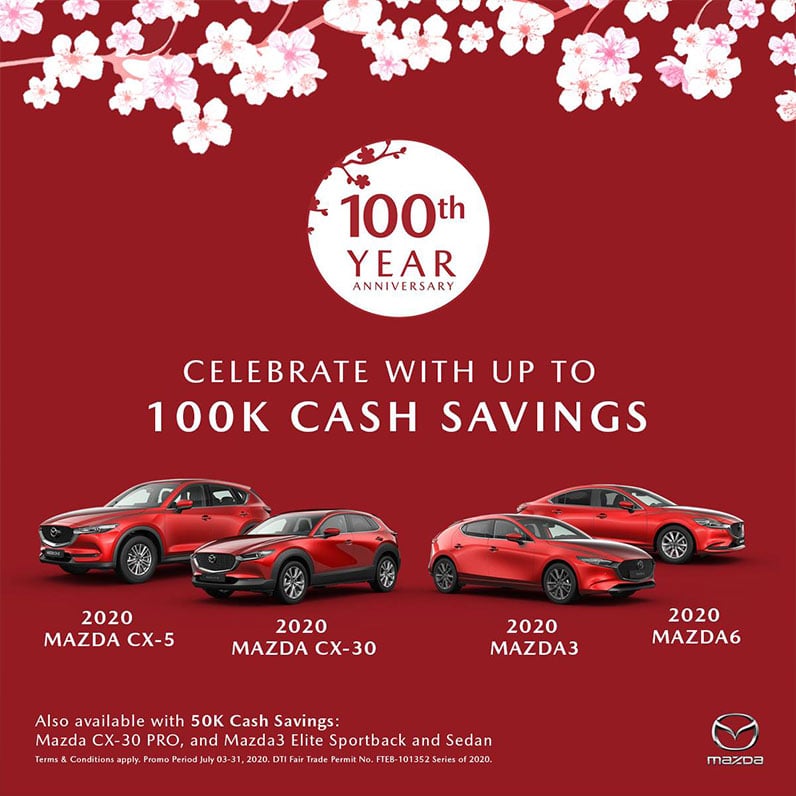 Their flagship SUV, the CX-9 is now available to be purchased with a ₱200,000 cash discount and an additional two-year year PMS on top of their free three-year PMS care of Yojin3 Total Care. That extends the free PMS benefit to five years! But you better hurry, promo is only good until the end of July.
15. Mercedes-Benz
Get your chance to drive home a Mercedes-Benz with 0% monthly amortization interest rates! This deal is open to all customers who will purchase the Mercedes-Benz units included in this promo:
A180 Progressive
C180 Avantgarde
E180 Avantgarde
E200 Avantgarde, Exclusive, AMG
E220d Avantgarde
S320
V220 Base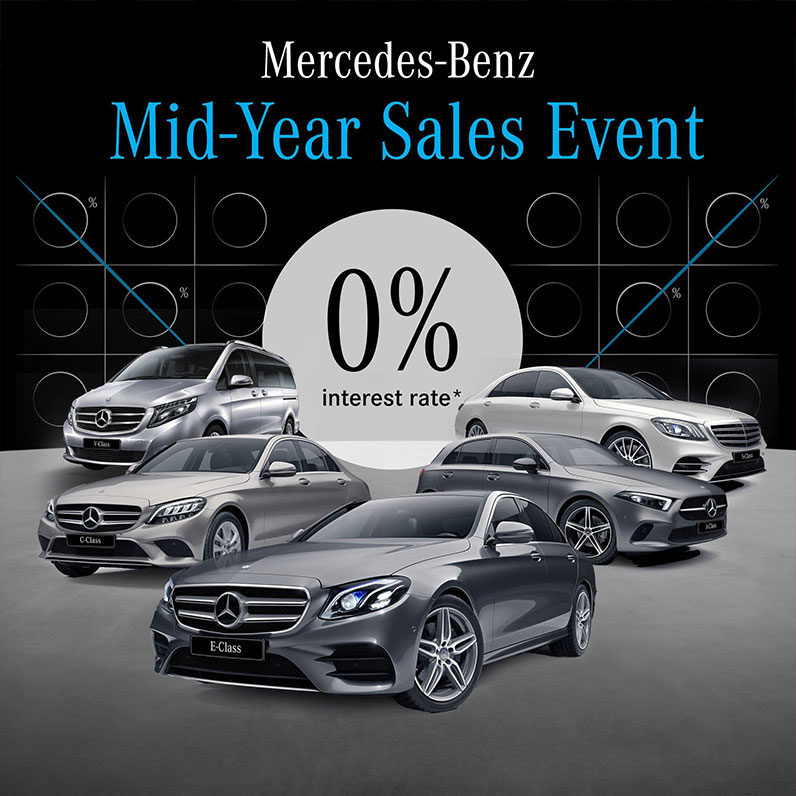 Buy from any of the following Mercedes-Benz branches: Alabang, BGC, Greenhills, Cebu. Promo period is from July 1 to September 30, 2020.
Read: LTO Online Pass And Car Registration Renewal During GCQ: A First-Hand Experience
16. MG
MG wants you to enjoy the open road safely again with their Back on the Road promo. Select MG vehicles are now available for zero downpayment, with additional cash discounts to boot. Promo runs from June 7 to September 6, 2020. To learn more about their promos, visit their website.
17. Mitsubishi
Watch out for Mitsubishi's Mid-Year Lowdown. The all-in low down payment promo is offered to all customers who purchase any of the following from July 7 to 31, 2020:
Mirage GLX M/T
Strada GLX Plus 2WD M/T
Montero Sport GLS 2WD A/T
L300 FB Dual A/C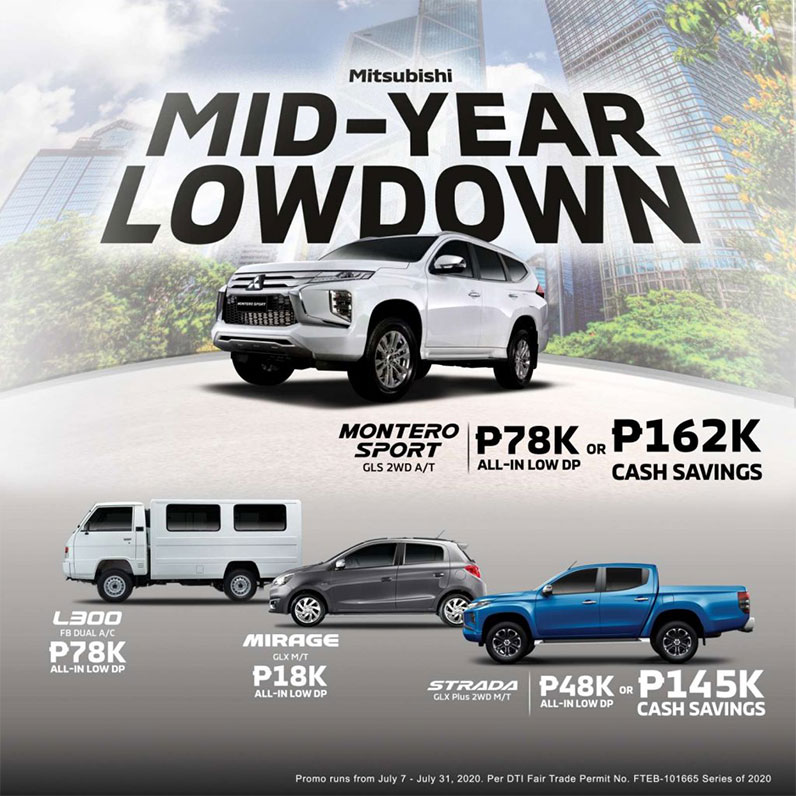 18. Nissan
Confidently get back on the road in safety with Nissan's Safer Drives & Deals promo. Customers who purchase a participating variant of Nissan models are entitled to avail of all-in low down payment with cash discounts.
Promo duration is from July 10 to 31, 2020 only. Visit their website to know more about this deal.
19. Peugeot
In celebration of Bastille Day, Peugeot is offering you the thrilling opportunity to choose which deal to avail on their month-long Bastille Day Celebration.
Get your Lion Pass to enjoy up to ₱100,000 on cash discounts or La Boutique accessories. Under this car promo, all purchases include three years + two extended warranty coverage, plus Easytrip and Autosweep RFID.
20. SsangYong
Enjoy cash discounts all around with SsangYong's car promo deals this month of July. Up to ₱135,000 in savings await those who choose to buy the SsangYong Rexton 4×4 AT SUV.
21. Suzuki
In response to the easing of restrictions, Suzuki is making it easier for you to get back to mobility with their Back 4 More deals. Low all-in down payments available for all models and variants (except for the Jimny). Check out the full details of Suzuki's car promo on their website.
22. Toyota
Toyota announces its Arrive At Your Destination car promo, introducing pay low, pay light, or savings deals. Choose among all-in packages, low monthly amortization plans, and outright cash discounts at any Toyota Motor Philippines dealer nationwide. Promo runs from July 2 to 31, 2020.
23. Volkswagen
Volkswagen Philippines wants us to get ready to move with their special offers for the Lavida and Santana. Get savings of up to ₱85,000 for the Lavida, their midsize sedan; and up to ₱90,000 discount on the Santana, their compact sedan. Promo ends this 31st of July.
24. Volvo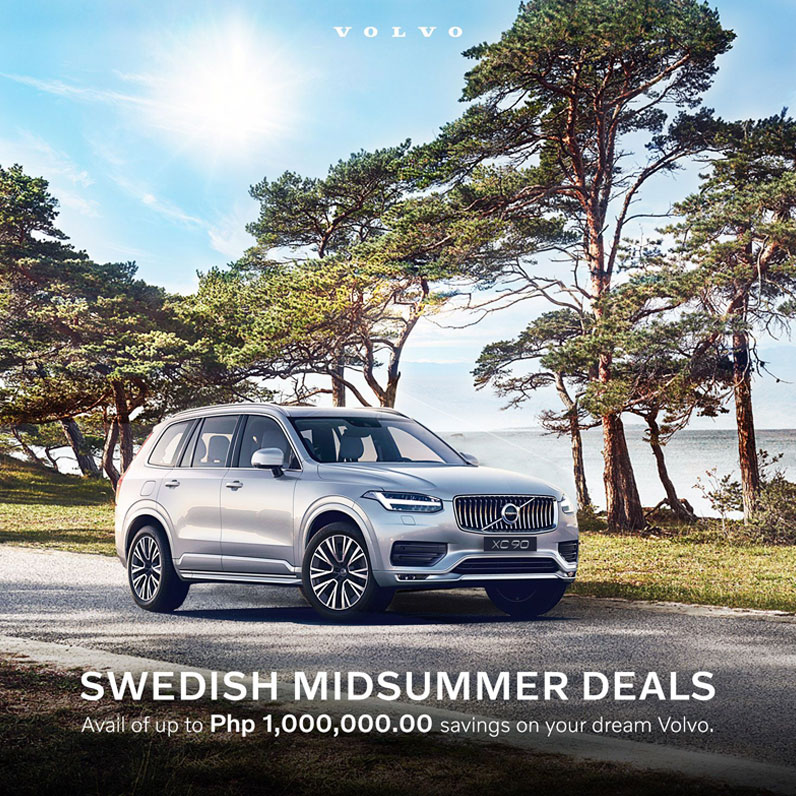 Celebrate the Swedish Midsummer with Volvo and enjoy as much as ₱1,000,000 on special deals on their range of award-winning models. You can inquire via the Volvo Concierge website.
Email: volvoph@volvophils.com
Mobile Number: 0917 623 6366