Car Promos In The Philippines For October 2020
6 min read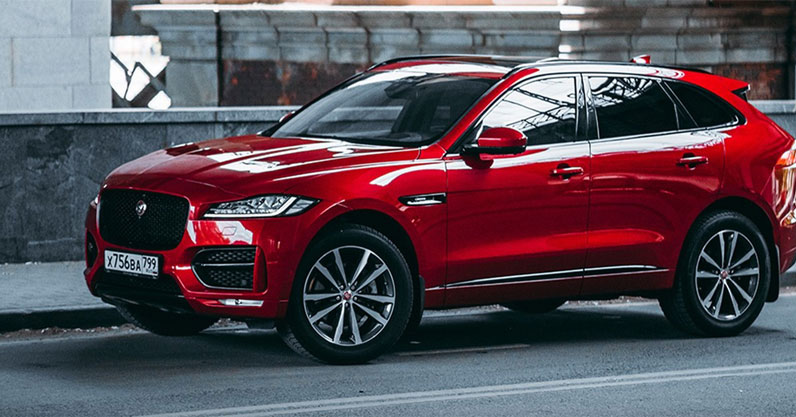 We're well into the Ber months and for the first week of October, it's time for another edition of our compilation of car promos from dealerships around the country. Check out these amazing deals from all the major carmakers in the Philippines.
Car promos by brand
Audi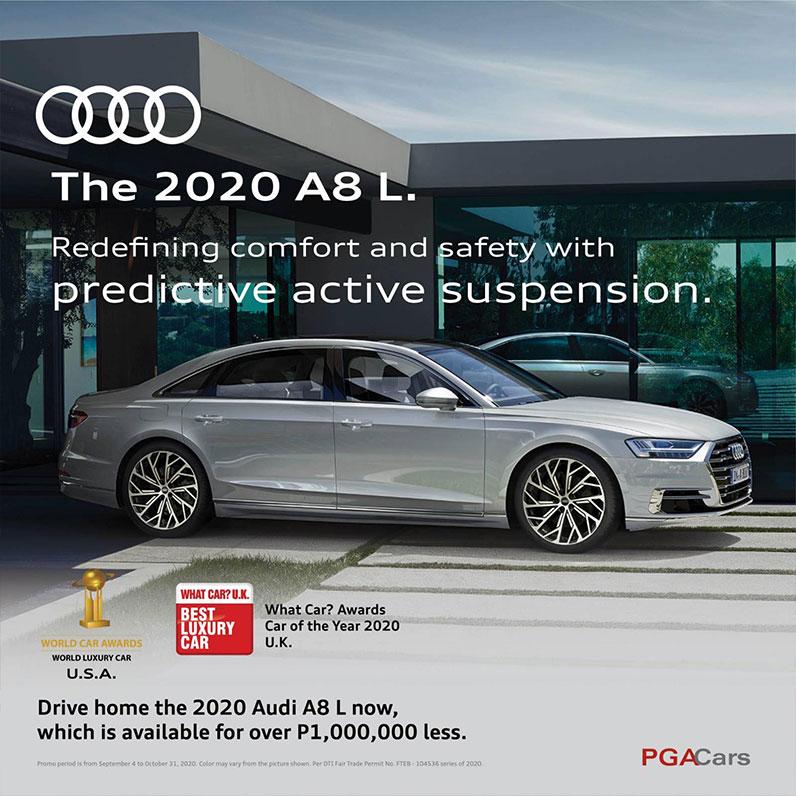 Owning a 2020 Audi A8 L is closer to reality now that it comes with a ₱1-million discount. Get exclusive promo details and more by contacting Audi Philippines at these numbers: 0917-813-9064, 0917-806-2946, or 0917-935-4111. Promo runs until October 31, 2020.
BAIC
This October, BAIC is offering low down payment and cash discounts on all of their SUVs and commercial vehicles for their clearance sale. Inquire now on their exclusive distributor, Bayan Auto's official Facebook page (@baicphilippines).
Chery
Christmas is merrier with Chery's Christmas raffle promo. Get a chance to bring home gift certificates, Samsung Galaxy S7 Tablets, an iPhone 11 Pro, a Vespa S125 or a brand new Chery Tiggo 2 A/T Two-Tone when you purchase any model of Chery Tiggo from October 8 to December 20, 2020. Raffle draw will be broadcast live on December 30, 2020, 6:00 PM, via the Chery Auto Philippines Facebook page (@CheryAutoPhilippines).
Chevrolet
Take home the all new Chevrolet Trax at a special 0% interest rate for up to 48 months or easy all-in low down payments. Visit the Chevrolet website for inquiries and reservations.
Ford
October is Truck month at Ford dealerships in the Philippines. Get cash discounts, low all-in down payment at reduced SRPs for all Ford pickups. Head on to Ford's website to know more about these amazing deals on pickup trucks.
Foton
A big surprise is coming this month from Foton Philippines. Take home a FREE Gratour MT Dropside for every three units purchased of any of the following heavy duty trucks until December 31, 2020:
GTL 8×4 Dump Truck
GTL 8×4 HR Dump Truck
ETX-N 6×4 Dump Truck
EST 400 4×2 Tractor Head
GAC
Shift to the latest crossover SUV GAC has to offer. The 2020 GS3 can now be owned with only a ₱30,000 down payment or a low ₱16,000 monthly amortization promo. Inquire now at the GAC official Facebook page (@gacmotorph).
Geely
Celebrate Geely's anniversary month with Geely's Anniversary Drive. Get cash discounts, a free ₱5,000 Shell Fuel card, a raffle entry where you can stand a chance to win either a brand-new Coolray or Azkarra! Promo is from September 9 to October 31, 2020. Hurry and visit the nearest Geely dealership near you.
Haima
The award-winning Haima V70 MPV can be yours for a very low down payment of ₱19,000, with free one-year preventive maintenance service and a three-year unlimited mileage warranty. For inquiries, contact Haima at 0918-854-2472 or 0918-854-2210.
Honda
Avail amazing discounts and tons of freebies as Honda celebrates 30 years in the Philippines this October. Get a free Blaupunkt air purifier with every purchase of select Honda vehicles and an exclusive Honda Petron Value Card that earns 100 bonus points for every 140 liters (gas) or 200 liters (diesel) per month. Each point can be directly converted to peso. Drive away any Honda vehicle this month with special all-in low down payments and cash discounts.
Hyundai
The "buy one, take one" craze is back and it's bigger than ever this October. Buy a Hyundai Santa Fe GLS and get a FREE Hyundai Ioniq GLS. Looking for a Grand Starex? Why not get a free Hyundai Accent while you're at it. They'll also slide in the same free car with every purchase of the hybrid version of the Hyundai Ioniq as well.
Isuzu
Experience the advantages of an SUV with the Isuzu mu-X. Get it with several all-in down payment offers this October.
Jaguar
Fuel your drive with the high-performance SUV from Jaguar. Get up to ₱890,000 off on Jaguar F-PACE. Plus avail of freebies like ₱50,000 worth of fuel, comprehensive car insurance, and Jaguar's 5-year service plan. Promo is valid until November 30, 2020. Visit the Jaguar Offers page to learn more.
Jeep
Own a Jeep Renegade with a ₱79,000 low down payment or a Jeep Compass with a ₱99,000 down payment this month. Visit a Jeep dealership near you to find out more about this offer.
Kia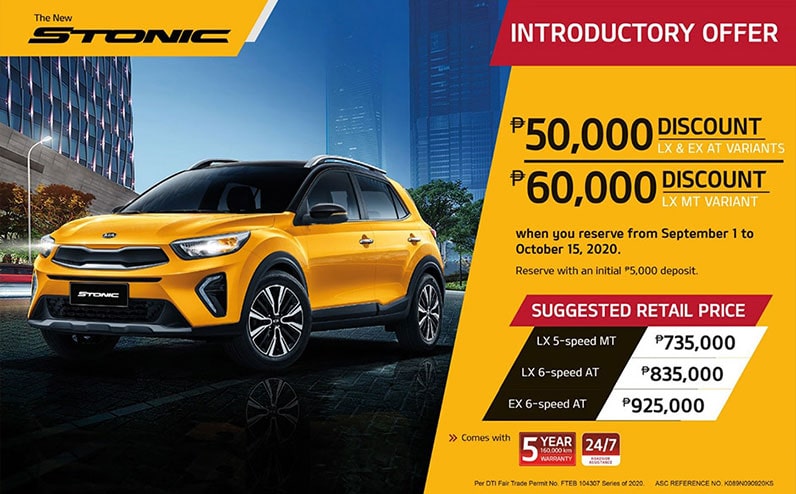 Reserve the newest Kia on the block, the Kia Stonic, and get outright cash discounts as much as ₱60,000. Each Kia Stonic comes with Kia's 5 year or 160,000 km warranty and 24/7 roadside assistance.
Lexus
Drive to your heart's content with exclusive special financing schemes from Lexus this October. Enjoy their luxurious vehicles at with 0% interest deals. Promo is available from October 3 to 31, 2020. Visit the Lexus website to know more.
Maxus
Maximize your savings at Maxus with their special offers for the G10 MPV, the V80 van, and the T60 pickup. Get as much as ₱70,000 cash discount off the new, lower SRP for Maxus vehicles.
Read: An Alcohol 'Explodes' Inside Your Car. Will Your Comprehensive Insurance Cover The Damages?
Mazda
Cash savings worth ₱200,000 on the Mazda CX-9 and more can be had with special offers from Mazda Philippines. Inquire online now at www.mazda.ph.
Mercedes-Benz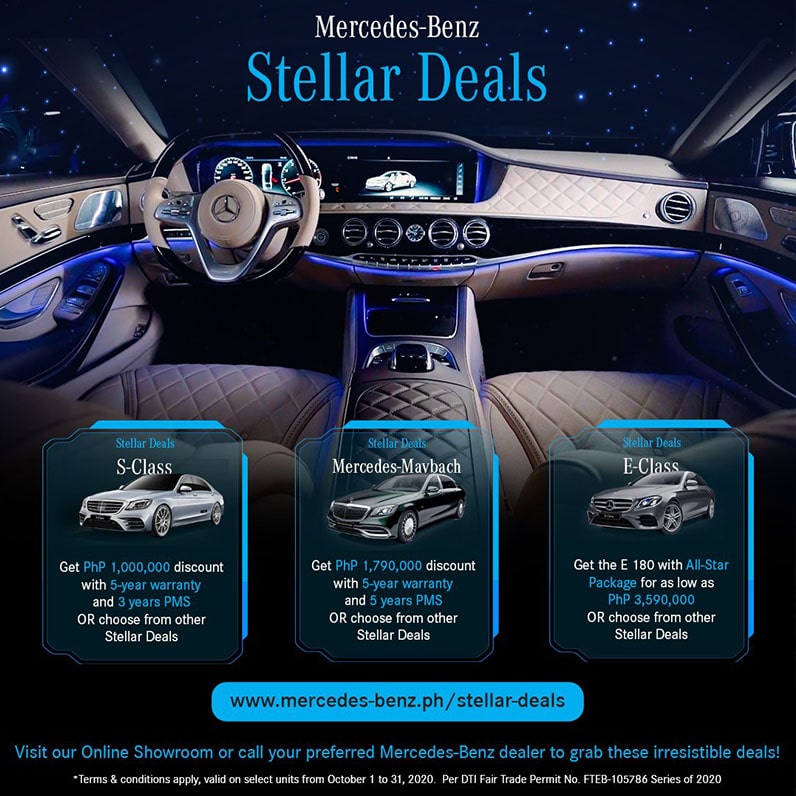 Enjoy stellar deals with Mercedes-Benz this October. Huge million-peso discounts, 0% interest on monthly amortization, and other deals abound. Visit Mercedes-Benz's promo page to know more.
Mitsubishi
Mitsubishi vehicles are available with all-in low down payment and big cash discounts this month. Drop by the nearest Mitsubishi dealership and check out the deals they have to offer.
Nissan
Get bigger discounts on your Nissan vehicle and special financing deals with Nissan Finance. Their in-house financing offers flexible and convenient financing options to suit your budget. Visit any Nissan dealership or contact their hotline at (+632) 8888-1700 to learn more.
Peugeot
With Peugeot's 210: Let's Go raffle, get a chance to win back your down payment in full or ₱10,000 worth of free fuel! Every purchase of a Peugeot vehicle gives you a chance to join the raffle. Raffle period is until December 2020. Visit the 210: Let's Go! page for more details.
Porsche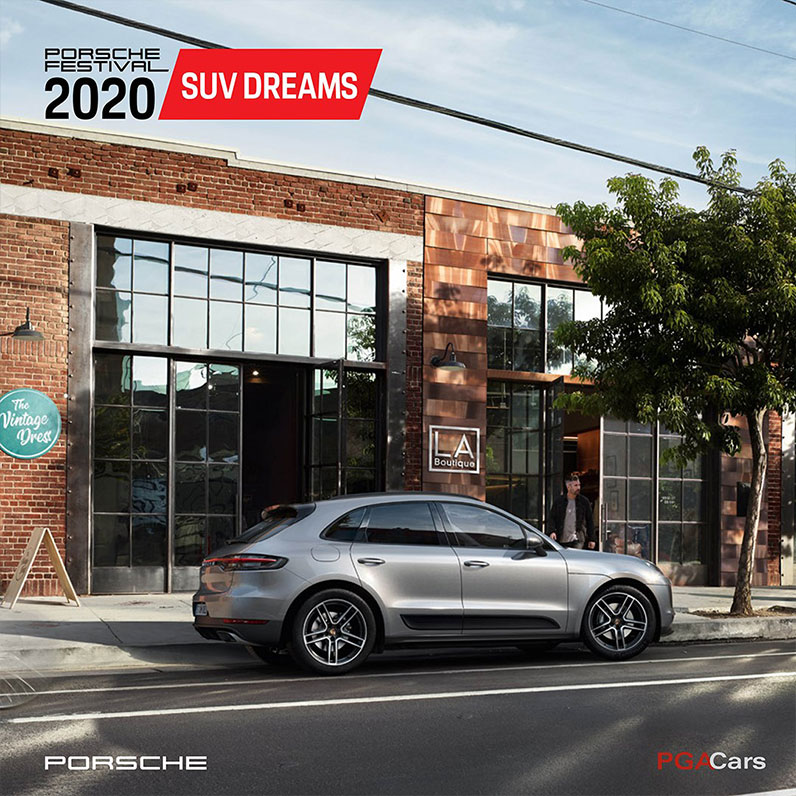 Indulge yourself with unbelievable offers on the Porsche Cayenne and Macan in the Porsche Festival 2020: SUV Dreams. For more information, contact the Porsche Sales Team today at 0917-880-0328.
Read: House Bill 7725 Seeks To Regulate Parking Fees
Subaru
Get ready to be wowed with Subaru's latest offer for the Forester. Pay light or take advantage of the ₱180,000 cash savings today. Set your appointment online by visiting the Subaru promotions page.
Suzuki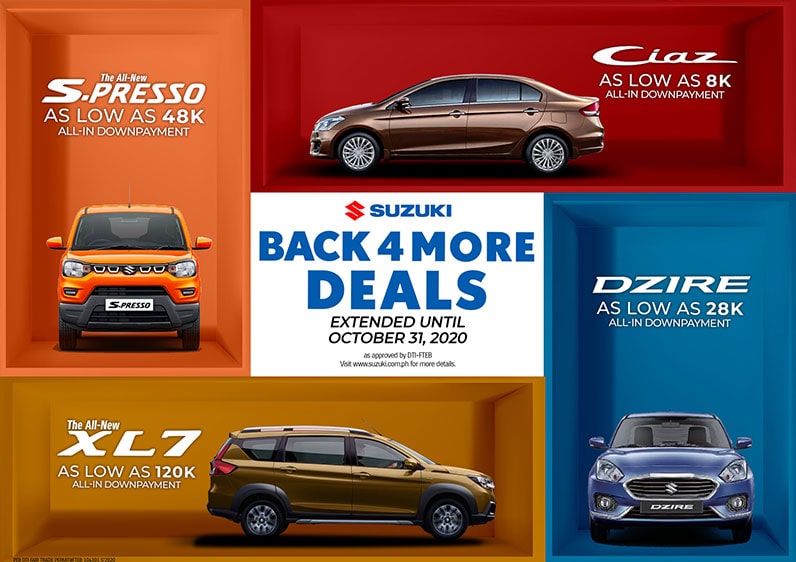 The Suzuki Back 4 More deals are extended until October 31, 2020. Enjoy low all-in down payments for the S-presso, Ciaz, Dzire, and XL7. Visit their online showroom to find the deal that's right for you.
Toyota
Take advantage of big deals and even bigger savings with Toyota's 10/10 Perfect Deals. Pay low, pay light, or save big on a Toyota vehicle of your choice. Promo is in effect until October 31, 2020. Visit their virtual showroom now for more convenient and safer shopping.
Volkswagen
Volkswagen promises a new car smell without the new car price for this month. Now is the best time to move if you want to own a piece of German-engineering. Enjoy cash discounts on the Volkswagen Santana and Lavida now until November 30, 2020. Check out their offers on the Volkswagen promo page.
Volvo
With the Volvo XC60, you can make sure that you'll always have a breath of fresh air thanks to their Clean Zone technology. It's the innovative air quality system that checks and indicates if all conditions have been met for good air quality inside the vehicle. And it can be yours today at a low monthly amortization of ₱35,734. Experience this Swedish stunner first hand by visiting a Volvo dealership near you. You may also inquire via the Volvo Concierge:
Email: volvoph@volvophils.com
Mobile Number: 0917 623 6366
Telephone no.: (+632) 8817-1984 or (+632) 8893-6621 to 22