Businesses That Closed Due To COVID-19
7 min read
Last month, the Department of Trade and Industry (DTI) said that more than one-fourth of total businesses in the country had to shut down and were forced to cease operations amid COVID-19 lockdown measures.
According to DTI Secretary Ramon Lopez, 25.9 percent of businesses who participated in the agency's survey have closed, including temporary cease in their activities. Meanwhile, 52 percent of the respondents operate partially and only 22.1 percent are still open in full capacity.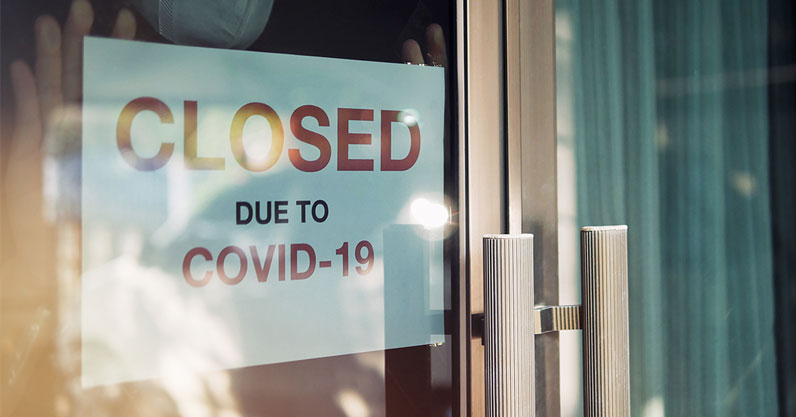 Although optimistic that the economy will bounce back, Lopez said that closed businesses are "a cause for worry" and the Filipinos "need to save companies and jobs to restart and recover faster."
While every business closing is a tragedy, there are just some losses that are too good to be true. Whether they've been around for so long or have a significant impact on people and culture, here are some well-loved establishments that closed due to COVID-19.
Restaurants that shut down due to COVID-19
The Chocolate Kiss Café
Just one of the most recent casualties of COVID-19, this institution located inside the University of the Philippines is calling it quits after 21 years of operations. In a heartfelt letter posted by owner Ina Flores Pahati on their website, the casual dining restaurant will remain closed even after the pandemic.
"The Café has always relied on high volume in sustaining its operations. The losses already incurred since the start of ECQ, and the prospect of not being able to operate at full capacity for an indeterminable period, has led to this difficult decision," Pahati said.
Although the Chocolate Kiss Café will say goodbye for good, patrons who want to try their favorites such as beef salpicao and chicken kiev for the last time can still get them from their Fairview commissary until August 23. Beyond that, they will drastically reduce their menu to cakes such as their iconic Dayap Chiffon Cake, among others.
If you want one last hurrah, go to The Chocolate Kiss Cakeshop at Block 1 Lot 13 Republic Avenue, Doña Petrona Subdivision, Fairview, Quezon City before August 23. It's your last chance, after all.
Shangri-La Finest Chinese Cuisine
Long before food trends came and went and Instagram became the battleground, restaurants like Shangri-La were the kings of family-style dining. In fact, it's hard to ignore its large presence whenever you pass by West Avenue or Time Street.
The famous Chinese restaurant was a home to countless celebrations. Whether it's a graduation or just another Sunday lunch, they wouldn't be complete without their assortment of dimsum selection, signature pancit canton, live seafood paluto, and other dishes.
"The management and its employees are so grateful for having you as part of our 37 years of existence in the restaurant and catering business. We would not be this successful, if not for all of you, who celebrated your great moments, achievements and even your simple get-together with us," said the restaurant in its Facebook post last month.
Thirty-seven years of serving Filipinos with great Chinese food? That's quite a great run, if you ask us.
Read: How To Register A Business In The Philippines: A Guide To BIR, DTI, And SEC Registration
Moksha
"All good things come to an end. A neighborhood institution will be closing its doors after 18 years of giving people a hideaway, a home away from home," wrote Moksha owner Marc Soong last month when he broke the news that Little Baguio's favorite neighborhood bar was about to close.
The little Mediterranean bar, which was tucked between the streets of J. Abad Santos and Wilson, started its operations in 2003. Aside from serving its neighbors with great food, Moksha also was the perfect spot for people looking for a quieter place to have a drink or two. Or ten.
To its patrons, some of the treats that got them coming back for more include their assortment of kebabs and skewers, grilled lamb with meat, the most sinful aligue pasta you could find, and signature cocktails such as the Flying Tiger and Mokshangria.
According to Moksha general manager Marvin Mallorca in an interview with GMA News, the 18-year old bar couldn't keep up with the negative effects of the pandemic and had to cut their losses.
"The effect of the pandemic is really bad. Everything's working against us now. Bars aren't really allowed to operate, so everything is stacked against us," he said.
Bars
Klownz and Zirkoh
It's no laughing matter when a business is forced to close down for good. This is even more applicable to comedy bars such Allan K's Klownz and Zirkoh.
Already an institution in South Triangle's bustling nightlife, the TV host's comedy bars are known to launch the careers of numerous entertainers in the country. Although the venues endured the ever-changing landscape of Quezon City's entertainment and leisure district, the zero-foot traffic brought by the quarantine proved too be too insurmountable for the venture.
In a report published by PEP.ph, the owners of the said comedy bars finally called it quits and declare bankruptcy for both bars.
"And because of this unprecedented uncertainty, our overhead expenses cannot be met, that is the reason that the company resorted to closure effective July 29, 2020. As much as we want to give you the statutory separation pay as provided by the law, the company can no longer afford the same as we are now in the verge of bankruptcy and we do not have enough funds to pay the same," said the management in a letter published by PEP.ph.
Today x Future
Today x Future's tiny right in the middle of Araneta City might be too seedy or intimidating. However, patrons who spent countless drunken nights there with friends would tell you otherwise.
Lovingly called by its patrons as TxF or simply Future, the bar drew in crowds that were too large for its size, occasionally spilling over to the sidewalk and eventually the streets. TxF would often get so packed that they had to prohibit customers from staying beyond the portion of the sidewalk allocated to them.
So what makes Today x Future so special? Aside from its distinctive and artsy vibe, it was a place where everyone was greeted with its odd energy regardless of their identity, beliefs, and culture. Freaks, geeks, and normies are all welcome. Every kind of quirkiness was celebrated in its hallowed grounds that vibrate to rhythm of the people ecstatically dancing to…whatever the DJ's playing at that time.
Although Future is now gone, it will be forgotten. After all, its posher sister Futur:st still lives in Makati, hopefully carrying the torch for one of Manila's greatest oddities.
Read: Food Delivery: These Restaurants In Manila Are Open During The Quarantine
Other establishments
The Oasis Paco Park Hotel and My Kitchen
If ever you've encountered the fabled panizza, which is crisp dough with numerous cheeses and other toppings, you have to thank Paco Park and My Kitchen for that.
The late chef Chris Locher, who was credited as the inventor of this dish, was at the helm of My Kitchen for almost a decade. Borrowing heavily from his paternal grandma. Italian classics such as osso buco, risotto, and pesto were given a surprising twist.
Because of Locher's loving take on the classics, the restaurant became almost a secret getaway for all these esteemed family dinners you've probably never heard of. Aside from attracting families who wanted an off-the-beaten-path dinner party, the restaurant was a favorite among foreigners and serious eaters in need of great feast.
So if ever you decide to make a panizza, do it in the name of Paco Park Hotel, My Kitchen, and the genius who came up with the said idea.
KidZania
When ABS-CBN subsidiary Play Innovations Inc. decided to bring the KidZania brand to the Philippines, parents were ecstatic about the arrival of learning immersive space for kids outside the bezels of their smartphones. However, all good things must come to an end.
Unlike its parent company that got into a messy affair in the House of Representatives, the decision to close KidZania for good came from restrictions of not allowing citizens below 18 years old to go outside their homes. In addition, the new normal conditions might not be conducive for the company's business model of getting foot traffic and children converging at a certain place.
"Even if we are allowed to operate in the future, the 'new normal' will prohibit mass gathering and require children to remain at home. These conditions have left us with no choice but to close the play city's doors permanently," KidZania said in a statement.
Unlike other play facilities, KidZania combined immersive role-playing experience with learning real-life scenarios. Inside their Taguig play area, children could play out their dream jobs such as firemen, cooks, bank tellers, airline pilots, and so much more—all situated in a miniature city at the heart of Bonifacio Global City.