Business Permit Application: Then Vs. Now
3 min read
It could be the golden age for budding entrepreneurs as putting up a business is now much simpler, faster, and more streamlined.
A few days ago, three national government agencies signed a joint memorandum to make business permit application more efficient. The Department of Trade and Industry (DTI), the Interior and Department of Interior and Local Government (DILG), and Department of Information and Communications Technology (DICT) agreed to equip local governments the proper tools and training to streamline the processing of business permit applications.
According to the new joint circular, local governments are ordered to cut down the processing time for all business permits: two days for new businesses and one day for renewals.
(Read: How To Quit Your Job And Start Your Own Business)
"Once upon a time when we need to get or renew our business permits we had to fill out numerous forms, writing the same information in each form. We had to go through so many windows and so many offices. We had to get so many signatures and everybody was made to do this in the first 20 days of the year," Guillermo Luz, National Competitiveness Council co-chairman, said. "Due to changing times and rising expectations and greater customer demand, we feel it is necessary to reduce the number of steps."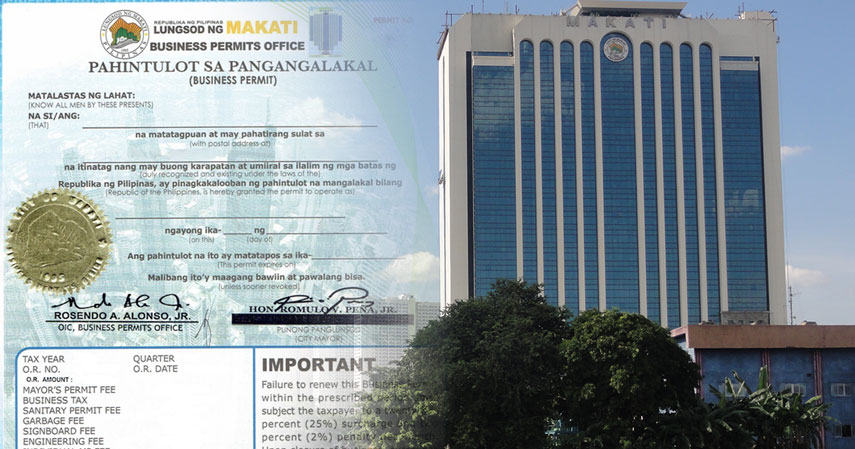 With these new measures being implemented in the near future, how different will business permit application be as opposed to before?
The old way
If you had zero knowledge on how to apply for business permits, these were the numerous steps people had to go through before you could make your business operational:
1. Register your business with the DTI and obtain a Business Name Registration Certificate
2. Obtain Barangay/Municipality/Regional Clearance from the concerned local government where you will set up your office and submit the following requirements:
✔ Business Name Registration Certificate
✔ Two valid IDs
✔ Proof of address business location
3. Go to the mayor's office in order to secure a business permit in the municipal level and submit the following requirements:
✔ Business Name Registration Certificate
✔ Map/sketch of location where your business will be located
✔ Two valid IDs
✔ Community tax certificate
4. Go to the Bureau of Internal Revenue (BIR) district office where your business will be located and submit the following requirements:
✔ Business Name Registration Certificate
✔ Mayor's permit
✔ Barangay clearance
✔ Proof of your business address
✔ Book of Accounts, to be stamped by BIR
✔ Receipts and invoices from BIR accredited print shops, to be stamped by BIR
5. Obtain a TIN
6. Fill out an application form for a Certificate of Authority to Print Receipts and Invoices
7. Have your Book of Accounts, receipts, and invoices stamped by the BIR
Apply as a self-employed member of the Social Security System
(Read: 11 Inspirational Quotes From Filipino Businessmen And Thought Leaders)
Because of this, business regulation measurement agency Doing Business ranked the Philippines at 103, six points down from last year's 97. On average, it takes 29 days for budding businessmen to secure permits alone, which is lengthier than the Asian average of 25 days and OECD member average of eight days. This is a far cry from what the government claimed—that it only takes 10 days on average.
The new era
With this circular in place, the said national agencies will collaborate in making local governments more efficient in handling and processing business permits. How will they do it? Here are some of the steps the government will do to make permit application more fun in the Philippines:
1. All LGUs will utilize a unified form, both in print and electronic copies.
2. Maximum of two signatories are needed for the new permits.
3. Automation will be placed to reduce the time processing and less.
Once these steps have been implemented, the government expects that processing time will be reduced significantly—local business permits will be released in one to two days. According to DTI Secretary Ramon Lopez, steps like this will make the country more attractive to both local and foreign businesses to open up shop here, thus opening more opportunities for Filipinos.
Found this story useful? Share it with your friends.