Boracay Opening: Here Are The Big Changes You Need To Know
5 min read
After months of rehabilitation efforts, the paradise island of Boracay in Aklan had its dry-run opening on October 15.
The dry run promised to be a fun celebration on what is now a pristine, white beach. It's supposed to run until October 25, which is the day before Boracay's official public re-opening .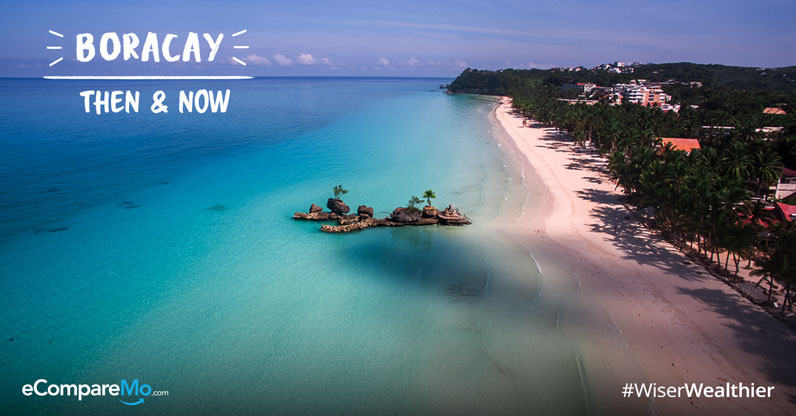 Videos released have shown that there are no more chairs and big umbrellas on the beach front . Also, hawkers, souvenir shops, and vendors are no longer allowed in the beach area . New and more stringent rules are now supposed to be in place to protect Boracay and call out littering.
Why can't we have nice things?
Unfortunately, videos and photos have also shown that many beachgoers still haven't got the message that their "nice time" is not more important than keeping the beach nice and clean.
Videos of the first day didn't just show crowds of beachgoers excitedly enjoying the newly clean Boracay, it also showed the impact the crowds had—and it wasn't pretty.
By the end of the Salubong party, on Monday morning, used cups and plastics were seen strewn along the beach front. Netizens took to social media to express their disgust at what the "lucky" first guests to the newly opened Boracay did.
The news media sought the Boracay Inter-Agency Task Force and asked them about what further action they had in place to avoid the months of cleanup being in vain.
According Department of Environment and Natural Resources Undersecretary Benny Antiporda said they are planning to implement citizen's arrest to anyone caught littering . He said that relying on the government is not enough as the authorities can't man everyone who visits the island 24/7.
Antiporda emphasized that the responsibility also lies in each individual, in collecting and throwing trash properly.
DENR Secretary Roy Cimatu said more trash bins are to be placed at the white beach , under the coconut trees.
"Trash bins recently donated [by Cebu Pacific Air] will be issued to establishments to be placed in the white beach under the coconut trees," Cimatu added.
Department of Tourism Chief Berna Romulo-Puyat tweeted to Cebu Pacific Air last Tuesday to extend her gratitude for the donated garbage bins and left an important message to everyone planning to visit the island.
"No more excuses to litter. Throw your trash in the garbage bins, where they belong. Keep our beaches clean and pristine," said Romulo-Puyat.
(Read: Boracay Set To Reopen In October 2018, But There Is A Catch)
Want to visit the island again? Take note of the new rules
First of all, there will now be a limit on the number of tourists and the number of hotel rooms available to them:
An average of 6,405 tourists daily. Assuming they will stay in the island for three days.
Limited hotel rooms. Rooms have been reduced from 12,000 to around 6,000 to 9,000.
Most importantly, the island will practice "No booking, No entry."  Tourists will need to present their hotel reservations, or they will be denied entry to the island.
Also, several activities are now banned or will be regulated :
The infamous LaBoracay annual Labor Day party is banned and no longer happening.
All water activities , including diving around the waters of Boracay, are temporarily banned.
No more massage, dining, smoking, and drinking alcoholic beverages by the beach
Fire dancing using kerosen e is no longer allowed.
Sand castle art will be regulated.
No more electric light installations beachfront.
Fireworks displays are only until 9 p.m.
Hot-coal roasting is no longer allowed.
As for the surrounding areas:
Boracay's water lines will solely be regulated by TIEZA.
Piggeries and poultry farms are not allowed.
Hotels must adhere to the island's sewage system or have their own treatment facility. Otherwise, they are not allowed to reopen.
No casinos and gambling in Boracay.
Local government to take steps
There are also several ordinances in place that are meant to ensure that newly opened Boracay remains a clean and green beach paradise.
An ordinance in Malay, Aklan, now mandates that only e-Trikes will now be allowed to operate on the island. There is also a local ordinance on Boracay that will ban the use of single-use plastics.
In a report by Rappler, Interior Undersecretary Epimaco Densing said the incidents of littering on October 15 was very frustrating considering how long the island was closed due to environmental problems.
He added that an existing ordinance against littering should be reviewed for stricter implementation. Currently, under Municipal Ordinance 311, series of 2012, littering is punishable by a fine or imprisonment .
The ordinance specifically bans the following activities in public spaces, waterways, and recreational areas :
Littering , or the throwing, dumping and scattering of plastics, paper, and other waste materials
Urinating, defecating and spitting
It also bans vandalism in public and private properties and the dumping of trash along roads.
Violators face a fine of P1,000 or imprisonment of not less than 10 days nor more than 30 days on the first offence. The second offence brings a fine of P1,500 or imprisonment of not less thyan 20 days nor more than 30 days. The third offence merits a fine of P2,500 and imprisonment of not less than one month nor more then 6 months.
(Read:  Beach Cleanup Drives You Can Join For A Productive Summer In The Philippines)
Rehabilitation still ongoing, to be done in phases
Department of Tourism Secretary Bernadette Romulo-Puyat said that the rest of the Boracay rehabilitation efforts will be done in phases .
Romulo-Puyat, along with other Boracay Inter-Agency task force members answered rehabilitation-related questions in a CNN Philippines interview on October 15.
Romulo-Puyat rated the Boracay Inter-Agency task force nine out of ten for their efforts,
"The DENR and DILG have been very strict with regards to compliance with environmental laws."
She added, "[The] Opening in October 26 is only the first phase. Six months is too short a time to rehabilitate an island under a state of calamity. The second phase is April of next year (2019). Third phase is December [2019]. "
Currently, there are no deadlines for resorts to be compliant but they will only be allowed to reopen after passing the DENR, DILG, and DOT accreditation.
"Thirty percent of [existing establishments] will be able to comply as of October 26. As of today, it's only 68 establishments, 3519 rooms, about 23% , but we have been getting more establishments getting compliant," said Puyat.
Some of the compliance requirements discussed in the interview are environmental compliance with DENR such as waste water management, and the 30 meters distance of establishments from the shore, according to Environment and Natural Resource Secretary Roy Cimatu. For the DILG, it's the business, building, occupancy, and sanitary permits, fire safety, and government-mandated permits.
The Boracay Inter-Agency task force are made up of Environment Secretary Roy Cimatu, Tourism Secretary Bernadette Romulo Puyat, Public Works and Highways Secretary Mark Villar, and Interior Secretary Eduardo Año.
Sources: The Philippine Star, Rappler, ABS-CBN,CNN Philippines