Weird Ordinances And Laws In The Philippines
3 min read
The Philippines is home to some of the happiest and craziest people in the world. But sometimes, our enthusiasm make us do some of the most questionable decisions in our lives. Alas, politics is not an exemption.
To keep things in order, local officials enact ordinances—some of them teeming with brilliance, while some—well, never mind. Here, let's have a look at some of the country's most out-of-this-world pieces of legislation that can get you fined, or worse, jailed.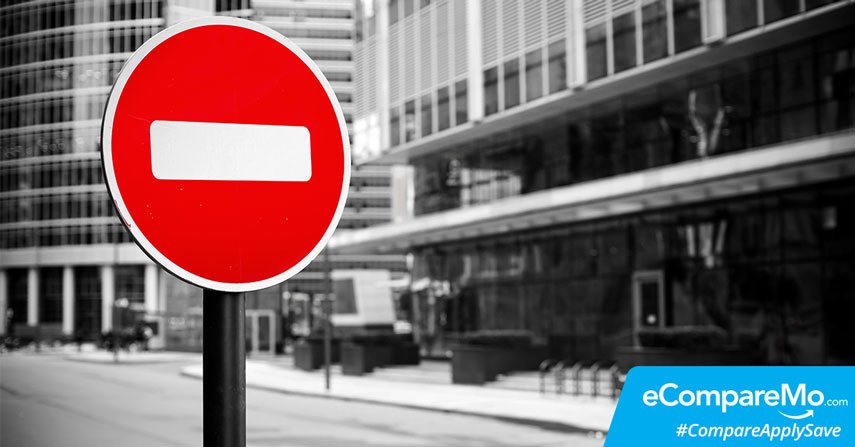 No DotA in Cavite
Despite being recognized as a million-dollar industry, DotA (Defense of the Ancients) is still a red flag for adults. In 2015, a barangay captain in Dasmarinas, Cavite issued an ordinance that banned the said game from computer shops. Salawag Brgy. Captain Eric Paredes said the world-renowned game already became the cause of death of some people. Violators who are caught offering DotA to its young players may face closure of their business.
Careful who you ride with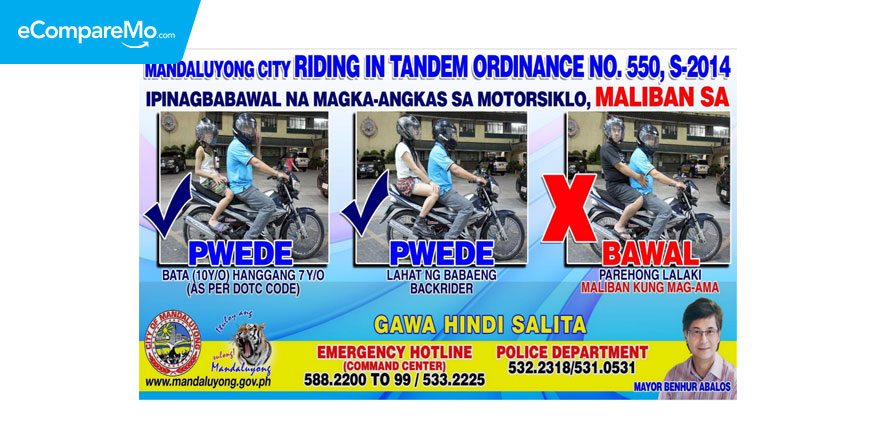 For Mandaluyong ex-mayor Benhur Abalos, riding-in-tandem groups are enough reason for him to create an ordinance that prohibits two males who are not related from riding the same motorbike. According to City Ordinance 550, only consanguine males of first degree are allowed to use motorcycles together. With the implementation of the said law causing "virtually zero" instances of motorbike-related murders, the mayor tweaked the law and set it to last until 2018.
Full force on full frontal
In Zamboanga City, officials would like to take the campaign against riding-in-tandem groups one step further. Frederick Atilano, chief of Barangay Lumayang, ordered a ban against full-face helmets. While it may seem innocuous at first, he then issued a shoot-to-kill order on those who would violate the ordinance. The aggressive measure came to fruition after the increasing number of murders in the city, with a local principal as one of the casualties of hired killers on bikes.
Contradicting contraceptives
In 2011, a local ordinance in Barangay Ayala Alabang caused an uproar when it issued a law that barred its residents from buying contraceptives without prescription. In addition, the ordinance also prohibits schools in its jurisdiction from teaching sex education. A spokesperson from the affluent enclave said it merely encouraged "safe, ethical, effective, legal and non-abortifacient" birth control methods. The local government of Muntinlupa junked the said ordinance later on.
This should be made into law
In Mandaue, Cebu, Barangay Maguikay official Edgar Cabahug was right on point when he said that illegally parked cars hinder emergency vehicles from responding quickly. As a proposal, the council is pushing for Ordinance No. 06-2016, which will prevent people from parking their vehicles on certain roads. Violators of the said law will be slapped with a fine, and face the risk of having their vehicles towed.
Not your ordinary ordinance
A strange occurrence is happening in Camarines Sur: Coconut thieves are on the loose, and they are hurting the small farmers in the area. To stop the theft, Barangay Cagaycay implemented a rule that prevents people without coconut plantations to sell coconuts. With the proliferation of coconut thieves, honest businessmen were financially hurt, preventing them from paying their taxes properly.
A laughing matter, or maybe not
Quezon City District 3 Councilor Allan Reyes thought that comedy bar performers have gone way beyond the belt in terms of their brand of humor. As a measure to curb what the councilman thinks is already degrading and humiliating, Reyes recommended an ordinance that will create a "regulatory board" tasked to censor the performers as well as impose penalties on those who make offensive jokes. If the censors deem the joke as too offensive, comedy bars may face fines, suspension, and even revocation of their business permits.
Laws of paradise
Boracay, for all its beauty and splendor, is not free from weird ordinances. In 2012, an order from the municipal government said that building sandcastle on any beach in Boracay island is not allowed. According to Municipal Ordinance No. 246, sandcastle making "to be utilized as photography backdrop or any other purposes for a fee" is not allowed. In addition, sandcastle making for special events cannot be made six meters away from the vegetation area of the beach.
Look good, smell good, do good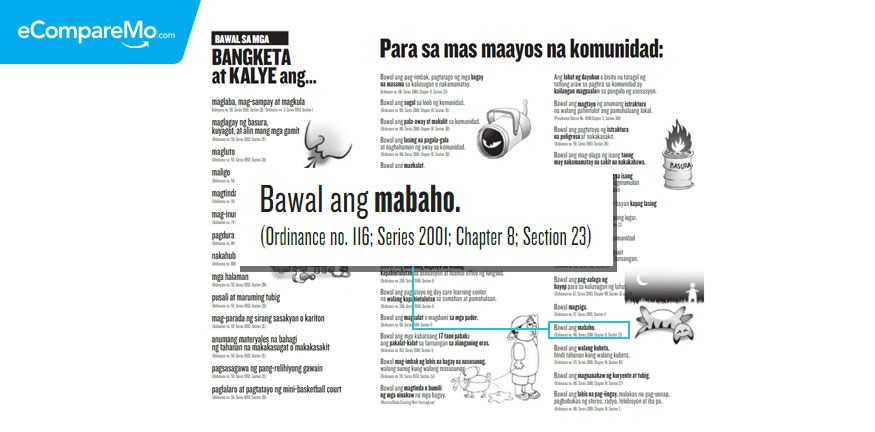 Sometimes, local governments tend to impose weird laws, but ultimately they are for a good reason. In a photo published by When in Manila, a certain Ordinance No. 116 in 2001 in Marikina explicitly says: "Bawal ang mabaho." Among the others prohibited by a certain barangay in Marikina are setting up stalls on sidewalks, walking outside without any shirt, altercation, and excessive noise from appliances.
Know of other ordinances in your town? Share them in the comments.