How To Start Your Own Online Business From Home
7 min read
With 37.75 million Filipinos currently using e-commerce platforms, there is no better time than now to start an online business in the Philippines.
Becoming an online entrepreneur is not as hard as many people think. Once you've done a careful study of your market and set up your marketing channels, you're just a handful of steps away from making your business boom.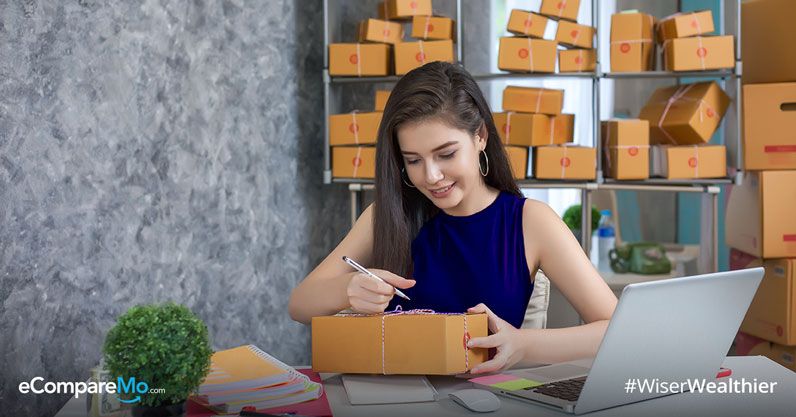 How does an aspiring entrepreneur start an online business in the Philippines? We've covered the ways you can get your business ideas started—and the steps you need to take to make it grow.
Create a business plan
Fail to plan, and you plan to fail. Now that you have a good business idea, what you need is a good sit-down to set up concrete plans on how to get it started.
As opposed to a physical store, you don't need a lot of capital to start an online business. Starting out online will all depend on your creativity and commitment to the business.
To give you an idea, here are some businesses you can start online, in the comforts of your home:
Selling clothes and apparel. You can either sell brand new, sustainable, imported, pre-loved, and even thrift store finds. Choose your niche or combine these items.
Travel package tours. Facebook has lots of these DIY travel package tours. You just need to prove your legitimacy and suggest a secure travel spot, above everything else.
Professional services. You can hawk your artworks, web/graphic design, video editing, writing, or digital marketing services online. The best part? You get to decide how much you're going to get paid.
Brokerage. If you're good with sales, you can be a real estate or car broker and build your network and business online.
Social media influencer. A lot of people leveraged their social media effectively to be an influencer, which lets them earn money for every post on their accounts. Although they seem like living the dream, it actually takes a lot of work to build a page and constantly post engaging content to gain more followers.
Coach or online tutor. Earn money through making your own YouTube videos or selling e-books about skills as programming, engineering courses, other IT-related skills, and even self-help. Whatever the topic you decide to cover, you can make a profit teaching people online. There's also money in English tutorial via video to students who need to master English as second language.
Select an online platform
Now that you already have a business in mind, the next step is to identify the kind of platform where you want to start selling your products.
Social media pages
For the likes of online sellers, influencers, sales agents, and online tutors, there's Instagram, Facebook, Twitter, and TikTok (Read: How To Earn Money From TikTok)—that will serve as your primary network.
Each one has their own advantages and disadvantages. Learn how to use them the right way and build your business' identity and voice. In addition, you can use other platforms too such as Pinterest, LinkedIn, YouTube, Soundcloud, and Periscope.
So how do you access this huge pool of opportunities and build your social media presence?
Set up each social media platform. Use your business e-mail. Post a brief description of your business on your bio. This will drive potential customers into following you and checking out what you have to offer.
Focus on your target market. Build your marketing campaigns according to them. You can learn from competitors and see what they've done effectively. But best of all, always focus on bringing added value to their lives and not just constantly sell whatever products you have.
Use social media management platforms. To effectively handle your platforms, you can use solutions likes of HootSuite or Buffer to post scheduled content across these social media channels.
Build trust. Aside from establishing your online identity, you must also create trust with your followers by posting quality, engaging content.
Be responsive. Reply to messages, comments, and mentions whenever you can. This is a great way to build more credibility and followers.
Keep learning. Social media pages update their features regularly. Make sure you're able to work with the changes and plan ahead.
E-commerce marketplaces
You may also sell via reseller or marketplace sites as the following. Each platform has its own strengths and weaknesses so make sure you leverage these for your growth:
Carousell
OLX
Shopee
Lazada
eBay Philippines
Craigslist
Zalora
Shopify
Facebook Marketplace
Etsy
Your very own website
For those who want a more personalized product presentation—or if you see this business as a long-time venture—you can set up your very own website. You have Shopify, Wix, WordPress, and Tumblr to start with. Eventually, you can buy your own domain for as low as $2, or P110, per month to make your business look more professional and attract more customers.
(Read: A Quick Guide To The DTI Microloan Program)
Connect with a payment service provider
How you want to get paid is easy to decide. Initially, you can start with cash on delivery, over-the-counter bank deposit, bank transfer, money remittance (Cebuana Lhuillier, Palawan Pawnshop, and LBC are most common), and e-wallet, such as PayPal, PayMaya, and GCash. These depend on the type of product you offer and your schedule availability.
As the business picks up its pace, you will need payment service providers such as Dragonpay, PesoPay, and AltPaynet. The latter provides not just a payment platform but also value-added services which come in handy with your business expansion. Some of the perks they offer include foreign currency transactions and connection with banks abroad, merchant accounts, data reporting, and accounts management.
Going international also requires stringent risk management features and efficient financial solutions. Doing this will require choosing a competent payment partner for your business.
Register your business
Posting your items on Instagram, Shopee, and Carousell is well and good. However, as soon as your business blows up where you're getting bulk orders all the time, you must learn how to scale your operations into something bigger.
Before you even think about exponentially growing your business, you need to go legitimate first and become a registered venture. Lucky for us, there are now online business registrations available for budding entrepreneurs.
To complete your business registration, you need to do the following things:
Register your business. If you're the only one in charge, you'll need to sign up for a sole proprietor registration with Department of Trade and Industry (DTI). For partnerships or corporations, you'll need to register with Securities and Exchange Commission (SEC). Online business permit application are available on their respective websites
Apply for barangay clearance
Apply for mayor's permit
Process your company's Bureau of Internal Revenue (BIR) registration
Register as an employer with the Social Security System (SSS) if you're going to hire people
Prepare all your documents. For a step-by-step guide, check out our primer on business registration in the Philippines.
Establish your business' online presence and marketing
You've got your business this far despite all the strenuous work it requires. With that in mind, now is the time to take it up a notch by making your online presence grow exponentially.
Your online business should, above all, consider the user experience. From shopping to checkout, everything should be seamless. It only takes a second for a customer to click on your website and decide whether your products are even worth checking out.
To get more leads, you'll need to produce good content. Again, remember to focus on bringing added value to your customers. You must have some entertaining, quality, and legitimate information to offer your audience.
Join forums on social media pages, niche websites, and participate in discussion sites Quora or Reddit. If the workload is too much, hire digital marketing experts to further widen your and engage in guest postings to find more people beyond your current platforms.
Get creative in building customer loyalty. You can also start a newsletter subscription service and send them monthly freebies and exciting exclusive offers.
As you keep growing, you'll also need to hire a team of savvy digital marketing experts who will fine-tune your presence on search engines, social networks, and online advertising space. Meanwhile, getting customer service representatives for sales and after-sales support will also come in handy as you see your orders grow.
The best thing about starting an online business is the freedom to move your products compared to brick-and-mortar stores. As it keeps growing, who knows, maybe your very own physical store is the next step?