An Expert Says The Philippine Peso Is Likely To Strengthen To P49:$1 In 2019
2 min read
A forecast led by a Mauritius-based trading platform showed an optimistic look on the Philippine Peso, thanks in huge part to the slowing inflation.
Alpari Research and Analysis chief Analyst Tomasz Wisniewski announced in a statement that the peso might strengthen to P49 vs a US Dollar. "The worst is over," Wisniewski said, referring to last year's inflation surge, adding that 2019 is the "time for the Philippine peso to shine."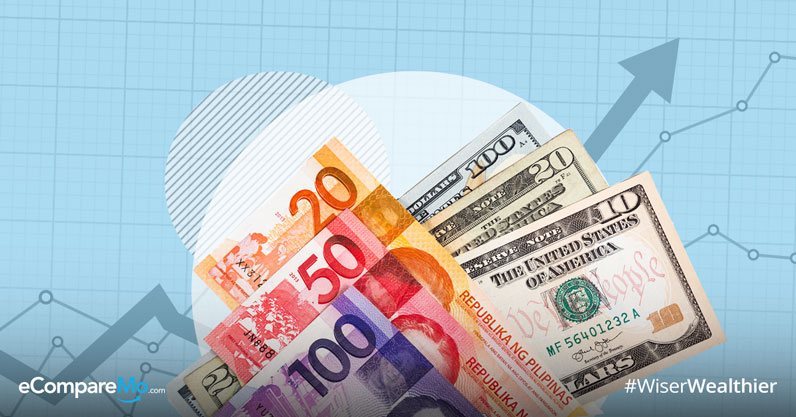 He said this can happen anytime throughout the year even before 2019 ends.
Conditions at play
"The Philippines has one of the best GDPs (gross domestic product) in the world right now. If we assume that the inflation pressure is over, we may begin to see further strength in the peso," said Wisniewski.
The inflation down trend started in November 2018 at 6%, coming from September and October 2018's nine-year peak at 6.7%. December 2018 followed through with 5.1 percent, said to be the lowest since May 2018 4.6%.
Because of the two-month inflation surge, The Philippine Peso (PHP) hit a 12-year record low at P54.31 to 1 US Dollar in September 2018. As of January 25, 2019, the PHP to Dollar exchange is at P52.71 to 1 USD.
Wisniewski further explains, "We will be more optimistic towards the Philippine currency when the price falls below 52-USD. Once that level is reached, the road towards 49-USD would be wide open."
The Alpari Chief Analyst said the biggest catalysts are the global oil price decrease and the US Federal Reserve.
In an interview with the Philippine News Agency (PNA), he projected a lower West Texas Intermediate (WTI) oil price index for the first half of the year to USD 42 per barrel.
"We are expecting a global slowdown. If there's a slowdown, appetite for oil is lower so the price should decline," he added. "So we see the decline of the price of oil in 2019, which should positively affect the peso."
US Federal Reserve's status is also at play. "The recent dovish tone from the Federal Reserve is a positive sign for the PHP. Any hawkish actions by the Fed in 2019 will not be welcomed as the current consensus is rather negative for the USD," according to Wisniewski.
He also sees an improvement within our Philippine Stock Exchange index (PSEi), from the recent 8,000-level to a 9,000-level gain. "There's no way Philippine shares will move against American stocks because American stocks set the direction," he said in a statement to PNA.