Airline Fares To Rise As Philippine Air Carriers Get Approval For Fuel Surcharges
2 min read
Expect higher airline fares after this month as the aviation regulatory body of the Department of Transportation (DOTr), the Civil Aeronautics Board (CAB) has approved a petition by local airlines to impose fuel surcharges on flights.
The fuel surcharges were approved as a temporary relief to allow local airlines to recover from soaring global jet fuel prices.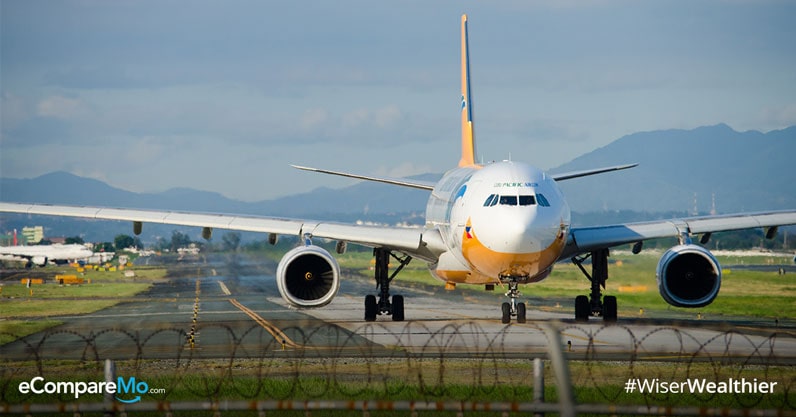 How much?
Three local airline companies petitioned the CAB for the fuel surcharge: Cebu Air Inc., Philippine Airlines, and Philippines Air Asia.
The fuel surcharges they requested are as follows:
Cebu Air Inc. (Cebu Pacific)
Domestic flights: P70 to P280
International flights: $6 to $26
Cargo

Domestic flights: P1 to P2
International flights: $0.20 to $0.30
Philippine Airlines (PAL)
One way for Luzon to Luzon and Luzon to Visayas routes: P282
One way for Visayas to Visayas routes: P158
One way for Visayas to Mindanao; Mindanao to Mindanao routes: P222
One way for Luzon to Mindanao routes: P405
Philippines Air Asia
P1 to P7 of cargo fuel surcharge per kilo on actual rate.
All these surcharges will be added to the current airfare ticket prices. However, infants without seats are exempted from the said extra charge.
CAB Executive Director Carmelo Arcilla added that they are also expecting petitions from foreign airlines to take place after granting the requests of the local airlines.
Resolution No. 79
It was back in 2015 when CAB published Resolution No. 79, which disallowed domestic and foreign airlines from the imposition of fuel surcharges both on local and international flights due to decreasing global fuel prices.
Since then local and international airlines have been asking the agency to allow them to raise fares to compensate and recover from the losses of the persistent increase in fuel prices, which according to them accounts for over 50% of their total operating costs, the second-highest next to labor.
"If you asked the airlines, it should have been (implemented) yesterday," as said by undersecretary for aviation Manuel Tamayo in a report by the Philippine Star.
(Read: How To Book Cheap Flights In The Philippines)
"It (implementation) should be within the month because that has taken a long time already and I pity the airlines' situation. We have to let the airlines survive, instead of cancelling flights, sacrificing quality of service," Tamayo added.
Undersecretary Tamayo even said that the DOTr, for its part, has greenlighted a surcharge matrix for the airlines to follow and adjust their prices. Although it has already gone public consultations, the said matrix prepared by the CAB will still depend on the current cost of fuel.
"There's a matrix already. It went through the DOTr, me and Secretary (Arthur Tugade) and we followed the model of Japan because we want to have a matrix that every time there is an increase in fuel, an increase in anything, or there is a decrease, they will not have to go through us. You have a matrix so just follow it," he said.
The approved matrix is an expected guide for present and future surcharge applications and in cases of increase and decrease in the global prices of jet fuels, it being not a part of the basic airfare and in accordance with the current international practice.
Sources
https://www.philstar.com/business/2018/09/10/1850079/higher-airfares-loom-return-fuel-surcharge
http://manilastandard.net/business/power-technology/275109/govt-grants-fuel-surcharge-on-local-foreign-flights.html