7 Types Of Borrowers You Don't Want To Encounter
2 min read
The latest Manulife Investor Sentiment Index survey projected that a significant portion of the population—most of them millennials—are at risk of being debt-strapped. But as they say, "You need money to make money"—and that's when you can classify debt as good.
In a perfect world, people would be able get away with debt and say "T.Y. na lang" to their lenders. But this is the real world, and many debtors, especially business owners, resort to debt settlement negotiations or filing for bankruptcy to clean their slates. On the other hand, lenders are also burdened by scheming people who run away from their dues.
Below are seven different kinds of borrowers—pretty sure you've encountered at least one of them in your life.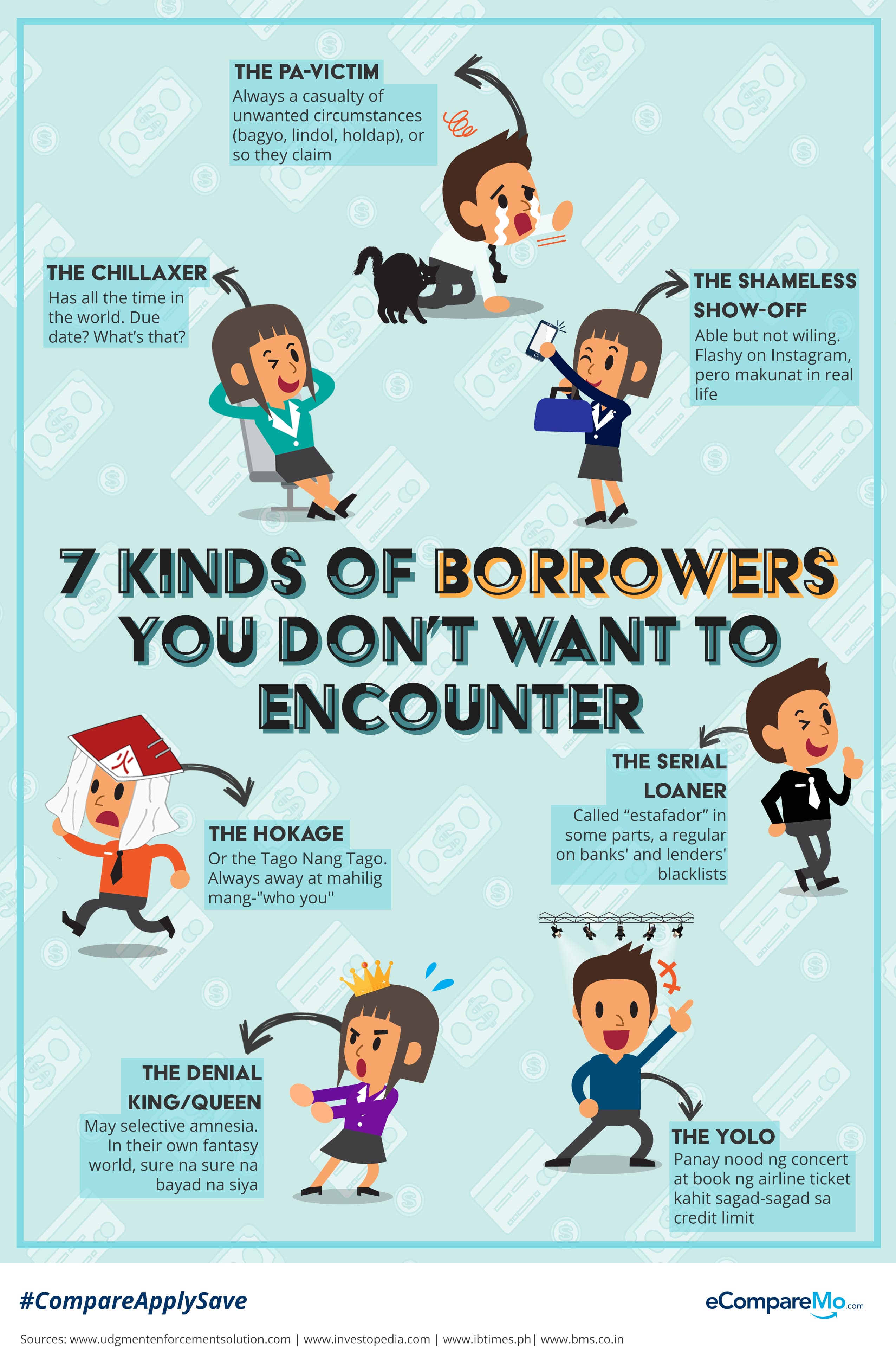 The Pa-Victim
Times are tough, and for this perennial victim of unwanted circumstances, the bad times never end. Retrenchment, natural calamities, medical emergencies, fire, robbery–name it, he's been through it. But are they real? In his imaginary world, everything is.
The Shameless Showoff
Always "short" on cash, but do a quick check on her Instagram account and…wait, is that a brand-new Louis Vuitton Montaigne MM? Is that a new car she's driving? And, a new iPhone 7 Plus she can't use to respond to your calls?
The Chillaxer
Will hold off payment for as long as they can. The Chillaxer pays a convenient amount at his most convenient time. Due date? They don't have that in their vocabulary. They'll only comply once the bank and/or their friends start rattling their cage with a flurry of SMS messages and calls.
The Serial Loaner
He's the ultimate credit con artist. He's been on the blacklist of almost all banks and lending institutions since time immemorial. His sky-high credit records, however, don't bother him a bit. They're what the neighborhood miron usually calls "estafador."
The Hokage
The Ninja. The magician. The "tago nang tago" and "always cannot be reached" type. He's probably blocked you on Facebook and responds "who you?" to you on text, if at all. He's that good that he has even tagged his housemates and relatives as accomplices: "Wala ho siya." No one in this world knows where he is. Not even him.
The YOLO
A certified Gen Y. Because of their YOLO-FOMO (you only live once; fear of missing out) practices, they're always the first ones to book airline tickets and concert tickets. One thing's for sure: their credit card debts are piling and it's much longer than their bucket list.
The Denial King/Queen
Call it selective amnesia or limited memory, the curious case they have. Their favorite line? "Hoy, binayaran na kita last month!" They're so good, it's you who always gets confused in the end: "Sure ka? Ay, oo nga!" But the actual payment? Never happened.
Know more types of borrowers? Share your experiences in the comments.