6 Useful Apps To Keep OFWs Safe And Connected
6 min read
Our hardworking Overseas Filipino Workers (OFWs) are always looking for ways to stay connected to friends and family back home. These mobile apps for OFWs can help them both stay in touch and stay safe.
With the advent of mobile apps, smartphones are now used for more than just communication purposes.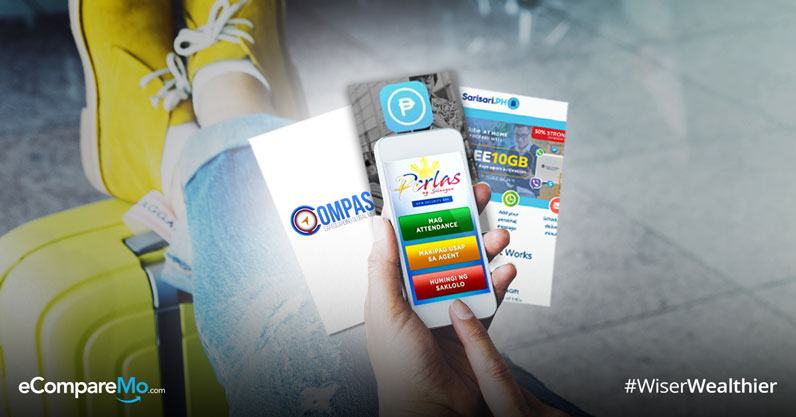 There are apps for entertainment, food delivery, to book a ride, and even to conduct banking activities.  As long as you have your smartphone and download the right app, everything is just a click of a finger away.
Now, it is time to step up the game and extend digital help to our modern-day heroes, the OFWs. Here are 6 apps that could make the OFW journey easier and safer.
1. Perlas App
One of an OFW's biggest concerns, and that of the family they leave behind,is their safety in a foreign land. With the Perlas App from EIC Atelier, an OFW can reach out for help anytime and anywhere with their smartphone.
Through this application, OFWs can report any incident which requires an emergency response to call center agents who will promptly forward this to the Philippine embassy or consulate nearest them.
According to company founder John Ferriols, a team of experienced call center agents are the ones who will be handling the cases and accepting the calls. The company is also seeking help to the different manpower agencies in the country to pay for their service to make it be available to OFWs for free.
2. CompassPH
CompassPH, is an OFW's one-stop shop for loan applications, remittances, online prepaid loads, and other services.
Launched last November 2017, this app is a platform to keep the whole migrant worker community connected with different Philippine government agencies such as the Department of Labor and Employment (DOLE).
CompassPH features an red SOS button that an OFW can press to trigger a notification if they find themselves in trouble. Assistance can then be deployed from the nearest embassy and even from community organizations.
The app has teamed-up with various organizations and agencies such as, Filipino Domestic Workers Association in UK, Migrante International, Mission for Migrant Workers in Hongkong, National Alliance for Filipino Concerns in US. This app also allows OFWs to raise their concerns, share their ideas, and pose questions and opinions with these organizations through its community feature.
3. OFW Watch
An initiative of the private sector in partnership with the Department of Labor and Employment (DOLE) and the Overseas Workers Welfare Administration (OWWA), the OFW Watch app was established to empower OFWs all over the world through the use of mobile and social networking technology.
A project of a former OFW, Myrna Padilla, she envisioned an all-in-one app that could answer every OFW need.
The features of this app are:
An Emergency SOS button:  Tapping on this button will generate the following immediate responses:

An immediate call back to ascertain the situation.
An immediate targeted broadcasting of the SOS message with the location sent to the concerned embassy, DOLE and other affiliated agencies, nearby volunteers and community support groups.
Real-time broadcasting and monitoring of the status of the SOS up to the final resolution.

Report A Concern:  This is a non-emergency reporting function that allows OFWs to report cases of abuse, missing OFWs or corruption.
Connecting Filipinos:  Includes the following features to connect and bring together OFWs

Alerts – you get notified if another Filipino using the app is nearby
Find others – geo-location data is used to connect you with other nearby OFWs, expats and community groups. Profiles of nearby users will include a link to public social media accounts like Facebook, to facilitate connections if both parties agree.
Check-in functions – this feature integrates with Google Places. It identifies popular or safe locations for Filipinos. Comments and reviews from other Filipinos are also included.
Groups – locate, create, and join local Filipino associations and groups.

Ask a question:  Ask a question, any question, from how to make chicken soup to how to go about passport renewal. Staff and community volunteers will monitor the questions and deliver prompt answers on any subject.
OFW Work Journal:  This feature is a work journal where an OFW can record their work conditions, both past and present. The journals are monitored remotely by OWWA and POLO offices.
Other Resources

A directory of Philippine embassies and consulates, as well as OWWA and POLO offices. Listings include details contact information: hotlines, fax numbers, contact names, and e-mail addresses. Directions and Google maps are also included.
FAQs with frequently asked questions and answers from the DFA, POEA, and OWWA.
Programs and a mini-website that gives the user access to a currency converter, a simple translator, language lessons, tips, and more.
4. PESO Sense Mobile Application
A campaign established in 2013, PESO Sense is led by the United Nations Development Programme (UNDP) and the Commission on Filipinos Overseas (CFO) and funded by The Western Union Foundation.
Also known as the Philippine Financial Freedom Campaign, PESO Sense aims to improve the financial literacy of OFWs.
As part of this initiative, PESO Sense launched the PESO Sense Mobile Application to help the whole OFW community and their beneficiaries capitalize on their entrepreneurial potentials.
This app features the PESO Sense Store a free platform for selling and marketing local products to and from the Philippines.
It also includes the following:
PESO Sense Bills: Allow users to directly pay household utilities, tuition fees from selected schools and medical bills from hospitals nationwide.
Payment for Contributions:  Allows users to pay their Social Security System (SSS), PhilHealth, Pag-ibig Fund and National Bureau of Investigation (NBI) contributions.
PESO Sense News Feeds:  Allows users to browse and read financial entrepreneurial trips, trivia and articles for free.
Peso Sense Remittance Diary:  Allows users to record, track, and monitor all their transactions and remittances.
 5.  SarisariPH (Globe)
Aiming to bridge the gap between OFWs and their families, Globe International Business created SarisariPH, an online gifting service provider.
The app allows Filipinos from all over the world to send electronic gift certificates (eGifts), to their loved ones in the Philippines.
Users can choose from over 170 brands for dining, health, leisure, shopping and other services available on the website and send them to their loved ones.
6. OFW Connect (Smart)
OFW Connect is a mobile application available in Hongkong and Singapore that lets Smart roaming SIM users to send unlimited SMS to the Philippines.
You can just simply download the app, import and sync your contacts, and savor different moments with your loved ones with unlimited texting even without an internet connection.
With the use of these apps, OFWs can enjoy and savor moments even if they are thousands of miles away from home. Connecting with your loved ones has never been this easy. Try these apps and bring your homes closer to you.
SOURCES:
https://filipinotimes.net/news/2018/07/30/watch-app-connects-ofws-embassies-consulates-emergencies/
http://philippinereporter.com/2018/01/26/ofws-can-use-app-connect-to-govt-orgs/
https://itunes.apple.com/us/app/ofw-watch/id1290033693?mt=8
http://www.gmanetwork.com/news/pinoyabroad/news/617957/mobile-app-makes-help-just-a-click-away-for-ofws/story/
https://www.cfo.gov.ph/news/cfo-news-and-events/3115-peso-sense-launches-new-app-for-ofws-2.html
http://newsroom.globe.com.ph/press-release/subsidiaries—affiliates/2017-12/ofws-can-now-give-the-gift-of-connectivity.html#sthash.6n3T3pC3.dpbs
https://smart.com.ph/World/ofwconnect