6 Essential Car Accessories For Your New Ride
3 min read
There are car accessories that add bling to your ride, and there are some that aim to make your life on the road better.
While there is nothing wrong with rigging your automobile with such fancy mods as a bombastic sound system, flashy decals, and brazen body kits, it pays to invest first in auto parts, trimmings, tools, and accessories that can help prevent accidents and other untoward incidences on Philippine roads–if not make your daily drive much more fun.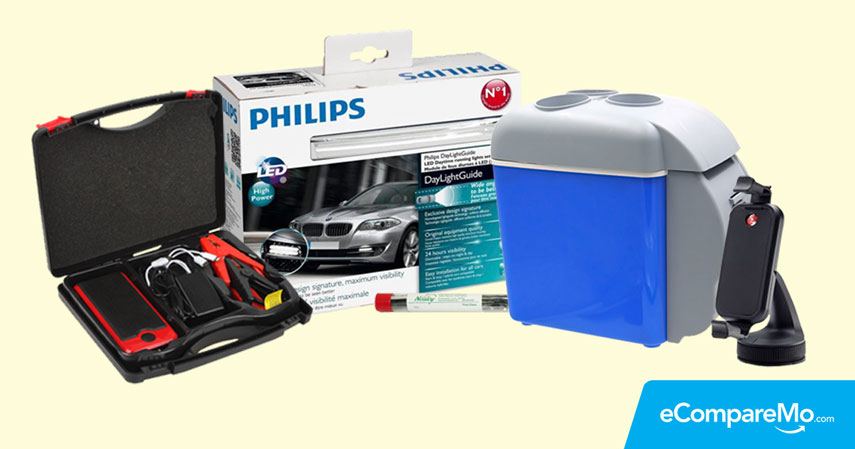 Whether you're a road veteran looking to spruce up your ride or a car noob preparing for motoring doomsday, here are six highly recommended car accessories you should buy now.
1. Dash cam
In times of need, a dashboard camera won't only help you capture miscreants in the act, it can also make your insurance claims processing so much faster in case of a car accident. Ever since the popularity of dash cams caught on in the country, a number of products have been available online and in every corner of gadget tiangges and car accessories stores. Brands like Transcend and Xiaomi are value-for-money options, and a number of generic cameras can be bought for less than P1,000. Other brands, like Polaroid, offer top-notch features for a reasonable price. Should you want to stand out while keeping an eye out, The Blackbox Thinkware FXD700 is one of the best dash cams you can get in the Philippines. Its capabilities include full 1080 HD recording, low light vision, a built-in GPS tracker, and parking sensor.
2. Daytime running lights (DRLs)
Countless studies about the safety benefits of daytime running lamps have been going on since the '80s, with Scandinavian countries like Norway, Iceland, and Denmark paving the way in nationwide use of LED lights. With DRLs, a car's visibility is greatly improved, especially during pre-dusk when it's still too bright to use your headlamps and dark enough to miss oncoming traffic.
While most daytime lamps are sold depending on the model of the vehicle, the Philips DayLightGuide LED is a universal solution that will help you light up like a Christmas tree even during harsh weather conditions. These DRLs can fit any vehicle without hassle and it emits nice, highly visible horizontal bar lights that are impossible to miss, even during daytime.
3. Car mount
A regular car mount will simply keep your phone off your hands and keep your eyes trained on the road, just in time for when the law on Anti-Distracted Driving gets signed. A great smartphone car mount, on the other hand, can help you do so much more: offer easy access to your phone for functions like navigation, music, and others while charging your phone neatly at the same time. The Tomtom Smartphone Charger and Mount is your one-size-fits-all mount for all smartphones. The mount can be readjusted to fit any smartphone size, and it also comes with a compact car charger to make sure your device doesn't run out of juice.
4. Emergency tire repair kit
Getting a busted tire along the road can be a major headache to any motorist. While vulcanizing shops are conveniently available almost anywhere, you may hit a snag in places where there is no roadside repair shop in sight. The Nealy Tire Repair Kit offers a temporary yet brilliant solution to such situations. Use it to clean the puncture and insert the repair cord, following the rest of the simple instructions here. It is highly suggested that you know how to remove a flat tire in the first place.
5. Power bank and jump starter kit
An essential for both knights in shining armor and damsels in distress. Unlike jumpstarting your battery with the aid of another car, the Power All Portable Power Bank and Car Jump Starter Kit comes with a rechargeable power bank with enough juice to make your battery come back to life. Alternatively, you can use it as a power bank for phones, laptops, and car refrigerators.
6. Portable refrigerator and warmer
Simply plug the Portable Electronic Cooling and Warming Refrigerator into your car's lighter socket and get the power to keep either your drinks cool or your lunch pack warm. Highly recommended for long drives, as it takes 30 minutes to switch between cooling and warming functions, and another 15 to 30 minutes for it to achieve its optimal capacity. It can hold up to 7.5 liters, enough to fit canned beverages for a family of four. –Dino Mari Testa