3 Filipinos With Different Needs And Expenses Share Their Budgeting Methods
4 min read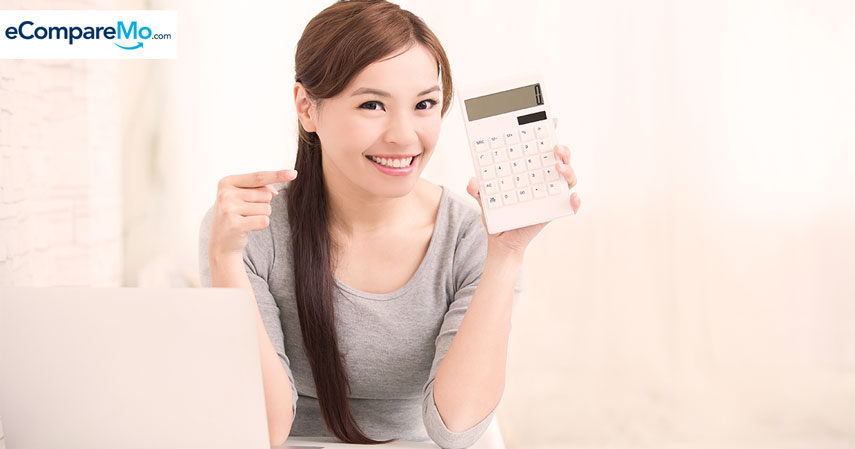 There's no such thing as one size fits all when it comes to budgeting. Since Filipinos have different levels of income as well as varied expenses, their budgeting style should suit whatever their financial status is. So whether you've already mastered the art of budgeting or are still learning the science (or art) of stretching your money until the next payday, you may pick up a few things from these examples—and even improve on them.
Case Study No. 1: A young family of four from Quezon City
"Since we're basically a new family, we're still learning the ropes of budgeting for a household," shares Edison Pablo, 28, from Quezon City. "When I was still single, I knew how to budget for myself. However, things are different when you're doing it for your family."
He admits that he wasn't really prepared for the expenses that come with being the head of the family. "You may know everything in budgeting but once you have your own family with kids, you'll be surprised how little you know about it," Edison says. With little kids and a car loan to pay, he and his wife Knia have the following expenses and savings every month: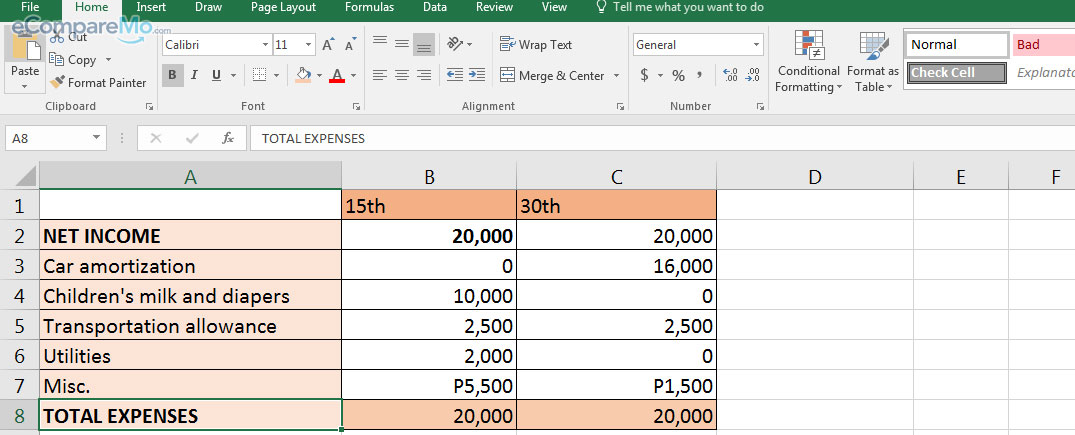 Their food and lodging costs are waived, since the family is living with Knia's parents. While the couple may be able to meet their basic expenses, Knia said they have little to no savings made every month because of the high cost of having kids.
We suggest: Zero-Based Budgeting
Zero-Based budgeting is a type of budgeting used mostly in a corporate setting. In this type of resource allocation, it "starts from a 'zero base' and every function within an organization is analyzed for its needs and costs," according to Investopedia. While this is mostly used by companies, you can also try it at home. Simply identify your most important expenses for the upcoming month—for example, your kid's tuition fee—and allocate budget for it ahead of time. This way, your "miscellaneous" expenses for the current period will be minimized—if not avoided at all.
Case Study No. 2: A young professional from Pasay
"I have an unusual budgeting style at the moment," admits Sheila. "I'm currently giving a big part of my salary to my parents once I've deducted my basic expenses to my monthly pay."
Sheila works at a business process outsourcing (BPO) in Taguig City. While she may be earning more than enough for herself, a huge chunk of her salary goes to her parents. Despite this, she still has enough money to either save or spend. Below is the breakdown of her total monthly budget: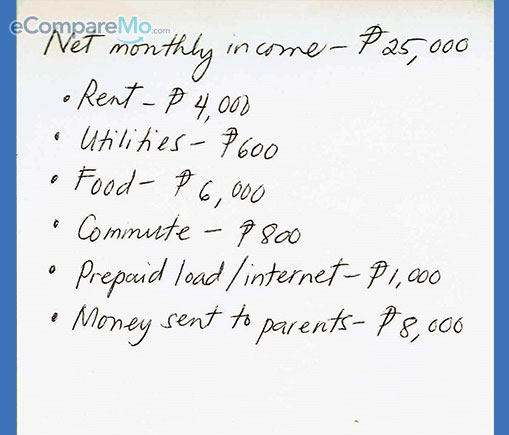 Even with her expenses and the amount she gives to her parents—which goes up to one-third of her total budget—Sheila can still save up to 15% of her salary. While she said not this percentage doesn't always go to her savings, she's willing to learn more on how to become better at handling money.
We suggest: The 50-30-20 Method
One of the most common budgeting techniques recommended by personal finance coaches, the 50-30-20 method divides your net income into three basic categories: needs, wants, and savings, respectively. While a lot of people say that savings should be bigger than the non-essential expenses, this allows people to keep themselves satiated and away from their savings account. However, the only caution here is that none of the said expenses should exceed the allocated percentage.
Case Study No. 3: A fresh graduate from Cainta
Despite only having less than one year of experience as a nutritionist for a private hospital in Pasig, Alyssa already knows how to make her budget work for her. She reveals she gets a meager salary as an entry-level hospital worker, but says she has already figured that it's not the amount of salary she takes home every month, but what she saves. According to her computation, these figures are her monthly average spending: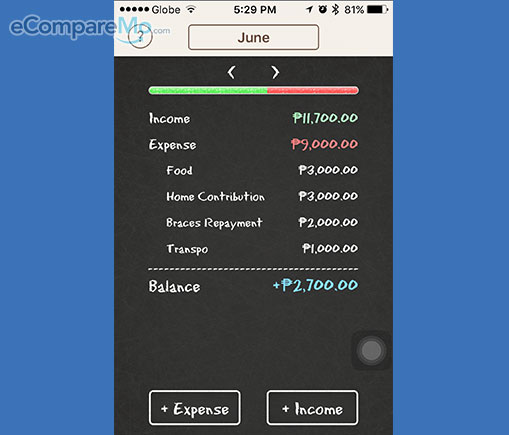 According to her, there are still a few more months left before she can finally complete her payment on her dental braces. Once she's done with her repayment, that money will go to savings, and vows to avoid lifestyle inflation.
We suggest: Envelope Budget
Unlike most budgeting methods that puts you at the mercy of your monthly expenses, the Envelope Budget method gives you full control of your cash on hand. It uses the idea of "filing" your money into different categories, called "envelopes." You slip the exact amount inside each of them—in Alyssa's case, P2,000 for the "Food" envelope and P1,000 for "Transportation"—so you're sure you don't go overboard. You know how sometimes you're tempted to splurge on your office lunch? That would be prevented because the almighty Food envelope simply won't allow you to. –Dino Mari Testa
What budgeting method do you use? Have any suggestions? Share them in the comments.