5 Moneysaving Tips That Are Also Good For The Environment
2 min read
Save money, save the earth. It's a win-win situation.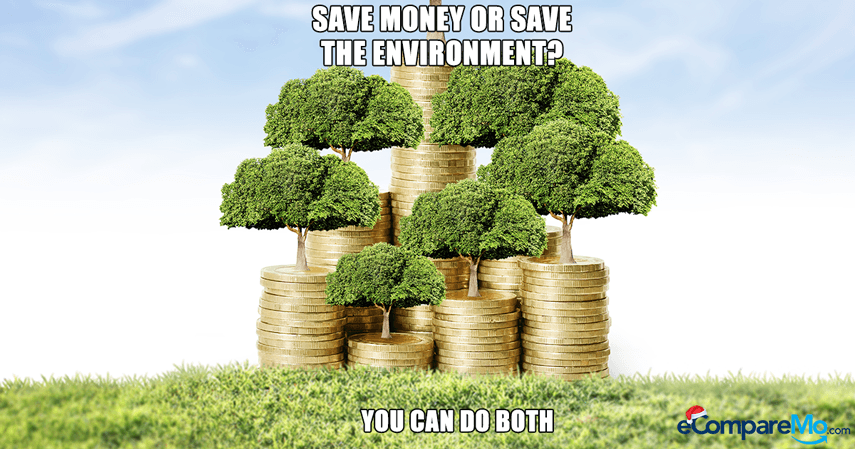 The 2015 United Nations Climate Change Conference, or more commonly known as the Conference of Parties or COP21, is happening in Paris now. The COP21 aims to create long-term solutions for climate change, such as reducing our carbon footprint. If anything positive comes out of it, it will radically change the way we live now and in the future.
While it may take long before the gears of change start rolling, it's never too early for you to start your own little contribution to make this world a better place. Why not do something that will both benefit your wallet and the environment? Here are a few ways on how you can reduce your eco footprint and save thousands of bucks at the same time.
1. Unplug your appliances.
Fact: a microwave oven consumes more energy powering its digital clock than when it's used to heat food. This is simply because most microwave ovens are left on standby mode 99 percent of the time. The same applies to other appliances, especially TV sets, modems, game consoles, and desktop computers. Imagine then how much electricity and money the world, let alone this country, will save if a million households unplugged their appliances when not in use.
2. Go for energy savers.
Appliances that are more than 10 years old consume a lot more energy than newly released models. To be safe, always purchase electronics with the Energy Star label, which are independently certified to "save energy without sacrificing features and functionality." Also, Meralco encourages the people to replace their old electric or LPG stoves with induction cookers, which only consume Php18.24 per hour of use. With no risk of gas leaks or explosions, they're safer too.
3. Drive less.
Vehicles in Metro Manila alone produce 32,000 metric tons of black carbon, a major contributor to rapid climate change. Since our public transport system is unreliable (and is an even greater source of air pollution), people have found a few viable alternatives to taking buses and jeepneys, such as riding the bike to and from work, jogging to the nearest train station afterhours, and carpooling. Doing any of these can significantly reduce carbon emission, as well as allow you to save at least Php3,000 monthly in gas.
4. Keep your plate clean.
Citing a Food and Nutrition Research Institute report, Rappler says an average Filipino wastes 3.29 kilograms of food every year. Food waste, when broken down without air, turns into methane gas—which is 21 times more potent than CO2 as a greenhouse gas, according to environmental group End Food Waste Now. To stop this, only buy food that you can consume, and always take note of expiry dates of your grocery items. Life is too short to let food go to waste.
5. Mind the four Rs.
That's: reduce, reuse, recycle = richer you. The Philippine Center for Investigative Journalism (PCIJ) notes that plastic bags alone account for 10 percent of the total garbage dumped in the Montalban landfill. Thing is, these plastic bags can be reused or even avoided altogether. Keep reusable bags handy. And if you want to reduce your plastic waste, go green by either recycling your plastic containers. PET bottles are goldmine if you care enough to turn them over to junk shops. Remember, saving the world doesn't start with world leaders or big conventions. It all starts with you. –Dino Mari Testa