5 Grab Alternatives And How Much Each Will Cost You
3 min read
With Uber relinquishing its Southeast Asian business to Grab, many ride-hailing app users fear the implications of having to depend on just one company for their transportation needs. Hence, the birth of Grab alternatives.
The virtual monopoly that the transport network vehicle service (TNVS) now has on the transport network vehicle service market has people fearing shoddy service, picky drivers, and unreasonable price surges.
In order to break the monopoly, several other TNVS providers have applied for and been granted approval to operate from the Land Transportation Franchise and Regulation Bureau (LTFRB).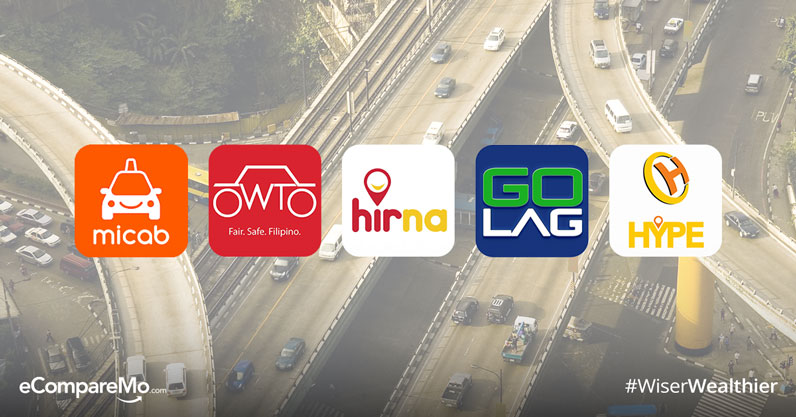 Get to know these five Grab alternatives in the Philippines and see how their services and fares compare to Grab and each other.
1. Hype
Hype Transportation Systems Incorporated, or Hype for short, was one of the first Grab alternatives to get the approval of the LTFRB. This ride-sharing service was accredited on April 18 to operate for two years.
Hype have the option to book a taxi, sedan, SUV, or AUV. There is also an option for find a car pool. The rides are booked through text messages which are free of charge for both the rider and the driver.
Hype chief operating office Jen Silan told CNN that Hype would be launched on May 26. They already have around 30,000 drivers who have expressed an interest in the platform.
Drivers for Hype will be able to earn additional income from digital signs placed inside the vehicles to show ads.
2. HirNa
HirNa Transport Systems Incorporated was accredited by the LTFRB on April 18 to operate for two years. This ride-hailing app originated and is currently available in Davao for those looking to book a taxi service.
(Read: What Does The Sale Of Uber's Southeast Asian Business To Grab Mean For Filipinos?)
Operated by car rental company Avis Philippines, HirNa is looking to expand its operations across the Philippines. According to a CNN report, HirNA will launch in Metro Manila on May 26.
The company provides a 24/7 customers service and booking hotline, allowing passengers who don't have a smartphone to book via a telephone call.
The drivers at HirNa use their taxi meter so the fare will depend on that.
3. GoLag
This ride-hailing company got its accreditation from the Land Transportation Franchising and Regulatory Board on April 20.
GoLag is an existing TNVS that operates in Laguna. The company name is actually a shortened version of the phrase "Go Laguna." The company plans to expand their operations to Bulacan, Cavite, Rizal, and Metro Manila.
In a statement, the company disclosed that they offer a multi-tier incentive program and loyalty rewards to drivers to assure them of a decent take-home pay, which makes them a viable alternative to Grab.
4. OWTO
Operated by Ipara Technologies and Solutions Inc., OWTO was accredited by the LTRFB on April 24. This ride-hailing service will use private cars.
According to OWTO Chief Operating Operator Pablo Libertad, they will only be asking for a small commission from their drivers, allowing them to earn more while working less hours.
(Read: While You're Stuck In Edsa Traffic: This Is What Rush Hour Looks Like In Different Parts Of The World)
"We actually have come up with a business model where we could make our partners earn even without them going 16 hours a day, 24 hours a day on the road," said Libertad in a CNN Philippines report.
5. MiCab
MiCab is operated by Micab Systems Corp. and is a taxi-hailing service. MiCab was accredited by the LTFRB on April 30 for two years.
MiCab originally began operations in Cebu and has spread to Iloilo. They are set to expand to Davao, Baguio, and Metro Manila. According to them, they have more than 10,000 cabs in their system and as such have no need of price surges.
MiCab's fares will depend on the unit's taxi meter.
Grab vs. Grab alternatives: Comparing their pricing schemes
Now that we've told you about the five different accredited alternatives to grab, let's get down to the important stuff. How much will booking rides with each of these companies be?
| | | | | | |
| --- | --- | --- | --- | --- | --- |
| | Base fare | Charge per minute | Charge per km | Surge Cap | Cancellation Fee |
| Grab | P40 to 80 | P2 | P10 to 14 | 1.5x | None |
| Hype | P40 | None | P14 | 2x | None |
| HirNa | P40 | P2 | P13.50 | None | No Info |
| GoLag | P40 | P2 | P14 | 1.5x | None |
| OWTO | P40 to 60 | P2 | P12 | 2x | P50 |
| MiCab | P40 | P2 | P13.50 | 1.5x | No Info |
What do you think? Which Grab alternative will benefit passengers the most?
Sources:
http://www.interaksyon.com/more-choices-for-commuters-as-ltfrb-accredits-grab-rivals
http://cnnphilippines.com/news/2018/04/18/ltfrb-tnc-grab-hype-uber.html
https://www.rappler.com/business/200699-ltfrb-approves-go-lag-accreditation
https://www.rappler.com/business/200552-ltfrb-accreditation-ride-hailing-company-hype