5 Food Trends That Are Making People Hungry This 2018
8 min read
Filipinos love to eat and they also love to try—and recommend—new food trends.
As far as food is concerned, 2017 saw the advent of various contemporary food concepts in the Philippines such as the craze over Korean food, DIY concept restaurants, Instagram-worthy food and food places, food parks, buffets, among a few others.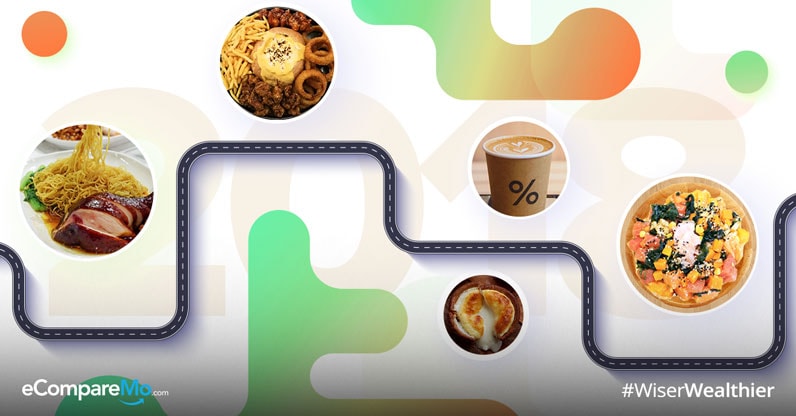 This 2018, brace yourself for there already are and will be a lot of new food ideas for everyone to enjoy. The food trends we're going to introduce to you in this post are not just recommendations for your next lunch or dinner out; they're also your key to fulfilling your dream of opening your own trendy and successful food joint.
Get your pens and papers ready: Here is the list of the five food trends budding restaurateurs should ride on this 2018.
1. Healthy eats
In the fast-paced world of the food and beverage industry, "health-conscious" food and beverages are evolving into a popular choice for Filipinos.
Filipinos are now more mindful of the food they consume. Many are starting to make healthier changes in their lifestyles. One change is the switch from overly processed food to healthier organic products.
Nutritious food choices are now within everyone's reach. As an example (and inspiration) here are five successful restaurants who serve healthy food choices.
This restaurant features a selection of fast-food staples such as pasta, pizzas, burgers, steaks, and many more, made only with organic products.
Juju Eats offers healthy food fast, perfect for those who are always on-the-go. Known for their healthy salads and wraps, they also offer low-calorie panini's, rice bowls, pasta dishes, and smoothies and slushies.
Known for their wide range selection of organic dishes. If you want quality healthy food, Green Pastures has branches in Shangri-La Mall or Eastwood City Mall.
If you want to eat healthy with a purpose, Earth Kitchen is the place to be. A partnership between Got Heart Foundation and Hizon's Catering, the restaurants serves all its dishes organic and made from scratch. They not only serve quality food but at the same time, they support local farmers as well.
A new approach to fast food, SaladStop! has been serving nutritionally balanced meals, customized and designed for all kinds of diet. With just the right amount of everything, you get to enjoy your meal plus you get to maintain a healthy diet all throughout.
2. International franchises
Chains of international food brands are starting to take an interest in capturing the tastes and imaginations of the Filipino diner. This just means more food choices for us!
Check your wish lists and get your wallets ready for here are 4 new franchises to try this 2018.
Fresh from Japan, % Arabica Coffee offers a wide array of caffeinated drinks and mouth-watering pastries. With more than 12 varieties of coffee beans roasted on the spot to choose from, you will find the perfect cup to answer your daily caffeine needs.
If you want a world-class dining experience but are worried for your budget, say no more! Hawker Chan, the most budget-friendly Michelin-starred restaurant is arriving in Manila. All you need to do is choose your meat, choose between noodles or rice, add some authentic Singaporean chili sauce and there you have it, a world-class dining experience that is budget-approved.
Calling all pizza lovers out there, this UK-based pizza parlor is now in the Philippines! Serving quality handcrafted pizzas made with fresh ingredients brought to you fresh from the oven.
If you are already familiar with Tim Ho Wan, Tsuta Ramen, Todd English and Llaollao, brace yourself as Foodee Global Concepts is now bringing Kam's Roast Goose (KRG) to the Philippines. A 2015 and 2016 Michelin-starred restaurant, it will give you a genuine Kam's to-die-for roast goose experience without the need to fly to Hong Kong. A definite must-try!
(Read: 8 Best Noodle Places To Visit On A P250 Budget)
3. For the love of cheese
Cheese has been emerging as one of the top ingredients, and food trends, of 2018. We eat it alone, paired with wine, or just anything
From pastries to main dishes and even down to desserts, everything's just better with cheese. While everyone's favorite cheese variety is up to lively debate, in the end, cheese is cheese and the more the merrier.
No more debating! Here are five of the cheesiest food and drinks to munch on this year.
A perfect place to unwind and to satisfy your cheese cravings, Kko Kko brings you your favorite Korean dishes with a twist. Their best seller is a round bread filled with a warm, delectable cheese fondue, rounded up with your favorite starters, chicken in Yang Nyum Sauce, fries, and onion rings.
If you are a cheese lover who wants an authentic European style dining experience, come and visit Chesa Bianca in Makati with their menu-full of cheese-infused dishes. Don't forget their best-selling version of a traditional Swiss staple dish, Walliser Raclette!
Have you tried Korean grill dining? If yes, the next question is, have you tried Korean grill restaurants, with a cheesy twist? Yes, you heard it right, unlimited samgyupsal that also features unlimited cheese! Jin Joo Korean Grill and Romantic Baboy, to name a few, are Korean grill restaurants which offer unlimited samgyupsal partnered with unlimited cheese.
A dessert lover and a cheese addict at the same time? Try Lava's locally made, Japanese-inspired molten lava cheese tarts. They make it fresh with three different kinds of cheese.
The current buzz at milk tea shops makes it all about their cheese-topped beverages. Shops feature different flavors of milk teas to try on with several toppings to choose from—but don't be surprised that cheese add-ons are their all-time best-sellers. The sweetness of the milk tea, when mixed with the salty taste of the cheese topping, will create a balanced drink, impeccably satisfying your cravings.
4. Traditional but not conventional
Pinoys are becoming a bit more daring in a sense that they are more willing to experiment. This is evident in another of this year's food trends, traditional food straight from your lolo and lola's cookbook, but with a twist.
Your typical comfort food is now given modern transformations. From your favorite pica-pica to your front-runner fine dining dishes, they are cooked just a little bit differently or contain some new ingredients that improve but don't change the essential taste of "home."
Take a look at these four treasured traditional dishes, developed to satisfy the millennial craving for something a little bit different.
Green Mango and Bagoong Dumplings
At Pink Panda, your all-time favorite pork dumplings are served with the classic Filipino appetizer of green mango and bagoong.
Aracamas's Pork Adobo Nachos is not your typical crispy tortilla chips; it's served with adobo flavored minced pork and some classic mango and cilantro salsa with cherry tomatoes and calamansi-infused sour cream. But wait there's more, you can also order their Street Tacos stuffed with your favorite "putok-batok," sisig and lechon kawali.
For just P135, you get to experience the popular Filipino pastry, ensaymada, turned into a refreshing drink. The Ensaymada Smoothie at Ka Tunying's Café in Quezon City mixes ensaymada, cheddar and cream cheese and fresh milk then tops it with home-made salted caramel for a highly enjoyable drink.
From the imagination of Chef Chele Gonzalez comes Tiradito, one of his many signature dishes. Your favorite local "pulutan," kinilaw served with a twist. Locally bred yellowfin tuna, thinly sliced to perfection with a sauce made from a mix of calamansi, coconut milk and tabon-tabon (native fruit from Camiguin and Northern Mindanao). It is plated beautifully with pickled arosep seaweed and a smoke of Sampaloc wood to finish the serving. Your simple appetizer now transformed into a world-class dish.
(Read: Top Samgyupsal In Metro Manila For Budgets Of P500 And Below)
5. Let's go BOWLing
With this emerging food trend, a Hawaiian staple food has now been brought to the Philippines, let's all meet Poke Bowls.
With our love for seafood and rice and everything in between, it's no wonder that poke bowls are a hit with the Pinoy palate.  More and more restaurants are building their own variants, satisfying the demanding taste buds of their customers.
Put this, add that. Include whatever you want. As long as it is belly-filling, your imagination is indeed the limit.
Here are five poke bowl places to visit around the metro.
DIY Poke is the first ever poke bowl shop to offer build-your-own poke bowls. Don't just limit yourself from the usual. Visit any DIY Poke shop near you and surprise yourself with what your imagination can give you.
Poke bowls are not just limited to rice bowls. At Le Jardin Café, you get to try irresistible smoothie bowls made from scratch. Don't worry about your calorie count for they also offer devilishly good healthy bowls such as their best-selling Chia Seed Pudding Bowl, Quinoa Breakfast Platter and many more.
If you love Japanese food, Sushi Ninja is a must try. Apart from their freshly made sushi, they also offer different kinds of poke bowls. Customize your own bowl with the variety of add-ons that they have, from your all-time fave Japanese mayo to their hoisin sauce.
The novel sauces that they offer gives this shop's poke bowls their very own spin. From their peanut butter blended Kapoke, to a more challenging, mildly spicy shoyu-based Fuji, there's just something for everyone. You can visit them at the Legaspi Sunday Market and at other food bazaars that they join.
With their vibrant interiors and surfboards on display, the aura is like eating by the beach at Honolulu. Do not underestimate their Insta-worthy poke bowls for it is made with fresh flavors from the tamago, tuna, salmon, and a lot more. Complete your dining experience by grabbing their Malasadas or their fried Portuguese donuts.
Sources
http://ph.phonebooky.com/blog/international-franchises-manila-2018/
https://www.cosmo.ph/lifestyle/food-drink/cheese-fondue-restaurant-metro-manila-a1225-20180525
http://ph.phonebooky.com/blog/cheesy-dishes-manila/
http://ph.phonebooky.com/blog/2018-food-trends/
https://coconuts.co/manila/food-drink/7-creative-and-quirky-takes-classic-pinoy-dishes/
https://www.wheninmanila.com/4-must-try-pinoy-dishes-with-a-twist/
https://casaveneracion.com/filipino-cuisine-with-a-twist-the-apicius-culinary-school-cook-off/
https://www.spot.ph/eatdrink/the-latest-eat-drink/69329/10-places-to-get-poke-bowls-in-metro-manila-a1554-20170220-lfrm
https://www.spot.ph/eatdrink/the-latest-eat-drink/69329/10-places-to-get-poke-bowls-in-metro-manila-a1554-20170220-lfrm
https://shoppersguide.com.ph/magazine/2017/08/04/top-9-best-healthy-restaurants-in-the-philippines-2017
https://www.wheninmanila.com/top-10-healthy-restaurants-in-manila/